Formation of willow leaf-like structures composed of NH2-MIL68(In) on a multifunctional multiwalled carbon nanotube backbone for enhanced photocatalytic reduction of Cr(VI)
Abstract
Efficient separation and transfer of photogenerated electron/hole as well as enhanced visible light absorption play essential roles in photocatalytic reactions. To promote the photocatalytic reduction of Cr(VI), a toxic heavy metal ion, multiwalled carbon nanotube (MWCNT) was introduced as an electron acceptor into NH2-MIL-68(In). This led to the growth of a willow leaf-like metal-organic framework (MOF) on an MWCNT backbone forming MWCNT/NH2-MIL-68(In) (PL-1), which showed a highly efficient transfer of photogenerated carriers. Moreover, MWCNT incorporation introduced more mesopores for Cr(VI) diffusion and enhanced the visible light adsorption without lowering the conduction band position. As a result, the photocatalytic kinetic constant of PL-1 was found to be almost three times higher than that of the parent NH2-MIL-68(In). Thus, growing MOFs on MWCNTs provides a facile and promising solution for effective remediation of environmental pollution by utilizing solar energy. This work provides the first example of using MWCNT/MOF composites for photocatalytic reactions.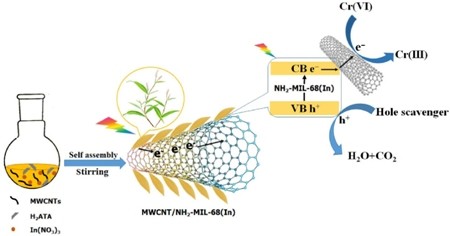 Keywords
NH2-MIL-68(In) 
multiwalled carbon nanotube (MWCNT) 
photocatalytic reduction 
Cr(VI) 
Notes
Acknowledgements
The financial supports received from Guangdong Natural Science Funds for Distinguished Young Scholar (No. 2016A030306031), the National Natural Science Foundation of China (No. 21576093), the Guangdong Program for Support of Top-notch Young Professionals (No. 2015TQ01N327), Pearl River and S&T Nova Program of Guangzhou (No. 201610010039), and Fundamental Research Funds for the Central Universities are gratefully acknowledged.
Copyright information
© Tsinghua University Press and Springer-Verlag GmbH Germany 2017