Solid ion transition route to 3D S–N-codoped hollow carbon nanosphere/graphene aerogel as a metal-free handheld nanocatalyst for organic reactions
Abstract
A novel metal-free bulk nanocatalyst, S–N-codoped hollow carbon nanosphere/graphene aerogel (SNC-GA-1000), has been successfully fabricated using a facile and clean solid ion transition route. In this method, ZnS is used as the hard template and S source, while polydopamine acts as a reducing agent and carbon source. At a high annealing temperature, Zn metal is reduced and evaporates, leaving only free S vapor to diffuse into the carbon layer. Interestingly, the as-obtained SNC-GA-1000 exhibits much higher catalytic activity in an organic reduction reaction than unloaded bare S–N-codoped carbon nanospheres. Hydrothermal reduction of the graphene oxide sheets loaded with ZnS@polydopamine core–shell nanospheres (ZnS@PDA) affords a three-dimensional bulk graphene aerogel. Although nanosized catalysts exhibit high catalytic activities, their subsequent separation is not always satisfactory, making post-treatment difficult. This approach achieves a trade-off between activity and separability. More importantly, due to the 3D structural nature, such bulk and handheld nanocatalysts can be easily separated and recycled.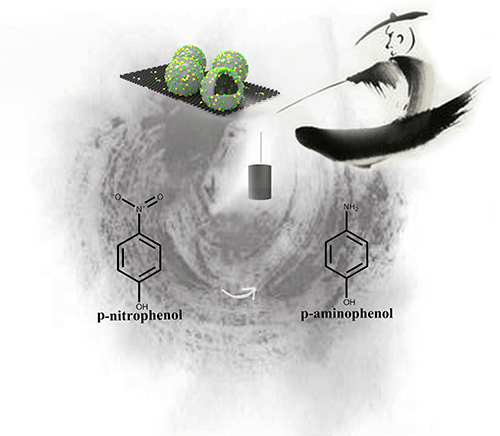 Keywords
bulk nanocatalyst 
solid ion transition 
graphene aerogel 
S–N-codoped 
metal-free 
Notes
Acknowledgements
The authors are grateful for the financial aid from the National Natural Science Foundation of China (Nos. 51372242, 21590794, 21210001, and 21521092), Hong Kong, Macao and Taiwan Science and Technology Cooperation Special Project of Ministry of Science and Technology of China (No. 2014DFT10310), the National Key Basic Research Program of China (No. 2014CB643802), Youth Innovation Promotion Association of Chinese Academy of Sciences (No. 2011176), CASCSIRO project (No. GJHZ1730) and the Program of Science and Technology Development Plan of Jilin Province of China (No. 20140201007GX).
Copyright information
© Tsinghua University Press and Springer-Verlag GmbH Germany 2017