Multifunctional core/satellite polydopamine@Nd3+-sensitized upconversion nanocomposite: A single 808 nm near-infrared light-triggered theranostic platform for in vivo imaging-guided photothermal therapy
Abstract
Significant attenuation and overheating, caused by the absorption of the excitation band (980 nm) in water, are the major obstacles in the in vivo application of lanthanide-doped upconversion nanoparticles (UCNPs). Therefore, appropriately-structured Nd3+-doped UCNPs with 808 nm excitation could be a promising alternative. Herein, we developed core–shell–shell structured Nd3+-sensitized UCNPs as imaging agents, and decorated them onto the surface of polydopamine (PDA) to construct a novel multifunctional core/satellite nanotheranostic (PDA@UCNPs) for in vivo imaging guidance photothermal therapy using single 808 nm laser irradiation. The core–shell–shell structured design enabled outstanding upconversion luminescence properties and strong X-ray attenuation, thereby making the nanocomposites potential candidates for excellent upconversion luminescence/computed tomography dual modal imaging. In addition, the PDA core not only provides high photothermal conversion efficiency and outstanding antitumor effect, but also endows the platform with robust biocompatibility owing to its natural features. Therefore, this multifunctional nanocomposite could be a promising theranostic in future oncotherapy, with high therapeutic effectiveness but low side effects. This study would stimulate interest in designing bio-application-compatible multifunctional nanocomposites, especially for cancer diagnosis and treatment in vivo.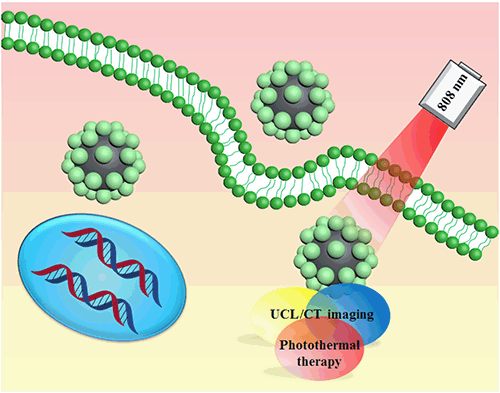 Keywords
Nd3+-sensitized upconversion nanoparticles 
dual-modality imaging 
photothermal therapy 
multifunctional theranostic platform 
biocompatibility 
Notes
Acknowledgements
This work was supported by the financial aid from the National Natural Science Foundation of China (Nos. 51502284, 51372242, 51402286, 21521092, 21590794, and 21210001), the Hong Kong, Macao and Taiwan Science and Technology Cooperation Special Project of Ministry of Science and Technology of China (No. 2014DFT10310), the Program of Science and Technology Development Plan of Jilin Province of China (No. 20140201007GX), the National Basic Research Program of China (No. 2014CB643802), the Strategic Priority Research Program of the Chinese Academy of Sciences (No. XDB20030300) and the Jilin Province Youth Foundation (No. 20150520007JH).
Copyright information
© Tsinghua University Press and Springer-Verlag Berlin Heidelberg 2017