Near-infrared light activated persistent luminescence nanoparticles via upconversion
Abstract
Persistent luminescence nanoparticles (PLNPs) and upconversion nanoparticles (UCNPs) are two special optical imaging nanoprobes. In this study, efficient upconverted persistent luminescence (UCPL) is realized by combining their unique features into polymethyl methacrylate, forming a film composed of both PLNPs and UCNPs. The red persistent luminescence (~640 nm) of the PLNPs (CaS:Eu,Tm,Ce) can be activated by upconverted green emission of UCNPs (β-NaYF4:Yb,Er@NaYF4) excited by near-infrared light (NIR). Using this strategy, both the unique optical properties of PLNPs and UCNPs can be optimally synergized, thus generating efficient upconversion, photoluminescence, and UCPL simultaneously. The UCPL system has potential applications in in vivo bioimaging by simply monitoring the biocompatible low power density of NIR-light-excited persistent luminescence. Due to its simplicity, we anticipate that this method for the preparation of UCPL composite can be easily adjusted using other available upconversion and persistent phosphor pairs for a number of biophotonic and photonic applications.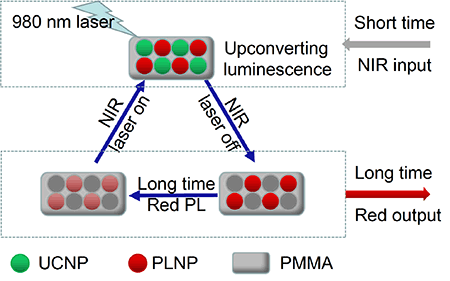 Keywords
nanoparticles 
imaging 
persistent luminescence 
upconversion 
Notes
Acknowledgements
This research was supported by the start-up fund of the University of Massachusetts Medical School, a Worcester Foundation Mel Cutler Award, the National Institute of Health R01MH103133, the Human Frontier Science Program, a UMass CVIP award, and a UMass OCTV award.
Copyright information
© Tsinghua University Press and Springer-Verlag Berlin Heidelberg 2017