Trimetallic PtRhNi alloy nanoassemblies as highly active electrocatalyst for ethanol electrooxidation
Abstract
Although nanostructures based on noble metal alloys are widely utilized in (electro)catalysis, their low-temperature synthesis remains an enormous challenge due to the different Nernst equilibrium potentials of metal precursors. Herein, we describe the successful synthesis of trimetallic PtRhNi alloy nanoassemblies (PtRhNi-ANAs) with tunable Pt/Rh ratios using a simple mixed cyanogel reduction method and provide a detailed characterization of their chemical composition, morphology, and structure. Additionally, the electrochemical properties of PtRhNi-ANAs are examined by cyclic voltammetry, revealing composition-dependent electrocatalytic activity in the ethanol oxidation reaction (EOR). Compared to a commercial Pt black electrocatalyst, optimized Pt3Rh1Ni2-ANAs display remarkably enhanced EOR electrocatalytic performance in alkaline media.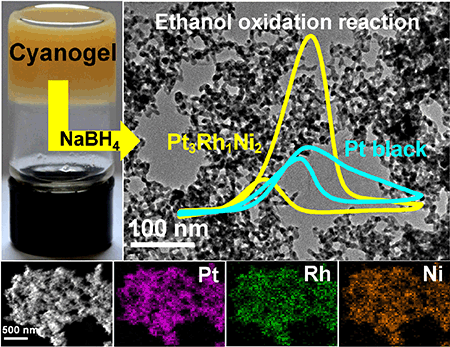 Keywords
cyanogel 
trimetallic alloy 
electrocatalysis 
activity 
ethanol oxidation reaction 
Notes
Acknowledgements
We acknowledge financial support by the National Natural Science Foundation of China (Nos. 21473111 and 21376122), Fundamental Research Funds for the Central Universities (No. GK201602002), Innovation Foundation of Shenzhen Government (No. JCYJ20160408173202143), the Joint Fund of Energy Storage of Qingdao (No. 20160012), and the Fundamental Research Funds of Huazhong University of Science and Technology (Nos. 3004013109 and 0118013089). We acknowledge the support of Analytical and Testing Center of Huazhong University of Science and Technology for SEM and XPS measurements.
Copyright information
© Tsinghua University Press and Springer-Verlag Berlin Heidelberg 2017