Highly uniform and nonlinear selection device based on trapezoidal band structure for high density nano-crossbar memory array
Abstract
Crossbar array provides a cost-effective approach for achieving high-density integration of two-terminal functional devices. However, the "sneaking current problem", which can lead to read failure, is a severe challenge in crossbar arrays. To inhibit the sneaking current from unselected cells, the integration of individual selection devices is necessary. In this work, we report a novel TaO x -based selector exhibiting a trapezoidal band structure formed by tuning the concentration of defects in the oxide. Salient features such as a high current density (1 MA·cm–2), high selectivity (5 × 104), low off-state current (~10 pA), robust endurance (>1010), self-compliance, and excellent uniformity were successfully achieved. The integrated one-selector one-resistor (1S1R) device exhibits high nonlinearity in the low resistance state (LRS), which is quite effective in solving the sneaking current issue.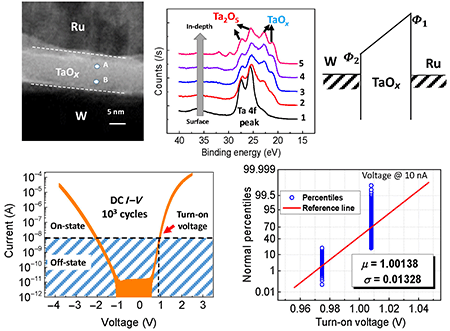 Keywords
crossbar array 
selector 
trapezoidal barrier 
gradient oxygen concentration 
high uniformity 
Notes
Acknowledgements
This work was supported by the National Key Research and Development Program of China (Nos. 2016YFA0203800 and 2016YFA0201803) and the National Natural Science Foundation of China (No. 61522408).
Copyright information
© Tsinghua University Press and Springer-Verlag Berlin Heidelberg 2017