Folate targeted coated SPIONs as efficient tool for MRI
Abstract
The development of more sensitive diagnostic tools allowing an early-stage and highly efficient medical imaging of tumors remains a challenge. Magnetic nanoparticles seem to be the contrast agents with the highest potential, if properly constructed. Therefore, in this study, hybrid magnetic nanoarchitectures were developed using a new amphiphilic inulin-based graft copolymer (INU-LAPEG-FA) as coating material for 10-nm spinel iron oxide (magnetite, Fe3O4) superparamagnetic nanoparticles (SPION). Folic acid (FA) covalently linked to the coating copolymer in order to be exposed onto the nanoparticle surface was chosen as the targeting agent because folate receptors are upregulated in many cancer types. Physicochemical characterization and in vitro biocompatibility study was then performed on the prepared magnetic nanoparticles. The improved targeting and imaging properties of the prepared FA-SPIONs were further evaluated in nude mice using 7-Tesla magnetic resonance imaging (MRI). FA-SPIONs exhibited the ability to act as efficient contrast agents in conventional MRI, providing a potential nanoplatform not only for tumor diagnosis but also for cancer treatment, through the delivery of anticancer drug or locoregional magnetic hyperthermia.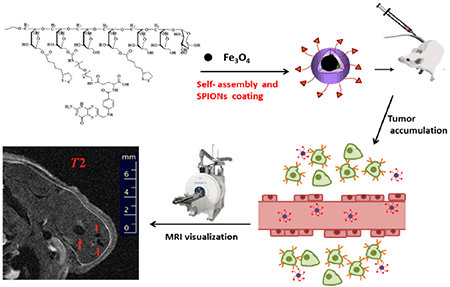 Keywords
inulin copolymer 
superparamagnetic spinel iron oxide nanoparticles (SPIONs) 
magnetic resonance imaging (MRI) 
folic acid (FA) 
cancer targeting 
Notes
Acknowledgements
The authors thank Istituto Zooprofilattico Sperimentale della Sicilia "A. Mirri", Palermo, Italy for the use of MRI scanner. The authors also thank the MIUR and the University of Palermo for funding.
Copyright information
© Tsinghua University Press and Springer-Verlag Berlin Heidelberg 2017