FeSe2 clusters with excellent cyclability and rate capability for sodium-ion batteries
Abstract
Sodium-ion batteries (SIBs) have great promise for sustainable and economical energy-storage applications. Nevertheless, it is a major challenge to develop anode materials with high capacity, high rate capability, and excellent cycling stability for them. In this study, FeSe2 clusters consisting of nanorods were synthesized by a facile hydrothermal method, and their sodium-storage properties were investigated with different electrolytes. The FeSe2 clusters delivered high electrochemical performance with an ether-based electrolyte in a voltage range of 0.5–2.9 V. A high discharge capacity of 515 mAh·g–1 was obtained after 400 cycles at 1 A·g–1, with a high initial columbic efficiency of 97.4%. Even at an ultrahigh rate of 35 A·g–1, a specific capacity of 128 mAh·g–1 was achieved. Using calculations, we revealed that the pseudocapacitance significantly contributed to the sodium-ion storage, especially at high current rates, leading to a high rate capability. The high comprehensive performance of the FeSe2 clusters makes them a promising anode material for SIBs.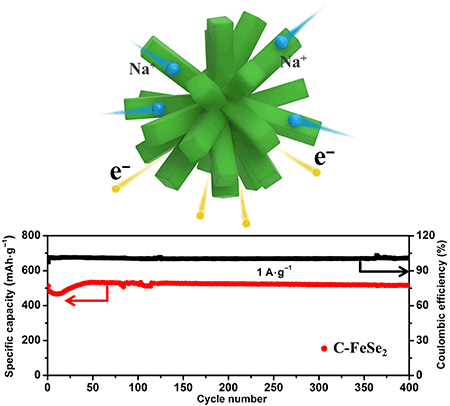 Keywords
FeSe2 clusters 
superior rate capability 
excellent cycling stability 
sodium-ion batteries 
pseudocapacitive behavior 
Notes
Acknowledgements
This work was supported by the National Key Research and Development Program of China (No. 2016YFA0202603), the National Natural Science Foundation of China (Nos. 51425204 and 51602239), the Hubei Provincial Natural Science Foundation of China (No. 2016CFB267), the Fundamental Research Funds for the Central Universities (Nos. 2016IVA090 and 2017III005), the Natural Science Foundation of Henan Province (Nos. 152300410114 and 14B140009), the China Postdoctoral Science Foundation (No. 2016M592401). L. Q. M. gratefully acknowledged financial support from China Scholarship Council (No. 201606955096).
Copyright information
© Tsinghua University Press and Springer-Verlag GmbH Germany 2017