Fluorination of suspended graphene
Abstract
Suspended graphene is exposed to different fluorine-containing species produced by a plasma source fed with CF4 precursor gas. We investigate the fluorination process by selecting two different kinetic energies for the ions striking the graphene surface. The chemical-bonding environment is discussed, and the control of the graphene-fluorination homogeneity is investigated at the individual graphene sheets. The modifications of the electronic and structural properties are examined by scanning photoelectron microscopy, micro-Raman analysis, and scanning electron microscopy. The results are compared with those obtained for supported graphene on copper. Suspended graphene provides a quasi-ideal model for investigating the intrinsic properties of irradiated carbon nano-systems while avoiding damage due to backscattered atoms and recoil due to a supporting substrate.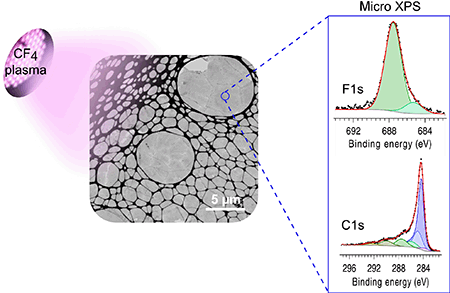 Keywords
graphene 
fluorination 
spectromicroscopy 
X-ray photoelectron spectroscopy (XPS) 
Raman 
scanning electron microscopy (SEM) 
Notes
Acknowledgements
This work was supported by the Belgian Fund for Scientific Research (FRS-FNRS) under the FRFC contract "CHEMOGRAPHENE" (No. 2.4577.11). This research was also supported by a Marie Curie International Research Staff Exchange Scheme Fellowship within the 7th European Community Framework Programme "NanoCF" (No. PIRSES-GA-2013-612577). C. S. is grateful to the "Fonds pour la Formation à la Recherche dans l'Industrie et dans l'Agriculture" (F.R.I.A.) for the doctoral fellowship. M. S. is FRS-FNRS post-doctoral researcher, J.-F. C. and C. B. are Researcher Associates at the FRS-FNRS. We thank M. Fant for technical assistance at the Elettra synchrotron, Y. Paint for SEM. The research leading to this work also received funding from the European Union Seventh Framework Program under grant agreement No 604391 Graphene Flagship.
Copyright information
© Tsinghua University Press and Springer-Verlag Berlin Heidelberg 2017