Two-photon-excited near-infrared emissive carbon dots as multifunctional agents for fluorescence imaging and photothermal therapy
Abstract
C dots (CDs) have shown great potential in bioimaging and phototherapy. However, it is challenging to manipulate their fluorescent properties and therapeutic efficacy to satisfy the requirements for clinic applications. In this study, we prepared S, Se-codoped CDs via a hydrothermal method and demonstrated that the doping resulted in excitation wavelength-independent near-infrared (NIR) emissions of the CDs, with peaks at 731 and 820 nm. Significantly, the CDs exhibited a photothermal conversion efficiency of ~58.2%, which is the highest reported value for C nanostructures and is comparable to that of Au nanostructures. Moreover, the CDs had a large two-photon absorption cross section (~30,045 GM), which allowed NIR emissions and the photothermal conversion of the CDs through the two-photon excitation (TPE) mechanism. In vitro and in vivo tests suggested that CDs can function as new multifunctional phototheranostic agents for the TPE fluorescence imaging and photothermal therapy of cancer cells.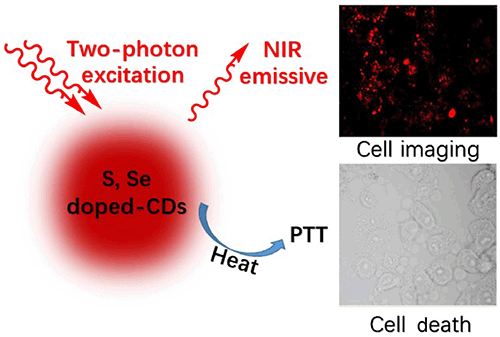 Keywords
carbon dots 
phototheranostic agent 
two-photon excitation 
NIR emission 
photothermal conversion 
Notes
Acknowledgements
This work was supported by the General Research Fund of Hong Kong (No. 11338516), and the National Natural Science Foundation of China (Nos. 51572269 and 51672230).
Copyright information
© Tsinghua University Press and Springer-Verlag Berlin Heidelberg 2017