Au/Ni12P5 core/shell single-crystal nanoparticles as oxygen evolution reaction catalyst
Abstract
We have demonstrated the improved performance of oxygen evolution reactions (OER) using Au/nickel phosphide (Ni12P5) core/shell nanoparticles (NPs) under basic conditions. NPs with a Ni12P5 shell and a Au core, both of which have well-defined crystal structures, have been prepared using solution-based synthetic routes. Compared with pure Ni12P5 NPs and Au-Ni12P5 oligomer-like NPs, the core/shell crystalline structure with Au shows an improved OER activity. It affords a current density of 10 mA/cm2 at a small overpotential of 0.34 V, in 1 M KOH aqueous solution at room temperature. This enhanced OER activity may relate to the strong structural and effective electronic coupling between the single-crystal core and the shell.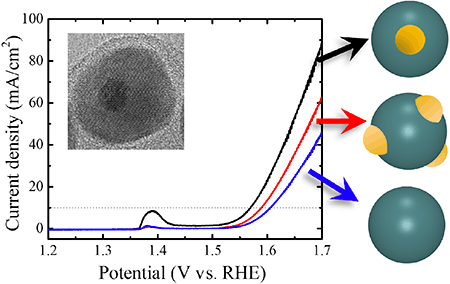 Keywords
oxygen evolution reaction 
nickel phosphide 
core/shell nanoparticles 
interfacial coupling 
Notes
Acknowledgements
This work was supported by the National Natural Science Foundation of China (Nos. 11674023, 51371015, 51331002, and 51501004), the Beijing Municipality Natural Science Foundation (No. 2142018), and the Fundamental Research Funds for the Central Universities (No. FRF-BR-15-023A). We would like to thank Prof. Feng Yuanping at Centre for Advanced 2D Materials and Graphene Research of NUS for discussions on computing results. We also thank the National Supercomputing Centre Singapore for providing the computing resource.
Copyright information
© Tsinghua University Press and Springer-Verlag Berlin Heidelberg 2017