Nanocomposite quasi-solid-state electrolyte for high-safety lithium batteries
Abstract
Rechargeable lithium batteries are attractive power sources for electronic devices and are being aggressively developed for vehicular use. Nevertheless, problems with their safety and reliability must be solved for the large-scale use of lithium batteries in transportation and grid-storage applications. In this study, a unique hybrid solid-state electrolyte composed of an ionic liquid electrolyte (LiTFSI/Pyr14TFSI) and BaTiO3 nanosize ceramic particles was prepared without a polymer. The electrolyte exhibited high thermal stability, a wide electrochemical window, good ionic conductivity of 1.3 × 10−3 S·cm−1 at 30 °C, and a remarkably high lithium-ion transference number of 0.35. The solid-state LiFePO4 cell exhibited the best electrochemical properties among the reported solid-state batteries, along with a reasonable rate capability. Li/LiCoO2 cells prepared using this nanocomposite solid electrolyte exhibited high performance at both room temperature and a high temperature, confirming their potential as lithium batteries with enhanced safety and a wide range of operating temperatures.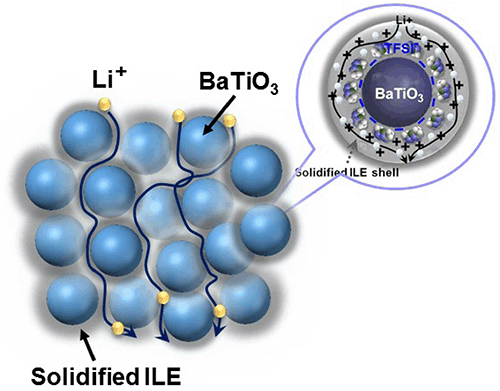 Keywords
nanocomposition 
solidified ionic liquid shell 
charge space 
safety 
lithium battery 
Notes
Acknowledgements
This work was supported by the 2017 Research Fund (No. 1.170012.01) of UNIST (Ulsan National Institute of Science and Technology) and Basic Science Research Program through the National Research Foundation of Korea (NRF) funded by the Ministry of Education (Nos. NRF-2014R1A1A2A16053515 and NRF-2016R1A2A2A07005334).
Copyright information
© Tsinghua University Press and Springer-Verlag Berlin Heidelberg 2017