An intelligent near-infrared light activatable nanosystem for accurate regulation of zinc signaling in living cells
Abstract
Accurate regulation of cellular zinc signaling is imperative to decipher underlying zinc functions and develop new therapeutic agents. However, the ability to modulate zinc in a spatiotemporal manner remains elusive. We herein report an intelligent spiropyran-upconversion (SP-UCNPs) based nanosystem that enables near-infrared (NIR) light-controlled zinc release at precise times and locations. The magnitude of zinc release can be simply manipulated by varying the duration of NIR irradiation. Moreover, the utilization of NIR light not only showed little damage to cells but also significantly improved penetration depth. By evaluating activity of a model protein, phosphatase 2A, we further validated zinc signaling activation. Importantly, our strategy may be broadly applicable to other types of metal ions, like the ubiquitous second messenger calcium. More importantly, our strategy can potentially enable the precise control of specific signaling pathways of metal ions while minimizing cellular damage, facilitating the advanced manipulation of cellular dynamics.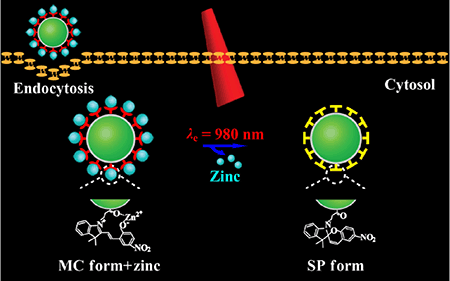 Keywords
nanocarrier 
zinc 
upconversion 
spiropyran 
cellular manipulation 
Notes
Acknowledgements
We thank Prof. Zhenxin Wang and Lina Ma for the cellular imaging experiments. We acknowledge financial support the National Natural Science Foundation of China (Nos. 21210002, 21431007, 21533008, and 81502277).
Copyright information
© Tsinghua University Press and Springer-Verlag Berlin Heidelberg 2017