Switchable CO2 electroreduction via engineering active phases of Pd nanoparticles
Abstract
Active-phase engineering is regularly utilized to tune the selectivity of metal nanoparticles (NPs) in heterogeneous catalysis. However, the lack of understanding of the active phase in electrocatalysis has hampered the development of efficient catalysts for CO2 electroreduction. Herein, we report the systematic engineering of active phases of Pd NPs, which are exploited to select reaction pathways for CO2 electroreduction. In situ X-ray absorption spectroscopy, in situ attenuated total reflection-infrared spectroscopy, and density functional theory calculations suggest that the formation of a hydrogen-adsorbed Pd surface on a mixture of the α- and β-phases of a palladium-hydride core (α+β PdH x @PdH x ) above −0.2 V (vs. a reversible hydrogen electrode) facilitates formate production via the HCOO* intermediate, whereas the formation of a metallic Pd surface on the β-phase Pd hydride core (β PdH x @Pd) below −0.5 V promotes CO production via the COOH* intermediate. The main product, which is either formate or CO, can be selectively produced with high Faradaic efficiencies (>90%) and mass activities in the potential window of 0.05 to −0.9 V with scalable application demonstration.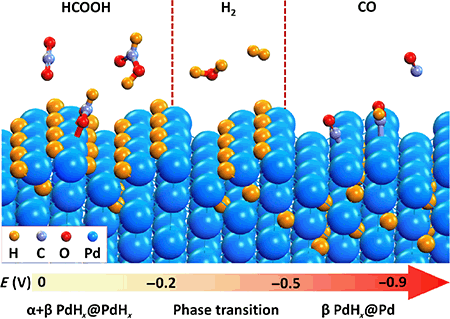 Keywords
carbon-dioxide electroreduction 
Pd nanoparticles 
active phase 
selectivity fluctuation 
Notes
Acknowledgements
We gratefully acknowledge financial support from the National Basic Research Program of China (Nos. 2016YFB0600901 and 2013CB733501), the National Natural Science Foundation of China (Nos. 21136001, 21573222, 91545202 and 91334103), and the Strategic Priority Research Program of the Chinese Academy of Sciences (No. XDB17020200). We thank staff at the BL14W1 beamline of Shanghai Synchrotron Radiation Facility (SSRF) for the kind help during XAFS measurements. G. X. W. also thanks the financial support from CAS Youth Innovation Promotion Association.
Copyright information
© Tsinghua University Press and Springer-Verlag Berlin Heidelberg 2017