Topotactic reduction of layered double hydroxides for atomically thick two-dimensional non-noble-metal alloy
Abstract
Layered double hydroxides (LDHs) have been widely used as catalysts owing to their tunable structure and atomic dispersion of high-valence metal ions; however, limited tunability of electronic structure and valence states have hindered further improvement in their catalytic performance. Herein, we reduced ultrathin LDH precursors in situ and topotactically converted them to atomically thick (~2 nm) two-dimensional (2D) multi-metallic, single crystalline alloy nanosheets with highly tunable metallic compositions. The as-obtained alloy nanosheets not only maintained the vertically aligned ultrathin 2D structure, but also inherited the atomic dispersion of the minor metallic compositions of the LDH precursors, even though the atomic percentage was higher than 20%, which is far beyond the reported percentages for single-atom dispersions (usually less than 0.1%). Besides, surface engineering of the alloy nanosheets can finely tune the surface electronic structure for catalytic applications. Such in situ topotactic conversion strategy has introduced a novel approach for atomically dispersed alloy nanostructures and reinforced the synthetic methodology for ultrathin 2D metal-based catalysts.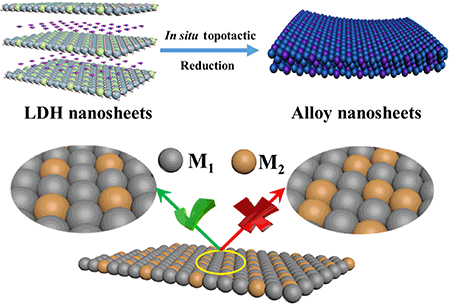 Keywords
atomic thickness 
two-dimensional (2D) nanosheets 
non-noble-metal alloy 
atomic dispersion 
catalysis 
Notes
Acknowledgements
This work was supported by the National Natural Science Foundation of China, the National Key Research and Development Program of China (No. 2016YFF0204402), the Program for Changjiang Scholars and Innovative Research Team in the University, the Fundamental Research Funds for the Central Universities, and the Long Term Subsidy Mechanism from the Ministry of Finance and the Ministry of Education of PRC.
Copyright information
© Tsinghua University Press and Springer-Verlag Berlin Heidelberg 2017