Flower-like C@SnO X @C hollow nanostructures with enhanced electrochemical properties for lithium storage
Abstract
Hollow nanostructures have attracted considerable attention owing to their large surface area, tunable cavity, and low density. In this study, a unique flower-like C@SnO X @C hollow nanostructure (denoted as C@SnO X @C-1) was synthesized through a novel one-pot approach. The C@SnO X @C-1 had a hollow carbon core and interlaced petals on the shell. Each petal was a SnO2 nanosheet coated with an ultrathin carbon layer ~2 nm thick. The generation of the hollow carbon core, the growth of the SnO2 nanosheets, and the coating of the carbon layers were simultaneously completed via a hydrothermal process using resorcinol-formaldehyde resin-coated SiO2 nanospheres, tin chloride, urea, and glucose as precursors. The resultant architecture with a large surface area exhibited excellent lithium-storage performance, delivering a high reversible capacity of 756.9 mA·h·g–1 at a current density of 100 mA·g–1 after 100 cycles.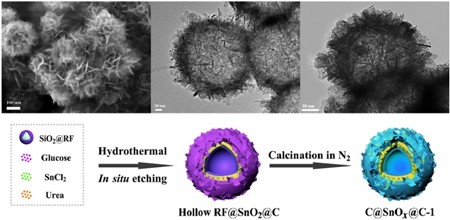 Keywords
C@SnOX@C 
hollow nanostructure 
nanosheets 
carbon coating 
anodes 
Notes
Acknowledgements
The authors acknowledge the financial support from the National Natural Science Foundation of China (Nos. 21471096 and 21371116), and Program for Innovative Research Team in University (No. IRT13078). We thank the Lab for Microstructure, Instrumental Analysis & Research Center, Shanghai University, for materials characterizations.
Copyright information
© Tsinghua University Press and Springer-Verlag Berlin Heidelberg 2017