Ultrasound-triggered noninvasive regulation of blood glucose levels using microgels integrated with insulin nanocapsules
Abstract
Diabetes is a serious public health problem affecting 422 million people worldwide. Traditional diabetes management often requires multiple daily insulin injections, associated with pain and inadequate glycemia control. Herein, we have developed an ultrasound-triggered insulin delivery system capable of pulsatile insulin release that can provide both long-term sustained and fast on-demand responses. In this system, insulin-loaded poly(lactic-co-glycolic acid) (PLGA) nanocapsules are encapsulated within chitosan microgels. The encapsulated insulin in nanocapsules can passively diffuse from the nanoparticle but remain restricted within the microgel. Upon ultrasound treatment, the stored insulin in microgels can be rapidly released to regulate blood glucose levels. In a chemically-induced type 1 diabetic mouse model, we demonstrated that this system, when activated by 30 s ultrasound administration, could effectively achieve glycemic control for up to one week in a noninvasive, localized, and pulsatile manner.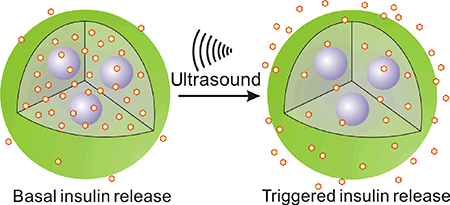 Keywords
controlled drug delivery 
focused ultrasound 
diabetes 
nanocapsule 
microgel 
Notes
Acknowledgements
This work was supported by the Junior Faculty Award of the American Diabetes Association (ADA), the NC State Faculty Research and Professional Development Award to Z. G. The authors thank Dr. John Buse at UNC-CH for helpful discussion and Dr. Elizabeth Loboa, Dr. Michael Gamcsik and Dr. Glenn Walker for assistance in equipment usage.
Copyright information
© Tsinghua University Press and Springer-Verlag Berlin Heidelberg 2017