Facile synthesis of fully ordered L10-FePt nanoparticles with controlled Pt-shell thicknesses for electrocatalysis
Abstract
We report a simple one-step approach for the synthesis of ~4 nm uniform and fully L10-ordered face-centered tetragonal (fct) FePt nanoparticles (NPs) embedded in ~60 nm MCM-41 (fct-FePt NPs@MCM-41). We controlled the Pt-shell thickness of the fct-FePt NPs by treating the fct-FePt NPs@MCM-41 with acetic acid (HOAc) or hydrochloric acid (HCl) under sonication, thereby etching the surface Fe atoms of the NPs. The fct-FePt NPs deposited onto the carbon support (fct-FePt NP/C) were prepared by mixing the fct-FePt NPs@MCM-41 with carbon and subsequently removing the MCM-41 using NaOH. We also developed a facile method to synthesize acid-treated fct-FePt NP/C by using a HF solution for simultaneous surface-Fe etching and MCM-41 removal. We studied the effects of both surface-Fe etching and Pt-shell thickness on the electrocatalytic properties of fct-FePt NPs for the methanol oxidation reaction (MOR). Compared with the non-treated fct-FePt NP/C catalyst, the HOAc-treated and HCl-treated catalysts exhibit up to 34% larger electrochemically active surface areas (ECASAs); in addition, the HCl-treated fct-FePt NP (with ~1.0 nm Pt shell)/C catalyst exhibits the highest specific activity. The HF-treated fct-FePt NP/C exhibits an ECASA almost 2 times larger than those of the other acid-treated fct-FePt NP/C catalysts and shows the highest mass activity (1,435 mA·mgPt –1, 2.3 times higher than that of the commercial Pt/C catalyst) and stability among the catalysts tested. Our findings demonstrate that the surface-Fe etching for the generation of the Pt shell on fct-FePt NPs and the Pt-shell thickness can be factors for optimizing the electrocatalysis of the MOR.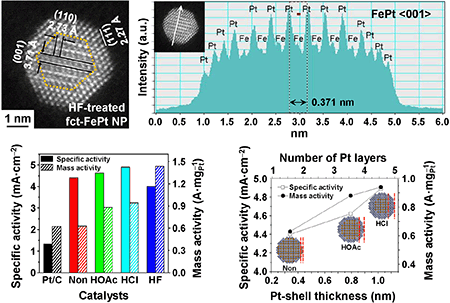 Keywords
FePt 
face centered tetragonal 
bimetallic 
methanol oxidation reaction 
electrocatalysts 
Notes
Acknowledgements
This research was supported by the Basic Science Research Program through the National Research Foundation of Republic of Korea (NRF) funded by the Ministry of Education, Science and Technology (Nos. NRF-2014R1A1A2056619 and NRF-2015R1D1A3A01019467). Y. M. K. was supported by the Institute for Basic Science (No. IBS-R011-D1) in Republic of Korea.
Copyright information
© Tsinghua University Press and Springer-Verlag Berlin Heidelberg 2017