A series of nanoparticles with phase-separated structures by 1,1-diphenylethene controlled one-step soap-free emulsion copolymerization and their application in drug release
Abstract
A facile one-step approach to synthesize various phase-separated porous, raspberry-like, flower-like, core–shell and anomalous nanoparticles and nanocapsules via 1,1-diphenylethene (DPE) controlled soap-free emulsion copolymerization of styrene (S) with glycidyl methacrylate (GMA), or acrylic acid (AA) is reported. By regulating the mass ratio of S/GMA, transparent polymer solution, porous and anomalous P(S-GMA) particles could be produced. The P(S-GMA) particles turn from flower-like to raspberry-like and then to anomalous structures with smooth surface as the increase of divinylbenzene (DVB) crosslinker. Transparent polymer solution, nanocapsules and core–shell P(S-AA) particles could be obtained by altering the mole ratio of S/AA; anomalous and raspberry-like P(S-AA) particles are produced by adding DVB. The unpolymerized S resulted from the low monomer conversion in the presence of DPE aggregates to form nano-sized droplets, and migrates towards the external surfaces of the GMA-enriched P(S-GMA) particles and the internal bulk of the AA-enriched P(S-AA) particles. The nano-sized droplets function as in situ porogen, porous P(S-GMA) particles and P(S-AA) nanocapsules are produced when the porogen is removed. This novel, facile, one-step method with excellent controllability and reproducibility will inspire new strategies for creating hierarchical phase-separated polymeric particles with various structures by simply altering the species and ratio of comonomers. The drug loading and release experiments on the porous particles and nanocapsules demonstrate that the release of doxorubicin hydrochloride is very slow in weakly basic environment and quick in weakly acidic environment, which enables the porous particles and nanocapsules with promising potential in drug delivery applications.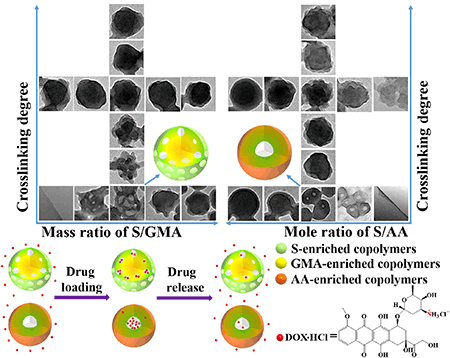 Keywords
phase separation 
1,1-diphenylethene controlled polymerization 
porous 
nanocapsules 
controlled release 
Notes
Acknowledgements
This work was supported by the National High-tech R&D Program of China (No. 2012AA02A404), the Key Program of the National Natural Science Foundation of China (No. 51433008), the Basic Research of Northwestern Polytechnical University (Nos. 3102014JCQ01094, JC20120248 and 3102014ZD) and the 2015 Sino-Germany (CSC-DAAD) Postdoc Scholarship.
Copyright information
© Tsinghua University Press and Springer-Verlag GmbH Germany 2017