Recent progress in flexible and wearable bio-electronics based on nanomaterials
Abstract
Flexible and stretchable biosensors that can monitor and quantify the electrical or chemical signals generated by specific microenvironments have attracted a great deal of attention. Wearable biosensors that can be intimately attached to skin or tissue provide a new opportunity for medical diagnostics and therapy. In recent years, there has been enormous progress in device integration and the design of materials and manufacturing processes for flexible and stretchable systems. Here, we describe the most recent developments in nanomaterials employed in flexible and stretchable biosensors. We review successful examples of such biosensors used for the detection of vital physiological and biological markers such as gas released from organisms. Furthermore, we provide a detailed overview of recent achievements regarding integrated platforms that include multifunctional nanomaterials. The issues and challenges related to the effective integration of multifunctional nanomaterials in bio-electronics are also discussed.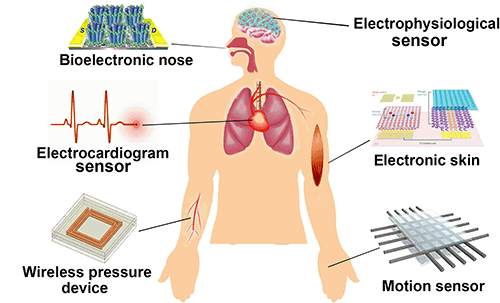 Keywords
flexible biosensor 
electronics 
nanostructured materials 
integrated devices 
graphene 
Notes
Acknowledgements
This work was supported by the National Natural Science Foundation of China (Nos. 51272186, 21422105, and 21675120), the Foundation for the Author of National Excellent Doctoral Dissertation of PR China (No. 201220), and Ten Thousand Talents Program for Young Talents.
Copyright information
© Tsinghua University Press and Springer-Verlag Berlin Heidelberg 2017