Toward integrated detection and graphene-based removal of contaminants in a lab-on-a-chip platform
Abstract
A novel, miniaturized microfluidic platform was developed for the simultaneous detection and removal of polybrominated diphenyl ethers (PBDEs). The platform consists of a polydimethylsiloxane (PDMS) microfluidic chip for an immunoreaction step, a PDMS chip with an integrated screen-printed electrode (SPCE) for detection, and a PDMS-reduced graphene oxide (rGO) chip for physical adsorption and subsequent removal of PBDE residues. The detection was based on competitive immunoassay-linked binding between PBDE and PBDE modified with horseradish peroxidase (HRP-PBDE) followed by the monitoring of enzymatic oxidation of o-aminophenol (o-AP) using square wave anodic stripping voltammetry (SW-ASV). PBDE was detected with good sensitivity and a limit of detection similar to that obtained with a commercial colorimetric test (0.018 ppb), but with the advantage of using lower reagent volumes and a reduced analysis time. The use of microfluidic chips also provides improved linearity and a better reproducibility in comparison to those obtained with batch-based measurements using screen-printed electrodes. In order to design a detection system suitable for toxic compounds such as PBDEs, a reduced graphene oxide–PDMS composite was developed and optimized to obtain increased adsorption (based on both the hydrophobicity and π–π stacking between rGO and PBDE molecules) compared to those of non-modified PDMS. To the best of our knowledge, this is the first demonstration of electrochemical detection of flame retardants and a novel application of the rGO-PDMS composite in a biosensing system. This system can be easily applied to detect any analyte using the appropriate immunoassay and it supports operation in complex matrices such as seawater.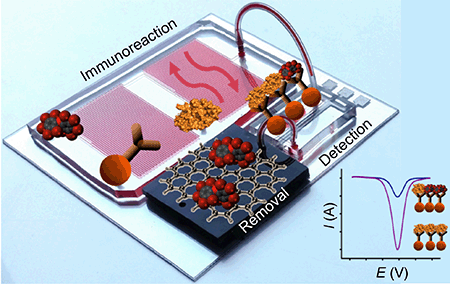 Keywords
electrochemistry 
microfluidics 
graphene oxide 
flame retardants 
lab on a chip 
polydimethylsiloxane 
Notes
Acknowledgements
We acknowledge FP7 EU Project "SMS" (No. 613844). ICN2 acknowledges support from the Severo Ochoa Program (MINECO, No. SEV-2013-0295) and Secretaria d'Universitats i Recerca del Departament d′Economia i Coneixement de la Generalitat de Catalunya (2014 SGR 260). The authors would also like to thank Dr. Mariana Medina Sánchez for microfluidic mold fabrication that was employed in GO-CHIP development.
Copyright information
© Tsinghua University Press and Springer-Verlag Berlin Heidelberg 2016