Silica shell-assisted synthetic route for mono-disperse persistent nanophosphors with enhanced in vivo recharged near-infrared persistent luminescence
Abstract
Near-infrared (NIR) persistent-luminescence nanoparticles have emerged as a new class of background-free contrast agents that are promising for in vivo imaging. The next key roadblock is to establish a robust and controllable method for synthesizing monodisperse nanoparticles with high luminescence brightness and long persistent duration. Herein, we report a synthesis strategy involving the coating/etching of the SiO2 shell to obtain a new class of small NIR highly persistent luminescent ZnGa2O4:Cr3+,Sn4+ (ZGOCS) nanoparticles. The optimized ZGOCS nanoparticles have an excellent size distribution of ~15 nm without any agglomeration and an NIR persistent luminescence that is enhanced by a factor of 13.5, owing to the key role of the SiO2 shell in preventing nanoparticle agglomeration after annealing. The ZGOCS nanoparticles have a signal-to-noise ratio ~3 times higher than that of previously reported ZnGa2O4:Cr3+ (ZGC-1) nanoparticles as an NIR persistent-luminescence probe for in vivo bioimaging. Moreover, the persistent-luminescence signal from the ZGOCS nanoparticles can be repeatedly re-charged in situ with external excitation by a white lightemitting diode; thus, the nanoparticles are suitable for long-term in vivo imaging applications. Our study suggests an improved strategy for fabricating novel high-performance optical nanoparticles with good biocompatibility.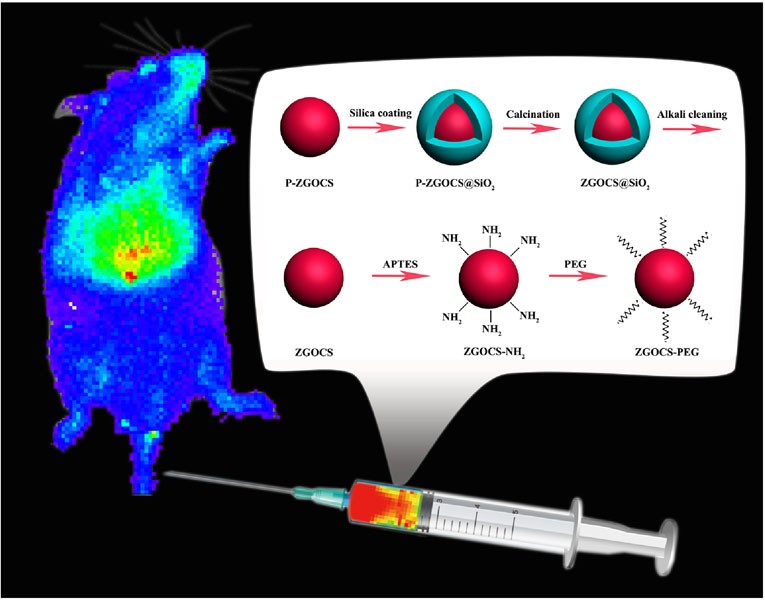 Keywords
core-shell structure 
in vivo imaging 
narrow size distribution 
near-infrared (NIR) persistent luminescence 
biocompatibility 
Notes
Acknowledgements
This work was financially supported by the National Basic Research Program of China (No. 2014CB643801), the National Natural Science Foundation of China (Nos. 51572302 and 21271191), the Joint Funds of the National Natural Science Foundation of China and Guangdong Province (No. U1301242), Teamwork Projects of Guangdong Natural Science Foundation (No. S2013030012842), Guangdong Science & Technology Project (Nos. 2013B090800019 and 2015B090926011) and Natural Science Foundation of Guangdong Province (No. 2014A030313114).
Copyright information
© Tsinghua University Press and Springer-Verlag Berlin Heidelberg 2016