Porous Pt/Ag nanoparticles with excellent multifunctional enzyme mimic activities and antibacterial effects
Abstract
Enhancing the activity of Pt-based nanocatalysts is of great significance yet a challenge for the oxygen reduction reaction (ORR). In this work, a series of porous Pt/Ag nanoparticles (NPs) were fabricated from regular Pt x Ag100–x (x = 25, 50, 75) octahedra by a facile and economical dealloying process. Remarkable enhancement in multiple enzyme-mimic activities related to ORR was observed for the dealloyed Pt50Ag50 (D-Pt50Ag50) NPs. This effect can be attributed to the resulting Pt-rich surface structure, increased surface area, and a synergistic effect of Pt and Ag atoms in the D-Pt50Ag50 NPs. Furthermore, the D-Pt50Ag50 NPs exerted excellent antibacterial effects on two model bacteria (gram-negative Escherichia coli and gram-positive Staphylococcus aureus). The present work represents a significant advance in the exploration of the relation between controllable synthesis of high-quality nanoalloys and their novel catalytic properties for various promising applications, including catalysts, biosensors, and biomedicine.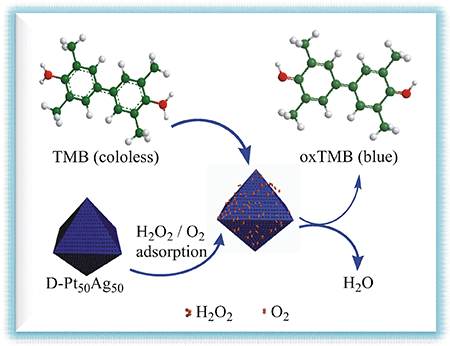 Keywords
platinum 
porous 
oxygen reduction reaction 
enzyme mimic 
antibacterial 
Notes
Acknowledgements
This work was supported by National Key Research and Development Program from the Ministry of Science and Technology of China (No. 2016YFC0207102) and National Natural Science Foundation of China (Nos. 21501034, 21573050 and 21503053). Financial support from Chinese Academy of Sciences (No. XDA09030303) and CAS Key Laboratory of Biological Effects of Nanomaterials and Nanosafety was also gratefully acknowledged. We thank associate Prof. Xun Hong from Center of Advanced Nanocatalysis in University of Science and Technology of China (USTC) for constructive discussion. We also thank Dr. Haijun Yang and Yayun Chen from Analysis Center of Department of Chemistry at Tsinghua University for help with ESR study. This work made use of the resources of the Beijing National Center for Electron Microscopy at Tsinghua University.
Copyright information
© Tsinghua University Press and Springer-Verlag Berlin Heidelberg 2016