Understanding of the capacity contribution of carbon in phosphorus-carbon composites for high-performance anodes in lithium ion batteries
Abstract
Phosphorus has recently received extensive attention as a promising anode for lithium ion batteries (LIBs) due to its high theoretical capacity of 2,596 mAh·g–1. To develop high-performance phosphorus anodes for LIBs, carbon materials have been hybridized with phosphorus (P-C) to improve dispersion and conductivity. However, the specific capacity, rate capability, and cycling stability of P-C anodes are still less than satisfactory for practical applications. Furthermore, the exact effects of the carbon support on the electrochemical performance of the P-C anodes are not fully understood. Herein, a series of xP-yC anode materials for LIBs were prepared by a simple and efficient ball-milling method. 6P-4C and 3P-7C were found to be optimum mass ratios of x/y, and delivered initial discharge capacities of 1,803.5 and 1,585.3·mAh·g–1, respectively, at 0.1 C in the voltage range 0.02–2 V, with an initial capacity retention of 68.3% over 200 cycles (more than 4 months cycling life) and 40.8% over 450 cycles. The excellent electrochemical performance of the 6P-4C and 3P-7C samples was attributed to a synergistic effect from both the adsorbed P and carbon.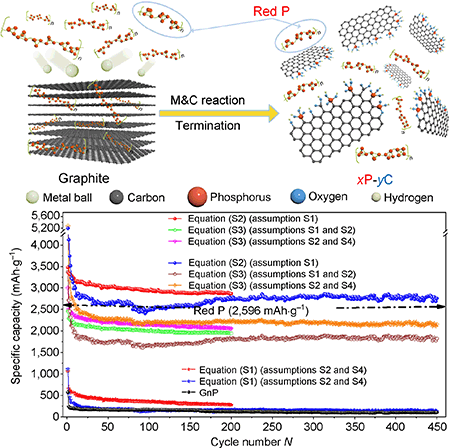 Keywords
phosphorus 
carbon 
synergistic effect 
anode 
lithium ion batteries 
Notes
Acknowledgements
The authors are grateful for financial support from the Gobal Challenge Program grant (University of wollongong), Australia Auto CRC 2020, Creative Research Initiative (NRF), and National Science Foundation (No. NSF-CMMI-1400274). The autors also want to thank Ms. Donghua Han, and Mr. Boyang Ruan for their great help.
Copyright information
© Tsinghua University Press and Springer-Verlag Berlin Heidelberg 2016