Tailoring RGD local surface density at the nanoscale toward adult stem cell chondrogenic commitment
Abstract
Arginine-glycine-aspartic acid (RGD) dendrimer-based nanopatterns on poly(L-lactic acid) were used as bioactive substrates to evaluate the impact of the RGD local surface density on the chondrogenic induction of adult human mesenchymal stem cells. During chondrogenic commitment, active extracellular matrix (ECM) remodeling takes place, playing an instructive role in the differentiation process. Although three-dimensional environments such as pellet or micromass cultures are commonly used for in vitro chondrogenic differentiation, these cultures are rather limited with respect to their ability to interrogate cells in cell–ECM interactions. In the present study, the nanopatterns of the tunable RGD surface density were obtained as a function of the initial dendrimer concentration. The local RGD surface density was quantified through probability contour plots for the minimum interparticle distance, constructed from the corresponding atomic force microscopy images, and correlated with the cell adhesion and differentiation response. The results revealed that the local RGD surface density at the nanoscale acts as a regulator of chondrogenic commitment, and that intermediate adhesiveness of cells to the substrates favors mesenchymal cell condensation and early chondrogenic differentiation.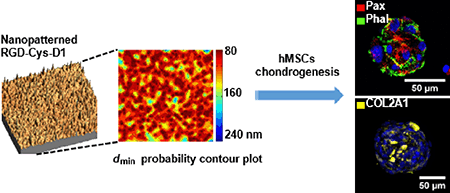 Keywords
dendrimer 
arginine-glycine-aspartic acid (RGD) 
nanopattern 
human mesenchymal stem cells (hMSCs) 
chondrogenesis 
Notes
Acknowledgements
Authors acknowledge Prof. Pau Gorostiza for its help in STM experiments, Albert G. Castaño for his help in d min quantification, and Dr. David Caballero for his support in microscopy video recording. This work was supported by Networking Biomedical Research Center (CIBER), Spain. CIBER is an initiative funded by the VI National R&D&i Plan 2008–2011, Iniciativa Ingenio 2010, Consolider Program, CIBER Actions, and the Instituto de Salud Carlos III, with the support of the European Regional Development Fund. This work has been financially supported by the Commission for Universities and Research of the Department of Innovation, Universities, and Enterprise of the Generalitat de Catalunya (2014 SGR 1442). This work was funded by the project OLIGOCODES (No. MAT2012-38573-C02) and by the project CTQ2013-41339-P, awarded by the Spanish Ministry of Economy and Competitiveness. C. R. P. acknowledges financial support from the Spanish Ministry of Economy and Competitiveness grant (No. IFI15/00151).
Copyright information
© Tsinghua University Press and Springer-Verlag Berlin Heidelberg 2016