Ultrafine Sn nanocrystals in a hierarchically porous N-doped carbon for lithium ion batteries
Abstract
We report a simple method of preparing a high performance, Sn-based anode material for lithium ion batteries (LIBs). Adding H2O2 to an aqueous solution containing Sn2+ and aniline results in simultaneous polymerization of aniline and oxidation of Sn2+ to SnO2, leading to a homogeneous composite of polyaniline and SnO2. Hydrogen thermal reduction of the above composite yields N-doped carbon with hierarchical porosity and homogeneously distributed, ultrafine Sn particles. The nanocomposite exhibits excellent performance as an anode material for lithium ion batteries, showing a high reversible specific capacity of 788 mAh·g−1 at a current density of 100 mA·g−1 after 300 cycles and very good stability up to 5,000 mA·g−1. The simple preparation method combined with the good electrochemical performance is highly promising to promote the application of Sn based anode materials.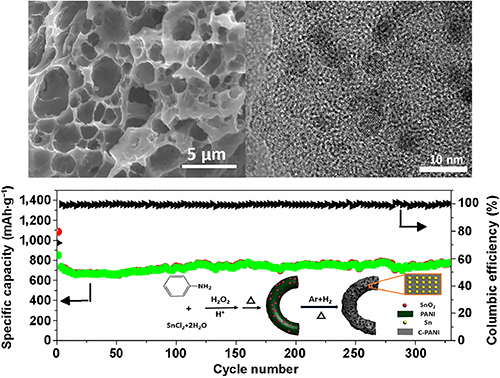 Keywords
Sn 
polyaniline 
nanocomposite 
lithium ion battery (LIB) 
Notes
Acknowledgements
The authors acknowledge the financial support from the National Natural Science Foundation of China (Nos. U1201241, 11375020, 51431001, and 21321001).
Copyright information
© Tsinghua University Press and Springer-Verlag Berlin Heidelberg 2016