Template-directed synthesis of nitrogen- and sulfur-codoped carbon nanowire aerogels with enhanced electrocatalytic performance for oxygen reduction
Abstract
Heteroatom doping, precise composition control, and rational morphology design are efficient strategies for producing novel nanocatalysts for the oxygen reduction reaction (ORR) in fuel cells. Herein, a cost-effective approach to synthesize nitrogen- and sulfur-codoped carbon nanowire aerogels using a hard templating method is proposed. The aerogels prepared using a combination of hydrothermal treatment and carbonization exhibit good catalytic activity for the ORR in alkaline solution. At the optimal annealing temperature and mass ratio between the nitrogen and sulfur precursors, the resultant aerogels show comparable electrocatalytic activity to that of a commercial Pt/C catalyst for the ORR. Importantly, the optimized catalyst shows much better long-term stability and satisfactory tolerance for the methanol crossover effect. These codoped aerogels are expected to have potential applications in fuel cells.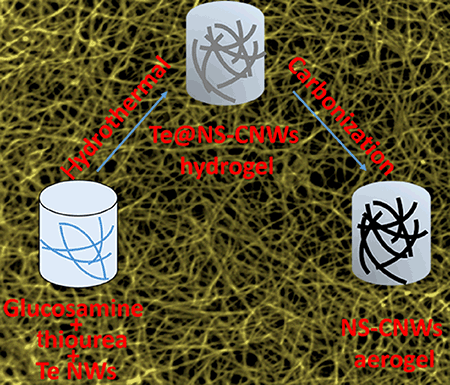 Keywords
heteroatom-doped carbons 
porous nanomaterials 
aerogels 
metal-free catalysts 
oxygen reduction reaction 
Notes
Acknowledgements
This work was supported by a start-up fund of Washington State University, USA. The XPS analysis was performed using EMSL, a national scientific user facility sponsored by the Department of Energy's Office of Biological and Environmental Research and located at Pacific Northwest National Laboratory (PNNL). We acknowledge Franceschi Microscopy & Image Center at Washington State University for TEM and SEM measurements. PNNL is a multi-program national laboratory operated for DOE by Battelle under Contract DE-AC05-76RL01830.
Copyright information
© Tsinghua University Press and Springer-Verlag Berlin Heidelberg 2016