Catheters coated with Zn-doped CuO nanoparticles delay the onset of catheter-associated urinary tract infections
Abstract
Catheter-associated urinary tract infections (CAUTIs) are among the most common bacterial infections associated with medical devices. In the current study, the synthesis, coating, antibiofilm properties, and biocompatibility of urinary catheters coated with Zn-doped CuO (Zn0.12Cu0.88O) nanoparticles (NPs) were examined. The doped NPs were synthesized and subsequently deposited on the catheter by the sonochemical method. The coated catheters displayed high antibiofilm activity and promising biocompatibility, as indicated by low in vitro cytotoxicity, negligible associated cytokine secretion, and absence of detectable irritation. The biocompatibility and ability of the Zn-doped CuO coating to inhibit biofilm formation were also evaluated in vivo using a rabbit model. Rabbits catheterized with uncoated catheters scored positive for CAUTI by day 4 of the experiment. In contrast, rabbits catheterized with Zn-doped CuO-coated catheters did not exhibit CAUTI until day 7 or remained completely uninfected for the whole duration of the 7-day experiment. Furthermore, the in vivo biocompatibility assays and examinations supported the biosafety of Zn-doped CuO-coated catheters. Taken together, these data highlight the potential of Zn-doped CuO nanocomposite as effective antibiofilm compound.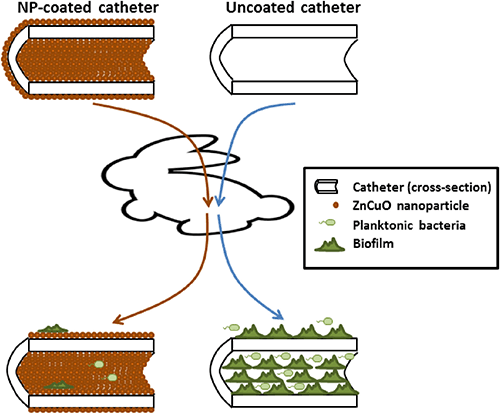 Keywords
antibiofilm 
urinary tract infection 
catheter 
nanoparticle coating 
metal oxide 
Notes
Acknowledgements
This project was partially funded by a Kamin research grant from the Israeli Ministry of Economy to Ehud Banin. We also thank the Dyna and Fala Weinstock Foundation and the Douer Family Foundation for their support. We are grateful to Dr. Gal Yerushalmi and Yana Belnik for fruitful discussions and assistance in the preparation of the manuscript. We thank Yossi Lavie from Harlan for technical assistance and Dr. Abraham Nyska for histopathological analysis. We thank Katya Gotlib for technical assistance in the HRSEM.
Copyright information
© Tsinghua University Press and Springer-Verlag Berlin Heidelberg 2017