In situ synthesis of graphene oxide/gold nanorods theranostic hybrids for efficient tumor computed tomography imaging and photothermal therapy
Abstract
Graphene oxide/gold nanorod (GO/GNR) nanohybrids were synthesized with a GO- and gold-seed-mediated in situ growth method at room temperature by mixing polystyrene sulfonate (PSS) functionalized GO, secondary growth solution, and gold seeds. Compared with ex situ preparation methods of GO/GNRs or graphene (G)/GNRs, the in situ synthesis of GO/GNRs addressed the issue of the aggregation of the GNRs before their attachment onto the GO. The method is straightforward and environment-friendly. The GO/GNRs showed a remarkable photothermal effect in vitro. The temperature of the GO/GNR nanohybrids increased from 25 to 49.9 °C at a concentration of 50 μg/mL after irradiation with an 808-nm laser (0.4 W/cm2) for 6 min. Additionally, the GO/GNRs exhibited good optical and morphological stability and photothermal properties after six cycles of laser irradiation. Upon injection of the GO/GNRs into xenograft tumors, excellent computed tomography (CT) imaging properties and photothermal effect were obtained. The preclinical CT agent iohexol was combined with the GO/GNRs and further enhanced CT imaging. Therefore, the GO/GNR nanohybrids have great potential for precise CT-image-guided tumor photothermal treatment.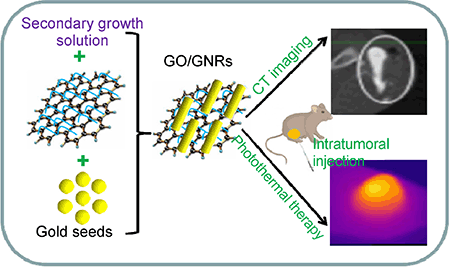 Keywords
graphene oxide/gold nanorods 
in situ growth 
computed tomography imaging 
photothermal therapy 
Notes
Acknowledgments
This work was financially supported by National Natural Science Foundation of China (No. 51302190), Shanghai Natural Science Foundation (No. 16ZR1400700) and Shanghai Health and Family Planning Commission Project (Nos. 20144Y0248 and 2012y193). We are extremely grateful to Prof. Wei An (Tongji University) for great help with infrared thermal camera. We also thank Mr. Chengwei Shao (Changhai Hospital) for kind help with commercial iohexol and SW1990 tumor cells.
Copyright information
© Tsinghua University Press and Springer-Verlag Berlin Heidelberg 2017