Broadband omnidirectional light detection in flexible and hierarchical ZnO/Si heterojunction photodiodes
Abstract
The development of flexible photodetectors has received great attention for future optoelectronic applications including flexible image sensors, biomedical imaging, and smart, wearable systems. Previously, omnidirectional photodetectors were only achievable by integration of a hemispherical microlens assembly on multiple photodetectors. Herein, a hierarchical photodiode design of ZnO nanowires (NWs) on honeycomb-structured Si (H-Si) membranes is demonstrated to exhibit excellent omnidirectional light-absorption ability and thus maintain high photocurrents over broad spectral ranges (365 to 1,100 nm) for wide incident angles (0° to 70°), which enabled broadband omnidirectional light detection in flexible photodetectors. Furthermore, the stress-relieving honeycomb pattern within the photodiode micromembranes provided photodetectors with excellent mechanical flexibility (10% decrease in photocurrent at a bending radius of 3 mm) and durability (minimal change in photocurrent over 10,000 bending cycles). When employed in semiconductor thin films, the hierarchical NW/honeycomb heterostructure design acts as an efficient platform for various optoelectronic devices requiring mechanical flexibility and broadband omnidirectional light detection.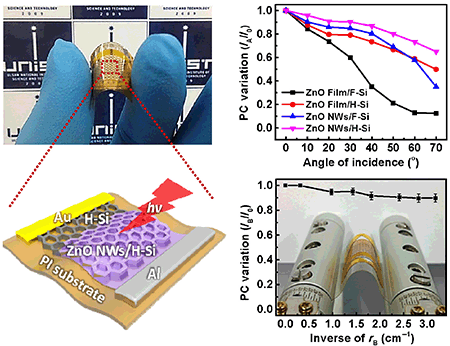 Keywords
flexible photodetector 
photodiode 
omnidirectional 
hierarchical 
zinc oxide nanowire 
Notes
Acknowledgments
This work was supported by the National Research Foundation of Korea (Nos. 2011-0014965 and 2015R1A2A1A10054152), the Center for Advanced Soft-Electronics funded by the Ministry of Science, ICT and Future Planning as Global Frontier Project (No. 2015M3A6A5065314), the Ministry of Trade, Industry and Energy (No. 10064058), General Research Fund (No. 612113) from Hong Kong Research Grant Council, Innovation and Technology Fund (No. ITS/362/14FP) from the Innovation and Technology Commission of Hong Kong, and State Key Laboratory on Advanced Displays and Optoelectronics at HKUST.
Copyright information
© Tsinghua University Press and Springer-Verlag Berlin Heidelberg 2017