Abstract
Dysfunction of gastrointestinal (GI) motility is a common complication in patients with diabetes mellitus (DM). Studies related to changes in fundus contraction induced by inhibitors in DM are not well known. Therefore, this study aimed to investigate the signaling pathways involved in the changes in the contraction of fundus smooth muscle obtained from control and DM rats. DM was induced by injecting streptozotocin (65 mg/kg) into Sprague–Dawley rats. The rats were sacrificed after 14 days. Fundus smooth muscle contraction was stimulated using electrical field stimulation (amplitude, 50 V; duration, 1 min; frequency, 2–20 Hz) and acetylcholine (0.1 mM). The inhibitor-mediated cell membrane was pre-treated with atropine, verapamil, methysergide, ketanserin, ondansetron, and GR 113808. Inhibitors related to intracellular signaling, such as U73122, chelerythrine, l-NNA, were also used. ML-9 and Y-27632 were identified as inhibitors of factors of myosin light chain (MLC). The contractility was observed to be lower in the DM group than in the control group. Further, the activities of phospholipase C (PLC), protein kinase C (PKC), and myosin light chain kinase (MLCK) were decreased in the DM group. DM reduced the activity of PLC, PKC, and MLCK, which resulted in a decrease in the contractility of the fundus smooth muscle. Therefore, our results present the mechanism of this DM-mediated GI disorder.
This is a preview of subscription content, log in to check access.
Access options
Buy single article
Instant access to the full article PDF.
US$ 39.95
Price includes VAT for USA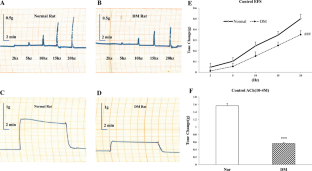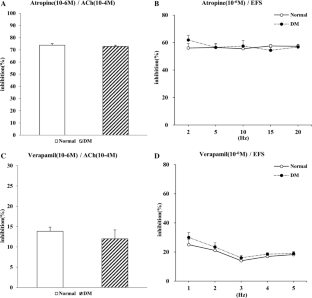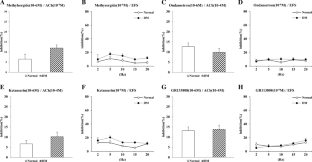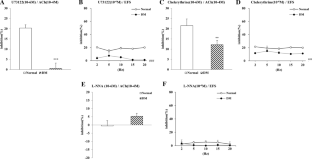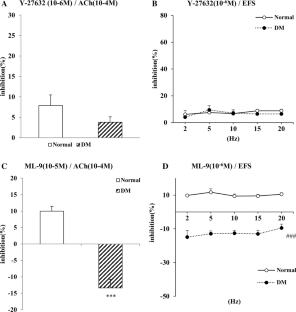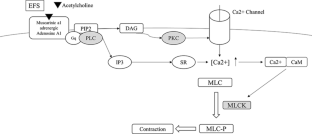 References
Amaral N, Okonko DO (2015) Metabolic abnormalities of the heart in type II diabetes. Diab Vasc Dis Res 12:239–248. https://doi.org/10.1177/1479164115580936

An J, Li Y, Song S, Liu S (2019) Electroacupuncture promotes the gastrointestinal motility of diabetic mice by CNP/NPR-B-cGMP and PDE3A-cGMP signaling. Neurogastroenterol Motil 31:e13539. https://doi.org/10.1111/nmo.13539

Arner A, Pfitzer G (1999) Regulation of cross-bridge cycling by Ca2+ in smooth muscle. Rev Physiol Biochem Pharmacol 134:63–146

Bhetwal BP, An CL, Fisher SA, Perrino BA (2011) Regulation of basal LC20 phosphorylation by MYPT1 and CPI-17 in murine gastric antrum, gastric fundus, and proximal colon smooth muscles. Neurogastroenterol Motil 23:e425–e436. https://doi.org/10.1111/j.1365-2982.2011.01769.x

Bytzer P, Talley NJ, Leemon M, Young LJ, Jones MP, Horowitz M (2001) Prevalence of gastrointestinal symptoms associated with diabetes mellitus: a population-based survey of 15,000 adults. Arch Intern Med 161:1989–1996. https://doi.org/10.1001/archinte.161.16.1989

Clark TA, Maddaford TG, Tappia PS, Heyliger CE, Ganguly PK, Pierce GN (2010) Restoration of cardiomyocyte function in streptozotocin-induced diabetic rats after treatment with vanadate in a tea decoction. Curr Pharm Biotechnol 11:906–910. https://doi.org/10.2174/138920110793261999

Da Silva LM, Da Silva R, Maria-Ferreira D, Beltrame OC, Da Silva-Santos JE, Werner MFP (2017) Vitamin C improves gastroparesis in diabetic rats: effects on gastric contractile responses and oxidative stress. Dig Dis Sci 62:2338–2347. https://doi.org/10.1007/s10620-017-4632-9

Endo K, Matsumoto T, Kobayashi T, Kasuya Y, Kamata K (2005) Diabetes-related changes in contractile responses of stomach fundus to endothelin-1 in streptozotocin-induced diabetic rats. J Smooth Muscle Res 41:35–47. https://doi.org/10.1540/jsmr.41.35

Feldman M, Schiller LR (1983) Disorders of gastrointestinal motility associated with diabetes mellitus. Ann Intern Med 98:378–384. https://doi.org/10.7326/0003-4819-98-3-378

Forrest A, Molleman A, Parsons M (2005) The responses to manipulation of extracellular and intracellular calcium are altered in the streptozotocin-diabetic rat colon and ileum. Eur J Pharmacol 509:77–83. https://doi.org/10.1016/j.ejphar.2004.12.029

Furman BL (2015) Streptozotocin-induced diabetic models in mice and rats. Curr Protoc Pharmacol 70:5 47 41-20. https://doi.org/10.1002/0471141755.ph0547s70

Gorecka A, Aksoy MO, Hartshorne DJ (1976) The effect of phosphorylation of gizzard myosin on actin activation. Biochem Biophys Res Commun 71:325–331. https://doi.org/10.1016/0006-291x(76)90286-2

Iwasaki H, Kajimura M, Osawa S, Kanaoka S, Furuta T, Ikuma M, Hishida A (2006) A deficiency of gastric interstitial cells of Cajal accompanied by decreased expression of neuronal nitric oxide synthase and substance P in patients with type 2 diabetes mellitus. J Gastroenterol 41:1076–1087. https://doi.org/10.1007/s00535-006-1909-8

Jenkinson KM, Reid JJ (1995) Effect of diabetes on relaxations to non-adrenergic, non-cholinergic nerve stimulation in longitudinal muscle of the rat gastric fundus. Br J Pharmacol 116:1551–1556. https://doi.org/10.1111/j.1476-5381.1995.tb16372.x

Jiang H, Zhao J, Liao D, Wang G, Gregersen H (2019) Esophageal stress softening recovery is altered in STZ-induced diabetic rats. J Biomech 92:126–136. https://doi.org/10.1016/j.jbiomech.2019.05.042

Kamm KE, Stull JT (1985) The function of myosin and myosin light chain kinase phosphorylation in smooth muscle. Annu Rev Pharmacol Toxicol 25:593–620. https://doi.org/10.1146/annurev.pa.25.040185.003113

Kamm KE, Stull JT (2001) Dedicated myosin light chain kinases with diverse cellular functions. J Biol Chem 276:4527–4530. https://doi.org/10.1074/jbc.R000028200

Khromov AS, Wang H, Choudhury N, Mcduffie M, Herring BP, Nakamoto R, Owens GK, Somlyo AP, Somlyo AV (2006) Smooth muscle of telokin-deficient mice exhibits increased sensitivity to Ca2+ and decreased cGMP-induced relaxation. Proc Natl Acad Sci USA 103:2440–2445. https://doi.org/10.1073/pnas.0508566103

Kilbinger H, Kruel R, Pfeuffer-Friederich I, Wessler I (1982) The effects of metoclopramide on acetylcholine release and on smooth muscle response in the isolated guinea-pig ileum. Naunyn Schmiedebergs Arch Pharmacol 319:231–238. https://doi.org/10.1007/bf00495871

Kim SJ, Park JH, Song DK, Park KS, Lee JE, Kim ES, Cho KB, Jang BK, Chung WJ, Hwang JS, Kwon JG, Kim TW (2011) Alterations of colonic contractility in long-term diabetic rat model. J Neurogastroenterol Motil 17:372–380. https://doi.org/10.5056/jnm.2011.17.4.372

Korolkiewicz R, Rekowski P, Szyk A, Kato S, Yasuhiro T, Kubomi M, Tashima K, Takeuchi K (1998) Effects of diabetes mellitus on the contractile activity of carbachol and galanin in isolated gastric fundus strips of rats. Pharmacology 57:65–78. https://doi.org/10.1159/000028227

Kwon OD, Jeung SI, Lee S, Choi YS, Choi BK, Jung KY (2009) Different stimulatory effects of methylisogermabullone on the spontaneous contractility of rat gastrointestinal segments. Arch Pharm Res 32:1613–1620. https://doi.org/10.1007/s12272-009-2115-z

Lacy BE, Weiser K (2005a) Gastric motility, gastroparesis, and gastric stimulation. Surg Clin N Am 85:967–988

Lacy BE, Weiser K (2005b) Gastric motility, gastroparesis, and gastric stimulation. Surg Clin North Am 85(967–987):vi–vii. https://doi.org/10.1016/j.suc.2005.05.005

Liu X, Takeda N, Dhalla NS (1997) Myosin light-chain phosphorylation in diabetic cardiomyopathy in rats. Metabolism 46:71–75. https://doi.org/10.1016/s0026-0495(97)90171-2

Mard SA, Ahmadi I, Ahangarpour A, Gharib-Naseri MK, Badavi M (2016) Delayed gastric emptying in diabetic rats caused by decreased expression of cystathionine gamma lyase and H2 S synthesis: in vitro and in vivo studies. Neurogastroenterol Motil 28:1677–1689. https://doi.org/10.1111/nmo.12867

Mori D, Hori M, Murata T, Ohama T, Kishi H, Kobayashi S, Ozaki H (2011) Synchronous phosphorylation of CPI-17 and MYPT1 is essential for inducing Ca(2+) sensitization in intestinal smooth muscle. Neurogastroenterol Motil 23:1111–1122. https://doi.org/10.1111/j.1365-2982.2011.01799.x

Nguyen TT, Song HJ, Ko SK, Sohn UD (2015) Pharmacological action of DA-9701 on the motility of feline stomach circular smooth muscle. Pharmazie 70:183–192

Oh JH, You SK, Hwang MK, Ahn DS, Kwon SC, Taggart MJ, Lee YH (2003) Inhibition of rho-associated kinase reduces MLC20 phosphorylation and contractility of intact myometrium and attenuates agonist-induced Ca2+ sensitization of force of permeabilized rat myometrium. J Vet Med Sci 65:43–50. https://doi.org/10.1292/jvms.65.43

ørdög T (2008) Interstitial cells of Cajal in diabetic gastroenteropathy. Neurogastroenterol Motil 20:8–18. https://doi.org/10.1111/j.1365-2982.2007.01056.x

Park JH, Kim HS, Park SY, Im C, Jeong JH, Kim IK, Sohn UD (2009) The influences of G proteins, Ca, and K channels on electrical field stimulation in cat esophageal smooth muscle. Korean J Physiol Pharmacol 13:393–400. https://doi.org/10.4196/kjpp.2009.13.5.393

Pecoits-Filho R, Abensur H, Betonico CC, Machado AD, Parente EB, Queiroz M, Salles JE, Titan S, Vencio S (2016) Interactions between kidney disease and diabetes: dangerous liaisons. Diabetol Metab Syndr 8:50. https://doi.org/10.1186/s13098-016-0159-z

Plourde V, Quintero E, Suto G, Coimbra C, Tache Y (1994) Delayed gastric emptying induced by inhibitors of nitric oxide synthase in rats. Eur J Pharmacol 256:125–129. https://doi.org/10.1016/0014-2999(94)90236-4

Sakata K, Ozaki H, Kwon SC, Karaki H (1989) Effects of endothelin on the mechanical activity and cytosolic calcium level of various types of smooth muscle. Br J Pharmacol 98:483–492. https://doi.org/10.1111/j.1476-5381.1989.tb12621.x

Sanders KM, Ward SM (1992) Nitric oxide as a mediator of nonadrenergic noncholinergic neurotransmission. Am J Physiol 262:G379–G392. https://doi.org/10.1152/ajpgi.1992.262.3.G379

Somlyo AP, Somlyo AV (2003) Ca2+ sensitivity of smooth muscle and nonmuscle myosin II: modulated by G proteins, kinases, and myosin phosphatase. Physiol Rev 83:1325–1358. https://doi.org/10.1152/physrev.00023.2003

Thomas EA, Ehlert FJ (1996) Involvement of the M2 muscarinic receptor in contractions of the guinea pig trachea, guinea pig esophagus, and rat fundus. Biochem Pharmacol 51:779–788. https://doi.org/10.1016/0006-2952(95)02396-8

Tuttle KR, Bakris GL, Bilous RW, Chiang JL, De Boer IH, Goldstein-Fuchs J, Hirsch IB, Kalantar-Zadeh K, Narva AS, Navaneethan SD, Neumiller JJ, Patel UD, Ratner RE, Whaley-Connell AT, Molitch ME (2014) Diabetic kidney disease: a report from an ADA consensus conference. Am J Kidney Dis 64:510–533. https://doi.org/10.1053/j.ajkd.2014.08.001

Wang L, Jia C, Yu Z, Liu X, Kang L, Cong Y, Shan Y, Zhao Z, Ma B, Cong Y (2012) Pennogenin tetraglycoside induces rat myometrial contraction and MLC20 phosphorylation via PLC-IP(3) and RhoA/Rho kinase signaling pathways. PLoS ONE 7:e51536. https://doi.org/10.1371/journal.pone.0051536

Weissman AJ (2006) Intensive diabetes treatment and cardiovascular disease. N Engl J Med 354:1751–1752. https://doi.org/10.1056/NEJMc060105 (author reply 1751–1752)

Yu T, Wang Y, Qian D, Sun X, Tang Y, Shen X, Lin L (2017) Advanced glycation end products impair Ca2+ mobilization and sensitization in colonic smooth muscle cells via the CAMP/PKA pathway. Cell Physiol Biochem 43:1571–1587. https://doi.org/10.1159/000482005

Zaw TS, Khin PP, Sohn UD (2016) The signaling of amitriptyline-induced inhibitory effect on electrical field stimulation response in colon smooth muscle. Naunyn Schmiedebergs Arch Pharmacol 389:961–970. https://doi.org/10.1007/s00210-016-1259-x
Acknowledgements
This research was supported by the Basic Science Research Program through the National Research Foundation of Korea, funded by the Ministry of Education, Science, and Technology (NRF-2019R1F1A1062070).
Ethics declarations
Conflict of interest
The authors declare that there is no conflict of interest.
Additional information
Publisher's Note
Springer Nature remains neutral with regard to jurisdictional claims in published maps and institutional affiliations.
About this article
Cite this article
Kim, D.M., Khing, T.M., Thein, W. et al. Signaling pathways underlying changes in the contractility of the stomach fundus smooth muscle in diabetic rats. Arch. Pharm. Res. 43, 666–675 (2020). https://doi.org/10.1007/s12272-020-01244-z
Received:

Accepted:

Published:

Issue Date:
Keywords
Diabetes mellitus

Fundus

Smooth muscle

PLC

MLCK