Abstract
Metabolic disorders are increasing at an alarming rate due to the stressful lifestyle and inappropriate diet schedule. The unorganized habits influence multiple epigenetic mechanisms like DNA methylation, histone post-translational modifications and miRNA expression. These epigenetic modifications are reversible in nature and regulate gene expression in response to external stimuli without altering the DNA sequence. Dietary herbs are enriched in various phytochemicals which additionally provide nutrition and health benefits; and are known to target these epigenetic gene regulatory mechanisms. They have been in use since human civilization for their health-promoting effects. Culinary spices and condiments which are generally used to enhance the taste of food are rich repositories of many phytochemicals which provides them their unique aroma. Considerable attention has been given to "Nutri-epigenetics" nowadays, with a focus on evaluating the potential of phytochemicals to regulate/neutralize various epigenetic modifications. This article aims at highlighting the epigenetic regulatory roles of phytochemicals present in condiments and spices with considerable health benefits.
Access options
Buy single article
Instant access to the full article PDF.
US$ 39.95
Tax calculation will be finalised during checkout.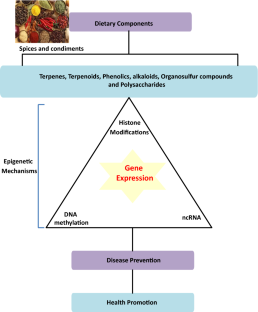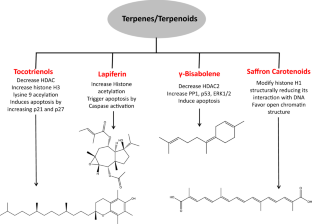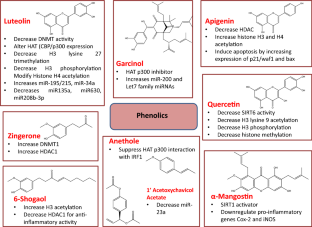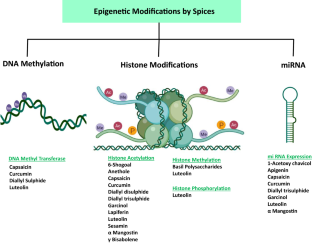 References
Ahmad A, Wang Z, Wojewoda C, Ali R, Kong D, Maitah MI, Banerjee S, Bao B, Padhye S, Sarkar FH (2011) Garcinol-induced apoptosis in prostate and pancreatic cancer cells is mediated by NF-kappaB signaling. Front Biosci (Elite Ed) 3:1483–1492

Ahmad A, Sarkar SH, Bitar B, Ali S, Aboukameel A, Sethi S, Li Y, Bao B, Kong D, Banerjee S, Padhye SB (2012) Garcinol regulates EMT and Wnt signaling pathways in vitro and in vivo, leading to anticancer activity against breast cancer cells. Mol Cancer Ther 11(10):2193–2201. https://doi.org/10.1158/1535-7163.MCT-12-0232-T

Alam M, Khan A, Wadood A, Khan A, Bashir S, Aman A, Jan AK, Rauf A, Ahmad B, Khan AR, Farooq U (2016) Bioassay-guided isolation of sesquiterpene coumarins from Ferula narthex Bioss: a new anticancer agent. Front Pharmacol 7:26. https://doi.org/10.3389/fphar.2016.00026

Al-Quraishy S, Delic D, Sies H, Wunderlich F, Abdel-Baki AA, Dkhil MA (2011) Differential miRNA expression in the mouse jejunum during garlic treatment of Eimeria papillata infections. Parasitol Res 109(2):387–394. https://doi.org/10.1007/s00436-011-2266-y

Altonsy MO, Habib TN, Andrews SC (2012) Diallyl disulfide-induced apoptosis in a breast-cancer cell line (MCF-7) may be caused by inhibition of histone deacetylation. Nutr Cancer 64(8):1251–1260. https://doi.org/10.1080/01635581.2012.721156

Anantharaju PG, Gowda PC, Vimalambike MG, Madhunapantula SV (2016) An overview on the role of dietary phenolics for the treatment of cancers. Nutr J 15(1):99. https://doi.org/10.1186/s12937-016-0217-2

Arango D, Diosa-Toro M, Rojas-Hernandez LS, Cooperstone JL, Schwartz SJ, Mo X, Jiang J, Schmittgen TD, Doseff AI (2015) Dietary apigenin reduces LPS-induced expression of miR-155 restoring immune balance during inflammation. Mol Nutr Food Res 59(4):763–772. https://doi.org/10.1002/mnfr.201400705

Ashrafi M, Bathaie SZ, Taghikhani M, Moosavi-Movahedi AA (2005) The effect of carotenoids obtained from saffron on histone H1 structure and H1–DNA interaction. Int J Biol Macromol 36(4):246–252. https://doi.org/10.1016/j.ijbiomac.2005.05.008

Balasubramanyam K, Altaf M, Varier RA, Swaminathan V, Ravindran A, Sadhale PP, Kundu TK (2004) Polyisoprenylated benzophenone, garcinol, a natural histone acetyltransferase inhibitor, represses chromatin transcription and alters global gene expression. J Biol Chem. 279(32):33716–33726. https://doi.org/10.1074/jbc.M402839200

Bartel DP (2004) MicroRNAs: genomics, biogenesis, mechanism, and function. Cell 116:281–297. https://doi.org/10.1016/s0092-8674(04)00045-5

Baum SJ, Kris-Etherton PM, Willett WC, Lichtenstein AH, Rudel LL, Maki KC, Whelan J, Ramsden CE, Block RC (2012) Fatty acids in cardiovascular health and disease: a comprehensive update. J Clin Lipidol. 6(3):216–234. https://doi.org/10.1016/j.jacl.2012.04.077

Bhuiyan A, Papajani V, Paci M, Melino S (2015) Glutathione-garlic sulfur conjugates: slow hydrogen sulfide releasing agents for therapeutic applications. Molecules 20(1):1731–1750. https://doi.org/10.3390/molecules20011731

Bian C, Xu T, Zhu H, Pan D, Liu Y, Luo Y, Wu P, Li D (2015) Luteolin inhibits ischemia/reperfusion-induced myocardial injury in rats via downregulation of microRNA-208b-3p. PLoS ONE 10(12):e0144877. https://doi.org/10.1371/journal.pone.0144877

Borna H, Imani S, Iman M, Azimzadeh Jamalkandi S (2015) Therapeutic face of RNAi: in vivo challenges. Expert Opin Biol Ther 15(2):269–285. https://doi.org/10.1517/14712598.2015.983070

Boyanapalli SS, Tony Kong AN (2015) "Curcumin, the king of spices": epigenetic regulatory mechanisms in the prevention of cancer, neurological, and inflammatory diseases. Curr Pharmacol Rep 1(2):129–139. https://doi.org/10.1007/s40495-015-0018-x

Breiling A, Lyko F (2015) Epigenetic regulatory functions of DNA modifications: 5-methylcytosine and beyond. Epigenet Chromatin 8:24. https://doi.org/10.1186/s13072-015-0016-6

Carlos-Reyes Á, López-González JS, Meneses-Flores M, Gallardo-Rincón D, Ruíz-García E, Marchat LA, Astudillo-de la Vega H, Hernández de la Cruz ON, López-Camarillo C (2019) Dietary compounds as epigenetic modulating agents in cancer. Front Genet 10:79. https://doi.org/10.3389/fgene.2019.00079

Charron CS, Dawson HD, Novotny JA (2016) Garlic influences gene expression in vivo and in vitro. J Nutr 146(2):S444–S449. https://doi.org/10.3945/jn.114.202481

Chatterjee A, Rodger EJ, Ahn A, Stockwell PA, Parry M, Motwani J, Gallagher SJ, Shklovskaya E, Tiffen J, Eccles MR, Hersey P (2018) Marked global DNA hypomethylation is associated with constitutive PD-L1 expression in melanoma. iScience 4:312–325. https://doi.org/10.1016/j.isci.2018.05.021

Chatterjee B, Ghosh K, Suresh L, Kanade SR (2019) Curcumin ameliorates PRMT5-MEP50 arginine methyltransferase expression by decreasing the Sp1 and NF-YA transcription factors in the A549 and MCF-7 cells. Mol Cell Biochem 455(1–2):73–90. https://doi.org/10.1007/s11010-018-3471-0

Chen PY, Wu MJ, Chang HY, Tai MH, Ho CT, Yen JH (2015) Up-regulation of mir-34a expression in response to the luteolin-induced neurite outgrowth of pc12 cells. J Agric Food Chem 63(16):4148–4159. https://doi.org/10.1021/acs.jafc.5b01005

Chen L, Xie W, Xie W, Zhuang W, Jiang C, Liu N (2017) Apigenin attenuates isoflurane-induced cognitive dysfunction via epigenetic regulation and neuroinflammation in aged rats. Arch Gerontol Geriatr 73:29–36. https://doi.org/10.1016/j.archger.2017.07.004

Chen K, Rekep M, Wei W, Wu Q, Xue Q, Li S, Tian J, Yi Q, Zhang G, Zhang G, Xiao Q (2018) Quercetin prevents in vivo and in vitro myocardial hypertrophy through the proteasome-GSK-3 pathway. Cardiovasc Drugs Ther 32(1):5–21. https://doi.org/10.1007/s10557-018-6771-4

Chiang EP, Chiu SC, Pai MH, Wang YC, Wang FY, Kuo YH, Tang FY (2013) Organosulfur garlic compounds induce neovasculogenesis in human endothelial progenitor cells through a modulation of MicroRNA 221 and the PI3-K/Akt signaling pathways. J Agric Food Chem 61(20):4839–4849. https://doi.org/10.1021/jf304951p

Cho HI, Kim KM, Kwak JH, Lee SK, Lee SM (2013) Protective mechanism of anethole on hepatic ischemia/reperfusion injury in mice. J Nat Prod 76(9):1717–1723. https://doi.org/10.1021/np4004323

Chowdhury R, Nimmanapalli R, Graham T, Reddy G (2013) Curcumin attenuation of lipopolysaccharide induced cardiac hypertrophy in rodents. ISRN Inflamm. https://doi.org/10.1155/2013/539305

Christodoulou E, Kadoglou NP, Kostomitsopoulos N, Valsami G (2015) Saffron: a natural product with potential pharmaceutical applications. J Pharm Pharmacol 67(12):1634–1649. https://doi.org/10.1111/jphp.12456

Chung IM, Kim MY, Park WH, Moon HI (2008) Histone deacetylase inhibitors from the rhizomes of Zingiber zerumbet. Pharmazie 63(10):774–776

Crow M, Khovanov N, Kelleher JH, Sharma S, Grant AD, Bogdanov Y, Wood JN, McMahon SB, Denk F (2015) HDAC4 is required for inflammation-associated thermal hypersensitivity. FASEB J 29(8):3370–3378. https://doi.org/10.1096/fj.14-264440

De Marinis Y, Cai M, Bompada P, Atac D, Kotova O, Johansson ME, Garcia-Vaz E, Gomez MF, Laakso M, Groop L (2016) Epigenetic regulation of the thioredoxin-interacting protein (TXNIP) gene by hyperglycemia in kidney. Kidney Int 89(2):342–353. https://doi.org/10.1016/j.kint.2015.12.018

Denis H, Ndlovu MN, Fuks F (2011) Regulation of mammalian DNA methyltransferases: a route to new mechanisms. EMBO Rep 12(7):647–656. https://doi.org/10.1038/embor.2011.110

Dirsch VM, Gerbes AL, Vollmar AM (1998) Ajoene, a compound of garlic, induces apoptosis in human promyeloleukemic cells, accompanied by generation of reactive oxygen species and activation of nuclear factor κB. Mol Pharmacol 53(3):402–407. https://doi.org/10.1124/mol.53.3.402

Duthie SJ (2011) Epigenetic modifications and human pathologies: cancer and CVD. Proc Nutr Soc. 70(1):47–56. https://doi.org/10.1017/S0029665110003952

Feng B, Zhu Y, He SM, Zheng GJ, Liu Y, Zhu YZ (2015) Effect of Basil polysaccharide on histone H3K9me2 methylation and expression of G9a and JMJD1A in hepatoma cells under hypoxic conditions. Zhong Yao Cai 38(7):1460–5

Flabouraris G, Karikas GA (2016) Nutri-epigenetics and synthetic analogs in cancer chemoprevention. J BUON 21:4–16

Franceschelli S, Pesce M, Ferrone A, Patruno A, Pasqualone L, Carlucci G, Ferrone V, Carlucci M, de Lutiis MA, Grilli A, Felaco M (2016) A novel biological role of α-mangostin in modulating inflammatory response through the activation of SIRT-1 signaling pathway. J Cell Physiol 231(11):2439–2451. https://doi.org/10.1002/jcp.25348

Gailhouste L, Liew LC, Yasukawa K, Hatada I, Tanaka Y, Kato T, Nakagama H, Ochiya T (2019) MEG3-derived miR-493-5p overcomes the oncogenic feature of IGF2-miR-483 loss of imprinting in hepatic cancer cells. Cell Death Dis 10(8):553. https://doi.org/10.1038/s41419-019-1788-6

Gamal-Eldeen AM, Hegazy ME (2010) A crystal lapiferin derived from Ferula vesceritensis induces apoptosis pathway in MCF-7 breast cancer cells. Nat Prod Res 24(3):246–257. https://doi.org/10.1080/14786410802685398

Ganai SA, Farooq Z, Banday S, Altaf M (2018) In silico approaches for investigating the binding propensity of apigenin and luteolin against class I HDAC isoforms. Future Med Chem 10(16):1925–1945. https://doi.org/10.4155/fmc-2018-0020

Ganjre A, Kathariya R, Bagul N, Pawar V (2015) Anti-carcinogenic and anti-bacterial properties of selected spices: implications in oral health. Clin Nutr Res 4(4):209–215. https://doi.org/10.7762/cnr.2015.4.4.209

Gerhauser C (2013) Cancer chemoprevention and nutriepigenetics: state of the art and future challenges. Top Curr Chem 329:73–132. https://doi.org/10.1007/128_2012_360

González-Aparicio R, Moratalla R (2014) Oleoylethanolamide reduces L-DOPA-induced dyskinesia via TRPV1 receptor in a mouse model of Parkinson s disease. Neurobiol Dis 62:416–425. https://doi.org/10.1016/j.nbd.2013.10.008

Han SS, Keum YS, Chun KS, Surh YJ (2002) Suppression of phorbol ester-induced NF-κB activation by capsaicin in cultured human promyelocytic leukemia cells. Arch Pharm Res 25(4):475–479. https://doi.org/10.1007/bf02976605

Hanjani NA, Vafa M (2018) Protein restriction, epigenetic diet, intermittent fasting as new approaches for preventing age-associated diseases. Int J Prev Med. 9:58. https://doi.org/10.4103/ijpvm.IJPVM_397_16

Harris JC, Cottrell S, Plummer S, Lloyd D (2001) Antimicrobial properties of Allium sativum (garlic). Appl Microbiol Biotechnol 57(3):282–286. https://doi.org/10.1007/s002530100722

Hassan FU, Rehman MS, Khan MS, Ali MA, Javed A, Nawaz A, Yang C (2019) Curcumin as an alternative epigenetic modulator: mechanism of action and potential effects. Front Genet 10:514. https://doi.org/10.3389/fgene.2019.00514

Hoffman JB, Hennig B (2017) Protective influence of healthful nutrition on mechanisms of environmental pollutant toxicity and disease risks. Ann N Y Acad Sci 1398(1):99–107. https://doi.org/10.1111/nyas.13365

Howell JC, Chun E, Farrell AN, Hur EY, Caroti CM, Iuvone PM et al (2013) Global microRNA expression profiling: curcumin (diferuloylmethane) alters oxidative stress-responsive microRNAs in human ARPE-19 cells. Mol Vis 19:544–560

Hsieh CC, Kuo CH, Kuo HF, Chen YS, Wang SL, Chao D, Lee MS, Hung CH (2014) Sesamin suppresses macrophage-derived chemokine expression in human monocytes via epigenetic regulation. Food Funct 5(10):2494–2500. https://doi.org/10.1039/c4fo00322e

Huang Y, Wu R, Su ZY, Guo Y, Zheng X, Yang CS, Kong AN (2017) A naturally occurring mixture of tocotrienols inhibits the growth of human prostate tumor, associated with epigenetic modifications of cyclin-dependent kinase inhibitors p21 and p27. J Nutr Biochem 40:155–163. https://doi.org/10.1016/j.jnutbio.2016.10.019

Issa JP, Kantarjian HM (2009) Targeting DNA methylation. Clin Cancer Res 15:3938–3946. https://doi.org/10.1158/1078-0432.CCR-08-2783

Jaramillo Flores ME (2019) Cocoa flavanols: natural agents with attenuating effects on metabolic syndrome risk factors. Nutrients 11(4):751. https://doi.org/10.3390/nu11040751

Jiang A, Wang X, Shan X, Li Y, Wang P, Jiang P, Feng Q (2015) Curcumin reactivates silenced tumor suppressor gene RARβ by reducing DNA methylation. Phytother Res 29(8):1237–1245. https://doi.org/10.1002/ptr.5373

Jiang Z, Kempinski C, Chappell J (2017) Extraction and analysis of terpenes/terpenoids. Curr Protoc Plant Biol 1(2):345–358. https://doi.org/10.1002/cppb.20024

Jing Y, Ai Q, Lin L, Dai J, Jia M, Zhou D, Che Q, Wan J, Jiang R, Zhang L (2014) Protective effects of garcinol in mice with lipopolysaccharide/D-galactosamine-induced apoptotic liver injury. Int Immunopharmacol 19(2):373–380. https://doi.org/10.1016/j.intimp.2014.02.012

Jou YJ, Chen CJ, Liu YC, Way TD, Lai CH, Hua CH, Wang CY, Huang SH, Kao JY, Lin CW (2015) Quantitative phosphoproteomic analysis reveals γ-bisabolene inducing p53-mediated apoptosis of human oral squamous cell carcinoma via HDAC2 inhibition and ERK1/2 activation. Proteomics 15(19):3296–3309. https://doi.org/10.1002/pmic.201400568

Joven J, Micol V, Segura-Carretero A, Alonso-Villaverde C, Menéndez JA (2014) Polyphenols and the modulation of gene expression pathways: can we eat our way out of the danger of chronic disease? Crit Rev Food Sci Nutr 54(8):985–1001. https://doi.org/10.1080/10408398.2011.621772

Kala R, Peek GW, Hardy TM, Tollefsbol TO (2013) MicroRNAs: an emerging science in cancer epigenetics. J Clin Bioinform 3(1):6. https://doi.org/10.1186/2043-9113-3-6

Kalea AZ, Drosatos K, Buxton JL (2018) Nutriepigenetics and cardiovascular disease. Curr Opin Clin Nutr Metab Care 21(4):252–259. https://doi.org/10.1097/MCO.0000000000000477

Kanwal R, Datt M, Liu X, Gupta S (2016) Dietary flavones as dual inhibitors of DNA methyltransferases and histone methyltransferases. PLoS ONE 11(9):e0162956. https://doi.org/10.1371/journal.pone.0167897

Kawakami E, Tokunaga A, Ozawa M, Sakamoto R, Yoshida N (2015) The histone demethylase Fbxl11/Kdm2a plays an essential role in embryonic development by repressing cell-cycle regulators. Mech Dev 135:31–42. https://doi.org/10.1016/j.mod.2014.10.001

Kaymaz BT, Çetintaş VB, Aktan Ç, Kosova B (2014) MicroRNA-520a-5p displays a therapeutic effect upon chronic myelogenous leukemia cells by targeting STAT3 and enhances the anticarcinogenic role of capsaicin. Tumour Biol 35(9):8733–8742. https://doi.org/10.1007/s13277-014-2138-z

Khatua TN, Adela R, Banerjee SK (2013) Garlic and cardioprotection: insights into the molecular mechanisms. Can J Physiol Pharmacol 91(6):448–458. https://doi.org/10.1139/cjpp-2012-0315

Khera AV, Emdin CA, Drake I, Natarajan P, Bick AG, Cook NR, Chasman DI, Baber U, Mehran R, Rader DJ, Fuster V (2016) Genetic risk, adherence to a healthy lifestyle, and coronary disease. N Engl J Med 375(24):2349–2358. https://doi.org/10.1056/NEJMoa1605086

Kim HJ, Lee W, Yun JM (2014a) Luteolin inhibits hyperglycemia-induced proinflammatory cytokine production and its epigenetic mechanism in human monocytes. Phytother Res 28(9):1383–1391. https://doi.org/10.1002/ptr.5141

Kim YS, Kim SH, Shin J, Harikishore A, Lim JK, Jung Y, Lyu HN, Baek NI, Choi KY, Yoon HS, Kim KT (2014b) Luteolin suppresses cancer cell proliferation by targeting vaccinia-related kinase 1. PLoS ONE 9(10):e109655. https://doi.org/10.1371/journal.pone.0109655

Kim S, Lee MS, Jung S, Son HY, Park S, Kang B, Kim SY, Kim IH, Kim CT, Kim Y (2018) Ginger extract ameliorates obesity and inflammation via regulating microRNA-21/132 expression and AMPK activation in white adipose tissue. Nutrients 10(11):1567. https://doi.org/10.3390/nu10111567

Krakowsky RH, Tollefsbol TO (2015) Impact of nutrition on non-coding RNA epigenetics in breast and gynecological cancer. Front Nutr 2:16. https://doi.org/10.3389/fnut.2015.00016

Kuipers RS, De Graaf DJ, Luxwolda MF, Muskiet MH, Dijck-Brouwer DA, Muskiet FA (2011) Saturated fat, carbohydrates and cardiovascular disease. Neth J Med 353(2011):372

Kumar U, Sharma U, Rathi G (2017) Reversal of hypermethylation and reactivation of glutathione S-transferase pi 1 gene by curcumin in breast cancer cell line. Tumour Biol 39(2):1010428317692258. https://doi.org/10.1177/1010428317692258

Lazar T, Schad E, Szabo B, Horvath T, Meszaros A, Tompa P, Tantos A (2016) Intrinsic protein disorder in histone lysine methylation. Biol Direct 11:30. https://doi.org/10.1186/s13062-016-0129-2

Lee SJ, Krauthauser C, Maduskuie V, Fawcett PT, Olson JM, Rajasekaran SA (2011) Curcumin-induced HDAC inhibition and attenuation of medulloblastoma growth in vitro and in vivo. BMC Cancer 11:144. https://doi.org/10.1186/1471-2407-11-144

Lee J, Oh SW, Shin SW, Lee KW, Cho JY, Lee J (2018) Zingerone protects keratinocyte stem cells from UVB-induced damage. Chem Biol Interact 279:27–33. https://doi.org/10.1016/j.cbi.2017.11.004

Lee MJ, Tsai YJ, Lin MY, You HL, Kalyanam N, Ho CT, Pan MH (2019) Calebin-A induced death of malignant peripheral nerve sheath tumor cells by activation of histone acetyltransferase. Phytomedicine 57:377–384. https://doi.org/10.1016/j.phymed.2019.01.001

Leivonen SK, Sahlberg KK, Mäkelä R, Due EU, Kallioniemi O, Børresen-Dale AL, Perälä M (2014) High-throughput screens identify microRNAs essential for HER2 positive breast cancer cell growth. Mol Oncol 8(1):93–104. https://doi.org/10.1016/j.molonc.2013.10.001

Lewinska A, Jarosz P, Czech J, Rzeszutek I, Bielak-Zmijewska A, Grabowska W, Wnuk M (2015) Capsaicin-induced genotoxic stress does not promote apoptosis in A549 human lung and DU145 prostate cancer cells. Mutat Res Genet Toxicol Environ Mutagen 779:23–34. https://doi.org/10.1016/j.mrgentox.2015.02.003

Li E, Zhang Y (2014) DNA methylation in mammals. Cold Spring Harb Perspect Biol 6(5):a019133. https://doi.org/10.1101/cshperspect.a019133

Li Y, Saldanha SN, Tollefsbol TO (2013) Impact of epigenetic dietary compounds on transgenerational prevention of human diseases. AAPS J 16(1):27–36. https://doi.org/10.1208/s12248-013-9538-7

Liu YL, Yang HP, Gong L, Tang CL, Wang HJ (2011) Hypomethylation effects of curcumin, demethoxycurcumin and bisdemethoxycurcumin on WIF-1 promoter in non-small cell lung cancer cell lines. Mol Med Rep 4(4):675–679. https://doi.org/10.3892/mmr.2011.473

Lovegrove A, Edwards CH, De Noni I, Patel H, El SN, Grassby T, Zielke C, Ulmius M, Nilsson L, Butterworth PJ, Ellis PR (2017) Role of polysaccharides in food, digestion, and health. Crit Rev Food Sci Nutr 57(2):237–253. https://doi.org/10.1080/10408398.2014.939263

Ludeke BI, Dominé F, Ohgaki H, Kleihues P (1992) Modulation of N-nitrosomethylbenzylamine bioactivation by diallyl sulfide in vivo. Carcinogenesis 13(12):2467–2470. https://doi.org/10.1093/carcin/13.12.2467

Lv J, Shao Q, Wang H, Shi H, Wang T, Gao W, Song B, Zheng G, Kong B, Qu X (2013) Effects and mechanisms of curcumin and basil polysaccharide on the invasion of SKOV3 cells and dendritic cells. Mol Med Rep 8(5):1580–1586. https://doi.org/10.3892/mmr.2013.1695

Maddox SA, Watts CS, Doyère V, Schafe GE (2013) A naturally-occurring histone acetyltransferase inhibitor derived from Garcinia indica impairs newly acquired and reactivated fear memories. PLoS ONE 8(1):e54463. https://doi.org/10.1371/journal.pone.0054463

Markaverich BM, Shoulars K, Rodriguez MA (2011) Luteolin regulation of estrogen signaling and cell cycle pathway genes in MCF-7 human breast cancer cells. Int J Biomed Sci 7(2):101–111

Martin G, Goh E, Neff AW (2002) Evaluation of the developmental toxicity of crocetin on Xenopus. Food Chem Toxicol. 40(7):959–964. https://doi.org/10.1016/s0278-6915(02)00040-6

Martinez-Gutierrez AD, Catalan OM, Vázquez-Romo R, Porras Reyes FI, Alvarado-Miranda A, Lara Medina F, Bargallo-Rocha JE, Moreno O, Tonatzin L, Cantú De León D, Herrera LA (2019) miRNA profile obtained by next-generation sequencing in metastatic breast cancer patients is able to predict the response to systemic treatments. Int J Mol Med 44(4):1267–1280. https://doi.org/10.3892/ijmm.2019.4292

Melino S, Sabelli R, Paci M (2011) Allyl sulfur compounds and cellular detoxification system: effects and perspectives in cancer therapy. Amino Acids 41(1):103–112. https://doi.org/10.1007/s00726-010-0522-6

Micha R, Wallace SK, Mozaffarian D (2010) Red and processed meat consumption and risk of incident coronary heart disease, stroke, and diabetes mellitus: a systematic review and meta-analysis. Circulation 121:2271–2283. https://doi.org/10.1161/CIRCULATIONAHA.109.924977

Mira A, Shimizu K (2015) In vitro cytotoxic activities and molecular mechanisms of angelica shikokiana extract and its isolated compounds. Pharmacogn Mag 11(Suppl 4):S564–S569. https://doi.org/10.4103/0973-1296.172962

Mohamed OI, El-Nahas AF, El-Sayed YS, Ashry KM (2016) Ginger extract modulates Pb-induced hepatic oxidative stress and expression of antioxidant gene transcripts in rat liver. Pharm Biol. 54(7):1164–1172. https://doi.org/10.3109/13880209.2015.1057651

Moran NE, Mohn ES, Hason N, Erdman JW Jr, Johnson EJ (2018) Intrinsic and extrinsic factors impacting absorption, metabolism, and health effects of dietary carotenoids. Adv Nutr 9(4):465–492. https://doi.org/10.1093/advances/nmy025

Niture SK, Rao US, Srivenugopal KS (2006) Chemopreventative strategies targeting the MGMT repair protein: augmented expression in human lymphocytes and tumor cells by ethanolic and aqueous extracts of several Indian medicinal plants. Int J Oncol 29(5):1269–1278

Pande S, Kratasyuk VA, Medvedeva NN, Kolenchukova OA, Salmina AB (2017) Nutritional biomarkers: current view and future perspectives. Crit Rev Food Sci Nutr 58(18):3055–3069. https://doi.org/10.1080/10408398.2017.1350136

Pandey M, Kaur P, Shukla S, Abbas A, Fu P, Gupta S (2012) Plant flavone apigenin inhibits HDAC and remodels chromatin to induce growth arrest and apoptosis in human prostate cancer cells: in vitro and in vivo study. Mol Carcinog 51(12):952–962. https://doi.org/10.1002/mc.20866

Park JM, Han YM, Kangwan N, Lee SY, Jung MK, Kim EH, Hahm KB (2014) S-allyl cysteine alleviates nonsteroidal anti-inflammatory drug-induced gastric mucosal damages by increasing cyclooxygenase-2 inhibition, heme oxygenase-1 induction, and histone deacetylation inhibition. J Gastroenterol Hepatol 29:80–92. https://doi.org/10.1111/jgh.12730

Perez-Severiano F, Rodriguez-Perez M, Pedraza-Chaverri J, Maldonado PD, Medina-Campos ON, Ortiz-Plata A, Sanchez-Garcia A, Villeda-Hernandez J, Galvan-Arzate S, Aguilera P, Santamaría A (2004) S-Allylcysteine, a garlic-derived antioxidant, ameliorates quinolinic acid-induced neurotoxicity and oxidative damage in rats. Neurochem Int 45:1175–1183. https://doi.org/10.1016/j.neuint.2004.06.008

Perviz S, Khan H, Pervaiz A (2016) Plant alkaloids as an emerging therapeutic alternative for the treatment of depression. Front Pharmacol 7:28. https://doi.org/10.3389/fphar.2016.00028

Phuah NH, In LL, Azmi MN, Ibrahim H, Awang K, Nagoor NH (2013) Alterations of microRNA expression patterns in human cervical carcinoma cells (Ca Ski) toward 1′ S-1′-acetoxychavicol acetate and cisplatin. Reprod Sci 20(5):567–578. https://doi.org/10.1177/1933719112459220

Prakash K, Fournier D (2018) Evidence for the implication of the histone code in building the genome structure. Biosystems 164:49–59. https://doi.org/10.1016/j.biosystems.2017.11.005

Priyadarsini RV, Vinothini G, Murugan RS, Manikandan P, Nagini S (2011) The flavonoid quercetin modulates the hallmark capabilities of hamster buccal pouch tumors. Nutr Cancer 63(2):218–226. https://doi.org/10.1080/01635581.2011.523503

Russo GL, Vastolo V, Ciccarelli M, Albano L, Macchia PE, Ungaro P (2017) Dietary polyphenols and chromatin remodeling. Crit Rev Food Sci Nutr 57(12):2589–2599. https://doi.org/10.1080/10408398.2015.1062353

Sardar P, Kumar A, Bhandari A, Goswami C (2012) Conservation of tubulin-binding sequences in TRPV1 throughout evolution. PLoS ONE 7(4):e31448. https://doi.org/10.1371/journal.pone.0031448

Segalés J, Perdiguero E, Muñoz-Cánoves P (2015) Epigenetic control of adult skeletal muscle stem cell functions. FEBS J 282:1571–1588. https://doi.org/10.1111/febs.13065

Seidel C, Schnekenburger M, Dicato M, Diederich M (2014) Antiproliferative and proapoptotic activities of 4-hydroxybenzoic acid-based inhibitors of histone deacetylases. Cancer Lett 343(1):134–46. https://doi.org/10.1016/j.canlet.2013.09.026

Selvi RB, Swaminathan A, Chatterjee S, Shanmugam MK, Li F, Ramakrishnan GB, Siveen KS, Chinnathambi A, Zayed ME, Alharbi SA, Basha J (2015) Inhibition of p300 lysine acetyltransferase activity by luteolin reduces tumor growth in head and neck squamous cell carcinoma (HNSCC) xenograft mouse model. Oncotarget 6(41):43806. https://doi.org/10.18632/oncotarget.6245

Sengupta A, Ghosh S, Bhattacharjee S, Das S (2004) Indian food ingredients and cancer prevention-an experimental evaluation of anticarcinogenic effects of garlic in rat colon. Asian Pac J Cancer Prev 5(2):126–132

Shahidi F, De Camargo AC (2016) Tocopherols and tocotrienols in common and emerging dietary sources: occurrence, applications, and health benefits. Int J Mol Sci 17(10):1745. https://doi.org/10.3390/ijms17101745

Shankar S, Kumar D, Srivastava RK (2013) Epigenetic modifications by dietary phytochemicals: implications for personalized nutrition. Pharmacol Ther 138(1):1–7. https://doi.org/10.1016/j.pharmthera.2012.11.002

Shi QI, Hui SU, Zhang AH, Hong-Ying XU, Guang-Li YA, Ying HA, Xi-Jun WA (2014) Natural alkaloids: basic aspects, biological roles, and future perspectives. Chin J Nat Med 12(6):401–6. https://doi.org/10.1016/S1875-5364(14)60063-7

Shim S, Kim S, Choi DS, Kwon YB, Kwon J (2011) Anti-inflammatory effects of [6]-shogaol: potential roles of HDAC inhibition and HSP70 induction. Food Chem Toxicol 49(11):2734–2740. https://doi.org/10.1016/j.fct.2011.08.012

Sofi F, Macchi C, Abbate R, Gensini GF, Casini A (2014) Mediterranean diet and health status: an updated meta-analysis and a proposal for a literature-based adherence score. Public Health Nutr 17(12):2769–2782. https://doi.org/10.1017/S1368980013003169

Soleymani S, Farzaei MH, Zargaran A, Niknam S, Rahimi R (2019) Promising plant-derived secondary metabolites for treatment of acne vulgaris: a mechanistic review. Arch Dermatol Res. https://doi.org/10.1007/s00403-019-01968-z

Strahl BD, Allis CD (2000) The language of covalent histone modifications. Nature 403:41. https://doi.org/10.1038/47412

Suter MA, Aagaard-Tillery KM (2009) Environmental influences on epigenetic profiles. Semin Reprod Med 27:380–390. https://doi.org/10.1055/s-0029-1237426

Tammen SA, Friso S, Choi SW (2013) Epigenetics: the link between nature and nurture. Mol Aspects Med 34(4):753–764. https://doi.org/10.1016/j.mam.2012.07.018

Tikoo K, Meena RL, Kabra DG, Gaikwad AB (2008) Change in post-translational modifications of histone H3, heat-shock protein-27 and MAP kinase p38 expression by curcumin in streptozotocininduced type I diabetic nephropathy. Br J Pharmacol 153:1225–1231. https://doi.org/10.1038/sj.bjp.0707666

Tu F, Pang Q, Huang T, Zhao Y, Liu M, Chen X (2017) Apigenin ameliorates post-stroke cognitive deficits in rats through histone acetylation-mediated neurochemical alterations. Med Sci Monit 23:4004–4013. https://doi.org/10.12659/msm.902770

Turner BM (2007) Defining an epigenetic code. Nat Cell Biol 9(1):2–6. https://doi.org/10.1038/ncb0107-2

Tyagi AK, Prasad S, Majeed M, Aggarwal BB (2017) Calebin A, a novel component of turmeric, suppresses NF-κB regulated cell survival and inflammatory gene products leading to inhibition of cell growth and chemosensitization. Phytomedicine 34:171–181. https://doi.org/10.1016/j.phymed.2017.08.021

Walsh L, Gallagher WM, O'Connor DP, Ní Chonghaile T (2016) Diagnostic and therapeutic implications of histone epigenetic modulators in breast cancer. Expert Rev Mol Diagn 16(5):541–551. https://doi.org/10.1586/14737159.2016.1156534

Wang H, Shen L, Li X, Sun M (2013) MicroRNAs contribute to the anticancer effect of 1′-acetoxychavicol acetate in human head and neck squamous cell carcinoma cell line HN4. Biosci Biotechnol Biochem 77(12):2348–2355. https://doi.org/10.1271/bbb.130389

Wang H, Jo YJ, Oh JS, Kim NH (2017) Quercetin delays postovulatory aging of mouse oocytes by regulating SIRT expression and MPF activity. Oncotarget 8(24):38631–38641. https://doi.org/10.18632/oncotarget.16219

Wink M (2015) Modes of action of herbal medicines and plant secondary metabolites. Medicines (Basel) 2(3):251–286. https://doi.org/10.3390/medicines2030251

Wu H, Huang M, Liu Y, Shu Y, Liu P (2015) Luteolin induces apoptosis by up-regulating miR-34a in human gastric cancer cells. Technol Cancer Res Treat 14(6):747–755. https://doi.org/10.7785/tcrt.2012.500434

Xiao D, Zeng Y, Hahm ER, Kim YA, Ramalingam S, Singh SV (2009) Diallyl trisulfide selectively causes Bax-and Bak-mediated apoptosis in human lung cancer cells. Environ Mol Mutagen 50(3):201–212. https://doi.org/10.1002/em.20431

Xiao X, Chen B, Liu X, Liu P, Zheng G, Ye F, Tang H, Xie X (2014) Diallyl disulfide suppresses SRC/Ras/ERK signaling-mediated proliferation and metastasis in human breast cancer by up-regulating miR-34a. PLoS ONE 9(11):e112720. https://doi.org/10.1371/journal.pone.0112720

Xie F, Lang Q, Zhou M, Zhang H, Zhang Z, Zhang Y, Wan B, Huang Q, Yu L (2012) The dietary flavonoid luteolin inhibits Aurora B kinase activity and blocks proliferation of cancer cells. Eur J Pharm Sci 46(5):388–396. https://doi.org/10.1016/j.ejps.2012.03.002

Xingyu Z, Peijie M, Dan P, Youg W, Daojun W, Xinzheng C, Xijun Z, Yangrong S (2016) Quercetin suppresses lung cancer growth by targeting Aurora B kinase. Cancer Med 5(11):3156–3165. https://doi.org/10.1002/cam4.891

Yasuda M, Wilson DR, Fugmann SD, Moaddel R (2011) Synthesis and characterization of SIRT6 protein coated magnetic beads: identification of a novel inhibitor of SIRT6 deacetylase from medicinal plant extracts. Anal Chem 83(19):7400–7407. https://doi.org/10.1021/ac201403y

Yu J, Xie T, Wang Z, Wang X, Zeng S, Kang Y, Hou T (2019) DNA methyltransferases: emerging targets for the discovery of inhibitors as potent anticancer drugs. Drug Discov Today 19:30334–30344. https://doi.org/10.1016/j.drudis.2019.08.006

Zhang G, Li B, Lee CH, Parkin KL (2010) Cysteine and glutathione mixed-disulfide conjugates of thiosulfinates: chemical synthesis and biological activities. J Agric Food Chem 58(3):1564–1571. https://doi.org/10.1021/jf9029354

Zhang M, Viennois E, Prasad M, Zhang Y, Wang L, Zhang Z, Han MK, Xiao B, Xu C, Srinivasan S, Merlin D (2016) Edible ginger-derived nanoparticles: a novel therapeutic approach for the prevention and treatment of inflammatory bowel disease and colitis-associated cancer. Biomaterials 101:321–340. https://doi.org/10.1016/j.biomaterials.2016.06.018

Zheng L, Chen J, Ma Z, Liu W, Yang F, Yang Z, Wang K, Wang X, He D, Li L (2015) Capsaicin causes inactivation and degradation of the androgen receptor by inducing the restoration of miR-449a in prostate cancer. Oncol Rep 34(2):1027–1034. https://doi.org/10.3892/or.2015.4055

Zhong LX, Wu ML, Li H, Liu J, Lin LZ (2019) Efficacy and safety of intraperitoneally administered resveratrol against rat orthotopic ovarian cancers. Cancer Manag Res 11:6113–6124. https://doi.org/10.2147/CMAR.S206301

Zuo Q, Wu R, Xiao X, Yang C, Yang Y, Wang C, Lin L, Kong AN (2018) The dietary flavone luteolin epigenetically activates the Nrf2 pathway and blocks cell transformation in human colorectal cancer HCT116 cells. J Cell Biochem 119(11):9573–9582. https://doi.org/10.1002/jcb.27275
Ethics declarations
Conflict of interest
The authors declare that no conflict of interest exist with the publication of this manuscript.
Additional information
Publisher's Note
Springer Nature remains neutral with regard to jurisdictional claims in published maps and institutional affiliations.
About this article
Cite this article
Gupta, J., Sharma, S., Sharma, N.R. et al. Phytochemicals enriched in spices: a source of natural epigenetic therapy. Arch. Pharm. Res. 43, 171–186 (2020). https://doi.org/10.1007/s12272-019-01203-3
Received:

Accepted:

Published:

Issue Date:
Keywords
Epigenetics

Spices

DNA methylation

Histone modifications

miRNA

Phytochemicals