Abstract
Peptides have advantages over antibodies in terms of deep tissue penetration, low immunogenicity, and cost-effective production, but they have short circulation time and poor stability in vivo. Peptides have been extensively used as targeting moieties for the delivery of drug-loaded nanoparticles and function as targeted therapeutics in cancer treatment. Here, we review peptides that are exploited as targeted therapeutics in cancer therapy and apoptosis imaging probes for the monitoring of treatment responses.
This is a preview of subscription content, log in to check access.
Access options
Buy single article
Instant access to the full article PDF.
US$ 39.95
Price includes VAT for USA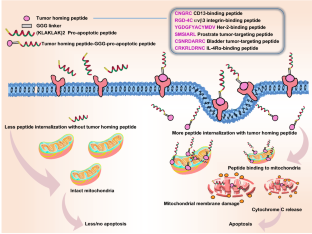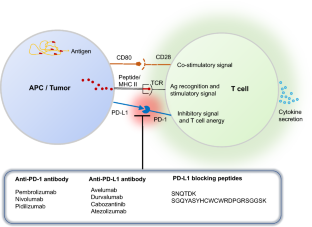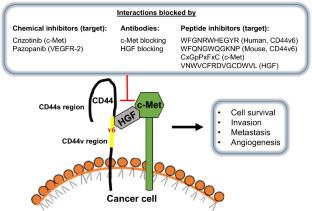 References
Adamczyk M, Kostka G, Palut D (1998) The role of apoptosis in cell physiology and pathology. Rocz Panstw Zakl Hig 49:415–432

Arap W, Haedicke W, Bernasconi M, Kain R, Rajotte D, Krajewski S, Ellerby HM, Bredesen DE, Pasqualini R, Ruoslahti E (2002) Targeting the prostate for destruction through a vascular address. Proc Natl Acad Sci USA 99:1527–1531

Basakran NS (2015) CD44 as a potential diagnostic tumor marker. Saudi Med J 36:273–279

Blankenberg FG, Strauss HW (2012) Recent advances in the molecular imaging of programmed cell death: part I-pathophysiology and radiotracers. J Nucl Med 53:1659–1662

Bullok K, Piwnica-Worms D (2005) Synthesis and characterization of a small, membrane-permeant, caspase-activatable far-red fluorescent peptide for imaging apoptosis. J Med Chem 48:5404–5407

Bullok KE, Maxwell D, Kesarwala AH, Gammon S, Prior JL, Snow M, Stanley S, Piwnica-Worms D (2007) Biochemical and in vivo characterization of a small, membrane-permeant, caspase-activatable far-red fluorescent peptide for imaging apoptosis. Biochemistry 46:4055–4065

Burtea C, Laurent S, Lancelot E, Ballet S, Murariu O, Rousseaux O, Port M, Vander Elst L, Corot C, Muller RN (2009) Peptidic targeting of phosphatidylserine for the MRI detection of apoptosis in atherosclerotic plaques. Mol Pharm 6:1903–1919

Butte MJ, Keir ME, Phamduy TB, Sharpe AH, Freeman GJ (2007) Programmed death-1 ligand 1 interacts specifically with the B7-1 costimulatory molecule to inhibit T cell responses. Immunity 27:111–122

Chang HN, Liu BY, Qi YK, Zhou Y, Chen YP, Pan KM, Li WW, Zhou XM, Ma WW, Fu CY (2015) Blocking of the PD-1/PD-L1 interaction by ad-peptide antagonist for cancer immunotherapy. Angew Chem 54:11760–11764

Dine J, Gordon R, Shames Y, Kasler MK, Barton-Burke M (2017) Immune checkpoint inhibitors: an innovation in immunotherapy for the treatment and management of patients with cancer. Asia-Pac J Oncol Nurs 4:127–135

Dong H, Zhu G, Tamada K, Chen L (1999) B7-H1, a third member of the B7 family, co-stimulates T-cell proliferation and interleukin-10 secretion. Nat Med 5:1365–1369

Ellerby HM, Arap W, Ellerby LM, Kain R, Andrusiak R, Del Rio G, Krajewski S, Lombardo CR, Rao R, Ruoslahti E (1999) Anti-cancer activity of targeted pro-apoptotic peptides. Nat Med 5:1032–1038

Elmore S (2007) Apoptosis: a review of programmed cell death. Toxicol Pathol 35:495–516

Fantin VR, Berardi MJ, Babbe H, Michelman MV, Manning CM, Leder P (2005) A bifunctional targeted peptide that blocks HER-2 tyrosine kinase and disables mitochondrial function in HER-2-positive carcinoma cells. Cancer Res 65:6891–6900

Fife BT, Pauken KE, Eagar TN, Obu T, Wu J, Tang Q, Azuma M, Krummel MF, Bluestone JA (2009) Interactions between PD-1 and PD-L1 promote tolerance by blocking the TCR–induced stop signal. Nat Immunol 10:1185–1192

Francisco LM, Salinas VH, Brown KE, Vanguri VK, Freeman GJ, Kuchroo VK, Sharpe AH (2009) PD-L1 regulates the development, maintenance, and function of induced regulatory T cells. J Exp Med 206:3015–3029

Johnson CB, Win SY (2018) Combination therapy with PD-1/PD-L1 blockade: an overview of ongoing clinical trials. Oncoimmunology 7:e1408744

Jung HK, Wang K, Jung MK, Kim IS, Lee BH (2014) In vivo near-infrared fluorescence imaging of apoptosis using histone H1-targeting peptide probe after anti-cancer treatment with cisplatin and cetuximab for early decision on tumor response. PLoS ONE 9:e100341

Jung HK, Kim S, Park R-W, Park J-Y, Kim I-S, Lee B (2016) Bladder tumor-targeted delivery of pro-apoptotic peptide for cancer therapy. J Control Release 235:259–267

Kim ES, Kim JE, Patel MA, Mangraviti A, Ruzevick J, Lim M (2016) Immune checkpoint modulators: an emerging antiglioma armamentarium. J Immunol Res 2016:1–14

Kwak W, Ha YS, Soni N, Lee W, Park SI, Ahn H, An GI, Kim IS, Lee BH, Yoo J (2015) Apoptosis imaging studies in various animal models using radio-iodinated peptide. Apoptosis 20:110–121

Ladner RC, Sato AK, Gorzelany J, De Souza M (2004) Phage display-derived peptides as therapeutic alternatives to antibodies. Drug Discov Today 9:525–529

Lanneau D, Brunet M, Frisan E, Solary E, Fontenay M, Garrido C (2008) Heat shock proteins: essential proteins for apoptosis regulation. J Cell Mol Med 12:743–761

Latchman Y, Wood CR, Chernova T, Chaudhary D, Borde M, Chernova I, Iwai Y, Long AJ, Brown JA, Nunes R (2001) PD-L2 is a second ligand for PD-1 and inhibits T cell activation. Nat Immunol 2:261–268

Laumonier C, Segers J, Laurent S, Michel A, Coppee F, Belayew A, Elst LV, Muller RN (2006) A new peptidic vector for molecular imaging of apoptosis, identified by phage display technology. J Biomol Screen 11:537–545

Li C, Zhang N, Zhou J, Ding C, Jin Y, Cui X, Pu K, Zhu Y (2018) Peptide blocking of PD-1/PD-L1 interaction for cancer immunotherapy. Cancer Immunol Res 6:178–188

Mai JC, Mi Z, Kim S-H, Ng B, Robbins PD (2001) A proapoptotic peptide for the treatment of solid tumors. Cancer Res 61:7709–7712

Manish G, Vimukta S (2011) Targeted drug delivery system: a review. Res J Chem Sci 1:135–138

Matzke-Ogi A, Jannasch K, Shatirishvili M, Fuchs B, Chiblak S, Morton J, Tawk B, Lindner T, Sansom O, Alves F, Warth A, Schwager C, Mier W, Kleeff J, Ponta H, Abdollahi A, Orian-Rousseau V (2016) Inhibition of tumor growth and metastasis in pancreatic cancer models by interference with CD44v6 signaling. Gastroenterology 150:513–525

Mavilio D, Lugli E (2013) Inhibiting the inhibitors: checkpoints blockade in solid tumors. Oncoimmunology 2:e26535

Mcilwain DR, Berger T, Mak TW (2013) Caspase functions in cell death and disease. Cold Spring Harb Perspect Biol 5:a008656

Michaud NR (2005) Novel peptides targeting the hepatocyte growth factor receptor c-Met for the treatment of cancer. Expert Opin Ther Pat 15:621–625

Mousavizadeh A, Jabbari A, Akrami M, Bardania H (2017) Cell targeting peptides as smart ligands for targeting of therapeutic or diagnostic agents: a systematic review. Colloids Surf B 158:507–517

Niu G, Chen X (2010) Apoptosis imaging: beyond annexin V. J Nucl Med 51:1659–1662

Obiri N, Siegel J, Varricchio F, Puri R (1994) Expression of high-affinity IL-4 receptors on human melanoma, ovarian and breast carcinoma cells. Clin Exp Immunol 95:148–155

Ohsawa S, Hamada S, Yoshida H, Miura M (2008) Caspase-mediated changes in histone H1 in early apoptosis: prolonged caspase activation in developing olfactory sensory neurons. Cell Death Differ 15:1429–1439

Olaku V, Matzke A, Mitchell C, Hasenauer S, Sakkaravarthi A, Pace G, Ponta H, Orian-Rousseau V (2011) c-Met recruits ICAM-1 as a coreceptor to compensate for the loss of CD44 in Cd44 null mice. Mol Biol Cell 22:2777–2786

Orian-Rousseau V (2010) CD44, a therapeutic target for metastasising tumours. Eur J Cancer 46:1271–1277

Orian-Rousseau V, Ponta H (2015) Perspectives of CD44 targeting therapies. Arch Toxicol 89:3–14

Orian-Rousseau V, Chen L, Sleeman JP, Herrlich P, Ponta H (2002) CD44 is required for two consecutive steps in HGF/c-Met signaling. Genes Dev 16:3074–3086

Patel SA, Longacre TA, Ladabaum U, Lebensohn A, Lin AY, Haraldsdottir S (2018) Tumor molecular testing guides Anti-PD-1 therapy and provides evidence for pathogenicity ismatch Repair Variants. Oncologist 23:1395–1400

Pham W, Weissleder R, Tung CH (2002) An azulene dimer as a near-infrared quencher. Angew Chem Int Ed Engl 41:3659–3662

Pianko MJ, Liu Y, Bagchi S, Lesokhin AM (2017) Immune checkpoint blockade for hematologic malignancies: a review. Stem Cell Investig 4:32–42

Plati J, Bucur O, Khosravi-Far R (2011) Apoptotic cell signaling in cancer progression and therapy. Integr Biol (Camb) 3:279–296

Radermacher KA, Boutry S, Laurent S, Elst LV, Mahieu I, Bouzin C, Magat J, Gregoire V, Feron O, Muller RN, Jordan BF, Gallez B (2010) Iron oxide particles covered with hexapeptides targeted at phosphatidylserine as MR biomarkers of tumor cell death. Contrast Media Mol Imaging 5:258–267

Rios-Doria J, Durham N, Wetzel L, Rothstein R, Chesebrough J, Holoweckyj N, Zhao W, Leow CC, Hollingsworth R (2015) Doxil synergizes with cancer immunotherapies to enhance antitumor responses in syngeneic mouse models. Neoplasia 17:661–670

Ruoslahti E (2012) Peptides as targeting elements and tissue penetration devices for nanoparticles. Adv Mater 24:3747–3756

Sandomenico A, Caporale A, Doti N, Cross S, Cruciani G, Chambery A, De SF, Ruvo M (2018) Synthetic peptide libraries. From random mixtures to in vivo testing. Curr Med Chem. https://doi.org/10.2174/0929867325666180716110833

Schutters K, Reutelingsperger C (2010) Phosphatidylserine targeting for diagnosis and treatment of human diseases. Apoptosis 15:1072–1082

Smith BA, Smith BD (2012) Biomarkers and molecular probes for cell death imaging and targeted therapeutics. Bioconjug Chem 23:1989–2006

Smolarczyk R, Cichoń T, Graja K, Hucz J, Sochanik A, Szala S (2006) Antitumor effect of RGD-4C-GG-D (KLAKLAK) 2 peptide in mouse B16 (F10) melanoma model. Acta Biochim Pol 53:801–805

Solis MA, Chen YH, Wong TY, Bittencourt VZ, Lin YC, Huang LL (2012) Hyaluronan regulates cell behavior: a potential niche matrix for stem cells. Biochem Res Int. https://doi.org/10.1155/2012/346972

Song S, Xiong C, Lu W, Ku G, Huang G, Li C (2013) Apoptosis imaging probe predicts early chemotherapy response in preclinical models: a comparative study with 18F-FDG PET. J Nucl Med 54:104–110

Speiser P, Wanner C, Tempfer C, Mittelbock M, Hanzal E, Bancher-Todesca D, Gitsch G, Reinthaller A, Kainz C (1997) CD44 is an independent prognostic factor in early-stage cervical cancer. Int J Cancer 74:185–188

Stauder R, Eisterer W, Thaler J, Gunthert U (1995) CD44 variant isoforms in non-Hodgkin's lymphoma: a new independent prognostic factor. Blood 85:2885–2899

Svensen N, Walton JG, Bradley M (2012) Peptides for cell-selective drug delivery. Trends Pharmacol Sci 33:186–192

Takayama S, Reed JC, Homma S (2003) Heat-shock proteins as regulators of apoptosis. Oncogene 22:9041–9047

Tam EM, Runyon ST, Santell L, Quan C, Yao X, Kirchhofer D, Skelton NJ, Lazarus RA (2009) Noncompetitive inhibition of hepatocyte growth factor-dependent Met signaling by a phage-derived peptide. J Mol Biol 385:79–90

Thapa N, Kim S, So IS, Lee BH, Kwon IC, Choi K, Kim IS (2008) Discovery of a phosphatidylserine-recognizing peptide and its utility in molecular imaging of tumour apoptosis. J Cell Mol Med 12:1649–1660

Tjhay F, Motohara T, Tayama S, Narantuya D, Fujimoto K, Guo J, Sakaguchi I, Honda R, Tashiro H, Katabuchi H (2015) CD44 variant 6 is correlated with peritoneal dissemination and poor prognosis in patients with advanced epithelial ovarian cancer. Cancer Sci 106:1421–1428

Tremmel M, Matzke A, Albrecht I, Laib AM, Olaku V, Ballmer-Hofer K, Christofori G, Heroult M, Augustin HG, Ponta H, Orian-Rousseau V (2009) A CD44v6 peptide reveals a role of CD44 in VEGFR-2 signaling and angiogenesis. Blood 114:5236–5244

Vadevoo SMP, Kim J-E, Gunassekaran GR, Jung H-K, Chi L, Kim DE, Lee S-H, Im S-H, Lee B (2017) Interleukin 4 receptor-targeted pro-apoptotic peptide blocks tumor growth and metastasis by enhancing anti-tumor immunity. Mol Cancer Ther 12:2803–2816

Vlieghe P, Lisowski V, Martinez J, Khrestchatisky M (2010) Synthetic therapeutic peptides: science and market. Drug Discov Today 15:40–56

Wang K, Purushotham S, Lee JY, Na MH, Park H, Oh SJ, Park RW, Park JY, Lee E, Cho BC, Song MN, Baek MC, Kwak W, Yoo J, Hoffman AS, Oh YK, Kim IS, Lee BH (2010) In vivo imaging of tumor apoptosis using histone H1-targeting peptide. J Control Release 148:283–291

Wang F, Ma J, Liu J, Jin H, Huang D (2012) Synthetic small peptides acting on B7H1 enhance apoptosis in pancreatic cancer cells. Mol Med Rep 6:553–557

Wang JL, Su WY, Lin YW, Xiong H, Chen YX, Xu J, Fang JY (2017) CD44v6 overexpression related to metastasis and poor prognosis of colorectal cancer: a meta-analysis. Oncotarget 8:12866–12876

Xiong C, Brewer K, Song S, Zhang R, Lu W, Wen X, Li C (2011) Peptide-based imaging agents targeting phosphatidylserine for the detection of apoptosis. J Med Chem 54:1825–1835

Yang S, Meng J, Yang Y, Liu H, Wang C, Liu J, Zhang Y, Wang C, Xu H (2016) A HSP60-targeting peptide for cell apoptosis imaging. Oncogenesis 5:e201

Zeng W, Wang X, Xu P, Liu G, Eden HS, Chen X (2015) Molecular imaging of apoptosis: from micro to macro. Theranostics 5:559–582
Acknowledgements
This work was supported by Grants from the National Research Foundation (NRF- 2014R1A5A2009242 and NRF-2018R1A2B200837) and the Bio & Medical Technology Development Program (2017M3A9G8083382).
Ethics declarations
Conflict of interest
The authors confirm that they have no conflict of interest.
Additional information
Publisher's Note
Springer Nature remains neutral with regard to jurisdictional claims in published maps and institutional affiliations.
About this article
Cite this article
Vadevoo, S.M.P., Gurung, S., Khan, F. et al. Peptide-based targeted therapeutics and apoptosis imaging probes for cancer therapy. Arch. Pharm. Res. 42, 150–158 (2019). https://doi.org/10.1007/s12272-019-01125-0
Received:

Accepted:

Published:

Issue Date:
Keywords
Apoptosis

CD44v6

Imaging

PD-L1

Phage display

Pro-apoptotic peptide

Targeted therapeutics