Abstract
Cancer is one of the deadliest diseases in the world. Despite extensive studies, treating metastatic cancers remains challenging. Years of research have linked a rare set of cells known as cancer stem cells (CSCs) to drug resistance, leading to the suggestion that eradication of CSCs might be an effective therapeutic strategy. However, few drug candidates are active against CSCs. New drug discovery is often a lengthy process. Drug screening has been advantageous in identifying drug candidates. Current understanding of cancer biology has revealed various clues to target cancer from different points of view. Many studies have found dopamine receptors (DRs) in various cancers. Therefore, DR antagonists have attracted a lot of attention in cancer research. Recently, a group of antipsychotic DR antagonists has been demonstrated to possess remarkable abilities to restrain and sensitize CSCs to existing chemotherapeutics by a process called differentiation approach. In this review, we will describe current aspects of CSC-targeting therapeutics, antipsychotic DR antagonists, and their extraordinary abilities to fight cancer.
This is a preview of subscription content, log in to check access.
Access options
Buy single article
Instant access to the full article PDF.
US$ 39.95
Price includes VAT for USA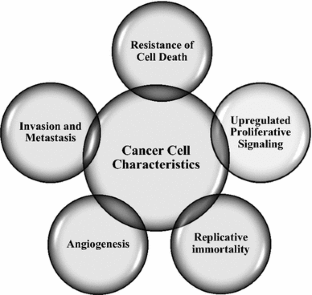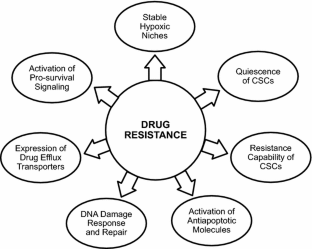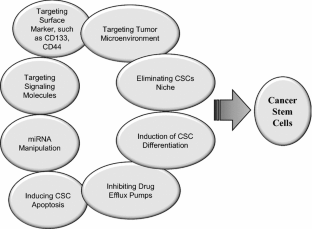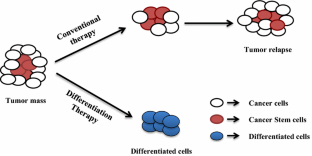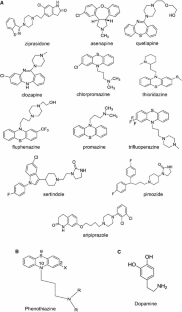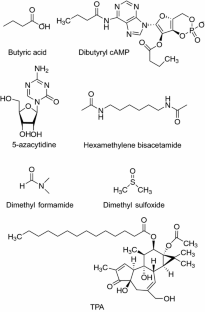 References
Adams JM, Strasser A (2008) Is tumor growth sustained by rare cancer stem cells or dominant clones? Cancer Res 68:4018–4021

Adorno-Cruz V, Kibria G, Liu X, Doherty M, Junk DJ, Guan D, Hubert C, Venere M, Mulkearns-Hubert E, Sinyuk M, Alvarado A, Caplan AI, Rich J, Gerson SL, Lathia J, Liu H (2015) Cancer stem cells: targeting the roots of cancer, seeds of metastasis, and sources of therapy resistance. Cancer Res 75:924–929

Aguanno S, Bouchè M, Adamo S, Molinaro M (1990) 12-O-tetradecanoylphorbol-13-acetate-induced differentiation of a human rhabdomyosarcoma cell line. Cancer Res 50(11):3377–3382

Al-Hajj M, Wicha MS, Benito-Hernandez A, Morrison SJ, Clarke MF (2003) Prospective identification of tumorigenic breast cancer cells. Proc Natl Acad Sci USA 100:3983–3988

Andersen PH, Gingrich JA, Bates MD, Dearry A, Falardeau P, Senogles SE, Caron MG (1990) Dopamine receptor subtypes: beyond the D1/D2 classification. Trends Pharmacol Sci 11:231–236

Angelini A, Ciofani G, Conti P (2015) Antipsychotics reverse P-glycoprotein-mediated doxorubicin resistance in human uterine sarcoma MES-SA/Dx5 cells: a novel approach to cancer chemotherapy. J Biol Regul Homeost Agents 29:357–365

Asahi K, Honma Y, Hazeki K, Sassa T, Kubohara Y, Sakurai A, Takahashi N (1997) Cotylenin A, a plant-growth regulator, induces the differentiation in murine and human myeloid leukemia cells. Biochem Biophys Res Commun 238:758–763

Bai T, Wang S, Zhao Y, Zhu R, Wang W, Sun Y (2017) Haloperidol, a sigma receptor 1 antagonist, promotes ferroptosis in hepatocellular carcinoma cells. Biochem Biophys Res Commun 491:919–925

Bao S, Wu Q, Mclendon RE, Hao Y, Shi Q, Hjelmeland AB, Dewhirst MW, Bigner DD, Rich JN (2006) Glioma stem cells promote radioresistance by preferential activation of the DNA damage response. Nature 444:756–760

Bao S, Wu Q, Li Z, Sathornsumetee S, Wang H, McLendon RE, Hjelmeland AB, Rich JN (2008) Targeting cancer stem cells through L1CAM suppresses glioma growth. Cancer Res 68(15):6043–6048

Bapat SA, Mali AM, Koppikar CB, Kurrey NK (2005) Stem and progenitor-like cells contribute to the aggressive behavior of human epithelial ovarian cancer. Cancer Res 65:3025–3029

Barak Y, Achiron A, Mandel M, Mirecki I, Aizenberg D (2005) Reduced cancer incidence among patients with schizophrenia. Cancer 104:2817–2821

Barker N, Ridgway RA, Van Es JH, Van De Wetering M, Begthel H, Van Den Born M, Danenberg E, Clarke AR, Sansom OJ, Clevers H (2009) Crypt stem cells as the cells-of-origin of intestinal cancer. Nature 457:608–611

Beaulieu JM, Gainetdinov RR (2011) The physiology, signaling, and pharmacology of dopamine receptors. Pharmacol Rev 63:182–217

Bergers G, Brekken R, Mcmahon G, Vu TH, Itoh T, Tamaki K, Tanzawa K, Thorpe P, Itohara S, Werb Z, Hanahan D (2000) Matrix metalloproteinase-9 triggers the angiogenic switch during carcinogenesis. Nat Cell Biol 2:737–744

Bertram JS (2000) The molecular biology of cancer. Mol Asp Med 21:167–223

Bhowmick NA, Neilson EG, Moses HL (2004) Stromal fibroblasts in cancer initiation and progression. Nature 432:332–337

Bonnet D, Dick JE (1997) Human acute myeloid leukemia is organized as a hierarchy that originates from a primitive hematopoietic cell. Nat Med 3:730–737

Borcherding DC, Tong W, Hugo ER, Barnard DF, Fox S, LaSance K, Shaughnessy E, Ben-Jonathan N (2016) Expression and therapeutic targeting of dopamine receptor-1 (D1R) in breast cancer. Oncogene 35(24):3103–3113

Brown JM, Wilson WR (2004) Exploiting tumour hypoxia in cancer treatment. Nat Rev Cancer 4:437–447

Bruce WR, Van Der Gaag H (1963) A quantitative assay for the number of murine lymphoma cells capable of proliferation in vivo. Nature 199:79–80

Cahill DP, Kinzler KW, Vogelstein B, Lengauer C (1999) Genetic instability and Darwinian selection in tumours. Trends Cell Biol 9:M57–M60

Cai N, Zhou W, Ye LL, Chen J, Liang QN, Chang G, Chen JJ (2017) The STAT3 inhibitor pimozide impedes cell proliferation and induces ROS generation in human osteosarcoma by suppressing catalase expression. Am J Transl Res 9:3853–3866

Campos B, Wan F, Farhadi M, Ernst A, Zeppernick F, Tagscherer KE, Ahmadi R, Lohr J, Dictus C, Gdynia G, Combs SE, Goidts V, Helmke BM, Eckstein V, Roth W, Beckhove P, Lichter P, Unterberg A, Radlwimmer B, Herold-Mende C (2010) Differentiation therapy exerts antitumor effects on stem-like glioma cells. Clin Cancer Res 16(10):2715–2728

Carnero A, Garcia-Mayea Y, Mir C, Lorente J, Rubio IT, LLeonart ME (2016) The cancer stem-cell signaling network and resistance to therapy. Cancer Treat Rev 49:25–36

Castor A, Nilsson L, Astrand-Grundstrom I, Buitenhuis M, Ramirez C, Anderson K, Strombeck B, Garwicz S, Bekassy AN, Schmiegelow K, Lausen B, Hokland P, Lehmann S, Juliusson G, Johansson B, Jacobsen SE (2005) Distinct patterns of hematopoietic stem cell involvement in acute lymphoblastic leukemia. Nat Med 11:630–637

Chan KS, Espinosa I, Chao M, Wong D, Ailles L, Diehn M, Gill H, Presti J Jr, Chang HY, Van De Rijn M, Shortliffe L, Weissman IL (2009) Identification, molecular characterization, clinical prognosis, and therapeutic targeting of human bladder tumor-initiating cells. Proc Natl Acad Sci USA 106:14016–14021

Chauvet N, Romano N, Lafont C, Guillou A, Galibert E, Bonnefont X, Le Tissier P, Fedele M, Fusco A, Mollard P, Coutry N (2017) Complementary actions of dopamine D2 receptor agonist and anti-vegf therapy on tumoral vessel normalization in a transgenic mouse model. Int J Cancer 140:2150–2161

Chen J, Li Y, Yu TS, Mckay RM, Burns DK, Kernie SG, Parada LF (2012) A restricted cell population propagates glioblastoma growth after chemotherapy. Nature 488:522–526

Chen X, Zhang J, Zhang Z, Li H, Cheng W, Liu J (2013) Cancer stem cells, epithelial-mesenchymal transition, and drug resistance in high-grade ovarian serous carcinoma. Hum Pathol 44:2373–2384

Chen JJ, Cai N, Chen GZ, Jia CC, Qiu DB, Du C, Liu W, Yang Y, Long ZJ, Zhang Q (2017) The neuroleptic drug pimozide inhibits stem-like cell maintenance and tumorigenicity in hepatocellular carcinoma. Oncotarget 8:17593–17609

Cheng HW, Liang YH, Kuo YL, Chuu CP, Lin CY, Lee MH, Wu AT, Yeh CT, Chen EI, Whang-Peng J, Su CL, Huang CY (2015) Identification of thioridazine, an antipsychotic drug, as an antiglioblastoma and anticancer system cell agent using public gene expression data. Cell Death Dis 6:e1753

Cherubini E, Di Napoli A, Noto A, Osman GA, Esposito MC, Mariotta S, Sellitri R, Ruco L, Cardillo G, Ciliberto G, Mancini R, Ricci A (2016) Genetic and Functional Analysis of Polymorphisms in the Human Dopamine Receptor and Transporter Genes in Small Cell Lung Cancer. J Cell Physiol 231(2):345–356

Chikamatsu K, Ishii H, Murata T, Sakakura K, Shino M, Toyoda M, Takahashi K, Masuyama K (2013) Alteration of cancer stem cell-like phenotype by histone deacetylase inhibitors in squamous cell carcinoma of the head and neck. Cancer Sci 104:1468–1475

Cho KR, Vogelstein B (1992) Genetic alterations in the adenoma–carcinoma sequence. Cancer 70:1727–1731

Christman JK, Mendelsohn N, Herzog D, Schneiderman N (1983) Effect of 5-azacytidine on differentiation and DNA methylation in human promyelocytic leukemia cells (HL-60). Cancer Res 43(2):763–769

Ciccia A, Elledge SJ (2010) The DNA damage response: making it safe to play with knives. Mol Cell 40:179–204

Clarke MF, Dick JE, Dirks PB, Eaves CJ, Jamieson CH, Jones DL, Visvader J, Weissman IL, Wahl GM (2006) Cancer stem cells: perspectives on current status and future directions: AACR workshop on cancer stem cells. Cancer Res 66:9339–9344

Cohen ME, Dembling B, Schorling JB (2002) The association between schizophrenia and cancer: a population-based mortality study. Schizophr Res 57:139–146

Collins AT, Berry PA, Hyde C, Stower MJ, Maitland NJ (2005) Prospective identification of tumorigenic prostate cancer stem cells. Cancer Res 65:10946–10951

Costello RT, Mallet F, Gaugler B, Sainty D, Arnoulet C, Gastaut JA, Olive D (2000) Human acute myeloid leukemia CD34+/CD38− progenitor cells have decreased sensitivity to chemotherapy and Fas-induced apoptosis, reduced immunogenicity, and impaired dendritic cell transformation capacities. Cancer Res 60:4403–4411

Coufal M, Invernizzi P, Gaudio E, Bernuzzi F, Frampton GA, Onori P, Franchitto A, Carpino G, Ramirez JC, Alvaro D, Marzioni M, Battisti G, Benedetti A, DeMorrow S (2010) Increased local dopamine secretion has growth-promoting effects in cholangiocarcinoma. Int J Cancer 126(9):2112–2122

Cox CV, Evely RS, Oakhill A, Pamphilon DH, Goulden NJ, Blair A (2004) Characterization of acute lymphoblastic leukemia progenitor cells. Blood 104:2919–2925

Cox CV, Martin HM, Kearns PR, Virgo P, Evely RS, Blair A (2007) Characterization of a progenitor cell population in childhood T-cell acute lymphoblastic leukemia. Blood 109:674–682

Csonka Á, Spengler G, Martins A, Ocsovszki I, Christensen JB, Hendricks O, Kristiansen JE, Amaral L, Molnar J (2013) Effect of thioridazine stereoisomers on the drug accumulation of mouse lymphoma and human prostate cancer cell lines in vitro. In Vivo 27(6):815–820

D'andrea V, Guarino S, Di Matteo FM, Maugeri Sacca M, De Maria R (2014) Cancer stem cells in surgery. G Chir 35:257–259

Dalerba P, Dylla SJ, Park IK, Liu R, Wang X, Cho RW, Hoey T, Gurney A, Huang EH, Simeone DM, Shelton AA, Parmiani G, Castelli C, Clarke MF (2007) Phenotypic characterization of human colorectal cancer stem cells. Proc Natl Acad Sci USA 104:10158–10163

Dalton SO, Johansen C, Poulsen AH, Norgaard M, Sorensen HT, Mclaughlin JK, Mortensen PB, Friis S (2006) Cancer risk among users of neuroleptic medication: a population-based cohort study. Br J Cancer 95:934–939

Daniele S, Costa B, Zappelli E, Da Pozzo E, Sestito S, Nesi G, Campiglia P, Marinelli L, Novellino E, Rapposelli S, Martini C (2015) Combined inhibition of AKT/mTOR and MDM2 enhances Glioblastoma Multiforme cell apoptosis and differentiation of cancer stem cells. Sci Rep 5:9956

Dashzeveg NK, Taftaf R, Ramos EK, Torre-Healy L, Chumakova A, Silver DJ, Alban TJ, Sinyuk M, Thiagarajan PS, Jarrar AM, Turaga SM, Saygin C, Mulkearns-Hubert E, Hitomi M, Rich JN, Gerson SL, Lathia JD, Liu H (2017) New advances and challenges of targeting cancer stem cells. Cancer Res 77(19):5222–5227

de Bruin C, Pereira AM, Feelders RA, Romijn JA, Roelfsema F, Sprij-Mooij DM, van Aken MO, van der Lelij AJ, de Herder WW, Lamberts SW, Hofland LJ (2009) Coexpression of dopamine and somatostatin receptor subtypes in corticotroph adenomas. J Clin Endocrinol Metab 94(4):1118–1124

De Grouw EP, Raaijmakers MH, Boezeman JB, Van Der Reijden BA, Van De Locht LT, De Witte TJ, Jansen JH, Raymakers RA (2006) Preferential expression of a high number of ATP binding cassette transporters in both normal and leukemic CD34+ CD38− cells. Leukemia 20:750–754

Dean M, Fojo T, Bates S (2005) Tumour stem cells and drug resistance. Nat Rev Cancer 5:275–284

Dexter DL (1977) N, N-Dimethylformamide-induced morphological differentiation and reduction of tumorigenicity in cultured mouse rhabdomyosarcoma cells. Cancer Res 37(9):3136–3140

Diakatou E, Kaltsas G, Tzivras M, Kanakis G, Papaliodi E, Kontogeorgos G (2011) Somatostatin and dopamine receptor profile of gastroenteropancreatic neuroendocrine tumors: an immunohistochemical study. Endocr Pathol 22(1):24–30

Diakatou E, Alexandraki KI, Tsolakis AV, Kontogeorgos G, Chatzellis E, Leonti A, Kaltsas GA (2015) Somatostatin and dopamine receptor expression in neuroendocrine neoplasms: correlation of immunohistochemical findings with somatostatin receptor scintigraphy visual scores. Clin Endocrinol (Oxf) 83(3):420–428

Dichiara M, Amata E, Rescifina A, Prezzavento O, Floresta G, Parenti C, Pittala V, Marrazzo A (2017) Synthesis and evaluation of haloperidol metabolite II prodrugs as anticancer agents. Future Med Chem 9:1749–1764

Dick JE (2008) Stem cell concepts renew cancer research. Blood 112:4793–4807

Dick JE (2009) Looking ahead in cancer stem cell research. Nat Biotechnol 27:44–46

Diehn M, Cho RW, Lobo NA, Kalisky T, Dorie MJ, Kulp AN, Qian D, Lam JS, Ailles LE, Wong M, Joshua B, Kaplan MJ, Wapnir I, Dirbas FM, Somlo G, Garberoglio C, Paz B, Shen J, Lau SK, Quake SR, Brown JM, Weissman IL, Clarke MF (2009) Association of reactive oxygen species levels and radioresistance in cancer stem cells. Nature 458:780–783

Dolma S, Selvadurai HJ, Lan X, Lee L, Kushida M, Voisin V, Whetstone H, So M, Aviv T, Park N, Zhu X, Xu C, Head R, Rowland KJ, Bernstein M, Clarke ID, Bader G, Harrington L, Brumell JH, Tyers M, Dirks PB (2016) Inhibition of dopamine receptor D4 impedes autophagic flux, proliferation, and survival of glioblastoma stem cells. Cancer Cell 29:859–873

Dong Y, Han Q, Zou Y, Deng Z, Lu X, Wang X, Zhang W, Jin H, Su J, Jiang T, Ren H (2012) Long-term exposure to imatinib reduced cancer stem cell ability through induction of cell differentiation via activation of MAPK signaling in glioblastoma cells. Mol Cell Biochem 370(1–2):89–102

Dontu G, Al-Hajj M, Abdallah WM, Clarke MF, Wicha MS (2003) Stem cells in normal breast development and breast cancer. Cell Prolif 36(Suppl 1):59–72

Dragu DL, Necula LG, Bleotu C, Diaconu CC, Chivu-Economescu M (2015) Therapies targeting cancer stem cells: current trends and future challenges. World J Stem Cells 7:1185–1201

Driever PH, Knüpfer MM, Cinatl J, Wolff JE (1999) Valproic acid for the treatment of pediatric malignant glioma. Klin Padiatr 211(4):323–328

Drori S, Eytan GD, Assaraf YG (1995) Potentiation of anticancer-drug cytotoxicity by multidrug-resistance chemosensitizers involves alterations in membrane fluidity leading to increased membrane permeability. Eur J Biochem 228:1020–1029

Duenas-Gonzalez A, Candelaria M, Perez-Plascencia C, Perez-Cardenas E, de la Cruz-Hernandez E, Herrera LA (2008) Valproic acid as epigenetic cancer drug: preclinical, clinical and transcriptional effects on solid tumors. Cancer Treat Rev 34(3):206–222

Dylla SJ, Beviglia L, Park IK, Chartier C, Raval J, Ngan L, Pickell K, Aguilar J, Lazetic S, Smith-Berdan S, Clarke MF, Hoey T, Lewicki J, Gurney AL (2008) Colorectal cancer stem cells are enriched in xenogeneic tumors following chemotherapy. PLoS ONE 3:e2428

Emadi A, Jones RJ, Brodsky RA (2009) Cyclophosphamide and cancer: golden anniversary. Nat Rev Clin Oncol 6:638–647

Enjalbert A, Bockaert J (1983) Pharmacological characterization of the D2 dopamine receptor negatively coupled with adenylate cyclase in rat anterior pituitary. Mol Pharmacol 23:576–584

Eramo A, Ricci-Vitiani L, Zeuner A, Pallini R, Lotti F, Sette G, Pilozzi E, Larocca LM, Peschle C, De Maria R (2006) Chemotherapy resistance of glioblastoma stem cells. Cell Death Differ 13:1238–1241

Eramo A, Lotti F, Sette G, Pilozzi E, Biffoni M, Di Virgilio A, Conticello C, Ruco L, Peschle C, De Maria R (2008) Identification and expansion of the tumorigenic lung cancer stem cell population. Cell Death Differ 15:504–514

Fako V, Yu Z, Henrich CJ, Ransom T, Budhu AS, Wang XW (2016) Inhibition of wnt/beta-catenin signaling in hepatocellular carcinoma by an antipsychotic drug pimozide. Int J Biol Sci 12:768–775

Fang D, Nguyen TK, Leishear K, Finko R, Kulp AN, Hotz S, Van Belle PA, Xu X, Elder DE, Herlyn M (2005) A tumorigenic subpopulation with stem cell properties in melanomas. Cancer Res 65:9328–9337

Fearon ER, Vogelstein B (1990) A genetic model for colorectal tumorigenesis. Cell 61:759–767

Ferrandina G, Bonanno G, Pierelli L, Perillo A, Procoli A, Mariotti A, Corallo M, Martinelli E, Rutella S, Paglia A, Zannoni G, Mancuso S, Scambia G (2008) Expression of CD133-1 and CD133-2 in ovarian cancer. Int J Gynecol Cancer 18:506–514

Fessler E, Dijkgraaf FE, De Sousa EMF, Medema JP (2013) Cancer stem cell dynamics in tumor progression and metastasis: is the microenvironment to blame? Cancer Lett 341:97–104

Fidler IJ, Hart IR (1982) Biological diversity in metastatic neoplasms: origins and implications. Science 217:998–1003

Figueroa C, Gálvez-Cancino F, Oyarce C, Contreras F, Prado C, Valeria C, Cruz S, Lladser A, Pacheco R (2017) Inhibition of dopamine receptor D3 signaling in dendritic cells increases antigen cross-presentation to CD8+ T-cells favoring anti-tumor immunity. Oncol Lett 13(3):1223–1227

Fond G, Macgregor A, Attal J, Larue A, Brittner M, Ducasse D, Capdevielle D (2012) Antipsychotic drugs: pro-cancer or anti-cancer? A systematic review. Med Hypotheses 79:38–42

Ford JM, Prozialeck WC, Hait WN (1989) Structural features determining activity of phenothiazines and related drugs for inhibition of cell growth and reversal of multidrug resistance. Mol Pharmacol 35:105–115

Fox RG, Lytle NK, Jaquish DV, Park FD, Ito T, Bajaj J, Koechlein CS, Zimdahl B, Yano M, Kopp J, Kritzik M, Sicklick J, Sander M, Grandgenett PM, Hollingsworth MA, Shibata S, Pizzo D, Valasek M, Sasik R, Scadeng M, Okano H, Kim Y, Macleod AR, Lowy AM, Reya T (2016) Image-based detection and targeting of therapy resistance in pancreatic adenocarcinoma. Nature 534:407–411

Frank NY, Margaryan A, Huang Y, Schatton T, Waaga-Gasser AM, Gasser M, Sayegh MH, Sadee W, Frank MH (2005) ABCB5-mediated doxorubicin transport and chemoresistance in human malignant melanoma. Cancer Res 65:4320–4333

Fridman JS, Lowe SW (2003) Control of apoptosis by p53. Oncogene 22:9030–9040

Furth J (1935) Transmission of myeloid leukemia of mice: its relation to myeloma. J Exp Med 61:423–446

Gabalec F, Drastikova M, Cesak T, Netuka D, Masopust V, Machac J, Marek J, Cap J, Beranek M (2015) Dopamine 2 and somatostatin 1-5 receptors coexpression in clinically non-functioning pituitary adenomas. Physiol Res 64(3):369–377

Gao MQ, Choi YP, Kang S, Youn JH, Cho NH (2010) CD24+ cells from hierarchically organized ovarian cancer are enriched in cancer stem cells. Oncogene 29:2672–2680

Gao J, Zhang C, Gao F, Li H (2017) The effect and mechanism of dopamine D1 receptors on the proliferation of osteosarcoma cells. Mol Cell Biochem 430:31–36

Garbe C, Krasagakis K (1993) Effects of interferons and cytokines on melanoma cells. J Invest Dermatol 100(2 Suppl):239S–244S

Garvalov BK, Acker T (2011) Cancer stem cells: a new framework for the design of tumor therapies. J Mol Med (Berl) 89:95–107

Gil-Ad I, Shtaif B, Levkovitz Y, Dayag M, Zeldich E, Weizman A (2004) Characterization of phenothiazine-induced apoptosis in neuroblastoma and glioma cell lines: clinical relevance and possible application for brain-derived tumors. J Mol Neurosci 22:189–198

Ginestier C, Wicinski J, Cervera N, Monville F, Finetti P, Bertucci F, Wicha MS, Birnbaum D, Charafe-Jauffret E (2009) Retinoid signaling regulates breast cancer stem cell differentiation. Cell Cycle 8(20):3297–3302

Gingrich JA, Caron MG (1993) Recent advances in the molecular biology of dopamine receptors. Annu Rev Neurosci 16:299–321

Giuffre L, Schreyer M, Mach JP, Carrel S (1988) Cyclic AMP induces differentiation in vitro of human melanoma cells. Cancer 61:1132–1141

Golebiewska A, Brons NH, Bjerkvig R, Niclou SP (2011) Critical appraisal of the side population assay in stem cell and cancer stem cell research. Cell Stem Cell 8:136–147

Gonzalez H, Contreras F, Prado C, Elgueta D, Franz D, Bernales S, Pacheco R (2013) Dopamine receptor D3 expressed on CD4+ T cells favors neurodegeneration of dopaminergic neurons during Parkinson's disease. J Immunol 190:5048–5056

Gottesman MM, Fojo T, Bates SE (2002) Multidrug resistance in cancer: role of ATP-dependent transporters. Nat Rev Cancer 2:48–58

Greaves M (2016) Leukaemia 'firsts' in cancer research and treatment. Nat Rev Cancer 16(3):163–172

Griffin JD, Lowenberg B (1986) Clonogenic cells in acute myeloblastic leukemia. Blood 68:1185–1195

Grossrubatscher E, Veronese S, Ciaramella PD, Pugliese R, Boniardi M, De Carlis L, Torre M, Ravini M, Gambacorta M, Loli P (2008) High expression of dopamine receptor subtype 2 in a large series of neuroendocrine tumors. Cancer Biol Ther 7(12):1970–1978

Grover A, Adamson ED (1986) Evidence for the existence of an early common biochemical pathway in the differentiation of F9 cells into visceral or parietal endoderm: modulation by cyclic AMP. Dev Biol 114:492–503

Guan Y, Gerhard B, Hogge DE (2003) Detection, isolation, and stimulation of quiescent primitive leukemic progenitor cells from patients with acute myeloid leukemia (AML). Blood 101:3142–3149

Hamburger AW, Salmon SE (1977) Primary bioassay of human tumor stem cells. Science 197:461–463

Hanahan D, Weinberg RA (2000) The hallmarks of cancer. Cell 100:57–70

Hanahan D, Weinberg RA (2011) Hallmarks of cancer: the next generation. Cell 144:646–674

Hendrix MJ, Wood WR, Seftor EA, Lotan D, Nakajima M, Misiorowski RL, Seftor RE, Stetler-Stevenson WG, Bevacqua SJ, Liotta LA (1990) Retinoic acid inhibition of human melanoma cell invasion through a reconstituted basement membrane and its relation to decreases in the expression of proteolytic enzymes and motility factor receptor. Cancer Res 50:4121–4130

Hennings H, Glick AB, Greenhalgh DA, Morgan DL, Strickland JE, Tennenbaum T, Yuspa SH (1993) Critical aspects of initiation, promotion, and progression in multistage epidermal carcinogenesis. Proc Soc Exp Biol Med 202:1–18

Hermann PC, Huber SL, Herrler T, Aicher A, Ellwart JW, Guba M, Bruns CJ, Heeschen C (2007) Distinct populations of cancer stem cells determine tumor growth and metastatic activity in human pancreatic cancer. Cell Stem Cell 1:313–323

Herreros-Villanueva M, Zhang JS, Koenig A, Abel EV, Smyrk TC, Bamlet WR, de Narvajas AA, Gomez TS, Simeone DM, Bujanda L, Billadeau DD (2013) SOX2 promotes dedifferentiation and imparts stem cell-like features to pancreatic cancer cells. Oncogenesis 2:e61

Honma Y (2002) Cotylenin A: a plant growth regulator as a differentiation-inducing agent against myeloid leukemia. Leuk Lymphoma 43:1169–1178

Hu Y, Fu L (2012) Targeting cancer stem cells: a new therapy to cure cancer patients. Am J Cancer Res 2:340–356

Huang H, Wu K, Ma J, Du Y, Cao C, Nie Y (2016) Dopamine D2 receptor suppresses gastric cancer cell invasion and migration via inhibition of EGFR/AKT/MMP-13 pathway. Int Immunopharmacol 39:113–120

Huberman E, Heckman C, Langenbach R (1979) Stimulation of differentiated functions in human melanoma cells by tumor-promoting agents and dimethyl sulfoxide. Cancer Res 39:2618–2624

Hubert CG, Rivera M, Spangler LC, Wu Q, Mack SC, Prager BC, Couce M, Mclendon RE, Sloan AE, Rich JN (2016) A three-dimensional organoid culture system derived from human glioblastomas recapitulates the hypoxic gradients and cancer stem cell heterogeneity of tumors found in vivo. Cancer Res 76:2465–2477

Hussein N, Amawi H, Karthikeyan C, Hall FS, Mittal R, Trivedi P, Ashby CR Jr, Tiwari AK (2017) The dopamine D3 receptor antagonists PG01037, NGB2904, SB277011A, and U99194 reverse ABCG2 transporter-mediated drug resistance in cancer cell lines. Cancer Lett 396:167–180

Ishikawa F, Yoshida S, Saito Y, Hijikata A, Kitamura H, Tanaka S, Nakamura R, Tanaka T, Tomiyama H, Saito N, Fukata M, Miyamoto T, Lyons B, Ohshima K, Uchida N, Taniguchi S, Ohara O, Akashi K, Harada M, Shultz LD (2007) Chemotherapy-resistant human AML stem cells home to and engraft within the bone-marrow endosteal region. Nat Biotechnol 25:1315–1321

Ito K, Bernardi R, Morotti A, Matsuoka S, Saglio G, Ikeda Y, Rosenblatt J, Avigan DE, Teruya-Feldstein J, Pandolfi PP (2008) PML targeting eradicates quiescent leukaemia-initiating cells. Nature 453:1072–1078

Jandaghi P, Najafabadi HS, Bauer AS, Papadakis AI, Fassan M, Hall A, Monast A, Von Knebel Doeberitz M, Neoptolemos JP, Costello E, Greenhalf W, Scarpa A, Sipos B, Auld D, Lathrop M, Park M, Buchler MW, Strobel O, Hackert T, Giese NA, Zogopoulos G, Sangwan V, Huang S, Riazalhosseini Y, Hoheisel JD (2016) Expression of DRD2 is increased in human pancreatic ductal adenocarcinoma and inhibitors slow tumor growth in mice. Gastroenterology 151:1218–1231

Jaszczyszyn A, Gasiorowski K, Swiatek P, Malinka W, Cieslik-Boczula K, Petrus J, Czarnik-Matusewicz B (2012) Chemical structure of phenothiazines and their biological activity. Pharmacol Rep 64:16–23

Jemal A, Siegel R, Xu J, Ward E (2010) Cancer statistics, 2010. CA Cancer J Clin 60:277–300

Jiang W, Peng J, Zhang Y, Cho WC, Jin K (2012) The implications of cancer stem cells for cancer therapy. Int J Mol Sci 13:16636–16657

Jiang J, Huang Z, Chen X, Luo R, Cai H, Wang H, Zhang H, Sun T, Zhang Y (2017) Trifluoperazine activates FOXO1-related signals to inhibit tumor growth in hepatocellular carcinoma. DNA Cell Biol 36:813–821

Jin X, Jin X, Kim H (2017) Cancer stem cells and differentiation therapy. Tumour Biol 39:1010428317729933

Kanakis G, Grimelius L, Spathis A, Tringidou R, Rassidakis GZ, Öberg K, Kaltsas G, Tsolakis AV (2015) Expression of somatostatin receptors 1–5 and dopamine receptor 2 in lung carcinoids: implications for a therapeutic role. Neuroendocrinology 101(3):211–222

Kang S, Dong SM, Kim BR, Park MS, Trink B, Byun HJ, Rho SB (2012) Thioridazine induces apoptosis by targeting the PI3K/Akt/mTOR pathway in cervical and endometrial cancer cells. Apoptosis 17:989–997

Kang S, Hong J, Lee JM, Moon HE, Jeon B, Choi J, Yoon NA, Paek SH, Roh EJ, Lee CJ, Kang SS (2017) Trifluoperazine, a well-known antipsychotic, inhibits glioblastoma invasion by binding to calmodulin and disinhibiting calcium release channel IP3R. Mol Cancer Ther 16(1):217–227

Karpel-Massler G, Kast RE, Westhoff MA, Dwucet A, Welscher N, Nonnenmacher L, Hlavac M, Siegelin MD, Wirtz CR, Debatin KM, Halatsch ME (2015) Olanzapine inhibits proliferation, migration and anchorage-independent growth in human glioblastoma cell lines and enhances temozolomide's antiproliferative effect. J Neurooncol 122:21–33

Kataoka Y, Ishikawa M, Miura M, Takeshita M, Fujita R, Furusawa S, Takayanagi M, Takayanagi Y, Sasaki K (2001) Reversal of vinblastine resistance in human leukemic cells by haloperidol and dihydrohaloperidol. Biol Pharm Bull 24(6):612–617

Ke XY, Lin Ng VW, Gao SJ, Tong YW, Hedrick JL, Yang YY (2014) Co-delivery of thioridazine and doxorubicin using polymeric micelles for targeting both cancer cells and cancer stem cells. Biomaterials 35:1096–1108

Kebabian JW, Calne DB (1979) Multiple receptors for dopamine. Nature 277:93–96

Kebabian JW, Greengard P (1971) Dopamine-sensitive adenyl cyclase: possible role in synaptic transmission. Science 174:1346–1349

Kim CF, Jackson EL, Woolfenden AE, Lawrence S, Babar I, Vogel S, Crowley D, Bronson RT, Jacks T (2005) Identification of bronchioalveolar stem cells in normal lung and lung cancer. Cell 121:823–835

Kleinsmith LJ, Pierce GB Jr (1964) Multipotentiality of single embryonal carcinoma cells. Cancer Res 24:1544–1551

Kline CLB, Ralff MD, Lulla AR, Wagner JM, Abbosh PH, Dicker DT, Allen JE, El-Deiry WS (2018) Role of dopamine receptors in the anticancer activity of ONC201. Neoplasia 20:80–91

Kolev VN, Wright QG, Vidal CM, Ring JE, Shapiro IM, Ricono J, Weaver DT, Padval MV, Pachter JA, Xu Q (2015) PI3K/mTOR dual inhibitor VS-5584 preferentially targets cancer stem cells. Cancer Res 75(2):446–455

Korkaya H, Liu S, Wicha MS (2011) Breast cancer stem cells, cytokine networks, and the tumor microenvironment. J Clin Invest 121:3804–3809

Lacoste B, Raymond VA, Cassim S, Lapierre P, Bilodeau M (2017) Highly tumorigenic hepatocellular carcinoma cell line with cancer stem cell-like properties. PLoS ONE 12:e0171215

Lapidot T, Sirard C, Vormoor J, Murdoch B, Hoang T, Caceres-Cortes J, Minden M, Paterson B, Caligiuri MA, Dick JE (1994) A cell initiating human acute myeloid leukaemia after transplantation into SCID mice. Nature 367:645–648

Lee J, Kotliarova S, Kotliarov Y, Li A, Su Q, Donin NM, Pastorino S, Purow BW, Christopher N, Zhang W, Park JK, Fine HA (2006) Tumor stem cells derived from glioblastomas cultured in bFGF and EGF more closely mirror the phenotype and genotype of primary tumors than do serum-cultured cell lines. Cancer Cell 9:391–403

Lee CJ, Dosch J, Simeone DM (2008) Pancreatic cancer stem cells. J Clin Oncol 26:2806–2812

Lee WY, Lee WT, Cheng CH, Chen KC, Chou CM, Chung CH, Sun MS, Cheng HW, Ho MN, Lin CW (2015) Repositioning antipsychotic chlorpromazine for treating colorectal cancer by inhibiting sirtuin 1. Oncotarget 6:27580–27595

Lee SY, Jeong EK, Ju MK, Jeon HM, Kim MY, Kim CH, Park HG, Han SI, Kang HS (2017) Induction of metastasis, cancer stem cell phenotype, and oncogenic metabolism in cancer cells by ionizing radiation. Mol Cancer 16:10

Leng ZG, Lin SJ, Wu ZR, Guo YH, Cai L, Shang HB, Tang H, Xue YJ, Lou MQ, Zhao W, Le WD, Zhao WG, Zhang X, Wu ZB (2017) Activation of DRD5 (dopamine receptor D5) inhibits tumor growth by autophagic cell death. Autophagy 13:1404–1419

Levi L, Wang Z, Doud MK, Hazen SL, Noy N (2015) Saturated fatty acids regulate retinoic acid signalling and suppress tumorigenesis by targeting fatty acid-binding protein 5. Nat Commun 6:8794

Li L, Miyamoto M, Ebihara Y, Mega S, Takahashi R, Hase R, Kaneko H, Kadoya M, Itoh T, Shichinohe T, Hirano S, Kondo S (2006) DRD2/DARPP-32 expression correlates with lymph node metastasis and tumor progression in patients with esophageal squamous cell carcinoma. World J Surg 30:1672–1679

Li C, Heidt DG, Dalerba P, Burant CF, Zhang L, Adsay V, Wicha M, Clarke MF, Simeone DM (2007) Identification of pancreatic cancer stem cells. Cancer Res 67:1030–1037

Li X, Lewis MT, Huang J, Gutierrez C, Osborne CK, Wu MF, Hilsenbeck SG, Pavlick A, Zhang X, Chamness GC, Wong H, Rosen J, Chang JC (2008) Intrinsic resistance of tumorigenic breast cancer cells to chemotherapy. J Natl Cancer Inst 100:672–679

Li L, Borodyansky L, Yang Y (2009) Genomic instability en route to and from cancer stem cells. Cell Cycle 8:1000–1002

Li J, Yao QY, Xue JS, Wang LJ, Yuan Y, Tian XY, Su H, Wang SY, Chen WJ, Lu W, Zhou TY (2017) Dopamine D2 receptor antagonist sulpiride enhances dexamethasone responses in the treatment of drug-resistant and metastatic breast cancer. Acta Pharmacol Sin 38:1282–1296

Lin WM, Karsten U, Goletz S, Cheng RC, Cao Y (2011) Expression of CD176 (Thomsen–Friedenreich antigen) on lung, breast and liver cancer-initiating cells. Int J Exp Pathol 92:97–105

Liu L, Shack S, Stetler-Stevenson WG, Hudgins WR, Samid D (1994) Differentiation of cultured human melanoma cells induced by the aromatic fatty acids phenylacetate and phenylbutyrate. J Invest Dermatol 103:335–340

Liu AY, True LD, Latray L, Nelson PS, Ellis WJ, Vessella RL, Lange PH, Hood L, Van Den Engh G (1997) Cell–cell interaction in prostate gene regulation and cytodifferentiation. Proc Natl Acad Sci USA 94:10705–10710

Liu G, Yuan X, Zeng Z, Tunici P, Ng H, Abdulkadir IR, Lu L, Irvin D, Black KL, Yu JS (2006) Analysis of gene expression and chemoresistance of CD133+ cancer stem cells in glioblastoma. Mol Cancer 5:67

Liu XF, Long HJ, Miao XY, Liu GL, Yao HL (2017) Fisetin inhibits liver cancer growth in a mouse model: relation to dopamine receptor. Oncol Rep 38:53–62

Longley DB, Johnston PG (2005) Molecular mechanisms of drug resistance. J Pathol 205:275–292

Lopez-Lazaro M (2015) Stem cell division theory of cancer. Cell Cycle 14:2547–2548

Lu M, Li J, Luo Z, Zhang S, Xue S, Wang K, Shi Y, Zhang C, Chen H, Li Z (2015) Roles of dopamine receptors and their antagonist thioridazine in hepatoma metastasis. Onco Targets Ther 8:1543–1552

Lynch M (2010) Rate, molecular spectrum, and consequences of human mutation. Proc Natl Acad Sci USA 107:961–968

Ma S, Chan KW, Hu L, Lee TK, Wo JY, Ng IO, Zheng BJ, Guan XY (2007) Identification and characterization of tumorigenic liver cancer stem/progenitor cells. Gastroenterology 132:2542–2556

Macconaill LE, Garraway LA (2010) Clinical implications of the cancer genome. J Clin Oncol 28:5219–5228

Mansoori M, Madjd Z, Janani L, Rasti A (2017) Circulating cancer stem cell markers in breast carcinomas: a systematic review protocol. Syst Rev 6:262

Mao M, Yu T, Hu J, Hu L (2015) Dopamine D2 receptor blocker thioridazine induces cell death in human uterine cervical carcinoma cell line SiHa. J Obstet Gynaecol Res 41(8):1240–1245

Marrazzo A, Fiorito J, Zappalà L, Prezzavento O, Ronsisvalle S, Pasquinucci L, Scoto GM, Bernardini R, Ronsisvalle G (2011) Antiproliferative activity of phenylbutyrate ester of haloperidol metabolite II [(±)-MRJF4] in prostate cancer cells. Eur J Med Chem 46(1):433–438

Massard C, Deutsch E, Soria JC (2006) Tumour stem cell-targeted treatment: elimination or differentiation. Ann Oncol 17:1620–1624

Matsui W, Huff CA, Wang Q, Malehorn MT, Barber J, Tanhehco Y, Smith BD, Civin CI, Jones RJ (2004) Characterization of clonogenic multiple myeloma cells. Blood 103:2332–2336

Michaelis M, Doerr HW, Cinatl J Jr (2007) Valproic acid as anti-cancer drug. Curr Pharm Des 13(33):3378–3393

Michor F, Hughes TP, Iwasa Y, Branford S, Shah NP, Sawyers CL, Nowak MA (2005) Dynamics of chronic myeloid leukaemia. Nature 435:1267–1270

Minami K, Liu S, Liu Y, Chen A, Wan Q, Na S, Li BY, Matsuura N, Koizumi M, Yin Y, Gan L, Xu A, Li J, Nakshatri H, Yokota H (2017) Inhibitory effects of dopamine receptor D1 agonist on mammary tumor and bone metastasis. Sci Rep 7:45686

Missale C, Nash SR, Robinson SW, Jaber M, Caron MG (1998) Dopamine receptors: from structure to function. Physiol Rev 78:189–225

Monzani E, Facchetti F, Galmozzi E, Corsini E, Benetti A, Cavazzin C, Gritti A, Piccinini A, Porro D, Santinami M, Invernici G, Parati E, Alessandri G, La Porta CA (2007) Melanoma contains CD133 and ABCG2 positive cells with enhanced tumourigenic potential. Eur J Cancer 43:935–946

Mu J, Xu H, Yang Y, Huang W, Xiao J, Li M, Tan Z, Ding Q, Zhang L, Lu J, Wu X, Liu Y (2014) Thioridazine, an antipsychotic drug, elicits potent antitumor effects in gastric cancer. Oncol Rep 31(5):2107–2114

Mu J, Huang W, Tan Z, Li M, Zhang L, Ding Q, Wu X, Lu J, Liu Y, Dong Q, Xu H (2017) Dopamine receptor D2 is correlated with gastric cancer prognosis. J Biol Chem 292(2):435–445

Mulholland DJ, Xin L, Morim A, Lawson D, Witte O, Wu H (2009) Lin-Sca-1+ CD49fhigh stem/progenitors are tumor-initiating cells in the Pten-null prostate cancer model. Cancer Res 69:8555–8562

Murphy G, Cross AJ, Sansbury LS, Bergen A, Laiyemo AO, Albert PS, Wang Z, Yu B, Lehman T, Kalidindi A, Modali R, Schatzkin A, Lanza E (2009) Dopamine D2 receptor polymorphisms and adenoma recurrence in the Polyp Prevention Trial. Int J Cancer 124(9):2148–2151

Nangia-Makker P, Hogan V, Raz A (2018) Galectin-3 and cancer stemness. Glycobiology (in press)

Ng SW, Mitchell A, Kennedy JA, Chen WC, Mcleod J, Ibrahimova N, Arruda A, Popescu A, Gupta V, Schimmer AD, Schuh AC, Yee KW, Bullinger L, Herold T, Gorlich D, Buchner T, Hiddemann W, Berdel WE, Wormann B, Cheok M, Preudhomme C, Dombret H, Metzeler K, Buske C, Lowenberg B, Valk PJ, Zandstra PW, Minden MD, Dick JE, Wang JC (2016) A 17-gene stemness score for rapid determination of risk in acute leukaemia. Nature 540:433–437

Nguyen LV, Vanner R, Dirks P, Eaves CJ (2012) Cancer stem cells: an evolving concept. Nat Rev Cancer 12:133–143

Nguyen LV, Pellacani D, Lefort S, Kannan N, Osako T, Makarem M, Cox CL, Kennedy W, Beer P, Carles A, Moksa M, Bilenky M, Balani S, Babovic S, Sun I, Rosin M, Aparicio S, Hirst M, Eaves CJ (2015) Barcoding reveals complex clonal dynamics of de novo transformed human mammary cells. Nature 528:267–271

Niznik HB, Van Tol HH (1992) Dopamine receptor genes: new tools for molecular psychiatry. J Psychiatry Neurosci 17:158–180

Nordenberg J, Wasserman L, Beery E, Aloni D, Malik H, Stenzel KH, Novogrodsky A (1986) Growth inhibition of murine melanoma by butyric acid and dimethylsulfoxide. Exp Cell Res 162:77–85

Nordenberg J, Fenig E, Landau M, Weizman R, Weizman A (1999) Effects of psychotropic drugs on cell proliferation and differentiation. Biochem Pharmacol 58:1229–1236

O'brien CA, Pollett A, Gallinger S, Dick JE (2007) A human colon cancer cell capable of initiating tumour growth in immunodeficient mice. Nature 445:106–110

Osinga TE, Links TP, Dullaart RPF, Pacak K, Van Der Horst-Schrivers ANA, Kerstens MN, Kema IP (2017) Emerging role of dopamine in neovascularization of pheochromocytoma and paraganglioma. FASEB J 31:2226–2240

Oskarsson T, Batlle E, Massague J (2014) Metastatic stem cells: sources, niches, and vital pathways. Cell Stem Cell 14:306–321

Ouhtit A, Abd Elmageed ZY, Abdraboh ME, Lioe TF, Raj MH (2007) In vivo evidence for the role of CD44 s in promoting breast cancer metastasis to the liver. Am J Pathol 171:2033–2039

Pacella S, Fiorito J, Cacciatore I, di Giacomo V, Patruno A, Rapino M, Di Stefano A, Marinelli L, Fornasari E, Cataldi A, Prezzavento O, Marrazzo A (2017) Effect of MRJF4 on C6 glioma cells proliferation and migration. Cent Nerv Syst Agents Med Chem 17(2):129–134

Pajeva IK, Wiese M, Cordes HP, Seydel JK (1996) Membrane interactions of some catamphiphilic drugs and relation to their multidrug-resistance-reversing ability. J Cancer Res Clin Oncol 122:27–40

Palfrey C, Kimhi Y, Littauer UZ (1977) Induction of differentiation in mouse neuroblastoma cells by hexamethylene bisacetamide. Biochem Biophys Res Commun 76(3):937–942

Pardal R, Clarke MF, Morrison SJ (2003) Applying the principles of stem-cell biology to cancer. Nat Rev Cancer 3:895–902

Park CH, Bergsagel DE, Mcculloch EA (1971) Mouse myeloma tumor stem cells: a primary cell culture assay. J Natl Cancer Inst 46:411–422

Park EJ, Park HR, Lee JS, Kim J (1998) Licochalcone A: an inducer of cell differentiation and cytotoxic agent from Pogostemon cablin. Planta Med 64:464–466

Park MS, Dong SM, Kim BR, Seo SH, Kang S, Lee EJ, Lee SH, Rho SB (2014) Thioridazine inhibits angiogenesis and tumor growth by targeting the VEGFR-2/PI3K/mTOR pathway in ovarian cancer xenografts. Oncotarget 5(13):4929–4934

Patrawala L, Calhoun T, Schneider-Broussard R, Zhou J, Claypool K, Tang DG (2005) Side population is enriched in tumorigenic, stem-like cancer cells, whereas ABCG2+ and ABCG2− cancer cells are similarly tumorigenic. Cancer Res 65:6207–6219

Pawlikowski M, Pisarek H, Winczyk K (2011) Immunohistochemical detection of dopamine D2 receptors in neuroendocrine tumours. Endokrynol Pol 62(5):388–391

Pece S, Tosoni D, Confalonieri S, Mazzarol G, Vecchi M, Ronzoni S, Bernard L, Viale G, Pelicci PG, Di Fiore PP (2010) Biological and molecular heterogeneity of breast cancers correlates with their cancer stem cell content. Cell 140:62–73

Peitzsch C, Tyutyunnykova A, Pantel K, Dubrovska A (2017) Cancer stem cells: the root of tumor recurrence and metastases. Semin Cancer Biol 44:10–24

Petrelli A, Carollo R, Cargnelutti M, Iovino F, Callari M, Cimino D, Todaro M, Mangiapane LR, Giammona A, Cordova A, Montemurro F, Taverna D, Daidone MG, Stassi G, Giordano S (2015) By promoting cell differentiation, miR-100 sensitizes basal-like breast cancer stem cells to hormonal therapy. Oncotarget 6:2315–2330

Peverelli E, Giardino E, Treppiedi D, Locatelli M, Vaira V, Ferrero S, Bosari S, Lania AG, Spada A, Mantovani G (2016) Dopamine receptor type 2 (DRD2) inhibits migration and invasion of human tumorous pituitary cells through ROCK-mediated cofilin inactivation. Cancer Lett 381(2):279–286

Peverelli E, Giardino E, Treppiedi D, Meregalli M, Belicchi M, Vaira V, Corbetta S, Verdelli C, Verrua E, Serban AL, Locatelli M, Carrabba G, Gaudenzi G, Malchiodi E, Cassinelli L, Lania AG, Ferrero S, Bosari S, Vitale G, Torrente Y, Spada A, Mantovani G (2017) Dopamine receptor type 2 (DRD2) and somatostatin receptor type 2 (SSTR2) agonists are effective in inhibiting proliferation of progenitor/stem-like cells isolated from nonfunctioning pituitary tumors. Int J Cancer 140:1870–1880

Pham PV, Phan NL, Nguyen NT, Truong NH, Duong TT, Le DV, Truong KD, Phan NK (2011) Differentiation of breast cancer stem cells by knockdown of CD44: promising differentiation therapy. J Transl Med 9:209

Phillips TM, Mcbride WH, Pajonk F (2006) The response of CD24(−/low)/CD44+ breast cancer-initiating cells to radiation. J Natl Cancer Inst 98:1777–1785

Piccirillo SG, Reynolds BA, Zanetti N, Lamorte G, Binda E, Broggi G, Brem H, Olivi A, Dimeco F, Vescovi AL (2006) Bone morphogenetic proteins inhibit the tumorigenic potential of human brain tumour-initiating cells. Nature 444(7120):761–765

Pierce GB (1983) The cancer cell and its control by the embryo. Rous-Whipple Award lecture. Am J Pathol 113:117–124

Pinheiro T, Otrocka M, Seashore-Ludlow B, Rraklli V, Holmberg J, Forsberg-Nilsson K, Simon A, Kirkham M (2017) A chemical screen identifies trifluoperazine as an inhibitor of glioblastoma growth. Biochem Biophys Res Commun 494:477–483

Prieto-Vila M, Takahashi RU, Usuba W, Kohama I, Ochiya T (2017) Drug resistance driven by cancer stem cells and their niche. Int J Mol Sci 18:2574

Prince ME, Sivanandan R, Kaczorowski A, Wolf GT, Kaplan MJ, Dalerba P, Weissman IL, Clarke MF, Ailles LE (2007) Identification of a subpopulation of cells with cancer stem cell properties in head and neck squamous cell carcinoma. Proc Natl Acad Sci USA 104:973–978

Pulkoski-Gross A, Li J, Zheng C, Li Y, Ouyang N, Rigas B, Zucker S, Cao J (2017) Repurposing the antipsychotic trifluoperazine as an antimetastasis agent. J Neuroimmunol 303:99–107

Rahman T, Clevenger CV, Kaklamani V, Lauriello J, Campbell A, Malwitz K, Kirkland RS (2014) Antipsychotic treatment in breast cancer patients. Am J Psychiatry 171(6):616–621

Ramu A, Ramu N (1992) Reversal of multidrug resistance by phenothiazines and structurally related compounds. Cancer Chemother Pharmacol 30:165–173

Ranjan A, German N, Mikelis C, Srivenugopal K, Srivastava SK (2017) Penfluridol induces endoplasmic reticulum stress leading to autophagy in pancreatic cancer. Tumour Biol 39:1010428317705517

Rapp UR, Ceteci F, Schreck R (2008) Oncogene-induced plasticity and cancer stem cells. Cell Cycle 7:45–51

Reya T, Morrison SJ, Clarke MF, Weissman IL (2001) Stem cells, cancer, and cancer stem cells. Nature 414:105–111

Ricci-Vitiani L, Lombardi DG, Pilozzi E, Biffoni M, Todaro M, Peschle C, De Maria R (2007) Identification and expansion of human colon-cancer-initiating cells. Nature 445:111–115

Rick O, Langer T (2017) Oncological rehabilitation and cancer survivorship. Oncol Res Treat 40:744

Rick O, Dauelsberg T, Kalusche-Bontemps EM (2017) Oncological rehabilitation. Oncol Res Treat 40:772–777

Rimkus TK, Carpenter RL, Qasem S, Chan M, Lo HW (2016) Targeting the sonic hedgehog signaling pathway: review of smoothened and GLI inhibitors. Cancers (Basel). https://doi.org/10.3390/cancers8020022

Rondanin R, Simoni D, Maccesi M, Romagnoli R, Grimaudo S, Pipitone RM, Meli M, Cascio A, Tolomeo M (2017) Effects of pimozide derivatives on pSTAT5 in K562 cells. ChemMedChem 12:1183–1190

Rondou P, Haegeman G, Van Craenenbroeck K (2010) The dopamine D4 receptor: biochemical and signalling properties. Cell Mol Life Sci 67:1971–1986

Roy S, Lu K, Nayak MK, Bhuniya A, Ghosh T, Kundu S, Ghosh S, Baral R, Dasgupta PS, Basu S (2017) Activation of D2 dopamine receptors in CD133+ ve cancer stem cells in non-small cell lung carcinoma inhibits proliferation, clonogenic ability, and invasiveness of these cells. J Biol Chem 292(2):435–445

Rubin I, Yarden Y (2001) The basic biology of HER2. Ann Oncol 12(Suppl 1):S3–S8

Ruoslahti E (2017) Tumor penetrating peptides for improved drug delivery. Adv Drug Deliv Rev 110–111:3–12

Sabbath KD, Ball ED, Larcom P, Davis RB, Griffin JD (1985) Heterogeneity of clonogenic cells in acute myeloblastic leukemia. J Clin Invest 75:746–753

Sachlos E, Risueño RM, Laronde S, Shapovalova Z, Lee JH, Russell J, Malig M, McNicol JD, Fiebig-Comyn A, Graham M, Levadoux-Martin M, Lee JB, Giacomelli AO, Hassell JA, Fischer-Russell D, Trus MR, Foley R, Leber B, Xenocostas A, Brown ED, Collins TJ, Bhatia M (2012) Identification of drugs including a dopamine receptor antagonist that selectively target cancer stem cells. Cell 149(6):1284–1297

Saha B, Mondal AC, Basu S, Dasgupta PS (2001) Circulating dopamine level, in lung carcinoma patients, inhibits proliferation and cytotoxicity of CD4+ and CD8+ T cells by D1 dopamine receptors: an in vitro analysis. Int Immunopharmacol 1:1363–1374

Salvador MA, Wicinski J, Cabaud O, Toiron Y, Finetti P, Josselin E, Lelievre H, Kraus-Berthier L, Depil S, Bertucci F, Collette Y, Birnbaum D, Charafe-Jauffret E, Ginestier C (2013) The histone deacetylase inhibitor abexinostat induces cancer stem cells differentiation in breast cancer with low Xist expression. Clin Cancer Res 19:6520–6531

Sami S, Höti N, Xu HM, Shen Z, Huang X (2008) Valproic acid inhibits the growth of cervical cancer both in vitro and in vivo. J Biochem 144(3):357–362

Samid D, Shack S, Sherman LT (1992a) Phenylacetate: a novel nontoxic inducer of tumor cell differentiation. Cancer Res 52:1988–1992

Samid D, Yeh A, Prasanna P (1992b) Induction of erythroid differentiation and fetal hemoglobin production in human leukemic cells treated with phenylacetate. Blood 80:1576–1581

Sanomachi T, Suzuki S, Kuramoto K, Takeda H, Sakaki H, Togashi K, Seino S, Yoshioka T, Okada M, Kitanaka C (2017) Olanzapine, an atypical antipsychotic, inhibits survivin expression and sensitizes cancer cells to chemotherapeutic agents. Anticancer Res 37(11):6177–6188

Savagner P (2015) Epithelial-mesenchymal transitions: from cell plasticity to concept elasticity. Curr Top Dev Biol 112:273–300

Saveanu A, Muresan M, De Micco C, Taieb D, Germanetti AL, Sebag F, Henry JF, Brunaud L, Enjalbert A, Weryha G, Barlier A (2011) Expression of somatostatin receptors, dopamine D2 receptors, noradrenaline transporters, and vesicular monoamine transporters in 52 pheochromocytomas and paragangliomas. Endocr Relat Cancer 18(2):287–300

Saveanu A, Sebag F, Guillet B, Archange C, Essamet W, Barlier A, Palazzo FF, Taïeb D (2013) Targeting dopamine receptors subtype 2 (D2DR) in pheochromocytomas: head-to-head comparison between in vitro and in vivo findings. J Clin Endocrinol Metab 98(12):E1951–E1955

Scemama JL, Ruellan C, Clerc P, Clemente F, Ribet A (1984) Dopamine receptors in a human colonic cancer cell line (HT29). Some receptor-related biological effects of dopamine. Int J Cancer 34:675–679

Schatton T, Murphy GF, Frank NY, Yamaura K, Waaga-Gasser AM, Gasser M, Zhan Q, Jordan S, Duncan LM, Weishaupt C, Fuhlbrigge RC, Kupper TS, Sayegh MH, Frank MH (2008) Identification of cells initiating human melanomas. Nature 451:345–349

Schatton T, Frank NY, Frank MH (2009) Identification and targeting of cancer stem cells. BioEssays 31:1038–1049

Schofield R (1978) The relationship between the spleen colony-forming cell and the haemopoietic stem cell. Blood Cells 4:7–25

Seano G (2018) Targeting the perivascular niche in brain tumors. Curr Opin Oncol 30:54–60

Seeman P, Lee T, Chau-Wong M, Wong K (1976) Antipsychotic drug doses and neuroleptic/dopamine receptors. Nature 261:717–719

Seeman P, Weinshenker D, Quirion R, Srivastava LK, Bhardwaj SK, Grandy DK, Premont RT, Sotnikova TD, Boksa P, El-Ghundi M, Odowd BF, George SR, Perreault ML, Mannisto PT, Robinson S, Palmiter RD, Tallerico T (2005) Dopamine supersensitivity correlates with D2High states, implying many paths to psychosis. Proc Natl Acad Sci USA 102:3513–3518

Seeman P, Ko F, Jack E, Greenstein R, Dean B (2007) Consistent with dopamine supersensitivity, RGS9 expression is diminished in the amphetamine-treated animal model of schizophrenia and in postmortem schizophrenia brain. Synapse 61:303–309

Sell S, Pierce GB (1994) Maturation arrest of stem cell differentiation is a common pathway for the cellular origin of teratocarcinomas and epithelial cancers. Lab Invest 70:6–22

Seo SU, Cho HK, Min KJ, Woo SM, Kim S, Park JW, Kim SH, Choi YH, Keum YS, Hyun JW, Park HH, Lee SH, Kim DE, Kwon TK (2017) Thioridazine enhances sensitivity to carboplatin in human head and neck cancer cells through downregulation of c-FLIP and Mcl-1 expression. Cell Death Dis 8:e2599

Shay JW, Wright WE (2011) Role of telomeres and telomerase in cancer. Semin Cancer Biol 21:349–353

Shen J, Ma B, Zhang X, Sun X, Han J, Wang Y, Chu L, Xu H, Yang Y (2017) Thioridazine has potent antitumor effects on lung cancer stem-like cells. Oncol Lett 13(3):1563–1568

Shi J, Wang B, Wang L, Lu T, Fu Y, Zhang H, Zhang Z (2016) Fullerene (C60)-based tumor-targeting nanoparticles with "off-on" state for enhanced treatment of cancer. J Control Release 235:245–258

Shin JH, Park SJ, Kim ES, Jo YK, Hong J, Cho DH (2012) Sertindole, a potent antagonist at dopamine D2 receptors, induces autophagy by increasing reactive oxygen species in SH-SY5Y neuroblastoma cells. Biol Pharm Bull 35(7):1069–1075

Shipitsin M, Campbell LL, Argani P, Weremowicz S, Bloushtain-Qimron N, Yao J, Nikolskaya T, Serebryiskaya T, Beroukhim R, Hu M, Halushka MK, Sukumar S, Parker LM, Anderson KS, Harris LN, Garber JE, Richardson AL, Schnitt SJ, Nikolsky Y, Gelman RS, Polyak K (2007) Molecular definition of breast tumor heterogeneity. Cancer Cell 11:259–273

Sibley DR, Monsma FJ Jr (1992) Molecular biology of dopamine receptors. Trends Pharmacol Sci 13:61–69

Silver DJ, Lathia JD (2017) Revealing the glioma cancer stem cell interactome, one niche at a time. J Pathol 243:468–480

Singh SK, Clarke ID, Terasaki M, Bonn VE, Hawkins C, Squire J, Dirks PB (2003) Identification of a cancer stem cell in human brain tumors. Cancer Res 63:5821–5828

Singh SK, Hawkins C, Clarke ID, Squire JA, Bayani J, Hide T, Henkelman RM, Cusimano MD, Dirks PB (2004) Identification of human brain tumour initiating cells. Nature 432:396–401

Sokoloff P, Diaz J, Le Foll B, Guillin O, Leriche L, Bezard E, Gross C (2006) The dopamine D3 receptor: a therapeutic target for the treatment of neuropsychiatric disorders. CNS Neurol Disord 5:25–43

Sotiropoulou PA, Christodoulou MS, Silvani A, Herold-Mende C, Passarella D (2014) Chemical approaches to targeting drug resistance in cancer stem cells. Drug Discov Today 19:1547–1562

Spano PF, Govoni S, Trabucchi M (1978) Studies on the pharmacological properties of dopamine receptors in various areas of the central nervous system. Adv Biochem Psychopharmacol 19:155–165

Spengler G, Molnar J, Viveiros M, Amaral L (2011) Thioridazine induces apoptosis of multidrug-resistant mouse lymphoma cells transfected with the human ABCB1 and inhibits the expression of P-glycoprotein. Anticancer Res 31(12):4201–4205

Srirajaskanthan R, Watkins J, Marelli L, Khan K, Caplin ME (2009) Expression of somatostatin and dopamine 2 receptors in neuroendocrine tumours and the potential role for new biotherapies. Neuroendocrinology 89(3):308–314

Storm EE, Durinck S, De Sousa E, Melo F, Tremayne J, Kljavin N, Tan C, Ye X, Chiu C, Pham T, Hongo JA, Bainbridge T, Firestein R, Blackwood E, Metcalfe C, Stawiski EW, Yauch RL, Wu Y, De Sauvage FJ (2016) Targeting PTPRK-RSPO3 colon tumours promotes differentiation and loss of stem-cell function. Nature 529:97–100

Strickland S, Mahdavi V (1978) The induction of differentiation in teratocarcinoma stem cells by retinoic acid. Cell 15:393–403

Strickland S, Smith KK, Marotti KR (1980) Hormonal induction of differentiation in teratocarcinoma stem cells: generation of parietal endoderm by retinoic acid and dibutyryl cAMP. Cell 21:347–355

Strobl JS, Kirkwood KL, Lantz TK, Lewine MA, Peterson VA, Worley JF III (1990) Inhibition of human breast cancer cell proliferation in tissue culture by the neuroleptic agents pimozide and thioridazine. Cancer Res 50:5399–5405

Suetsugu A, Nagaki M, Aoki H, Motohashi T, Kunisada T, Moriwaki H (2006) Characterization of CD133+ hepatocellular carcinoma cells as cancer stem/progenitor cells. Biochem Biophys Res Commun 351:820–824

Surendran S, Siddappa G, Mohan A, Hicks W Jr, Jayaprakash V, Mimikos C, Mahri M, Almarzouki F, Morrell K, Ravi R, Govindan S, Sushma CN, Raghavan N, Birur P, Ilayaraja J, Merzianu M, Reid M, Suresh A, Kuriakose MA (2017) Cancer stem cell and its niche in malignant progression of oral potentially malignant disorders. Oral Oncol 75:140–147

Suva ML, Riggi N, Stehle JC, Baumer K, Tercier S, Joseph JM, Suva D, Clement V, Provero P, Cironi L, Osterheld MC, Guillou L, Stamenkovic I (2009) Identification of cancer stem cells in Ewing's sarcoma. Cancer Res 69:1776–1781

Suzuki S, Okada M, Kuramoto K, Takeda H, Sakaki H, Watarai H, Sanomachi T, Seino S, Yoshioka T, Kitanaka C (2016) Aripiprazole, an antipsychotic and partial dopamine agonist, inhibits cancer stem cells and reverses chemoresistance. Anticancer Res 36:5153–5161

Takebe N, Harris PJ, Warren RQ, Ivy SP (2011) Targeting cancer stem cells by inhibiting Wnt, Notch, and Hedgehog pathways. Nat Rev Clin Oncol 8:97–106

Tang C, Ang BT, Pervaiz S (2007) Cancer stem cell: target for anti-cancer therapy. FASEB J 21:3777–3785

Tegowski M, Santos C, Baldwin A (2016) The effects of dopamine receptor 2 on breast cancer tumor initiating cells. Cancer Res 76(14 Suppl):3316

Torrey EF (2006) Prostate cancer and schizophrenia. Urology 68:1280–1283

Trosko JE, Chang CC, Upham BL, Tai MH (2004) Ignored hallmarks of carcinogenesis: stem cells and cell–cell communication. Ann N Y Acad Sci 1028:192–201

Tuch BE (2006) Stem cells: a clinical update. Aust Fam Physician 35:719–721

Varas-Godoy M, Rice G, Illanes SE (2017) The crosstalk between ovarian cancer stem cell niche and the tumor microenvironment. Stem Cells Int 2017:5263974

Varga B, Csonka A, Csonka A, Molnar J, Amaral L, Spengler G (2017) Possible biological and clinical applications of phenothiazines. Anticancer Res 37:5983–5993

Viale A, De Franco F, Orleth A, Cambiaghi V, Giuliani V, Bossi D, Ronchini C, Ronzoni S, Muradore I, Monestiroli S, Gobbi A, Alcalay M, Minucci S, Pelicci PG (2009) Cell-cycle restriction limits DNA damage and maintains self-renewal of leukaemia stem cells. Nature 457:51–56

Visnyei K, Onodera H, Damoiseaux R, Saigusa K, Petrosyan S, De Vries D, Ferrari D, Saxe J, Panosyan EH, Masterman-Smith M, Mottahedeh J, Bradley KA, Huang J, Sabatti C, Nakano I, Kornblum HI (2011) A molecular screening approach to identify and characterize inhibitors of glioblastoma stem cells. Mol Cancer Ther 10(10):1818–1828

Viswanathan V, Damle S, Zhang T, Opdenaker L, Modarai S, Accerbi M, Schmidt S, Green P, Galileo D, Palazzo J, Fields J, Haghighat S, Rigoutsos I, Gonye G, Boman BM (2017) An miRNA expression signature for the human colonic stem cell niche distinguishes malignant from normal epithelia. Cancer Res 77:3778–3790

Vogelstein B, Papadopoulos N, Velculescu VE, Zhou S, Diaz LA Jr, Kinzler KW (2013) Cancer genome landscapes. Science 339:1546–1558

Volkmer JP, Sahoo D, Chin RK, Ho PL, Tang C, Kurtova AV, Willingham SB, Pazhanisamy SK, Contreras-Trujillo H, Storm TA, Lotan Y, Beck AH, Chung BI, Alizadeh AA, Godoy G, Lerner SP, Van De Rijn M, Shortliffe LD, Weissman IL, Chan KS (2012) Three differentiation states risk-stratify bladder cancer into distinct subtypes. Proc Natl Acad Sci USA 109:2078–2083

Voog J, Jones DL (2010) Stem cells and the niche: a dynamic duo. Cell Stem Cell 6:103–115

Wang N, Wang Q, Tang H, Zhang F, Zheng Y, Wang S, Zhang J, Wang Z, Xie X (2017) Direct inhibition of ACTN4 by ellagic acid limits breast cancer metastasis via regulation of β-catenin stabilization in cancer stem cells. J Exp Clin Cancer Res 36:172

Wiklund ED, Catts VS, Catts SV, Ng TF, Whitaker NJ, Brown AJ, Lutze-Mann LH (2010) Cytotoxic effects of antipsychotic drugs implicate cholesterol homeostasis as a novel chemotherapeutic target. Int J Cancer 126(1):28–40

Winquist RJ, Furey BF, Boucher DM (2010) Cancer stem cells as the relevant biomass for drug discovery. Curr Opin Pharmacol 10:385–390

Witsch E, Sela M, Yarden Y (2010) Roles for growth factors in cancer progression. Physiology (Bethesda) 25:85–101

Wulf GG, Wang RY, Kuehnle I, Weidner D, Marini F, Brenner MK, Andreeff M, Goodell MA (2001) A leukemic stem cell with intrinsic drug efflux capacity in acute myeloid leukemia. Blood 98:1166–1173

Yamada K, Honma Y, Asahi KI, Sassa T, Hino KI, Tomoyasu S (2001) Differentiation of human acute myeloid leukaemia cells in primary culture in response to cotylenin A, a plant growth regulator. Br J Haematol 114:814–821

Yamamoto-Yamaguchi Y, Yamada K, Ishii Y, Asahi KI, Tomoyasu S, Honma Y (2001) Induction of the monocytic differentiation of myeloid leukaemia cells by cotylenin A, a plant growth regulator. Br J Haematol 112:697–705

Yan H, Bu P (2018) Non-coding RNAs in cancer stem cells. Cancer Lett S0304–3835(18):30049-1

Yan Y, Li Z, Xu X, Chen C, Wei W, Fan M, Chen X, Li JJ, Wang Y, Huang J (2016) All-trans retinoic acids induce differentiation and sensitize a radioresistant breast cancer cells to chemotherapy. BMC Complement Altern Med 16:113

Yang YM, Chang JW (2008) Bladder cancer initiating cells (BCICs) are among EMA-CD44v6+ subset: novel methods for isolating undetermined cancer stem (initiating) cells. Cancer Invest 26:725–733

Yao S, Fan LY, Lam EW (2017) The FOXO3-FOXM1 axis: a key cancer drug target and a modulator of cancer drug resistance. Semin Cancer Biol. https://doi.org/10.1016/j.semcancer.2017.11.018

Ye J, Wu D, Wu P, Chen Z, Huang J (2014) The cancer stem cell niche: cross talk between cancer stem cells and their microenvironment. Tumour Biol 35:3945–3951

Yeh CT, Wu AT, Chang PM, Chen KY, Yang CN, Yang SC, Ho CC, Chen CC, Kuo YL, Lee PY, Liu YW, Yen CC, Hsiao M, Lu PJ, Lai JM, Wang LS, Wu CH, Chiou JF, Yang PC, Huang CY (2012) Trifluoperazine, an antipsychotic agent, inhibits cancer stem cell growth and overcomes drug resistance of lung cancer. Am J Respir Crit Care Med 186(11):1180–1188

Yin T, He S, Shen G, Ye T, Guo F, Wang Y (2015) Dopamine receptor antagonist thioridazine inhibits tumor growth in a murine breast cancer model. Mol Med Rep 12(3):4103–4108

Yu F, Yao H, Zhu P, Zhang X, Pan Q, Gong C, Huang Y, Hu X, Su F, Lieberman J, Song E (2007) let-7 regulates self renewal and tumorigenicity of breast cancer cells. Cell 131:1109–1123

Yue H, Huang D, Qin L, Zheng Z, Hua L, Wang G, Huang J, Huang H (2016) Targeting lung cancer stem cells with antipsychological drug thioridazine. Biomed Res Int 2016:6709828

Yue Z, Yuan Z, Zeng L, Wang Y, Lai L, Li J, Sun P, Xue X, Qi J, Yang Z, Zheng Y, Fang Y, Li D, Siwko S, Li Y, Luo J, Liu M (2017) LGR4 modulates breast cancer initiation, metastasis, and cancer stem cells. FASEB J. https://doi.org/10.1096/fj.201700897R

Zanjani LS, Madjd Z, Abolhasani M, Shariftabrizi A, Rasti A, Asgari M (2017) Expression of CD105 cancer stem cell marker in three subtypes of renal cell carcinoma. Cancer Biomark. https://doi.org/10.3233/CBM-170755

Zhang S, Balch C, Chan MW, Lai HC, Matei D, Schilder JM, Yan PS, Huang TH, Nephew KP (2008) Identification and characterization of ovarian cancer-initiating cells from primary human tumors. Cancer Res 68:4311–4320

Zhang C, Gong P, Liu P, Zhou N, Zhou Y, Wang Y (2017a) Thioridazine elicits potent antitumor effects in colorectal cancer stem cells. Oncol Rep 37(2):1168–1174

Zhang X, Liu Q, Liao Q, Zhao Y (2017b) Potential roles of peripheral dopamine in tumor immunity. J Cancer 8:2966–2973

Zhelev Z, Ohba H, Bakalova R, Hadjimitova V, Ishikawa M, Shinohara Y, Baba Y (2004) Phenothiazines suppress proliferation and induce apoptosis in cultured leukemic cells without any influence on the viability of normal lymphocytes. Phenothiazines and leukemia. Cancer Chemother Pharmacol 53:267–275

Zhou W, Chen MK, Yu HT, Zhong ZH, Cai N, Chen GZ, Zhang P, Chen JJ (2016) The antipsychotic drug pimozide inhibits cell growth in prostate cancer through suppression of STAT3 activation. Int J Oncol 48:322–328

Zhu L, Gibson P, Currle DS, Tong Y, Richardson RJ, Bayazitov IT, Poppleton H, Zakharenko S, Ellison DW, Gilbertson RJ (2009) Prominin 1 marks intestinal stem cells that are susceptible to neoplastic transformation. Nature 457:603–607
Acknowledgements
This research was supported by Grants (NRF-2014R1A1A2059237 and NRF-2016R1D1A1B03936072) of the Basic Science Research Program through the National Research Foundation (NRF) funded by the Ministry of Education, Republic of Korea.
Ethics declarations
Conflict of interest
The authors have no conflicts of interest related to this article to disclose.
About this article
Cite this article
Roney, M.S.I., Park, S. Antipsychotic dopamine receptor antagonists, cancer, and cancer stem cells. Arch. Pharm. Res. 41, 384–408 (2018). https://doi.org/10.1007/s12272-018-1017-3
Received:

Accepted:

Published:

Issue Date:
Keywords
Cancer

Cancer stem cells

Antipsychotics

Dopamine

Dopamine receptor antagonist

Differentiation therapy