Abstract
In aim of obtaining novel bio-active compounds, a new series of fluorinated 1-(4-(aryl)thiazol-2-yl)-2-((1-(aryl)-2,5-dimethyl-1H-pyrrol-3-yl)methylene)hydrazines (5a–t) and 1-(4-(4-aryl)thiazol-2-yl)-2-((3-(2,4-dichlorophenyl)-1-phenyl-1H-pyrazol-4-yl)methylene)hydrazines (8a–d) were synthesized and screened for their antibacterial and antifungal activities. The potent compounds were further screened in vitro for anti-tuberculosis activity against Mycobacterium tuberculosis H37Rv strain. Compounds 5a, 5c–5h and 5m were found to be good inhibitors of B. subtilis with MIC ranging from 0.2 to 0.8 µg mL−1, which are nearly three to ten times more potent than the standard drug Ciprofloxacin. Compounds 5a, 5h–5k and 5o exhibited potent antifungal activity against C. albicans strain with MIC ranging from 0.4 to 1.6 µg mL−1. Compounds 8a–8c were found to be excellent inhibitors of A. niger. Compounds 5a and 5k showed significant anti tubercular activity with MIC 3.12 and 6.25 µg mL−1 respectively. Furthermore, highly active compounds were tested for their preliminary toxicity profile by hemolytic assay and were found to be non hemolytic at higher concentration with good selectivity index. Cytotoxicity of the potent compounds 5a, 5d, 5g, 5i and 5k was checked by MTT assay using normal embryonic kidney cell line HEK 293 and found to be non-toxic up to 50–200 times the MIC for antibacterial activity.
Access options
Buy single article
Instant access to the full article PDF.
USD 39.95
Price includes VAT (USA)
Tax calculation will be finalised during checkout.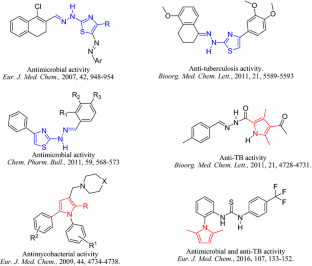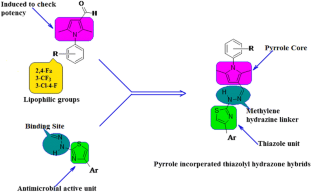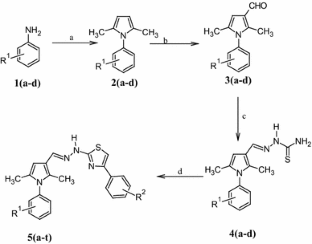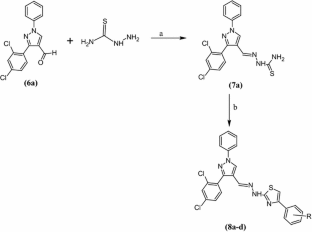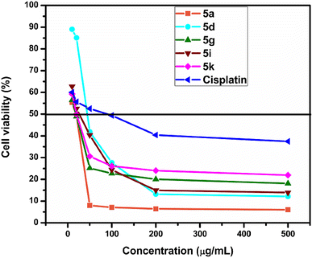 References
Alam MS, Liu L, Lee YE, Lee DU (2011) Synthesis, antibacterial activity and quantum-chemical studies of novel 2-arylidenehydrazinyl-4-arylthiazole analogues. Chem Pharm Bull 59:568–573

Badorc A, Bordes MF, De Cointet P, Savi P, Bernat A, Lale A, Petitou M, Maffrand JP, Herbert JM (1997) New orally active non-peptide fibrinogen receptor (GpIIb-IIIa) antagonists: identification of ethyl 3-[N-[4-[4-[amino[(ethoxycarbonyl)imino]methyl]phenyl]- 1,3-thiazol-2-yl]-N-[1-[(ethoxycarbonyl)methyl]piperid-4-yl]amino]propionate (SR 121787) as a potent and long-acting antithrombotic agent. J Med Chem 40:3393–3401

Battilocchio C, Poce G, Alfonso S, Porretta GC, Consalvi S, Sautebin L, Pace S, Rossi A, Ghelardini C, Mannelli LDC, Schenone S, Giordani A, Francesco LD, Patrignani P, Biava M (2013) A class of pyrrole derivatives endowed with analgesic/antiinflammatory activity. Bioorg Med Chem 21:3695–3701

Bell FW, Cantrell AS, Hogberg M, Jaskunas SR, Johansson NG, Jordon CL, Kinnick MD, Lind P, Morin JM, Noreen R, Oberg B, Palkowitz JA, Parrish CA, Pranc P, Sahlberg C, Ternansky RJ, Vasileff RT, Vrang L, West SJ, Zhang H, Zhou XX (1995) Phenethylthiazolethiourea (PETT) compounds, a new class of HIV-1 reverse transcriptase inhibitors 1. Synthesis and basic structure-activity relationship studies of PETT analogs. J Med Chem 38:4929–4936

Biava M, Porretta GC, Poce G, Logu AD, Meleddu R, Rossi ED, Manetti F, Botta M (2009) 1,5-Diaryl-2-ethyl pyrrole derivatives as antimycobacterial agents: design, synthesis, and microbiological evaluation. Eur J Med Chem 44:4734–4738

Bondock S, Khalifa W, Fadda AA (2007) Synthesis and antimicrobial evaluation of some new thiazole, thiazolidinone and thiazoline derivatives starting from 1-chloro-3,4-dihydronaphthalene-2-carboxaldehyde. Eur J Med Chem 42:948–954

Collins LA, Franzblau SG (1997) Microplate alamar blue assay versus BACTEC 460 system for high-throughput screening of compounds against Mycobacterium tuberculosis and Mycobacterium avium. Antimicrob Agents Chemother 41:1004–1009

El-Messery SM, Hassan GS, Al-Omary FAM, El-Subbagh HI (2012) Substituted thiazoles VI. Synthesis and antitumor activity of new 2-acetamido- and 2 or 3-propanamido-thiazole analogs. Eur J Med Chem 54:615–625

El-Sayed MAA, Abdel-Aziz NI, Abdel-Aziz AAM, El-Azab AS, ElTahir KEH (2012) Synthesis, biological evaluation and molecular modeling study of pyrazole and pyrazoline derivatives as selective COX-2 inhibitors and anti-inflammatory agents. Part 2. Bioorg Med Chem 20:3306–3316

Ergenc N, Capan G, Günay NS, Özkirimli S, Güngör M, Özbey S, Kendi E (1999) Synthesis and hypnotic activity of new 4-thiazolidinone and 2-thioxo-4,5-imidazolidinedione derivatives. Arch Pharm 332:343–347

Filler R (1979) Fluorine containing drugs in organofluorine chemicals and their industrial application. Pergamon, New York (Chapter 6)

Filler R, Kobayasi Y, Yagupolskii LM (1993) Fluorine in bioorganic chemistry. Elsevier, Amsterdam

Hela MHM, Salem MA, El-Gaby MSA, Aljahdali M (2013) Synthesis and biological evaluation of some novel thiazole compounds as potential anti-inflammatory agents. Eur J Med Chem 65:517–526

Hudlicky M (1992) Chemistry of organic compounds. EllisHorwood, Chichester

Idhayadhulla A, Kumar RS, Nasser AJA, Manilal A (2012) Synthesis and antimicrobial activity of some new pyrrole derivatives. Bull Chem Soc Ethiop 26:429–435

Jaen JC, Wise LD, Caprathe BW, Tecle H, Bergmeier S, Humblet CC, Heffner TG, Meltzner LT, Pugsley TA (1990) 4-(1,2,5,6-Tetrahydro-1-alkyl-3-pyridinyl)-2-thiazolamines: a novel class of compounds with central dopamine agonist properties. J Med Chem 33:311–317

Jiang S, Lu H, Liu S, Zhao Q, He Y, Debnath AK (2004) N-substituted pyrrole derivatives as novel human immunodeficiency virus type 1 entry inhibitors that interfere with the gp41 six-helix bundle formation and block virus fusion. Antimicrob Agents Chemother 48:4349–4359

Joshi SD, Dixit SR, Kirankumar MN, Aminabhavi TM, RaJu KVSN, Narayan R, Lherbet C, Yang KS (2016) Synthesis, antimycobacterial screening and ligand-based molecular docking studies on novel pyrrole derivatives bearing pyrazoline, isoxazole and phenyl thiourea moieties. Eur J Med Chem 107:133–152

Konai MM, Ghosh C, Yarlagadda V, Samaddar S, Haldar J (2014) Membrane active phenylalanine conjugated lipophilic norspermidine derivatives with selective antibacterial activity. J Med Chem 57:9409–9423

Leo A, Hansch C, Elkins D (1971) Partition coefficients and their uses. Chem Rev 71:525–616

Lipinski CA, Lombardo F, Dominy BW, Feeney P (2001) Experimental and computational approaches to estimate solubility and permeability in drug discovery and development settings. Adv Drug Deliv Rev 46:3–26

Lourenço MCS, de Souza MVN, Pinheiro AC, de Marcelle L, Ferreira RSB, Gonçalves TC, Nogueira M, Peraltab MA (2007) Evaluation of anti-tubercular activity of nicotinic and isoniazid analogues, vol 15. ARKIVOC, Arkat, pp 181–191

Makam P, Kankanala R, Prakash A, Kannan T (2013) 2-(2-Hydrazinyl)thiazole derivatives: design, synthesis and in vitro antimycobacterial studies. Eur J Med Chem 69:564–576

Manvar A, Bavishi A, Radadiya A, Patel J, Vora V, Dodia N, Rawal K, Shah A (2011) Diversity oriented design of various hydrazides and their in vitro evaluation against Mycobacterium tuberculosis H37Rv strains. Bioorg Med Chem Lett 21:4728–4731

Massa S, Santo RD, Artico M (2009) Potential antitumor agents.IV. Pyrrole analogues of oncodazole. J Heterocycl Chem 27:1131–1133

Mosmann T (1983) Rapid colorimetric assay for cellular growth and survival: application to proliferation and cytotoxicity assays. J Immunol Methods 65:55–63

Murugesan D, Mital A, Kaiser M, Shackleford DM, Morizzi J, Katneni K, Campbell M, Hudson A, Charman SA, Yeates C, Gilbert IH (2013) Discovery and structure-activity relationships of Pyrrolone Antimalarials. J Med Chem 56:2975–2990

National Committee for Clinical Laboratory Standards (1985) Methods for dilution antimicrobial susceptibility for bacteria grown aerobically, Approved Standard, National Committee for Clinical Laboratory Standards, Villanova

O'Hagan D, Harper DB (1999) Fluorine-containing natural products. J Fluor Chem 100:127–133

Ozaky Y, Tunali Y, Karaka H, Iskidag I (2010) Antimicrobial activity and a SAR study of some novel benzimidazole derivatives bearing hydrazone moiety. Eur J Med Chem 45:3293–3298

Purser S, Moore PR, Swallow S, Gouverneur V (2008) Fluorine in medicinal chemistry. Chem Soc Rev 37:320–330

Ragan JA, Jones BP, Castaldi MJ, Hill PD, Makowaki TW (2002) Ullman methoxylation in the presence of a 2,5-dimethylpyrrole-blocked aniline: preparation of 2-fluoro-4-methoxyaniline. Org Synth 78:63

Ragno R, Marshall GR, Santo RD, Costi R, Massa S, Rompei R, Artico M (2000) Antimycobacterial pyrroles: synthesis, anti-Mycobacterium tuberculosis activity and QSAR studies. Bioorg Med Chem 8:1423–1432

Roy KK, Singh S, Sharma SK, Srivastava R, Chaturvedi V, Saxena AK (2011) Synthesis and biological evaluation of substituted 4-arylthiazol-2-amino derivatives as potent growth inhibitors of replicating Mycobacterium tuberculosis H37RV. Bioorg Med Chem Lett 21:5589–5593

Rudolph J, Theis H, Hanke R, Endermann R, Johannsen L, Geschke FU (2001) seco -Cyclothialidines: new Concise Synthesis, Inhibitory Activity toward Bacterial and Human DNA Topoisomerases, and Antibacterial Properties§. J Med Chem 44:619–626

Salman M, Babasaheb PB, Rafik US, Shriram DG, Hemant VC (2016) Synthesis of novel α, α-difluoro-β-hydroxycarbonyl pyrazolederivatives as antioxidant, anti-inflammatory and anticancer agents. Med Chem Res 26:262–273

Soares MIL, Brito AF, Laranjo M, Paixao JA, Botelho MF, e Melo TMP (2013) Chiral 6,7-bis(hydroxymethyl)-1H,3H-pyrrolo[1,2-c]thiazoles with anti-breast cancer properties. Eur J Med Chem 60:254–262

Taj T, Kamble RR, Gireesh T, Badami BV (2011) An expeditious green synthesis of Schiff bases and azetidinones derivatised with 1,2,4-triazoles. J Chem Sci 123:657–666

Todar K (2011) Textbook of bacteriology. Madison, WI

Yanga F, Nickolsa NG, Lia BC, Marinovc GK, Saidd JW, Dervana PB (2013) Antitumor activity of a pyrrole-imidazole polyamide. PNAS 110:1863–1868
Acknowledgements
The authors are thankful to DST-PURSE Mangalore University, MIT Manipal and SAIF Cochin for providing spectral data. We are grateful to the personnel of SDM Centre for Research in Ayurveda, Udupi for their help in carrying out the toxicity study. We also gratefully acknowledge the Head, Dept. of Microbiology, MM'sNG. Halgekar Institute of Dental Sciences and Research centre, Belgaum for their help in carrying out the antimicrobial and antimycobacterial studies.
Electronic supplementary material
Below is the link to the electronic supplementary material.
About this article
Cite this article
Sowmya, P.V., Poojary, B., Kumar, V. et al. Fluorinated pyrrole incorporated 2-thiazolyl hydrazone motifs: a new class of antimicrobial and anti tuberculosis agents. Arch. Pharm. Res. (2017). https://doi.org/10.1007/s12272-017-0967-1
Received:

Accepted:

Published:
Keywords
Pyrrole

2-thiazolyl hydrazone

Pyrazole

Antibacterial

Antifungal

Anti-tuberculosis