Abstract
Two azaphilonidal derivatives [penicilazaphilones B (1) and C (2)], have been isolated from the fermented products of marine fungus strain Penicillium sclerotiorum M-22, penicilazaphilones C was a new compound. The compound's structures were identified by the analysis of spectroscopic data including 1D and 2D NMR techniques (1H-NMR, 13C-NMR, COSY, HMQC, and HMBC). Biological evaluation revealed that penicilazaphilones B and C showed selective cytotoxicity against melanoma cells B-16 and human gastric cancer cells SGC-7901 with IC50 values of 0.291, 0.449 and 0.065, 0.720 mM, respectively, while exhibiting no significant toxicity to normal mammary epithelial cells M10 at the same concentration. Moreover, penicilazaphilones C also exhibited strong antibacterial activity against Staphylococcus aureus, Pseudomonas aeruginosa, Klebsiella pneumonia and Escherichia coli with MIC values 0.037–0.150 mM, while penicilazaphilones B's bacteriostatic action was weaker.
Access options
Buy single article
Instant access to the full article PDF.
US$ 39.95
Tax calculation will be finalised during checkout.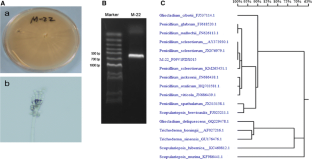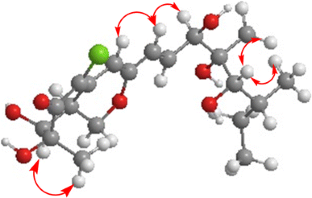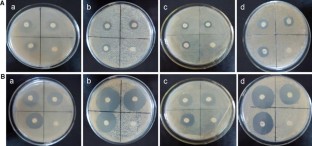 References
Akihisa T, Tokuda H, Yasukawa K, Ukiya M, Kiyota A, Sakamoto N, Suzuki T, Tanabe N, Nishino H (2005) Azaphilones, furanoisophthalides, and amino acids from the extracts of Monascus pilosus-fermented rice (red-mold rice) and their chemopreventive effects. J Agric Food Chem 53:562–565

An CY, Li XM, Li CS, Xu GM, Wang BG (2014) Prenylated indolediketopiperazine peroxides and related homologues from the marine sediment-derived fungus Penicillium brefeldianum SD-273. Mar Drugs 12:746–756

Andrews JM (2001) Determination of minimum inhibitory concentrations. J Antimicrob Chemother 49:5–16

Arunpanichlert J, Rukachaisirikul V, Sukpondma Y, Phongpaichit S, Tewtrakul S, Rungjindamai N, Sakayaroj J (2010) Azaphilone and isocoumarin derivatives from the endophytic fungus Penicillium sclerotiorum PSU-A13. Chem Pharm Bull 58:1033–1036

Bladt TT, Frisvad JC, Knudsen PB, Larsen TO (2013) Anticancer and antifungal compounds from Aspergillus, Penicillium and other filamentous fungi. Molecules 18:11338–11376

Blunt JW, Copp BR, Keyzers RA, Munro MH, Prinsep MR (2012) Marine natural products. Nat Prod Rep 29:144–222

Blunt JW, Copp BR, Keyzers RA, Munro MH, Prinsep MR (2014) Marine natural products. Nat Prod Rep 31:160–258

Houbraken J, Samson RA (2011) Phylogeny of Penicillium and the segregation of Trichocomaceae into three families. Stud Mycol 70:1–51

Li LQ, Yang YG, Zeng Y, Zou C, Zhao PJ (2010) A new azaphilone, kasanosin C, from an endophytic Talaromyces sp. T1BF. Molecules 15:3993–3997

Li CS, Li XM, Gao SS, Lu YH, Wang BG (2013) Cytotoxic anthranilic acid derivatives from deep sea sediment-derived fungus Penicillium paneum SD-44. Mar Drugs 11:3068–3076

Matsuzaki K, Ikeda H, Masuma R, Haruo T, Satoshi O (1995) Isochromophilones I and II, novel inhibitors against gp-120-CD4 Binding Produced by Penicillium multicolor FO-2338. J Antibiot 48:703–707

Niu Y, Yi N, Yuan L, Wang R (2013) Study on antibacterial effect of medlar and hawithorn compound extract in vitro. Afr J Tradit Complement Altern Med 10:567–573

Quang DN, Harinantenaina L, Nishizawa T, Hashimoto T, Kohchi C, Soma GI, Asakawa Y (2006) Inhibition of nitric oxide production in RAW 264.7 cells by azaphilones from Xylariaceous fungi. Biol Pharm Bull 29:34–37

Rivera KG, Seifert KA (2011) A taxonomic and phylogenetic revision of the Penicillium sclerotiorum complex. Stud Mycol 70:139–158

Somoza AD, Lee KH, Chiang YM, Oakley BR, Wang CC (2012) Reengineering an azaphilone biosynthesis pathway in Aspergillus nidulans to create lipoxygenase inhibitors. Org Lett 14:972–975

Tavakolinia F, Baghipour T, Hossaini Z, Zareyee D, Khalilzadeh MA, Rajabi M (2012) Antiproliferative activity of novel thiopyran analogs on MCF-7 breast and HCT-15 colon cancer cells: synthesis, cytotoxicity, cell cycle analysis, and DNA-binding. Nucleic Acid Ther 22:265–270

Toki S, Tanaka T, Uosaki Y, Yoshida M, Suzuki Y, Kita K, Mihara A, Ando K, Lokkernkkern NA, Matsuda Y (1999) RP-1551s, a family of azaphilones produced by Penicillium sp., inhibit the binding of PDGFto the extracellular domain of its receptor. J Antibiot 52:235–244

Tomoda H, Matsushima C, Tabata N, Namatame I, Tanaka H, Bamberger MJ, Arai HFM, Inoue K, Omura S (1999) Stucture-specific inihibition of: cholesteryl ester transfer proteins by azaphilones. J Antibiot 52:160–170

Visagie CM, Houbraken J, Frisvad JC, Hong SB, Klaassen CH, Perrone G, Seifert KA, Varga J, Yaguchi T, Samson RA (2014) Identification and nomenclature of the genus Penicillium. Stud Mycol 78:343–371

Yamada T, Muroga Y, Tanaka R (2009) New azaphilones, seco-chaetomugilins A and D, produced by a marine-fish-derived Chaetomium globosum. Mar Drugs 7:249–257
Acknowledgments
The authors acknowledge the financial support provided by The National Natural Science Foundation of China, Project Nos 81560484.
Ethics declarations
Conflicts of Interest
The authors declare no conflict of interest.
About this article
Cite this article
Zhou, Sl., Wang, M., Zhao, Hg. et al. Penicilazaphilone C, a new antineoplastic and antibacterial azaphilone from the Marine Fungus Penicillium sclerotiorum . Arch. Pharm. Res. 39, 1621–1627 (2016). https://doi.org/10.1007/s12272-016-0828-3
Received:

Accepted:

Published:

Issue Date:
Keywords
Marine fungus

Penicillium sclerotiorum

Penicilazaphilones

Antibacterial activity

Cytotoxicity