Abstract
The discovery of two distinct subsets of helper T cells, IFN-γ-producing Th1 cells and IL-4-producing Th2 cells, about three decades ago enabled us to understand the immunopathology of cell-mediated and allergic inflammatory diseases in humans. The observation that T cell-mediated experimental autoimmune diseases can be induced in mice lacking Th1 and Th2 cell responses prompted many immunologists to hypothesize that there might be additional subsets in helper T cell population which mediate autoimmunity in the absence of Th1 and Th2 cells. Consequently, multiple independent research groups identified IL-17-expressing RORγt+CD4+ T cell population as a distinct subset of helper T cells which promotes autoimmune tissue inflammation. Subsequent studies have revealed that innate immune cells, including γδ T cells, NKT cells and innate lymphoid cells, also produce type 17 cytokines and contribute to tissue inflammation. In this review, we discuss our current understanding on the biology of IL-17 and the therapeutic potential of targeting IL-17 for the treatment of immune disorders in humans.
Access options
Buy single article
Instant access to the full article PDF.
USD 39.95
Price excludes VAT (USA)
Tax calculation will be finalised during checkout.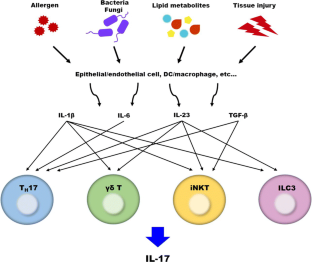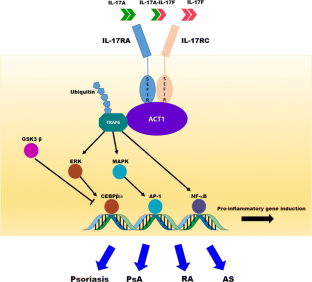 References
Alunno A, Carubbi F, Cafaro G, Pucci G, Battista F, Bartoloni E, Giacomelli R, Schillaci G, Gerli R (2015) Targeting the IL-23/IL-17 axis for the treatment of psoriasis and psoriatic arthritis. Expert Opin Biol Ther 15:1727–1737

Auriemma M, Vianale G, Amerio P, Reale M (2013) Cytokines and T cells in atopic dermatitis. Eur Cytokine Netw 24:37–44

Bartlett HS, Million RP (2015) Targeting the IL-17-T(H)17 pathway. Nat Rev Drug Discov 14:11–12

Beringer A, Noack M, Miossec P (2016) IL-17 in chronic inflammation: from discovery to targeting. Trends Mol Med 22:230–241

Bullens DM, Truyen E, Coteur L, Dilissen E, Hellings PW, Dupont LJ, Ceuppens JL (2006) IL-17 mRNA in sputum of asthmatic patients: linking T cell driven inflammation and granulocytic influx? Respir Res 7:135

Campa M, Mansouri B, Warren R, Menter A (2016) A review of biologic therapies targeting IL-23 and IL-17 for use in moderate-to-severe plaque psoriasis. Dermatol Ther 6:1–12

Chabaud M, Durand JM, Buchs N, Fossiez F, Page G, Frappart L, Miossec P (1999) Human interleukin-17: a T cell-derived proinflammatory cytokine produced by the rheumatoid synovium. Arthritis Rheum 42:963–970

Chabaud M, Page G, Miossec P (2001) Enhancing effect of IL-1, IL-17, and TNF-alpha on macrophage inflammatory protein-3alpha production in rheumatoid arthritis: regulation by soluble receptors and Th2 cytokines. J Immunol 167:6015–6020

Chae WJ, Gibson TF, Zelterman D, Hao L, Henegariu O, Bothwell AL (2010) Ablation of IL-17A abrogates progression of spontaneous intestinal tumorigenesis. Proc Natl Acad Sci USA 107:5540–5544

Chan AC, Carter PJ (2010) Therapeutic antibodies for autoimmunity and inflammation. Nat Rev Immunol 10:301–316

Chang SH, Dong C (2007) A novel heterodimeric cytokine consisting of IL-17 and IL-17F regulates inflammatory responses. Cell Res 17:435–440

Chang SH, Park H, Dong C (2006) Act1 adaptor protein is an immediate and essential signaling component of interleukin-17 receptor. J Biol Chem 281:35603–35607

Chang SH, Reynolds JM, Pappu BP, Chen G, Martinez GJ, Dong C (2011) Interleukin-17C promotes Th17 cell responses and autoimmune disease via interleukin-17 receptor E. Immunity 35:611–621

Chang SH, Mirabolfathinejad SG, Katta H, Cumpian AM, Gong L, Caetano MS, Moghaddam SJ, Dong C (2014) T helper 17 cells play a critical pathogenic role in lung cancer. Proc Natl Acad Sci USA 111:5664–5669

Corneth OB, Mus AM, Asmawidjaja PS, Klein Wolterink RG, van Nimwegen M, Brem MD, Hofman Y, Hendriks RW, Lubberts E (2014) Absence of interleukin-17 receptor a signaling prevents autoimmune inflammation of the joint and leads to a Th2-like phenotype in collagen-induced arthritis. Arthritis Rheumatol 66:340–349

Cua DJ, Sherlock J, Chen Y, Murphy CA, Joyce B, Seymour B, Lucian L, To W, Kwan S, Churakova T, Zurawski S, Wiekowski M, Lira SA, Gorman D, Kastelein RA, Sedgwick JD (2003) Interleukin-23 rather than interleukin-12 is the critical cytokine for autoimmune inflammation of the brain. Nature 421:744–748

Di Cesare A, Di Meglio P, Nestle FO (2008) A role for Th17 cells in the immunopathogenesis of atopic dermatitis? J Invest Dermatol 128:2569–2571

Dubinsky MC, Wang D, Picornell Y, Wrobel I, Katzir L, Quiros A, Dutridge D, Wahbeh G, Silber G, Bahar R, Mengesha E, Targan SR, Taylor KD, Rotter JI (2007) Western regional research alliance for pediatric IBD, IL-23 receptor (IL-23R) gene protects against pediatric crohn's disease. Inflamm Bowel Dis 13:511–515

Duerr RH, Taylor KD, Brant SR, Rioux JD, Silverberg MS, Daly MJ, Steinhart AH, Abraham C, Regueiro M, Griffiths A, Dassopoulos T, Bitton A, Yang H, Targan S, Datta LW, Kistner EO, Schumm LP, Lee AT, Gregersen PK, Barmada MM, Rotter JI, Nicolae DL, Cho JH (2006) A genome-wide association study identifies IL23R as an inflammatory bowel disease gene. Science 314:1461–1463

Dyring-Andersen B, Skov L, Zachariae C (2015) Targeting IL-17 with ixekizumab in patients with psoriasis. Immunotherapy 7:957–966

Farahnik B, Beroukhim K, Abrouk M, Nakamura M, Zhu TH, Singh R, Lee K, Bhutani T, Koo J (2016) Brodalumab for the treatment of psoriasis: a review of phase III trials. Dermatol Ther (Heidelb) 6(2):111–124

Fossiez F, Djossou O, Chomarat P, Flores-Romo L, Ait-Yahia S, Maat C, Pin JJ, Garrone P, Garcia E, Saeland S, Blanchard D, Gaillard C, Das Mahapatra B, Rouvier E, Golstein P, Banchereau J, Lebecque S (1996) T cell interleukin-17 induces stromal cells to produce proinflammatory and hematopoietic cytokines. J Exp Med 183:2593–2603

Gaffen SL, Jain R, Garg AV, Cua DJ (2014) The IL-23-IL-17 immune axis: from mechanisms to therapeutic testing. Nat Rev Immunol 14:585–600

Gladman DD, Farewell VT, Pellett F, Schentag C, Rahman P (2003) HLA is a candidate region for psoriatic arthritis. evidence for excessive HLA sharing in sibling pairs. Hum Immunol 64:887–889

Guttman-Yassky E, Lowes MA, Fuentes-Duculan J, Zaba LC, Cardinale I, Nograles KE, Khatcherian A, Novitskaya I, Carucci JA, Bergman R, Krueger JG (2008) Low expression of the IL-23/Th17 pathway in atopic dermatitis compared to psoriasis. J Immunol 181:7420–7427

Haak S, Croxford AL, Kreymborg K, Heppner FL, Pouly S, Becher B, Waisman A (2009) IL-17A and IL-17F do not contribute vitally to autoimmune neuro-inflammation in mice. J Clin Invest 119:61–69

Harper EG, Guo C, Rizzo H, Lillis JV, Kurtz SE, Skorcheva I, Purdy D, Fitch E, Iordanov M, Blauvelt A (2009) Th17 cytokines stimulate CCL20 expression in keratinocytes in vitro and in vivo: implications for psoriasis pathogenesis. J Invest Dermatol 129:2175–2183

Hayashida S, Uchi H, Moroi Y, Furue M (2011) Decrease in circulating Th17 cells correlates with increased levels of CCL17, IgE and eosinophils in atopic dermatitis. J Dermatol Sci 61:180–186

Hue S, Ahern P, Buonocore S, Kullberg MC, Cua DJ, McKenzie BS, Powrie F, Maloy KJ (2006) Interleukin-23 drives innate and T cell-mediated intestinal inflammation. J Exp Med 203:2473–2483

Hueber W, Patel DD, Dryja T, Wright AM, Koroleva I, Bruin G, Antoni C, Draelos Z, Gold MH, Psoriasis Study G, Durez P, Tak PP, Gomez-Reino JJ, Rheumatoid Arthritis Study G, Foster CS, Kim RY, Samson CM, Falk NS, Chu DS, Callanan D, Nguyen QD, Uveitis Study G, Rose K, Haider A, Di Padova F (2010) Effects of AIN457, a fully human antibody to interleukin-17A, on psoriasis, rheumatoid arthritis, and uveitis. Sci Transl Med 2:52ra72

Huh JR, Leung MW, Huang P, Ryan DA, Krout MR, Malapaka RR, Chow J, Manel N, Ciofani M, Kim SV, Cuesta A, Santori FR, Lafaille JJ, Xu HE, Gin DY, Rastinejad F, Littman DR (2011) Digoxin and its derivatives suppress TH17 cell differentiation by antagonizing ROR gammat activity. Nature 472:486–490

Isono F, Fujita-Sato S, Ito S (2014) Inhibiting ROR gammat/Th17 axis for autoimmune disorders. Drug Discov Today 19:1205–1211

Ivanov II, McKenzie BS, Zhou L, Tadokoro CE, Lepelley A, Lafaille JJ, Cua DJ, Littman DR (2006) The orphan nuclear receptor ROR gammat directs the differentiation program of proinflammatory IL-17 + T helper cells. Cell 126:1121–1133

Iwakura Y, Ishigame H, Saijo S, Nakae S (2011) Functional specialization of interleukin-17 family members. Immunity 34:149–162

Izcue A, Hue S, Buonocore S, Arancibia-Carcamo CV, Ahern PP, Iwakura Y, Maloy KJ, Powrie F (2008) Interleukin-23 restrains regulatory T cell activity to drive T cell-dependent colitis. Immunity 28:559–570

Jandus C, Bioley G, Rivals JP, Dudler J, Speiser D, Romero P (2008) Increased numbers of circulating polyfunctional Th17 memory cells in patients with seronegative spondylarthritides. Arthritis Rheum 58:2307–2317

Johansen C, Usher PA, Kjellerup RB, Lundsgaard D, Iversen L, Kragballe K (2009) Characterization of the interleukin-17 isoforms and receptors in lesional psoriatic skin. Br J Dermatol 160:319–324

Kobayashi T, Okamoto S, Hisamatsu T, Kamada N, Chinen H, Saito R, Kitazume MT, Nakazawa A, Sugita A, Koganei K, Isobe K, Hibi T (2008) IL23 differentially regulates the Th1/Th17 balance in ulcerative colitis and Crohn's disease. Gut 57:1682–1689

Koenders MI, van den Berg WB (2015) Novel therapeutic targets in rheumatoid arthritis. Trends Pharmacol Sci 36:189–195

Kotake S, Udagawa N, Takahashi N, Matsuzaki K, Itoh K, Ishiyama S, Saito S, Inoue K, Kamatani N, Gillespie MT, Martin TJ, Suda T (1999) IL-17 in synovial fluids from patients with rheumatoid arthritis is a potent stimulator of osteoclastogenesis. J Clin Invest 103:1345–1352

Kreymborg K, Etzensperger R, Dumoutier L, Haak S, Rebollo A, Buch T, Heppner FL, Renauld JC, Becher B (2007) IL-22 is expressed by Th17 cells in an IL-23-dependent fashion, but not required for the development of autoimmune encephalomyelitis. J Immunol 179:8098–8104

Kryczek I, Wei S, Szeliga W, Vatan L, Zou W (2009) Endogenous IL-17 contributes to reduced tumor growth and metastasis. Blood 114:357–359

Lee JS, Tato CM, Joyce-Shaikh B, Gulen MF, Cayatte C, Chen Y, Blumenschein WM, Judo M, Ayanoglu G, McClanahan TK, Li X, Cua DJ (2015) Interleukin-23-independent IL-17 production regulates intestinal epithelial permeability. Immunity 43:727–738

Li X, Kim KW, Cho ML, Ju JH, Kang CM, Oh HJ, Min JK, Lee SH, Park SH, Kim HY (2010) IL-23 induces receptor activator of NF-kappaB ligand expression in fibroblast-like synoviocytes via STAT3 and NF-kappaB signal pathways. Immunol Lett 127:100–107

Lim H, Kim YU, Sun H, Lee JH, Reynolds JM, Hanabuchi S, Wu H, Teng BB, Chung Y (2014) Proatherogenic conditions promote autoimmune T helper 17 cell responses in vivo. Immunity 40:153–165

Linden A (2007) A role for the cytoplasmic adaptor protein Act1 in mediating IL-17 signaling. Sci STKE 2007(398):4

Liu C, Qian W, Qian Y, Giltiay NV, Lu Y, Swaidani S, Misra S, Deng L, Chen ZJ, Li X (2009) Act1, a U-box E3 ubiquitin ligase for IL-17 signaling. Sci Signal 2:ra63

Lowes MA, Russell CB, Martin DA, Towne JE, Krueger JG (2013) The IL-23/T17 pathogenic axis in psoriasis is amplified by keratinocyte responses. Trends Immunol 34:174–181

Lubberts E (2015) The IL-23-IL-17 axis in inflammatory arthritis. Nat Rev Rheumatol 11:562

Malik S, Want MY, Awasthi A (2016) The emerging roles of gamma-delta T cells in tissue inflammation in experimental autoimmune encephalomyelitis. Front Immunol 7:14

Martin-Orozco N, Dong C (2009) The IL-17/IL-23 axis of inflammation in cancer: friend or foe? Curr Opin Investig Drugs 10:543–549

Martin-Orozco N, Muranski P, Chung Y, Yang XO, Yamazaki T, Lu S, Hwu P, Restifo NP, Overwijk WW, Dong C (2009) T helper 17 cells promote cytotoxic T cell activation in tumor immunity. Immunity 31:787–798

McAllister F, Henry A, Kreindler JL, Dubin PJ, Ulrich L, Steele C, Finder JD, Pilewski JM, Carreno BM, Goldman SJ, Pirhonen J, Kolls JK (2005) Role of IL-17A, IL-17F, and the IL-17 receptor in regulating growth-related oncogene-alpha and granulocyte colony-stimulating factor in bronchial epithelium: implications for airway inflammation in cystic fibrosis. J Immunol 175:404–412

Mei Y, Pan F, Gao J, Ge R, Duan Z, Zeng Z, Liao F, Xia G, Wang S, Xu S, Xu J, Zhang L, Ye D (2011) Increased serum IL-17 and IL-23 in the patient with ankylosing spondylitis. Clin Rheumatol 30:269–273

Menon B, Gullick NJ, Walter GJ, Rajasekhar M, Garrood T, Evans HG, Taams LS, Kirkham BW (2014) Interleukin-17+ CD8 +T cells are enriched in the joints of patients with psoriatic arthritis and correlate with disease activity and joint damage progression. Arthritis Rheumatol 66:1272–1281

Metawi SA, Abbas D, Kamal MM, Ibrahim MK (2011) Serum and synovial fluid levels of interleukin-17 in correlation with disease activity in patients with RA. Clin Rheumatol 30:1201–1207

Miossec P, Korn T, Kuchroo VK (2009) Interleukin-17 and type 17 helper T cells. N Engl J Med 361:888–898

Molet S, Hamid Q, Davoine F, Nutku E, Taha R, Page N, Olivenstein R, Elias J, Chakir J (2001) IL-17 is increased in asthmatic airways and induces human bronchial fibroblasts to produce cytokines. J Allergy Clin Immunol 108:430–438

Muranski P, Boni A, Antony PA, Cassard L, Irvine KR, Kaiser A, Paulos CM, Palmer DC, Touloukian CE, Ptak K, Gattinoni L, Wrzesinski C, Hinrichs CS, Kerstann KW, Feigenbaum L, Chan CC, Restifo NP (2008) Tumor-specific Th17-polarized cells eradicate large established melanoma. Blood 112:362–373

Murphy CA, Langrish CL, Chen Y, Blumenschein W, McClanahan T, Kastelein RA, Sedgwick JD, Cua DJ (2003) Divergent pro- and antiinflammatory roles for IL-23 and IL-12 in joint autoimmune inflammation. J Exp Med 198:1951–1957

Nakae S, Nambu A, Sudo K, Iwakura Y (2003) Suppression of immune induction of collagen-induced arthritis in IL-17-deficient mice. J Immunol 171:6173–6177

Narbutt J, Wojtczak M, Zalinska A, Salinski A, Przybylowska-Sygut K, Kuna P, Majak P, Sysa-Jedrzejowska A, Lesiak A (2015) The A/A genotype of an interleukin-17A polymorphism predisposes to increased severity of atopic dermatitis and coexistence with asthma. Clin Exp Dermatol 40:11–16

Novatchkova M, Leibbrandt A, Werzowa J, Neubuser A, Eisenhaber F (2003) The STIR-domain superfamily in signal transduction, development and immunity. Trends Biochem Sci 28:226–229

O'Connor W Jr, Kamanaka M, Booth CJ, Town T, Nakae S, Iwakura Y, Kolls JK, Flavell RA (2009) A protective function for interleukin 17A in T cell-mediated intestinal inflammation. Nat Immunol 10:603–609

O'Quinn DB, Palmer MT, Lee YK, Weaver CT (2008) Emergence of the Th17 pathway and its role in host defense. Adv Immunol 99:115–163

Pappu R, Rutz S, Ouyang W (2012) Regulation of epithelial immunity by IL-17 family cytokines. Trends Immunol 33:343–349

Powrie F, Carlino J, Leach MW, Mauze S, Coffman RL (1996) A critical role for transforming growth factor-beta but not interleukin 4 in the suppression of T helper type 1-mediated colitis by CD45RB(low) CD4+ T cells. J Exp Med 183:2669–2674

Punt S, Langenhoff JM, Putter H, Fleuren GJ, Gorter A, Jordanova ES (2015) The correlations between IL-17 vs. Th17 cells and cancer patient survival: a systematic review. Oncoimmunology 4:e984547

Qian Y, Liu C, Hartupee J, Altuntas CZ, Gulen MF, Jane-Wit D, Xiao J, Lu Y, Giltiay N, Liu J, Kordula T, Zhang QW, Vallance B, Swaidani S, Aronica M, Tuohy VK, Hamilton T, Li X (2007) The adaptor Act1 is required for interleukin 17-dependent signaling associated with autoimmune and inflammatory disease. Nat Immunol 8:247–256

Raychaudhuri SP (2013) Role of IL-17 in psoriasis and psoriatic arthritis. Clin Rev Allergy Immunol 44:183–193

Reynolds JM, Angkasekwinai P, Dong C (2010) IL-17 family member cytokines: regulation and function in innate immunity. Cytokine Growth Factor Rev 21:413–423

Reynolds JM, Lee YH, Shi Y, Wang X, Angkasekwinai P, Nallaparaju KC, Flaherty S, Chang SH, Watarai H, Dong C (2015) Interleukin-17B antagonizes interleukin-25-mediated mucosal inflammation. Immunity 42:692–703

Rickel EA, Siegel LA, Yoon BR, Rottman JB, Kugler DG, Swart DA, Anders PM, Tocker JE, Comeau MR, Budelsky AL (2008) Identification of functional roles for both IL-17RB and IL-17RA in mediating IL-25-induced activities. J Immunol 181:4299–4310

Rizzo HL, Kagami S, Phillips KG, Kurtz SE, Jacques SL, Blauvelt A (2011) IL-23-mediated psoriasis-like epidermal hyperplasia is dependent on IL-17A. J Immunol 186:1495–1502

Rothstein B, Gottlieb A (2016) Secukinumab for treating plaque psoriasis. Expert Opin Biol Ther 16:119–128

Rouvier E, Luciani MF, Mattei MG, Denizot F, Golstein P (1993) CTLA-8, cloned from an activated T cell, bearing AU-rich messenger RNA instability sequences, and homologous to a herpesvirus saimiri gene. J Immunol 150:5445–5456

Ruddy MJ, Wong GC, Liu XK, Yamamoto H, Kasayama S, Kirkwood KL, Gaffen SL (2004) Functional cooperation between interleukin-17 and tumor necrosis factor-alpha is mediated by CCAAT/enhancer-binding protein family members. J Biol Chem 279:2559–2567

Shahrara S, Pickens SR, Mandelin AM 2nd, Karpus WJ, Huang Q, Kolls JK, Pope RM (2010) IL-17-mediated monocyte migration occurs partially through CC chemokine ligand 2/monocyte chemoattractant protein-1 induction. J Immunol 184:4479–4487

Shen F, Li N, Gade P, Kalvakolanu DV, Weibley T, Doble B, Woodgett JR, Wood TD, Gaffen SL (2009) IL-17 receptor signaling inhibits C/EBPbeta by sequential phosphorylation of the regulatory 2 domain. Sci Signal 2:ra8

Silacci M, Lembke W, Woods R, Attinger-Toller I, Baenziger-Tobler N, Batey S, Santimaria R, von der Bey U, Koenig-Friedrich S, Zha W, Schlereth B, Locher M, Bertschinger J, Grabulovski D (2016) Discovery and characterization of COVA322, a clinical-stage bispecific TNF/IL-17A inhibitor for the treatment of inflammatory diseases. MAbs 8:141–149

Tong Z, Yang XO, Yan H, Liu W, Niu X, Shi Y, Fang W, Xiong B, Wan Y, Dong C (2012) A protective role by interleukin-17F in colon tumorigenesis. PLoS One 7:e34959

Torres T, Romanelli M, Chiricozzi A (2016) A revolutionary therapeutic approach for psoriasis: bispecific biological agents. Expert Opin Investig Drugs 25(7):1–4

Wang R, Hasnain SZ, Tong H, Das I, Che-Hao Chen A, Oancea I, Proctor M, Florin TH, Eri RD, McGuckin MA (2015) Neutralizing IL-23 is superior to blocking IL-17 in suppressing intestinal inflammation in a spontaneous murine colitis model. Inflamm Bowel Dis 21:973–984

Wilke CM, Kryczek I, Wei S, Zhao E, Wu K, Wang G, Zou W (2011) Th17 cells in cancer: help or hindrance? Carcinogenesis 32:643–649

Willenborg DO, Fordham S, Bernard CC, Cowden WB, Ramshaw IA (1996) IFN-gamma plays a critical down-regulatory role in the induction and effector phase of myelin oligodendrocyte glycoprotein-induced autoimmune encephalomyelitis. J Immunol 157:3223–3227

Woodrick RS, Ruderman EM (2011) Safety of biologic therapy in rheumatoid arthritis. Nat Rev Rheumatol 7:639–652

Wright JF, Guo Y, Quazi A, Luxenberg DP, Bennett F, Ross JF, Qiu Y, Whitters MJ, Tomkinson KN, Dunussi-Joannopoulos K, Carreno BM, Collins M, Wolfman NM (2007) Identification of an interleukin 17F/17A heterodimer in activated human CD4+ T cells. J Biol Chem 282:13447–13455

Wu S, Rhee KJ, Albesiano E, Rabizadeh S, Wu X, Yen HR, Huso DL, Brancati FL, Wick E, McAllister F, Housseau F, Pardoll DM, Sears CL (2009) A human colonic commensal promotes colon tumorigenesis via activation of T helper type 17 T cell responses. Nat Med 15:1016–1022

Xu T, Wang X, Zhong B, Nurieva RI, Ding S, Dong C (2011) Ursolic acid suppresses interleukin-17 (IL-17) production by selectively antagonizing the function of ROR gamma t protein. J Biol Chem 286:22707–22710

Yang XO, Chang SH, Park H, Nurieva R, Shah B, Acero L, Wang YH, Schluns KS, Broaddus RR, Zhu Z, Dong C (2008) Regulation of inflammatory responses by IL-17F. J Exp Med 205:1063–1075

Yao Z, Fanslow WC, Seldin MF, Rousseau AM, Painter SL, Comeau MR, Cohen JI, Spriggs MK (1995) Herpesvirus saimiri encodes a new cytokine, IL-17, which binds to a novel cytokine receptor. Immunity 3:811–821
Acknowledgments
We appreciate Inbo Shim and Da-Sol Kuen for editing manuscript. This work is supported by Grants 2014R1A2A1A11054364 (YC) and 0430-20150023 (Basic Science Research Program) (YJP) from the National Research Foundation of Korea (NRF) Grant funded by the Korean government (MEST).
Ethics declarations
Conflict of Interest
The authors declare no competing financial interest.
Additional information
Byung-Seok Kim and Young-Jun Park have equally contributed to this work.
About this article
Cite this article
Kim, BS., Park, YJ. & Chung, Y. Targeting IL-17 in autoimmunity and inflammation. Arch. Pharm. Res. 39, 1537–1547 (2016). https://doi.org/10.1007/s12272-016-0823-8
Received:

Accepted:

Published:

Issue Date:

DOI: https://doi.org/10.1007/s12272-016-0823-8
Keywords
IL-17

Th17 cell

Autoimmunity

Anti-IL-17

RORγt