Abstract
A radical-scavenging, guided phytochemical study of the latex of Calotropis Procera afforded five lignans (1–5), including a new one (4). The structural determination was accomplished using 1D- and 2D-NMR, high-resolution electrospray ionization mass spectrometry (HRESIMS), and correlation with known compounds. Among the isolated compounds, acylated lignans (3–5) showed stronger antioxidant activity than non-acylated derivatives (1,2). Anti-inflammatory activity was evaluated by determining the inhibitory potential against 5- and 15-lipoxygenase enzymes. The highest anti-inflammatory activity was observed in compound 4, with IC50s values of 7.6 µM and 2.7 µM against 5-LOX and 15-LOX, respectively.
Access options
Buy single article
Instant access to the full article PDF.
US$ 39.95
Tax calculation will be finalised during checkout.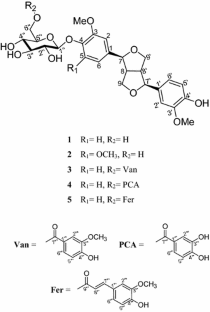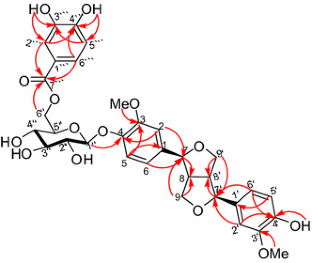 References
Abdel-Mageed WM, Milne BF, Wagner M, Schumacher M, Sandor P, Pathom-aree W, Goodfellow M, Bull AT, Horikoshi K, Ebel R, Diederich M, Fiedler HP, Jaspars M (2010) Dermacozines, a new phenazine family from deep-sea dermacocci isolated from a Mariana Trench sediment. Org Biomol Chem 8:2352–2362

Abdel-Mageed WM, Backheet EY, Khalifa AA, Ibraheim ZZ, Ross SA (2012) Antiparasitic antioxidant phenylpropanoids and iridoid glycosides from Tecoma mollis. Fitoterapia 83:500–507

Abdel-Mageed WM, Bayoumi SAH, Radwan AA, Salem-Bekhit MM, Abd-Alrahman SH, Basudan OA, Sayed HM (2014) Simmondsia chinensis: a rich source of bioactive flavonoids and lignans. Ind Crops Prod 60:99–103

Al-Qarawi AA, Mahmoud OM, Sobaih MA, Haroun EM, Adam SE (2001) A preliminary study on the anthelmintic activity of Calotropis procera latex against Haemonchus contortus infection in Najdi sheep. Vet Res Commun 25:61–70

Ansari SH, Ali M (2001) Norditerpenic ester and pentacyclic triterpenoids from root bark of Calotropis procera (Ait) R. Br Pharmazie 56:175–177

Arya S, Kumar VL (2005) Antiinflammatory efficacy of extracts of latex of Calotropis procera against different mediators of inflammation. Mediators Inflamm 2005:228–232

Bai LP, Ho HM, Ma DL, Yang H, Fu WC, Jiang ZH (2013) Aminoglycosylation can enhance the G-quadruplex binding activity of epigallocatechin. PLoS ONE 8:e53962

Begum N, Sharma B, Pandey RS (2010) Evaluation of Insecticidal Efficacy of Calotropis Procera and Annona Squamosa Ethanol Extracts Against Musca Domestica. J Biofert Biopest 1:1–6

Choedon T, Mathan G, Arya S, Kumar VL, Kumar V (2006) Anticancer and cytotoxic properties of the latex of Calotropis procera in a transgenic mouse model of hepatocellular carcinoma. World J Gastroenterol 12:2517–2522

Cuvelier ME, Richard H, Berset C (1992) Comparison of the antioxidative activity of some acid-phenols: structure-activity relationship. Biosci Biotechnol Biochem 56:324–325

Dewan S, Kumar S, Kumar VL (2000) Antipyretic effect of latex of Calotropis procera. Indian J Pharmacol 32:252

Dong-Mei W, Wen-Jun P, Yong-Hong W, Yu-Juan Z, Shan-Shan W (2012) A New Isorhamnetin Glycoside and Other Phenolic Compounds from Callianthemum taipaicum. Molecules 17:4595–4603

Doshi H, Satodiya H, Thakur MC, Parabia F, Khan A (2011) Phytochemical screening and biological activity of Calotropis Procera (Ait). R. Br. (Asclepiadaceae) against selected bacteria and Anopheles stephansi Larvae. Int J Plant Res 1:29–33

Farzin MP, Kothari IL, Parabia MH (2008) Antibacterial activity of solvent fractions of crude water decoction of apical twigs and latex of Calotropis procera (Ait.) R. Br. Nat Prod Radiance 7:30–34

Gill SS, Tuteja N (2010) Reactive oxygen species and antioxidant machinery in abiotic stress tolerance in crop plants. Plant Physiol Biochem 48:909–930

Gupta VK, Sharma SK (2006) Plants as natural antioxidants. Nat Prod Radiance 5:326–334

Harne S, Sharma A, Dhaygude M, Joglekar S, Kodam K, Hudlikar M (2012) Novel route for rapid biosynthesis of copper nanoparticles using aqueous extract of Calotropis procera L. latex and their cytotoxicity on tumor cells. Colloids Surf B Biointerfaces 95:284–288

Ibraheim ZZ, Abdel-Mageed WM, Dai H, Guo H, Zhang L, Jaspars M (2012) Antimicrobial antioxidant daucane sesquiterpenes from Ferula hermonis Boiss. Phytother Res 26:579–586

Joshi R, Sharma A, Jat BL (2009) Analysis of antioxidant activity in extracts of Calotropis procera (Ait.) R. Br. J Appl Biosci 17:899–903

Kamel HS, Nagy M, Heidi Z, Johannes FI, Bernd S (2010) Secondary metabolites from Calotropis procera (Aiton). Phytochem Lett 3:212–216

Kareem SO, Akpan I, Ojo OP (2008) Antimicrobial activities of Calotropis procera on selected pathogenic microorganisms. African J Biomed Res 11:105–110

Kawo AH, Mustapha A, Abdullahi BA, Rogo LD, Gaiya ZA, Kumurya AS (2009) Phytochemical properties and antibacterial activities of the leaf and latex extracts of Calotropis procera (Ait. F.). Bayero J Pure Appl Sci 2:34–40

Khasawneh MA, Elwy HM, Fawzi NM, Hamza AA, Chevidenkandy A, Hassan AH (2011) Antioxidant activity, lipoxygenase inhibitory effect and polyphenolic compounds from Calotropis procera (Ait.) R. Br. Res J Phytochem 5:80–88

Kirley MC, Mary ASL, Edilberto RS (2010) Amburosides C-H and 6-O-Protocatechuoyl Coumarin from Amburana cearensis. J Braz Chem Soc 21:1746–1753

Kohyama N, Nagata T, Fujimoto SI, Sekiya K (1997) Inhibition of arachidonate lipoxygenase activities by 2-(3,4-dihydroxyphenyl)ethanol, a phenolic compound from olives. Biosci Biotech Biochem 61:347–350

Kumar VL, Roy S (2009) Protective effect of latex of Calotropis procera in Freund's complete adjuvant induced monoarthritis. Phytother Res 23:1–5

Kumar S, Dewan S, Sangraula H, Kumar VL (2001) Anti-diarrhoeal activity of the latex of Calotropis procera. J Ethnopharmacol 76:115–118

Larhsini M, Markouk M, Jaouhari JT, Bekkouche K, Lazrek HB, Jana M (2002) The antipyretic activity of some Moroccan medicinal plants. Phytother Res 16:97–98

Mabalirajan U, Rehman R, Ahmad T, Kumar S, Leishangthem GD, Singh S, Dinda AK, Biswal S, Agrawal A (2013) 12/15-lipoxygenase expressed in non-epithelial cells causes airway epithelial injury in asthma. Sci Rep 3:1540–1550

Mahajan RT, Badgujar SB (2008) Phytochemical investigation of some lactiferous plants belonging to Khandesh region of Maharashtra. Ethnobot Leaflets 12:1145–1152

Mathew S, Abraham TE, Zakaria ZA (2015) Reactivity of phenolic compounds towards free radicals under in vitro conditions. J Food Sci Technol. doi:10.1007/s13197-014-1704-0

Matsunami K, Otsuka H, Kondo K, Shinzato T, Kawahata M, Yamaguchi K, Takeda Y (2009) Absolute configuration of (+)-pinoresinol 4-O-[6′'-O-galloyl]-beta-d-glucopyranoside, macarangiosides E, and F isolated from the leaves of Macaranga tanarius. Phytochemistry 70:1277–1285

Meena AK, Yadav MM, Niranjan US, Singh B, Nagariya AK, Sharma K, Gaurav A, Sharma S, Rao MM (2010) A review of Calotropis procera Linn and its ethnobotany, phytochemical and pharmacological profile. Drug Invent Today 2:185–190

Mijatovic T, Van Quaquebeke E, Delest B, Debeir O, Darro F, Kiss R (2007) Cardiotonic steroids on the road to anti-cancer therapy. BBA Rev Cancer 1776:32–57

Moursy LE (1997) Insecticidal activity of Calotropis procera extracts of the flesh fly, Sarcophaga haemorrhoidalis fallen. J Egypt Soc Parasitol 2:505–514

Nadia HM, Miaomiao L, Wael MA, Lamya HA, Huanqin D, Mady AI, Gamal B, Ronald JQ, Xueting L, Lixin Z, Ahmed AMS (2015) Cytotoxic cardenolides from the latex of Calotropis procera. Bioorg Med Chem Lett 25:4615–4620

Natella F, Nardini M, di Felice M, Scaccini C (1999) Benzoic and cinnamic acid derivatives as antioxidants: structure-activity relation. J Agric Food Chem 47:1453–1459

Ouyang MA, Wein YS, Zhang ZK, Kuo YH (2007) Inhibitory Activity against Tobacco Mosaic Virus (TMV) Replication of Pinoresinol and Syringaresinol Lignans and Their Glycosides from the Root of Rhus javanica var. roxburghiana. J Agric Food Chem 55:6460–6465

Parhira S, Yang ZF, Zhu GY, Chen QL, Zhou BX, Yu-Tao WYT, Liu L, Bai LP, Jiang ZH (2014) In Vitro anti-influenza virus activities of a New Lignan Glycoside from the Latex of Calotropis gigantea. PLoS ONE 9:e104544

Rackova L, Oblozinsky M, Kostalova D, Kettmann V, Bezakova L (2007) Free radical scavenging activity and lipoxygenase inhibition of Mahonia aquifolium extract and isoquinoline alkaloids. J Inflammation 4:15–21

Ramos MV, Bandeira GP, De Freitas CD, Nogueira NA, Alencar NM, De Sousa PA, Carvalho AF (2006) Latex constituents from Calotropis procera (R. Br.) display toxicity upon egg hatching and larvae of Aedes aegypti (Linn.). Mem Inst Oswaldo Cruz 101:503–510

Ramos MV, Aguiar VC, Melo VMM, Mesquita RO, Silvestre PP, Oliveira JS, Macedo NM, Alencar NM (2007) Immunological and allergenic responses induced by latex fractions of Calotropis procera (Ait.) R. Br. J Ethnopharmacol 111:115–122

Ramos MV, Oliveira JS, Figueiredo JG, Figueireido IS, Kumar VL, Bitencourt FS, Cunha FQ, Oliveira RS, Bomfim LR, Vitor LFJ, Alencar NM (2009) Involvement of NO in the inhibitory effect of Calotropis procera latex protein fractions on leukocyte rolling, adhesion and infiltration in rat peritonitis model. J Ethnopharmacol 125:387–392

Rehman AU, Malik A, Riaz N, Ahmed H, Nawaz SA, Choudhary MI (2005) Lipoxygenase Inhibiting Constituents from Indigofera hetrantha. Chem Pharm Bull 53:263–266

Rioux N, Castonguay A (1998) Inhibitors of lipoxygenase: a new class of cancer chemopreventive agents. Carcinogenesis 19:1393–1400

Roy S, Sehgal R, Padhy BM, Kumar VL (2005) Antioxidant and protective effect of latex of Calotropis procera against alloxan-induced diabetes in rats. J Ethnopharmacol 102:470–473

Sabrin RMI, Gamal AM, Lamiaa AS, Laetitia MYB, Robert K, Diaa TAY (2015) Calotroposides H-N, new cytotoxic oxypregnane oligoglycosides from the root bark of Calotropis procera. Steroids 96:63–72

Sangraula H, Dewan S, Kumar VL (2002) Evaluation of anti-inflammatory activity of latex of Calotropis procera in different models of inflammation. Inflammopharmacology 9:257–264

Sehgal R, Arya S, Kumar VL (2005) Inhibitory effect of extracts of latex of Calotropis procera against Candida albicans: A preliminary study. Indian J Pharmacol 37:334–335

Setty SR, Quereshi AA, Swamy AHM, Patil T, Prakash T, Prabhu K, Veeran G (2007) Hepatoprotective activity of Calotropis procera flowers against paracetamol-induced hepatic injury in rats. Fitoterapia 78:451–454

Sharma P, Sharma JD (2000) In-vitro schizonticidal screening of Calotropis procera. Fitoterapia 71:77–79

Shivkar YM, Kumar VL (2003) Anthelmintic activity of latex of Calotropis procera. Pharm Biol 41:263–265

Silva MCC, Silva AB, Teixeira FM, Sousa PCP, Rondon RMM, Junoir JERH, Sampiao LRL, Oliveira SL, Holonda ANM, Vasconcelos SMM (2010) Therapeutic and biological activities of Calotropis procera (Ait.) R. Br. Asian Pac J Trop Med 3:332–336

Soares de Oliveira J, Pereira Bezerra D, Teixeira de Freitas CD, Delano BMFJ, Odorico de Moraes M, Pessoa C, Costa-Lotufo LV, Ramos MV (2007) In vitro cytotoxicity against different human cancer cell lines of laticifer proteins of Calotropis procera (Ait.) R. Br. Toxicol in Vitro 21:1563–1573

Takeshi D, Takako I, Sansei N (1985) The constituents of Eucommia ulmoides Oliv II. Isolation and structures of three new lignan glycosides. Chem Pharm Bull 33:3651–3657

Tappel AL (1962) Methods in Enzymology, vol 5. Academic Press, New York, p 539

Vernon ES, Cathy AH, Ernest TH, Levy K, Ronald AL, James AC, Caroline CS, Gary JK (1999) Lipoxygenase Inhibitors as Potential Cancer Chemopreventives. Cancer Epidemiol Biomarkers Prev 8:467–483

Wagner M, Abdel-Mageed WM, Ebel R, Bull AT, Goodfellow M, Fiedler HP, Jaspars M (2014) Dermacozines H-J isolated from a deep-sea strain of Dermacoccus abyssi from Mariana Trench sediments. J Nat Prod 77:416–420

Walther M, H-g Holzhütter, Kuban RJ, Wiesner R, Rathmann J, Kühn H (1999) The Inhibition of Mammalian 15-Lipoxygenases by the anti-inflammatory drug ebselen: dual-type mechanism involving covalent linkage and alteration of the iron ligand sphere. Mol Pharmacol 56:196–203

Wisastra R, Dekker FJ (2014) Inflammation, cancer and oxidative lipoxygenase activity are intimately Linked. Cancers 6:1500–1521

Yamagami C, Akamatsu M, Motohashi N, Hamada S, Tanahashi T (2005) Quantitative structure-activity relationship studies for antioxidant hydroxybenzalacetones by quantum chemical- and 3-D-QSAR(CoMFA) analyses. Bioorg Med Chem Lett 15:2845–2850

Yesmin MN, Uddin SN, Mubassara S, Akond MA (2008) Antioxidant and antibacterial activities of Calotropis procera Linn. Am Eurasian J Agric Environ Sci 4:550–553

Yves D, Christine B, Daniel D, Chi CC, Jean PF, John WG, Jocelyne G, John HH, Cyryl SM (1994) Naphthalenic lignan lactones as selective, nonredox 5-lipoxygenase inhibitors. Synthesis and biological activity of (methoxyalkyl)thiazole and methoxytetrahydropyran hybrids. J Med Chem 37:512–518
Acknowledgments
The authors would like to extend their sincere appreciation to the deanship of Scientific Research at King Saud University for its funding of this research through Research Group Project no. RGP-VPP-326.
Ethics declarations
Conflict of Interest
The authors declare that there are no conflicts of interest.
Electronic supplementary material
Below is the link to the electronic supplementary material.
About this article
Cite this article
Abdel-Mageed, W.M., Mohamed, N.H., Liu, M. et al. Lipoxygenase inhibitors from the latex of Calotropis Procera . Arch. Pharm. Res. (2016). https://doi.org/10.1007/s12272-016-0725-9
Received:

Accepted:

Published:
Keywords
Calotropis procera

Lignans

Antioxidants

Anti-inflammatory

Lipoxygenase inhibitors