Abstract
Eurycoma longifolia is one of the most popular herbal medicines in Southeast Asia. The purpose of this study is to evaluate the analgesic and anti-inflammatory effects of the methanolic extract of E. longifolia roots (TA) in vivo and to investigate the underlying mechanisms. TA was tested for analgesic activity by the hot plate test and acetic acid test in mice. The anti-inflammatory effect of TA was observed in carrageenan-induced paw edema in mice. The in vitro molecular study using macrophage cells was performed to elucidate the relevant mechanism. The analgesic activity of 400 mg/kg TA was higher than that of aspirin in the hot plate test. TA also showed analgesic effects in the acetic acid test in a dose-dependent manner. In carrageenan-induced edema in mice, TA showed an anti-inflammatory effect comparable to that of diclofenac. Further in vitro molecular study using macrophage cells revealed that TA suppressed NF-κB translocation to the nucleus, leading to inactivation of the NF-κB signaling pathway and reduction in the expression of cyclooxygenase-2 and inducible nitric oxide synthase. These results exhibited the beneficial effects of TA for alleviating pain and inflammation, which were exerted through inactivation of the NF-κB signaling pathway.
Access options
Buy single article
Instant access to the full article PDF.
USD 39.95
Price excludes VAT (USA)
Tax calculation will be finalised during checkout.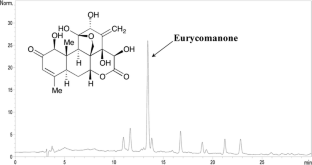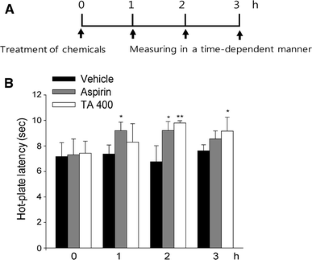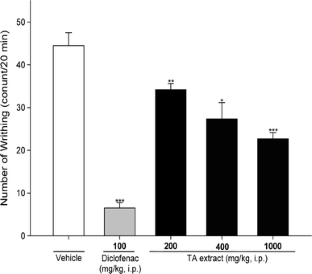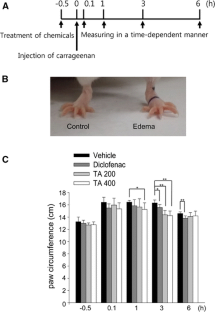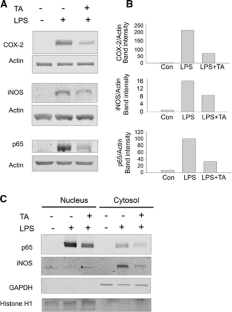 References
Bedir E, Abou-Gazar H, Ngwendson JN, Khan IA (2003) Eurycomaoside: a New Quassinoid-Type Glycoside from the Roots of Eurycoma longifolia. Chem Pharm Bull 51:1301–1303

Bhat R, Karim AA (2010) Tongkat Ali (Eurycoma longifolia Jack): a review on its ethnobotany and pharmacological importance. Fitoterapia 81:669–679

Chan KL, Choo CY, Morita H, Itokawa H (1998) High performance liquid chromatography in phytochemical analysis of Eurycoma longifolia. Planta Med 64:741–745

Guo Z, Vangapandu S, Sindelar RW, Walker LA, Sindelar RD (2005) Biologically active quassinoids and their chemistry: potential leads for drug design. Curr Med Chem 12:173–190

Han YM, Kim IS, Rehman SU, Choe K, Yoo HH (2015a) In vitro evaluation of the effects of Eurycoma longifolia extract on CYP-mediated drug metabolism. Evid Based Complement Alternat Med 2015:631329

Han YM, Jang M, Kim IS, Kim SH, Yoo HH (2015b) Simultaneous quantitation of six major quassinoids in Tongkat Ali dietary supplements by liquid chromatography with tandem mass spectrometry. J Sep Sci 38:2260–2266

Hajjouli S, Chateauvieux S, Teiten MH, Orlikova B, Schumacher M, Dicato M, Choo CY, Diederich M (2014) Eurycomanone and eurycomanol from Eurycoma longifolia Jack as regulators of signaling pathways involved in proliferation, cell death and inflammation. Molecules 19:14649–14666

Hoesel B, Schmid JA (2013) The complexity of NF-kB signaling in inflammation and cancer. Mol Cancer 12:1–15. doi:10.1186/1476-4598-12-86

Low BS, Choi SB, Abdul-Wahab H, Das PK, Chan KL (2013) Eurycomanone, the major quassinoid in Eurycoma longifolia root extract increases spermatogenesis by inhibiting the activity of phosphodiesterase and aromatase in steroidogenesis. J Ethnopharmacol 149:201–207

Mitsunaga K, Koike K, Tanaka T, Ohkawa Y, Kobayashi Y, Sawaguchi T, Ohmoto T (1994) Canthin-6-one alkaloids from Eurycoma longifolia. Phytochemistry 35:799–802

Miyake K, Tezuka Y, Awale S, Li F, Kadota S (2009) Quassinoids from Eurycoma longifolia. J Nat Prod 72:2135–2140

Morita H, Kishi E, Takeya K, Itokawa H, Tanaka O (1990) New quassinoids from the roots of Eurycoma longifolia. Chem Lett 19:749–752

Morita H, Kishi E, Takeya K, Itokawa H, Iitaka Y (1993) Squalene derivatives from Eurycoma longifolia. Phytochemistry 34:765–771

Ojewole JA (2007) Analgesic, anti-inflammatory and hypoglacaemic effects of Rhus chirindensis (Baker F.) [Anacardiaceae] stem-bark aqueous extract in mice and rats. J Ethnopharmacol 113:338–345

Park S, Nhiem NX, Kiem PV, Minh CV, Tai BH, Kim N, Yoo HH, Song JH, Ko HJ, Kim SH (2014) Five new quassinoids and cytotoxic constituents from the roots of Eurycoma longifolia. Bioorg Med Chem Lett 24:3835–3840

Patrignani P, Patrono C (2014) Cyclooxygenase inhibitors: from pharmacology to clinical read-outs. Biochim Biophys Acta 1851:422–432

Tada H, Yasuda F, Otani K, Doteuchi M, Ishihara Y, Shiro M (1991) New antiulcer quassinoids from Eurycoma longifolia. Eur J Med Chem 26:345–349

Tak PP, Firestein GS (2001) NF-kB: a key role in inflammatory diseases. J Clin Investig 107:7–11

Tran TV, Malanier C, Schwaiger S, Atanasov AG, Heiss EH, Dirsch VM, Stuppner H (2014) NF-kB inhibitors from Eurycoma longifolia. J Nat Prod 77:483–488

Wong PF, Cheong WF, Shu MH, Teh CH, Chan KL, AbuBakar S (2012) Eurycomanone suppresses expression of lung cancer cell tumor markers, prohibitin, annexin 1 and endoplasmic reticulum protein 28. Phytomedicine 19:138–144
Acknowledgments
This research was supported by Basic Science Research Program through the National Research Foundation of Korea funded by the Ministry of Education, Science and Technology (NRF-2014R1A1A1A05002840 and NRF-2014R1A2A1A11049701).
Ethics declarations
Conflict of interest
No competing financial interests exist.
Additional information
Young Min Han and Sang-Uk Woo have contributed equally to this work.
About this article
Cite this article
Han, Y.M., Woo, SU., Choi, M.S. et al. Antiinflammatory and analgesic effects of Eurycoma longifolia extracts. Arch. Pharm. Res. 39, 421–428 (2016). https://doi.org/10.1007/s12272-016-0711-2
Received:

Accepted:

Published:

Issue Date:

DOI: https://doi.org/10.1007/s12272-016-0711-2
Keywords
Eurycoma longifolia

Simaroubaceae

Analgesics

Anti-inflammation