Abstract
Stress hormone norepinephrine (NE) has been associated with acquisition of cancer progression, and naturally occurring phytoalexin resveratrol (REV) has been known to suppress cancer growth and progression. In the present study, we determine the effect of REV on NE-induced ovarian cancer invasiveness. Pretreatment of REV significantly inhibited NE-induced ovarian cancer cell epithelial-to-mesenchymal transition with concomitant recovery of E-cadherin expression. In addition, our data showed that REV downregulates NE-induced human telomerase reverse transcriptase (hTERT) expression through inhibiting Src phosphorylation and HIF-1α expression. Further, REV reduced NE-induced Slug expression and subsequent ovarian cancer invasion. More importantly, combined treatment of REV with a pharmacological inhibitor of beta adrenergic receptor significantly attenuated NE-induced ovarian cancer invasion compared to single treatment. Therefore, we demonstrate interference of a Src and HIF-1α/hTERT/Slug signaling cascade by REV, providing potential therapeutic targets and inhibition of ovarian cancer.
Access options
Buy single article
Instant access to the full article PDF.
USD 39.95
Price excludes VAT (USA)
Tax calculation will be finalised during checkout.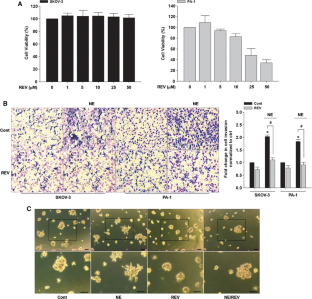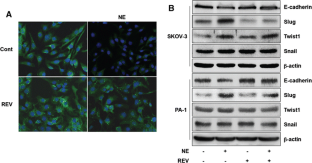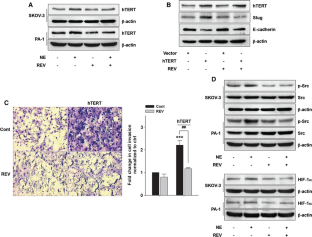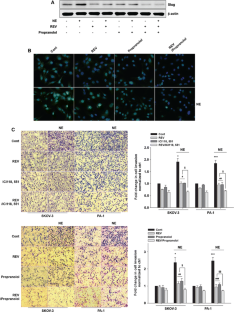 References
Armaiz-Pena, G.N., J.K. Allen, A. Cruz, R.L. Stone, A.M. Nick, Y.G. Lin, L.Y. Han, L.S. Mangala, G.J. Villares, P. Vivas-Mejia, C. Rodriguez-Aguayo, A.S. Nagaraja, K.M. Gharpure, Z. Wu, R.D. English, K.V. Soman, M.M. Shazhad, M. Zigler, M.T. Deavers, A. Zien, T.G. Soldatos, D.B. Jackson, J.E. Wiktorowicz, M. Torres-Lugo, T. Young, K. De Geest, G.E. Gallick, M. Bar-Eli, G. Lopez-Berestein, S.W. Cole, G.E. Lopez, S.K. Lutgendorf, and A.K. Sood. 2013. Src activation by beta-adrenoreceptors is a key switch for tumour metastasis. Nature Communications 4: 1403.

Baribeau, S., P. Chaudhry, S. Parent, and E. Asselin. 2014. Resveratrol inhibits cisplatin-induced epithelial-to-mesenchymal transition in ovarian cancer cell lines. PLoS One 9: e86987.

Choi, M.J., K.H. Cho, S. Lee, Y.J. Bae, K.J. Jeong, S.Y. Rha, E.J. Choi, J.H. Park, J.M. Kim, J.S. Lee, G.B. Mills, and H.Y. Lee. 2015. hTERT mediates norepinephrine-induced Slug expression and ovarian cancer aggressiveness. Oncogene 34: 3402–3412.

De Craene, B., B. Gilbert, C. Stove, E. Bruyneel, F. van Roy, and G. Berx. 2005. The transcription factor snail induces tumor cell invasion through modulation of the epithelial cell differentiation program. Cancer Research 65: 6237–6244.

Gallo, D., C. Ferlini, and G. Scambia. 2010. The epithelial-mesenchymal transition and the estrogen-signaling in ovarian cancer. Current Drug Targets 11: 474–481.

Gardner, M.J., L.M. Jones, J.B. Catterall, and G.A. Turner. 1995. Expression of cell adhesion molecules on ovarian tumour cell lines and mesothelial cells, in relation to ovarian cancer metastasis. Cancer Letters 91: 229–234.

Hajra, K.M., D.Y. Chen, and E.R. Fearon. 2002. The SLUG zinc-finger protein represses E-cadherin in breast cancer. Cancer Research 62: 1613–1618.

Hassan, S., Y. Karpova, D. Baiz, D. Yancey, A. Pullikuth, A. Flores, T. Register, J.M. Cline, R. D'Agostino Jr, N. Danial, S.R. Datta, and G. Kulik. 2013. Behavioral stress accelerates prostate cancer development in mice. The Journal of Clinical Investigation 123: 874–886.

Hu, F.W., L.L. Tsai, C.H. Yu, P.N. Chen, M.Y. Chou, and C.C. Yu. 2012. Impairment of tumor-initiating stem-like property and reversal of epithelial-mesenchymal transdifferentiation in head and neck cancer by resveratrol treatment. Molecular Nutrition & Food Research 56: 1247–1258.

Jang, M., L. Cai, G.O. Udeani, K.V. Slowing, C.F. Thomas, C.W. Beecher, H.H. Fong, N.R. Farnsworth, A.D. Kinghorn, R.G. Mehta, R.C. Moon, and J.M. Pezzuto. 1997. Cancer chemopreventive activity of resveratrol, a natural product derived from grapes. Science 275: 218–220.

Jeong, K.J., S.Y. Park, K.H. Cho, J.S. Sohn, J. Lee, Y.K. Kim, J. Kang, C.G. Park, J.W. Han, and H.Y. Lee. 2012. The Rho/ROCK pathway for lysophosphatidic acid-induced proteolytic enzyme expression and ovarian cancer cell invasion. Oncogene 31: 4279–4289.

Kotha, A., M. Sekharam, L. Cilenti, K. Siddiquee, A. Khaled, A.S. Zervos, B. Carter, J. Turkson, and R. Jove. 2006. Resveratrol inhibits Src and Stat3 signaling and induces the apoptosis of malignant cells containing activated Stat3 protein. Molecular Cancer Therapeutics 5: 621–629.

Lang, K., T.L. Drell, A. Lindecke, B. Niggemann, C. Kaltschmidt, K.S. Zaenker, and F. Entschladen. 2004. Induction of a metastatogenic tumor cell type by neurotransmitters and its pharmacological inhibition by established drugs. International Journal of Cancer 112: 231–238.

Lanzilli, G., M.P. Fuggetta, M. Tricarico, A. Cottarelli, A. Serafino, R. Falchetti, G. Ravagnan, M. Turriziani, R. Adamo, O. Franzese, and E. Bonmassar. 2006. Resveratrol down-regulates the growth and telomerase activity of breast cancer cells in vitro. International Journal of Oncology 28: 641–648.

Lara, H.E., A. Porcile, J. Espinoza, C. Romero, S.M. Luza, J. Fuhrer, C. Miranda, and L. Roblero. 2001. Release of norepinephrine from human ovary: Coupling to steroidogenic response. Endocrine 15: 187–192.

Lara, H.E., M. Dorfman, M. Venegas, S.M. Luza, S.L. Luna, A. Mayerhofer, M.A. Guimaraes, E.S.A.A. Rosa, and V.D. Ramirez. 2002. Changes in sympathetic nerve activity of the mammalian ovary during a normal estrous cycle and in polycystic ovary syndrome: Studies on norepinephrine release. Microscopy Research and Technique 59: 495–502.

Liu, Z., Q. Li, K. Li, L. Chen, W. Li, M. Hou, T. Liu, J. Yang, C. Lindvall, M. Bjorkholm, J. Jia, and D. Xu. 2012. Telomerase reverse transcriptase promotes epithelial-mesenchymal transition and stem cell-like traits in cancer cells. Oncogene 32: 4203–4213.

Lutgendorf, S.K., S. Cole, E. Costanzo, S. Bradley, J. Coffin, S. Jabbari, K. Rainwater, J.M. Ritchie, M. Yang, and A.K. Sood. 2003. Stress-related mediators stimulate vascular endothelial growth factor secretion by two ovarian cancer cell lines. Clinical Cancer Research 9: 4514–4521.

McEwen, B.S. 2002. Sex, stress and the hippocampus: Allostasis, allostatic load and the aging process. Neurobiology of Aging 23: 921–939.

Nilsson, M.B., G. Armaiz-Pena, R. Takahashi, Y.G. Lin, J. Trevino, Y. Li, N. Jennings, J. Arevalo, S.K. Lutgendorf, G.E. Gallick, A.M. Sanguino, G. Lopez-Berestein, S.W. Cole, and A.K. Sood. 2007. Stress hormones regulate interleukin-6 expression by human ovarian carcinoma cells through a Src-dependent mechanism. Journal of Biological Chemistry 282: 29919–29926.

Ozols, R.F., M.A. Bookman, D.C. Connolly, M.B. Daly, A.K. Godwin, R.J. Schilder, X. Xu, and T.C. Hamilton. 2004. Focus on epithelial ovarian cancer. Cancer Cell 5: 19–24.

Palm, D., K. Lang, B. Niggemann, T.L. Drell, K. Masur, K.S. Zaenker, and F. Entschladen. 2006. The norepinephrine-driven metastasis development of PC-3 human prostate cancer cells in BALB/c nude mice is inhibited by beta-blockers. International Journal of Cancer 118: 2744–2749.

Park, S.Y., K.J. Jeong, J. Lee, D.S. Yoon, W.S. Choi, Y.K. Kim, J.W. Han, Y.M. Kim, B.K. Kim, and H.Y. Lee. 2007. Hypoxia enhances LPA-induced HIF-1alpha and VEGF expression: Their inhibition by resveratrol. Cancer Letters 258: 63–69.

Park, S.Y., J.H. Kang, K.J. Jeong, J. Lee, J.W. Han, W.S. Choi, Y.K. Kim, J. Kang, C.G. Park, and H.Y. Lee. 2011. Norepinephrine induces VEGF expression and angiogenesis by a hypoxia-inducible factor-1alpha protein-dependent mechanism. International Journal of Cancer 128: 2306–2316.

Shahzad, M.M., J.M. Arevalo, G.N. Armaiz-Pena, C. Lu, R.L. Stone, M. Moreno-Smith, M. Nishimura, J.W. Lee, N.B. Jennings, J. Bottsford-Miller, P. Vivas-Mejia, S.K. Lutgendorf, G. Lopez-Berestein, M. Bar-Eli, S.W. Cole, and A.K. Sood. 2010. Stress effects on FosB- and interleukin-8 (IL8)-driven ovarian cancer growth and metastasis. Journal of Biological Chemistry 285: 35462–35470.

Siegel, R., C. Desantis, K. Virgo, K. Stein, A. Mariotto, T. Smith, D. Cooper, T. Gansler, C. Lerro, S. Fedewa, C. Lin, C. Leach, R.S. Cannady, H. Cho, S. Scoppa, M. Hachey, R. Kirch, A. Jemal, and E. Ward. 2012. Cancer treatment and survivorship statistics, 2012. CA: A Cancer Journal for Clinicians 62: 220–241.

Sood, A.K., R. Bhatty, A.A. Kamat, C.N. Landen, L. Han, P.H. Thaker, Y. Li, D.M. Gershenson, S. Lutgendorf, and S.W. Cole. 2006. Stress hormone-mediated invasion of ovarian cancer cells. Clinical Cancer Research 12: 369–375.

Thaker, P.H., L.Y. Han, A.A. Kamat, J.M. Arevalo, R. Takahashi, C. Lu, N.B. Jennings, G. Armaiz-Pena, J.A. Bankson, M. Ravoori, W.M. Merritt, Y.G. Lin, L.S. Mangala, T.J. Kim, R.L. Coleman, C.N. Landen, Y. Li, E. Felix, A.M. Sanguino, R.A. Newman, M. Lloyd, D.M. Gershenson, V. Kundra, G. Lopez-Berestein, S.K. Lutgendorf, S.W. Cole, and A.K. Sood. 2006. Chronic stress promotes tumor growth and angiogenesis in a mouse model of ovarian carcinoma. Nature Medicine 12: 939–944.

Vergara, D., C.M. Valente, A. Tinelli, C. Siciliano, V. Lorusso, R. Acierno, G. Giovinazzo, A. Santino, C. Storelli, and M. Maffia. 2011. Resveratrol inhibits the epidermal growth factor-induced epithelial mesenchymal transition in MCF-7 cells. Cancer Letters 310: 1–8.

Wang, H., H. Zhang, L. Tang, H. Chen, C. Wu, M. Zhao, Y. Yang, X. Chen, and G. Liu. 2013. Resveratrol inhibits TGF-beta1-induced epithelial-to-mesenchymal transition and suppresses lung cancer invasion and metastasis. Toxicology 303: 139–146.

Xia, L., X.X. Wang, X.S. Hu, X.G. Guo, Y.P. Shang, H.J. Chen, C.L. Zeng, F.R. Zhang, and J.Z. Chen. 2008. Resveratrol reduces endothelial progenitor cells senescence through augmentation of telomerase activity by Akt-dependent mechanisms. British Journal of Pharmacology 155: 387–394.

Yang, J., S.A. Mani, J.L. Donaher, S. Ramaswamy, R.A. Itzykson, C. Come, P. Savagner, I. Gitelman, A. Richardson, and R.A. Weinberg. 2004. Twist, a master regulator of morphogenesis, plays an essential role in tumor metastasis. Cell 117: 927–939.

Zhang, Q., X. Tang, Q.Y. Lu, Z.F. Zhang, J. Brown, and A.D. Le. 2005. Resveratrol inhibits hypoxia-induced accumulation of hypoxia-inducible factor-1alpha and VEGF expression in human tongue squamous cell carcinoma and hepatoma cells. Molecular Cancer Therapeutics 4: 1465–1474.
Acknowledgments
This study was supported by a Grant from Basic Science Research Program through the National Research Foundation of Korea (NRF) funded by the Ministry of Education, Science and Technology (NRF-2014R1A2A1A01004363, NRF-2013R1A1A2A10059565, NRF-2014R1A2A1A11051091).
Ethics declarations
Conflict of Interest
The authors disclose no potential conflicts of interest.
Additional information
Seung Hwa Kim and Kyung Hwa Cho have contributed equally to this work.
About this article
Cite this article
Kim, S.H., Cho, K.H., Kim, Y.N. et al. Resveratrol attenuates norepinephrine-induced ovarian cancer invasiveness through downregulating hTERT expression. Arch. Pharm. Res. 39, 240–248 (2016). https://doi.org/10.1007/s12272-015-0666-8
Received:

Accepted:

Published:

Issue Date:

DOI: https://doi.org/10.1007/s12272-015-0666-8
Keywords