Abstract
Rhus verniciflua stokes (RVS) is a popular medicinal plant in oriental medicines which is commonly used to resolve extravasated blood. To elucidate the molecular mechanism of the role of RVS extracts on the regulation of lipid and cholesterol biosynthesis, we investigated whether RVS extract protect the hyperlipidemia in western diet-induced C57BL6/J mice. Mice fed a western diet and additionally RVS extracts was administered orally at a dose of 0.1 or 1 g/kg/day for 2 weeks respectively. Group with higher dose of RVS extract showed a significantly decreased body weight compared with western diet fed mice groups. And total cholesterol, LDL-cholesterol levels and fatty liver formation were also improved especially in group of mice fed western diet supplemented high dose RVS extracts. Next, synthesis of hepatic bile acids were significantly increased in RVS extract fed groups. Furthermore, RVS extracts significantly increase promoter activity of Cyp7a1 via up-regulate the transcriptional expression level of LXRα. Our data suggest that RVS extracts could be a potent therapeutic ingredient for prevent a hyperlipidemia via increase of bile acids biosynthesis.
Access options
Buy single article
Instant access to the full article PDF.
US$ 39.95
Tax calculation will be finalised during checkout.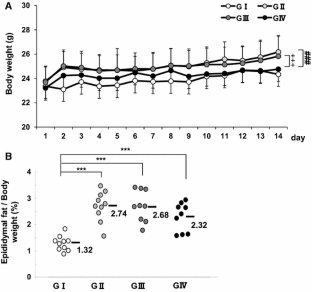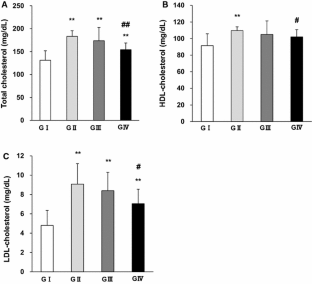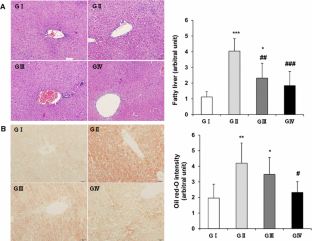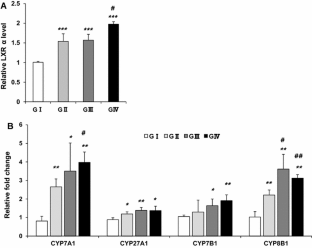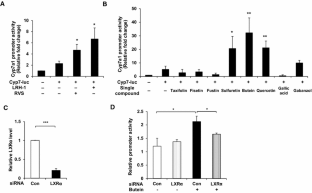 References
Carr, M.C., and J.D. Brunzell. 2004. Abdominal obesity and dyslipidemia in the metabolic syndrome: importance of type 2 diabetes and familial combined hyperlipidemia in coronary artery disease risk. Journal of Clinical Endocrinology and Metabolism 89: 2601–2607.

Chiang, J.Y. 2009. Bile acids: Regulation of synthesis. Journal of Lipid Research 50: 1955–1966.

Han, Q.B., J.Z. Song, C.F. Qiao, L. Wong, and H.X. Xu. 2006. Preparative separation of gambogic acid and its C-2 epimer using recycling high-speed counter-current chromatography. Journal of Chromatography A 1127: 298–301.

Hong, D.H., S.B. Han, C.W. Lee, S.H. Park, Y.J. Jeon, M.J. Kim, S.S. Kwak, and H.M. Kim. 1999. Cytotoxicity of urushiols isolated from sap of Korean lacquer tree (Rhus vernicifera Stokes). Archives of Pharmacal Research 22: 638–641.

Jang, H.S., S.H. Kook, Y.O. Son, J.G. Kim, Y.M. Jeon, Y.S. Jang, K.C. Choi, J. Kim, S.K. Han, K.Y. Lee, B.K. Park, N.P. Cho, and J.C. Lee. 2005. Flavonoids purified from Rhus verniciflua stokes actively inhibit cell growth and induce apoptosis in human osteosarcoma cells. Biochimica et Biophysica Acta 1726: 309–316.

Janowski, B.A., P.J. Willy, T.R. Devi, J.R. Falck, and D.J. Mangelsdorf. 1996. An oxysterol signalling pathway mediated by the nuclear receptor LXR alpha. Nature 383: 728–731.

Jeon, W.K., J.H. Lee, H.K. Kim, A.Y. Lee, S.O. Lee, Y.S. Kim, S.Y. Ryu, S.Y. Kim, Y.J. Lee, and B.S. Ko. 2006. Anti-platelet effects of bioactive compounds isolated from the bark of Rhus verniciflua stokes. Journal of Ethnopharmacology 106: 62–69.

Jung, C.H., C.Y. Jun, S. Lee, C.H. Park, K. Cho, and S.G. Ko. 2006. Rhus verniciflua stokes extract: radical scavenging activities and protective effects on H2O2-induced cytotoxicity in macrophage RAW 264.7 cell lines. Biological and Pharmaceutical Bulletin 29: 1603–1607.

Jung, C.H., J.H. Kim, M.H. Hong, H.M. Seog, S.H. Oh, P.J. Lee, G.J. Kim, H.M. Kim, J.Y. Um, and S.G. Ko. 2007. Phenolic-rich fraction from Rhus verniciflua stokes (RVS) suppress inflammatory response via NF-kappaB and JNK pathway in lipopolysaccharide-induced RAW 264.7 macrophages. Journal of Ethnopharmacology 110: 490–497.

Kim, J.H., H.Y. Go, D.H. Jin, H.P. Kim, M.H. Hong, W.Y. Chung, J.H. Park, J.B. Jang, H. Jung, Y.C. Shin, S.H. Kim, and S.G. Ko. 2008. Inhibition of the PI3 K-Akt/PKB survival pathway enhanced an ethanol extract of Rhus verniciflua stokes-induced apoptosis via a mitochondrial pathway in AGS gastric cancer cell lines. Cancer Letters 265: 197–205.

Kim, S.A., S.H. Kim, I.S. Kim, D. Lee, M.S. Dong, C.S. Na, N.X. Nhiem, and H.H. Yoo. 2013. Simultaneous determination of bioactive phenolic compounds in the stem extract of Rhus verniciflua stokes by high performance liquid chromatography. Food Chemistry 141: 3813–3819.

Kleiner, D.E., E.M. Brunt, M. Van Natta, C. Behling, M.J. Contos, O.W. Cummings, L.D. Ferrell, Y.C. Liu, M.S. Torbenson, A. Unalp-Arida, M. Yeh, A.J. Mccullough, and A.J. Sanyal. 2005. Design and validation of a histological scoring system for nonalcoholic fatty liver disease. Hepatology 41: 1313–1321.

Lee, J.C., K.T. Lim, and Y.S. Jang. 2002. Identification of Rhus verniciflua stokes compounds that exhibit free radical scavenging and anti-apoptotic properties. Biochimica et Biophysica Acta 1570: 181–191.

Lee, J.D., J.E. Huh, G. Jeon, H.R. Yang, H.S. Woo, D.Y. Choi, and D.S. Park. 2009. Flavonol-rich RVHxR from Rhus verniciflua stokes and its major compound fisetin inhibits inflammation-related cytokines and angiogenic factor in rheumatoid arthritic fibroblast-like synovial cells and in vivo models. International Immunopharmacology 9: 268–276.

Lehmann, J.M., S.A. Kliewer, L.B. Moore, T.A. Smith-Oliver, B.B. Oliver, J.L. Su, S.S. Sundseth, D.A. Winegar, D.E. Blanchard, T.A. Spencer, and T.M. Willson. 1997. Activation of the nuclear receptor LXR by oxysterols defines a new hormone response pathway. Journal of Biological Chemistry 272: 3137–3140.

Lim, K.T., C. Hu, and D.D. Kitts. 2001. Antioxidant activity of a Rhus verniciflua stokes ethanol extract. Food and Chemical Toxicology 39: 229–237.

Lusis, A.J. 2000. Atherosclerosis. Nature 407: 233–241.

Oh, P.S., S.J. Lee, and K.T. Lim. 2006. Hypolipidemic and antioxidative effects of the plant glycoprotein (36 kDa) from Rhus verniciflua stokes fruit in Triton WR-1339-induced hyperlipidemic mice. Bioscience, Biotechnology, and Biochemistry 70: 447–456.

Park, J.G., and G.T. Oh. 2011. The role of peroxidases in the pathogenesis of atherosclerosis. BMB Reports 44: 497–505.

Peet, D.J., S.D. Turley, W. Ma, B.A. Janowski, J.M. Lobaccaro, R.E. Hammer, and D.J. Mangelsdorf. 1998. Cholesterol and bile acid metabolism are impaired in mice lacking the nuclear oxysterol receptor LXR alpha. Cell 93: 693–704.

Plump, A.S., J.D. Smith, T. Hayek, K. Aalto-Setala, A. Walsh, J.G. Verstuyft, E.M. Rubin, and J.L. Breslow. 1992. Severe hypercholesterolemia and atherosclerosis in apolipoprotein E-deficient mice created by homologous recombination in ES cells. Cell 71: 343–353.

Russell, D.W. 2003. The enzymes, regulation, and genetics of bile acid synthesis. Annual Review of Biochemistry 72: 137–174.

Song, N.J., H.J. Yoon, K.H. Kim, S.R. Jung, W.S. Jang, C.R. Seo, Y.M. Lee, D.H. Kweon, J.W. Hong, J.S. Lee, K.M. Park, K.R. Lee, and K.W. Park. 2013. Butein is a novel anti-adipogenic compound. Journal of Lipid Research 54: 1385–1396.

Suk, K.T., S.K. Baik, H.S. Kim, S.M. Park, K.J. Paeng, Y. Uh, I.H. Jang, M.Y. Cho, E.H. Choi, M.J. Kim, and Y.L. Ham. 2011. Antibacterial effects of the urushiol component in the sap of the lacquer tree (Rhus verniciflua stokes) on Helicobacter pylori. Helicobacter 16: 434–443.

Trauner, M., and E. Halilbasic. 2011. Nuclear receptors as new perspective for the management of liver diseases. Gastroenterology 140(1120–1125): e1–e12.

Turek, F.W., C. Joshu, A. Kohsaka, E. Lin, G. Ivanova, E. Mcdearmon, A. Laposky, S. Losee-Olson, A. Easton, D.R. Jensen, R.H. Eckel, J.S. Takahashi, and J. Bass. 2005. Obesity and metabolic syndrome in circadian Clock mutant mice. Science 308: 1043–1045.

Wiegman, A., B.A. Hutten, E. De Groot, J. Rodenburg, H.D. Bakker, H.R. Buller, E.J. Sijbrands, and J.J. Kastelein. 2004. Efficacy and safety of statin therapy in children with familial hypercholesterolemia: A randomized controlled trial. JAMA 292: 331–337.
Acknowledgments
This research was supported by Industrialization Support Program for Bio-technology of Agriculture and Forestry, Ministry for Food, Agriculture, Forestry and Fisheries, Republic of Korea. And this research was also supported by the Bio & Medical Technology Development Program of the National Research Foundation (NRF) funded by the Korean government (MEST) (No. 2012R1A3A2026454).
Conflict of interest
The Authors have declared that there is no conflict of interest to disclose.
Additional information
Se-Jin Jeong and Jong-Gil Park have contributed equally to this work.
Electronic supplementary material
Below is the link to the electronic supplementary material.
About this article
Cite this article
Jeong, SJ., Park, JG., Kim, S. et al. Extract of Rhus verniciflua stokes protects the diet-induced hyperlipidemia in mice. Arch. Pharm. Res. 38, 2049–2058 (2015). https://doi.org/10.1007/s12272-015-0579-6
Received:

Accepted:

Published:

Issue Date:
Keywords
Rhus verniciflua stokes (RVS)

Hyperlipidemia

Bile acid biosynthesis

Liver X receptor α (LXRα)

Cyp7a1