The assembly of Vif ubiquitin E3 ligase for APOBEC3 degradation
Abstract
APOBEC3G is a cellular antiviral protein that restricts retroviral infection. In non-permissive cells infected by Vif-deficient HIV-1, the protein mediates the hypermutation of viral DNA through the enzymatic activity of cytidine deaminase. To counteract the antiviral activity of APOBEC3G, an accessory protein of HIV-1, Vif, forms ubiquitin E3 ligase through assembly with CUL5-RBX2, ELOB-ELOC and CBFβ. Subsequently, Vif recruits APOBEC3G to the complex as a substrate adaptor of ubiquitin E3 ligase and induces poly-ubiquitination of APOBEC3G for its proteasomal degradation (Fig. 
1
). This review briefly summarizes current understanding of protein–protein interaction between Vif and host factors required for APOBEC3 degradation, based on high resolution structures of APOBEC3 proteins and Vif-CUL5NTD-ELOBC-CBFβ complex.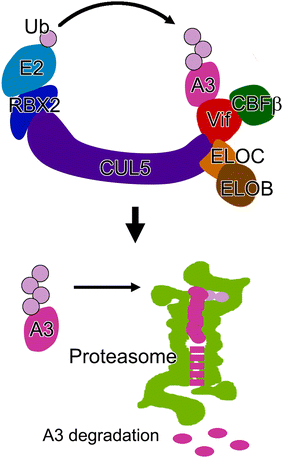 Keywords
HIV-1 Vif 
APOBEC3 
CUL5 
ELOC 
CBFβ 
Ubiquitin E3 ligase 
Notes
Acknowledgments
This work was supported by the 2013 Yeungnam University Research Grant, Korea Basic Science Institute Grant (T34415, H.S.Jung) and Basic Science Research Program through the National Research Foundation of Korea (NRF) funded by the Ministry of Science, ICT & Future Planning (NRF-2014R1A1A1002064).
Copyright information
© The Pharmaceutical Society of Korea 2014