Abstract
Dendrobium nobile belongs to the Orchidaceae family and is one of the medicinal herbs used in traditional Chinese medicine as a therapeutic agent for gastrointestinal and cardiovascular diseases. In this study, we separated three phenanthrenes (ephemeranthol A (EA), 1,5,7-trimethoxyphenanthren-2-ol (TP), dehydroorchinol (DO)) from D. nobile, and compared their anti-inflammatory activities. TP is a new phenanthrene compound and its structure was determined from 1H, 13C NMR and HR-ESI-MS data. To analyze the anti-inflammatory activities of the phenanthrenes, Raw 264.7 cells were used, since they are immature-macrophages and easily matured by LPS stimulation. EA and DO showed anti-inflammatory activities in the activated Raw 264.7 cells. That is, we showed that EA is a potent inhibitor of the production of nitric oxide and pro-inflammatory cytokines. The inhibitory activities of phenanthrenes were found to be caused by blockage of NF-κB activation and the phosphorylation of MAP kinases in the macrophages. These results are expected to serve as a guide for future studies on the ability of phenanthrenes to inhibit acute and chronic inflammatory diseases.
Access options
Buy single article
Instant access to the full article PDF.
US$ 39.95
Tax calculation will be finalised during checkout.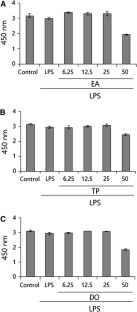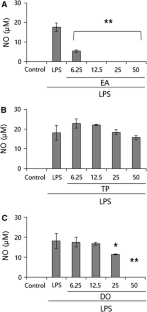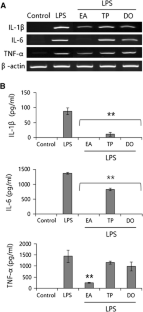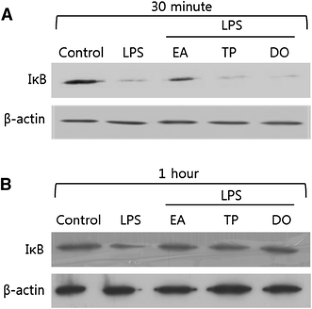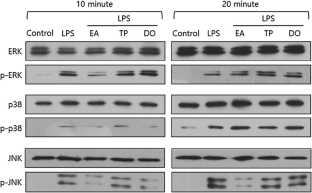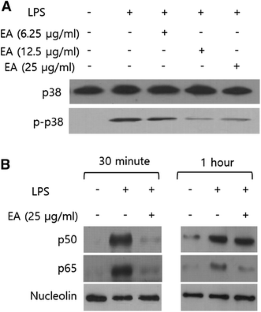 References
Arend, W.P., and J.M. Dayer. 1995. Inhibition of the production and effects of interleukin-1 and tumor necrosis factor alpha in rheumatoid arthritis. Arthritis and Rheumatism 38: 151–160.

Barnes, P.J., and M. Karin. 1997. Nuclear factor-kappaB: A pivotal transcription factor in chronic inflammatory diseases. New England Journal of Medicine 336: 1066–1071.

Beutler, B., and A. Cerami. 1989. The biology of cachectin/TNF: A primary mediator of the host response. Annual Review of Immunology 7: 625–655.

Bian, Z.M., S.G. Elner, A. Yoshida, and V.M. Elner. 2003. Human RPE-monocyte co-culture induces chemokine gene expression through activation of MAPK and NIK cascade. Experimental Eye Research 76: 573–583.

Brennan, F.M., R.N. Maini, and M. Feldmann. 1998. Role of pro-inflammatory cytokines in rheumatoid arthritis. Springer Seminars in Immunopathology 20: 133–147.

Broering, T.J., and G.R. Morrow. 1999. Oxygenated dihydorphenanthrenes via quinol acetals: A brief synthesis of orchinol. Synthetic Communications 29: 1135–1142.

Dawid-Pać, R. 2013. Medicinal plants used in treatment of inflammatory skin diseases. Postȩpy Dermatologii i Alergologii 30: 170–177.

Dinarello, C.A. 1996. Biologic basis for interleukin-1 in disease. Blood 87: 2095–2147.

Ding, W., J. Gu, L. Cao, N. Li, G. Ding, Z. Wang, L. Chen, X. Xu, and W.J. Xiao. 2014. Traditional Chinese herbs as chemical resource library for drug discovery of anti-infective and anti-inflammatory. Journal of Ethnopharmacology 155: 589–598.

Duval, D.L., D.R. Miller, J. Collier, and R.E. Billings. 1996. Characterization of hepatic nitric oxide synthase: Identification as the cytokine-inducible form primarily regulated by oxidants. Molecular Pharmacology 50: 277–284.

Fan, C., W. Wang, Y. Wang, G. Qin, and W. Zhao. 2001. Chemical constituents from Dendrobium densiflorum. Phytochemistry 57: 1255–1258.

Feldmann, M., F.M. Brennan, and R.N. Maini. 1996. Role of cytokines in rheumatoid arthritis. Annual Review of Immunology 14: 397–440.

Green, S.J., L.F. Scheller, M.A. Marletta, M.C. Seguin, F.W. Klotz, M. Slayter, B.J. Nelson, and C.A. Nacy. 1994. Nitric oxide: Cytokine-regulation of nitric oxide in host resistance to intracellular pathogens. Immunology Letters 43: 87–94.

Honda, C., and M. Yamaki. 2000. Phenanthrenes from Dendrobium plicatile. Phytochemistry 53: 987–990.

Hsieh, Y.S., C. Chien, S.K. Liao, S.F. Liao, W.T. Hung, W.B. Yang, C.C. Lin, T.J. Cheng, C.C. Chang, J.M. Fang, and C.H. Wong. 2008. Structure and bioactivity of the polysaccharides in medicinal plant Dendrobium huoshanense. Bioorganic & Medicinal Chemistry 16: 6054–6068.

Hu, J.M., J.J. Chen, H. Yu, Y.X. Zhao, and J. Zhou. 2008. Five new compounds from Dendrobium longicornu. Planta Medica 74: 535–539.

Huk, I., V. Brovkovych, J. Nanobash Vili, G. Weigel, C. Neumayer, L. Partyka, S. Patton, and T. Malinski. 1998. Bioflavonoid quercetin scavenges superoxide and increases nitric oxide concentration in ischaemia-reperfusion injury: An experimental study. British Journal of Surgery 85: 1080–1085.

Hwang, J.S., S.A. Lee, S.S. Hong, X.H. Han, C. Lee, S.J. Kang, D. Lee, Y. Kim, J.T. Hong, M.K. Lee, and B.Y. Hwang. 2010. Phenanthrenes from Dendrobium nobile and their inhibition of the LPS-induced production of nitric oxide in macrophage Raw 264.7 cells. Bioorganic & Medicinal Chemistry Letters 20: 3785–3787.

Johnson, G.L., and R. Lapadat. 2002. Mitogen-activated protein kinase pathways mediated by ERK, JNK, and p38 protein kinases. Science 298: 1911–1912.

Kim, S.H., J. Kim, and R.P. Sharma. 2004. Inhibition of p38 and ERK MAP kinases blocks endotoxin-induced nitric oxide production and differentially modulates cytokine expression. Pharmacological Research 49: 433–439.

Kishimoto, T., S. Akira, M. Narazaki, and T. Taga. 1995. Interleukin-6 family of cytokines and gp130. Blood 86: 1243–1254.

Lawrence, T., D.W. Gilroy, P.R. Colville-Nash, and D.A. Willoughby. 2001. Possible new role for NF-kappaB in the resolution of inflammation. Nature Medicine 7: 1291–1297.

Lee, Y.H., J.D. Park, N.I. Baek, S.I. Kim, and B.Z. Ahn. 1995. In vitro and in vivo antitumoral phenanthrenes from the aerial parts of Dendrobium nobile. Planta Medica 61: 178–180.

Li, Y., C.L. Wang, Y.J. Wang, S.X. Guo, J.S. Yang, X.M. Chen, and P.G. Xiao. 2009. Three new bibenzyl derivatives from Dendrobium candidum. Chemical & Pharmaceutical Bulletin (Tokyo) 57: 218–219.

Lowenstein, C.J., S.L. Hill, A. Lafond-Walker, J. Wu, G. Allen, M. Landavere, N.R. Rose, and A. Herskowitz. 1996. Nitric oxide inhibits viral replication in murine myocarditis. Journal of Clinical Investigation 97: 1837–1843.

Luo, A., and Y. Fan. 2011. Immune stimulating activity of water-soluble polysaccharide fractions from Dendrobium nobile Lindl. African Journal of Pharmacy and Pharmacology 5: 625–631.

Luo, A., X. He, S. Zhou, Y. Fan, T. He, and Z. Chun. 2009. In vitro antioxidant activities of a water-soluble polysaccharide derived from Dendrobium nobile Lindl. extracts. International Journal of Biological Macromolecules 45: 359–363.

Makarov, S.S. 2000. NF-kappaB as a therapeutic target in chronic inflammation: Recent advances. Molecular Medicine Today 6: 441–448.

Nagy, G., and A. Perl. 2006. The role of nitric oxide in abnormal T cell signal transduction in systemic lupus erythematosus. Clinical Immunology 118: 145–151.

Nickoloff, B.J., Y. Ben-Neriah, and E. Pikarsky. 2005. Inflammation and cancer: Is the link as simple as we think? Journal of Investigative Dermatology 124: x–xiv.

O'leary, K. A., De Pascual-Tereasa, S., P.W. Needs, Y.P. Bao, N.M. O'brien, and G. Williamson. 2004. Effect of flavonoids and vitamin E on cyclooxygenase-2 (COX-2) transcription. Mutation Research 551: 245–254.

Renard, P., and M. Raes. 1999. The proinflammatory transcription factor NFkappaB: A potential target for novel therapeutical strategies. Cell Biology and Toxicology 15: 341–344.

Shu, Y., D.M. Zhang, and S.X. Guo. 2004. A new sesquiterpene glycoside from Dendrobium nobile Lindl. Journal of Asian Natural Products Research 6: 311–314.

Stichtenoth, D.O., and J.C. Frolich. 1998. Nitric oxide and inflammatory joint diseases. British Journal of Rheumatology 37: 246–257.

Tezuka, Y., H. Hirano, T. Kikuchi, and G.-J. Xu. 1991. Constituents of Ephemerantha lonchophylla; isolation and structure elucidation of a new phenolic compounds, ephemeranthol-A, ephemeranthol-B, and ephemeranthoquinone, and of a new diterpene glucoside, ephemeranthoside. Chemical & Pharmaceutical Bulletin (Tokyo) 39: 593–598.

Theuma, P., and V.A. Fonseca. 2003. Inflammation and emerging risk factors in diabetes mellitus and atherosclerosis. Current Diabetes Reports 3: 248–254.

Weinberg, J.B. 1998. Nitric oxide as an inflammatory mediator in autoimmune MRL-lpr/lpr mice. Environmental Health Perspectives 106: 1131–1137.

Yang, H., S.H. Sung, and Y.C. Kim. 2007. Antifibrotic phenanthrenes of Dendrobium nobile stems. Journal of Natural Products 70: 1925–1929.

Ye, Q., G. Qin, and W. Zhao. 2002. Immunomodulatory sesquiterpene glycosides from Dendrobium nobile. Phytochemistry 61: 885–890.

Zhang, G.N., L.Y. Zhong, S.W. Bligh, Y.L. Guo, C.F. Zhang, M. Zhang, Z.T. Wang, and L.S. Xu. 2005. Bi-bicyclic and bi-tricyclic compounds from Dendrobium thyrsiflorum. Phytochemistry 66: 1113–1120.

Zhang, X., J.K. Xu, J. Wang, N.L. Wang, H. Kurihara, S. Kitanaka, and X.S. Yao. 2007. Bioactive bibenzyl derivatives and fluorenones from Dendrobium nobile. Journal of Natural Products 70: 24–28.

Zhang, Y., G.L. Mills, and M.G. Nair. 2003. Cyclooxygenase inhibitory and antioxidant compounds from the fruiting body of an edible mushroom, Agrocybe aegerita. Phytomedicine 10: 386–390.

Zhao, W., Q. Ye, X. Tan, H. Jiang, X. Li, K. Chen, and A.D. Kinghorn. 2001. Three new sesquiterpene glycosides from Dendrobium nobile with immunomodulatory activity. Journal of Natural Products 64: 1196–1200.
Acknowledgments
This work was supported by the research Grant of the Chungbuk National University in 2013.
About this article
Cite this article
Kim, J.H., Oh, SY., Han, SB. et al. Anti-inflammatory effects of Dendrobium nobile derived phenanthrenes in LPS-stimulated murine macrophages. Arch. Pharm. Res. 38, 1117–1126 (2015). https://doi.org/10.1007/s12272-014-0511-5
Received:

Accepted:

Published:

Issue Date:
Keywords
Inflammation

Dendrobium nobile

Phenanthrenes

Macrophages

Ephemeranthol A