Abstract
Coenzyme Q10 (CQ10) is known as an endogenous cellular antioxidant, naturally found in every cell of the human body and plays an important role in maintaining human health. It is widely used as a nutritional supplement and pharmaceutical drug for various disorders like diabetes mellitus, carcinomas, neurodegenerative disorders etc. However, CQ10 is practically insoluble even in the presence of 5 % sodium lauryl sulfate in water and poorly absorbed from the gastrointestinal tract. The present research is aimed to formulate and evaluate self nanoemulsifying drug delivery system (SNEDDS) of CQ10 primarily to improve its aqueous solubility, dissolution velocity as well as hepatoprotective activity and thus enhancing its nutraceutical and pharmaceutical values. Robustness to dilution, thermodynamic stability study, droplet size analysis and drug release were adopted to optimize liquid SNEDDS. Droplet size of the SNEDDS was found to be size less than 200 nm and appeared round in shape without aggregation under transmission electron microscopy examination. Liquid SNEDDS were adsorbed on porous carrier to get solid SNEDDS (S-SNEDDS). S-SNEDDS gave rapid (>90 %) drug release within 30 min while pure drug was not practically dissolved within 1 h. In vivo hepatoprotective activity showed that S-SNEDDS achieved the most liver protection as compared to the pure drug. Further S-SNEDDS was successfully converted to self nanoemulsifying mouth dissolving tablet. The enhanced solubility, dissolution velocity as well as hepatoprotective activity of CQ10, unravels the potential of S-SNEDDS as suitable carrier for enhancing nutraceutical and pharmaceutical values of CQ10.
Access options
Buy single article
Instant access to the full article PDF.
USD 39.95
Price includes VAT (USA)
Tax calculation will be finalised during checkout.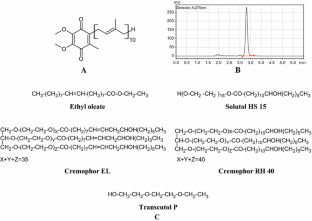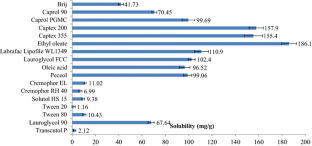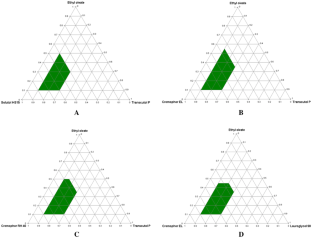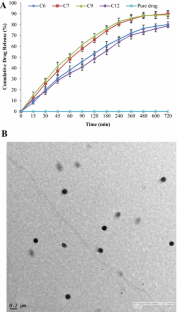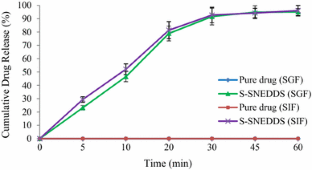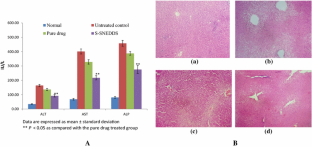 References
Abdelbary, G., M. Amin, and S. Salah. 2013. Self nano-emulsifying simvastatin based tablets: Design and in vitro/in vivo evaluation. Pharmaceutical Development and Technology 18: 1294–1304.

Abdelbaset, M., M.M. Safar, S.S. Mahmoud, S.A. Negm, and A.M. Agha. 2014. Red yeast rice and coenzyme Q10 as safe alternatives to surmount atorvastatin-induced myopathy in hyperlipidemic rats. Canadian Journal of Physiology and Pharmacology 92: 481–489.

Afolabi, A., O. Akinlabi, and E. Bilgili. 2014. Impact of process parameters on the breakage kinetics of poorly water-soluble drugs during wet stirred media milling: A microhydrodynamic view. European Journal of Pharmaceutical Science 51: 75–86.

Agrawal, A.G., A. Kumar, and P.S. Gide. 2014. Formulation of solid self-nanoemulsifying drug delivery systems using N-methyl pyrrolidone as cosolvent. Drug Development and Industrial Pharmacy. doi:10.3109/03639045.2014.886695.

Akhter, M.H., A. Ahmad, J. Ali, and G. Mohan. 2014. Formulation and development of CoQ10-loaded s-SNEDDS for enhancement of oral bioavailability. Journal of Pharmaceutical Innovation 9: 121–131.

Al-Harbi, N.O., F. Imam, A. Nadeem, M.M. Al-Harbi, M. Iqbal, and S.F. Ahmad. 2014. Carbon tetrachloride-induced hepatotoxicity in rat is reversed by treatment with riboflavin. International Immunopharmacology 21: 383–388.

Ali, S.A., L. Faddah, A. Abdel-Baky, and A. Bayoumi. 2010. Protective effect of l-carnitine and coenzyme Q10 on CCl4-induced liver injury in rats. Scientia Pharmaceutica 78: 881–896.

Aliyu, A.B., M.A. Ibrahim, A.M. Musa, A.O. Musa, J.J. Kiplimo, and A.O. Oyewale. 2013. Free radical scavenging and total antioxidant capacity of root extracts of Anchomanes difformis Engl. (Araceae). Acta Poloniae Pharmaceutica 70: 115–121.

Athiyaman, B.P., and M. Sankaranarayanan. 2014. Modelling of process parameters for enhanced production of coenzyme q10 from rhodotorula glutinis. Preparative Biochemistry and Biotechnology 45: 398–410.

Aydogan, F., E. Aydın, E. Tastan, S. Akgedik, A. Tekeli, and H. Ustun. 2013. Is there any effect of coenzyme Q10 on prevention of myringosclerosis? Experimental study with rats. Brazilian Journal of Otorhinolaryngology 79: 293–297.

Balakrishnan, P., B.J. Lee, D.H. Oh, J.O. Kim, Y.I. Lee, D.D. Kim, J.P. Jee, Y.B. Lee, J.S. Woo, C.S. Yong, and H.G. Choi. 2009. Enhanced oral bioavailability of coenzyme Q10 by self-emulsifying drug delivery systems. International Journal of Pharmaceutics 374: 66–72.

Bhondave, P.D., P.P. Devarshi, K.R. Mahadik, and A.M. Harsulkar. 2014. 'Ashvagandharishta' prepared using yeast consortium from woodfordia fruticosa flowers exhibit hepatoprotective effect on CCl4 induced liver damage in wistar rats. Journal of Ethnopharmacology 151: 183–190.

Brauner, H., P. Luthje, J. Grunler, N.R. Ekberg, G. Dallner, K. Brismar, and A. Brauner. 2014. Markers of innate immune activity in patients with type 1 and type 2 diabetes mellitus and the effect of the antioxidant CoQ10 on inflammatory activity. Clinical and Experimental Immunology 177: 478–482.

Carvalho, T.C., J.P. McCook, N.R. Narain, and J.T. McConville. 2013. Development and characterization of phospholipid-stabilized submicron aqueous dispersions of coenzyme Q10 presenting continuous vibrating-mesh nebulization performance. Journal of Liposome Research 23: 276–290.

Chatterjee, A., A. Kandwal, N. Singh, and A. Singh. 2012. Evaluation of Co-Q10 anti-gingivitis effect on plaque induced gingivitis: A randomized controlled clinical trial. Journal of Indian Society of Periodontology 16: 539–542.

Chin, W.W., J. Parmentier, M. Widzinski, E.H. Tan, and R. Gokhale. 2014. A brief literature and patent review of nanosuspensions to a final drug product. Journal of Pharmaceutical Sciences 103: 2980–2999.

Del Pozo-Cruz, J., E. Rodríguez-Bies, M. Ballesteros-Simarro, I. Navas-Enamorado, B.T. Tung, P. Navas, and G. López-Lluch. 2014. Physical activity affects plasma coenzyme Q10 levels differently in young and old humans. Biogerontology 15: 199–211.

García-Corzo, L., M. Luna-Sanchez, C. Doerrier, F. Ortiz, G. Escames, D. Acuna-Castroviejo, and L.C. Lopez. 2014. Ubiquinol-10 ameliorates mitochondrial encephalopathy associated with CoQ deficiency. Biochimica et Biophysica Acta 1842: 893–901.

Gupta, S., S. Chavhan, and K.K. Sawant. 2011. Self-nanoemulsifying drug delivery system for adefovir dipivoxil: Design, characterization, in vitro and ex vivo evaluation. Colloids and Surfaces A: Physicochemical and Engineering Aspects 392: 145–155.

Hsu, C.H., Z. Cui, R.J. Mumper, and M. Jay. 2003. Preparation and characterization of novel coenzyme Q10 nanoparticles engineered from microemulsion precursors. AAPS PharmSciTech 4: E32.

Hunter, A.C., J. Elsom, P.P. Wibroe, and S.M. Moghimi. 2012. Polymeric particulate technologies for oral drug delivery and targeting: A pathophysiological perspective. Maturitas 73: 5–18.

Jaber, S., and B.M. Polster. 2014. Idebenone and neuroprotection: antioxidant, pro-oxidant, or electron carrier? Journal of Bioenergetics and Biomembranes. doi:10.1007/s10863-014-9571-y.

Kadu, P.J., S.S. Kushare, D.D. Thacker, and S.G. Gattani. 2011. Enhancement of oral bioavailability of atorvastatin calcium by self-emulsifying drug delivery systems (SNEDDS). Pharmaceutical Development and Technology 16: 65–74.

Kanuganti, S., R. Jukanti, P.R. Veerareddy, and S. Bandari. 2012. Paliperidone-loaded self-emulsifying drug delivery systems (SNEDDS) for improved oral delivery. Journal of Dispersion Science and Technology 33: 506–515.

Kim, G.G., B.K. Poudel, N. Marasini, D.W. Lee, T.T. Hiep, K.Y. Yang, J.O. Kim, C.S. Yong, and H.G. Choi. 2013. Enhancement of oral bioavailability of fenofibrate by solid self-microemulsifying drug delivery systems. Drug Development and Industrial Pharmacy 39: 1431–1438.

Kolahdouz Mohammadi, R., M.J. Hosseinzadeh-Attar, M.R. Eshraghian, M. Nakhjavani, E. Khorami, and A. Esteghamati. 2013. The effect of coenzyme Q10 supplementation on metabolic status of type 2 diabetic patients. Minerva Gastroenterologica e Dietologica 59: 231–236.

Lakshminarayana, R., G. Aruna, U.V. Sathisha, S.M. Dharmesh, and V. Baskaran. 2013. Structural elucidation of possible lutein oxidation products mediated through peroxyl radical inducer 2,20-Azobis (2-methylpropionamidine) dihydrochloride: Antioxidant and cytotoxic influence of oxidized lutein in HeLa cells. Chemico–Biological Interactions 203: 448–455.

Macunluoglu, B., A. Atakan, E. Ari, Y. Kaya, C. Kaspar, H. Demir, and H.H. Alp. 2014. Epicardial fat tissue thickness is correlated with diminished levels of co-enzyme Q10, a major antioxidant molecule among hemodialysis patients. Clinical Biochemistry 47: 1231–1234.

Majumdar, A., A. Nirwane, and R. Kamble. 2014. New evidences of neurotoxicity of aroclor 1254 in mice brain: potential of coenzyme q10 in abating the detrimental outcomes. Environmental Health and Toxicology 29: e2014001.

Matsushita, N., T. Oshima, H. Takahashi, and Y. Baba. 2013. Enhanced water dispersibility of coenzyme Q10 by complexation with albumin hydrolysate. Journal of Agricultural and Food Chemistry 61: 5972–5978.

Milovic, M., J. Djuris, L. Djekic, D. Vasiljevic, and S. Ibric. 2012. Characterization and evaluation of solid self-microemulsifying drug delivery systems with porous carriers as systems for improved carbamazepine release. International Journal of Pharmaceutics 436: 58–65.

Milovic, M., S. Simovic, D. Losic, A. Dashevskiy, and S. Ibric. 2014. Solid self-emulsifying phospholipid suspension (SSEPS) with diatom as a drug carrier. European Journal of Pharmaceutical Science 63: 226–232.

Moylan, S., M. Berk, O.M. Dean, Y. Samuni, L.J. Williams, A. O'Neil, A.C. Hayley, J.A. Pasco, G. Anderson, F.N. Jacka, and M. Maes. 2014. Oxidative & nitrosative stress in depression: Why so much stress? Neuroscience and Biobehavioral Reviews 45: 46–62.

Nagaraju, T., R. Gowthami, M. Rajashekar, S. Sandeep, M. Mallesham, D. Sathish, and Y.S. Kumar. 2013. Comprehensive review on oral disintegrating films. Current Drug Delivery 10: 96–108.

Nanjwade, B.K., V.T. Kadam, and F.V. Manvi. 2013. Formulation and characterization of nanostructured lipid carrier of ubiquinone (coenzyme Q10). Journal of Biomedical Nanotechnology 9: 450–460.

Nepal, P.R., H.K. Han, and H.K. Choi. 2010. Preparation and in vitro-in vivo evaluation of Witepsol H35 based self-nanoemulsifying drug delivery systems (SNEDDS) of coenzyme Q (10). European Journal of Pharmaceutical Science 39: 224–232.

Onoue, S., A. Uchida, K. Kuriyama, T. Nakamura, Y. Seto, M. Kato, J. Hatanaka, T. Tanaka, H. Miyoshi, and S. Yamada. 2012. Novel solid self-emulsifying drug delivery system of coenzyme Q10 with improved photochemical and pharmacokinetic behaviors. European Journal of Pharmaceutical Science 46: 492–499.

Onoue, S., N. Terasawa, T. Nakamura, K. Yuminoki, N. Hashimoto, and S. Yamada. 2014. Biopharmaceutical characterization of nanocrystalline solid dispersion of coenzyme Q10 prepared with cold wet-milling system. European Journal of Pharmaceutical Science 53: 118–125.

Parmar, S.S., A. Jaiwal, O.P. Dhankher, and P.K. Jaiwal. 2014. Coenzyme Q10 production in plants: current status and future prospects. Critical Reviews in Biotechnology. doi:10.3109/07388551.2013.823594.

Pooja, D., H. Kulhari, M.K. Singh, S. Mukherjee, S.S. Rachamalla, and R. Sistla. 2014. Dendrimer-TPGS mixed micelles for enhanced solubility and cellular toxicity of taxanes. Colloids and Surfaces B: Biointerfaces 121: 461–468.

Potgieter, M., E. Pretorius, and M.S. Pepper. 2013. Primary and secondary coenzyme Q10 deficiency: the role of therapeutic supplementation. Nutrition Reviews 71: 180–188.

Ramadhani, N., M. Shabir, and C. McConville. 2014. Preparation and characterisation of Kolliphor® P 188 and P 237 solid dispersion oral tablets containing the poorly water soluble drug disulfiram. International Journal of Pharmaceutics 475: 514–522.

Rao, S., A. Tan, B.J. Boyd, and C.A. Prestidge. 2014. Synergistic role of self-emulsifying lipids and nanostructured porous silica particles in optimizing the oral delivery of lovastatin. Nanomedicine. doi:10.2217/nnm.14.37.

Seet, R.C., E.C. Lim, J.J. Tan, A.M. Quek, A.W. Chow, W.L. Chong, M.P. Ng, C.N. Ong, and B. Halliwell. 2014. Does high-dose coenzyme Q10 improve oxidative damage and clinical outcomes in parkinson's disease? Antioxidants and Redox Signaling 21: 211–217.

Semalty, A. 2014. Cyclodextrin and phospholipid complexation in solubility and dissolution enhancement: a critical and meta-analysis. Expert Opinion on Drug Delivery 11: 1255–1272.

Sikorska, M., P. Lanthier, H. Miller, M. Beyers, C. Sodja, B. Zurakowski, S. Gangaraju, S. Pandey, and J.K. Sandhu. 2014. Nanomicellar formulation of coenzyme Q10 (Ubisol-Q10) effectively blocks ongoing neurodegeneration in the mouse 1-methyl-4-phenyl-1,2,3,6-tetrahydropyridine model: Potential use as an adjuvant treatment in Parkinson's disease. Neurobiology of Aging 35: 2329–2346.

Singh, A.K., A. Chaurasiya, A. Awasthi, G. Mishra, D. Asati, R.K. Khar, and R. Mukherjee. 2009. Oral bioavailability enhancement of exemestane from self-microemulsifying drug delivery system (SMEDDS). AAPS PharmSciTech 10: 906–916.

Souto, E.B., P. Severino, R. Basso, and M.H. Santana. 2013. Encapsulation of antioxidants in gastrointestinal-resistant nanoparticulate carriers. Methods in Molecular Biology 1028: 37–46.

Suggs, A., P. Oyetakin-White, and E. Baron. 2014. Effect of botanicals on inflammation and skin aging: Analyzing the evidence. Inflammation and Allergy: Drug Targets 13: 168–176.

Teeranachaideekul, V., E.B. Souto, V.B. Junyaprasert, and R.H. Muller. 2007. Cetyl palmitate-based NLC for topical delivery of coenzyme Q (10)—development, physicochemical characterization and in vitro release studies. European Journal of Pharmaceutics and Biopharmaceutics 67: 141–148.

Tran, P.H., T.T. Tran, Z.Z. Piao, T.V. Vo, J.B. Park, J. Lim, K.T. Oh, Y.S. Rhee, and B.J. Lee. 2013. Physical properties and in vivo bioavailability in human volunteers of isradipine using controlled release matrix tablet containing self-emulsifying solid dispersion. International Journal of Pharmaceutics 450: 79–86.

Venkatesh, G., M.I. Majid, S.M. Mansor, N.K. Nair, S.L. Croft, and V. Navaratnam. 2010. In vitro and in vivo evaluation of self-microemulsifying drug delivery system of buparvaquone. Drug Development and Industrial Pharmacy 36: 735–745.

Vicente, G., M.R. García-Risco, T. Fornari, and G. Reglero. 2013. Isolation of carnosic acid from rosemary extracts using semi-preparative supercritical fluid chromatography. Journal of Chromatography A 1286: 208–215.

Villar, A.M., B.C. Naveros, A.C. Campmany, M.A. Trenchs, C.B. Rocabert, and L.H. Bellowa. 2012. Design and optimization of self-nanoemulsifying drug delivery systems (SNEDDS) for enhanced dissolution of gemfibrozil. International Journal of Pharmaceutics 431: 161–175.

Virmani, A., L. Pinto, Z. Binienda, and S. Ali. 2013. Food, nutrigenomics, and neurodegeneration-neuroprotection by what you eat! Molecular Neurobiology 48: 353–362.

Wang, Z., J. Sun, Y. Wang, X. Liu, Y. Liu, Q. Fu, P. Meng, and Z. He. 2010. Solid self-emulsifying nitrendipine pellets: preparation and in vitro/in vivo evaluation. International Journal of Pharmaceutics 383: 1–6.

Weerapol, Y., S. Limmatvapirat, J. Nunthanid, and P. Sriamornsak. 2014. Self-nanoemulsifying drug delivery system of nifedipine: Impact of hydrophilic-lipophilic balance and molecular structure of mixed surfactants. AAPS PharmSciTech 15: 456–464.

Williams, H.D., M. Van Speybroeck, P. Augustijns, and C.J. Porter. 2014. Lipid-based formulations solidified via adsorption onto the mesoporous carrier neusilin® US2: effect of drug type and formulation composition on in vitro pharmaceutical performance. Journal of Pharmaceutical Sciences 103: 1734–1746.

Zhao, Y., C. Wang, A.H. Chow, K. Ren, T. Gong, Z. Zhang, and Y. Zheng. 2010. Self-nanoemulsifying drug delivery system (SNEDDS) for oral delivery of zedoary essential oil: Formulation and bioavailability studies. International Journal of Pharmaceutics 383: 170–177.
Acknowledgments
The author Anuj G. Agrawal wish to thank Mr. S. K. Singh (Director) and Mr. Sanjay Kumar (VPFO), Cachet Pharmaceutical Pvt. Ltd., India for providing the necessary facilities and Dr. Pralhad Wangikar (CEO), PRADO Preclinical Research and Development Organization Pvt. Ltd., India for assistance in conduct of in vivo hepatoprotective activity.
Conflict of interest
We have no personal relationships with other people or organizations that could inappropriately influence the presented work or any affiliation with any organization with a financial interest, direct or indirect, in the subject matter or materials discussed in the manuscript.
About this article
Cite this article
Agrawal, A.G., Kumar, A. & Gide, P.S. Formulation development and in vivo hepatoprotective activity of self nanoemulsifying drug delivery system of antioxidant coenzyme Q10 . Arch. Pharm. Res. (2014). https://doi.org/10.1007/s12272-014-0497-z
Received:

Accepted:

Published:
Keywords
Coenzyme Q10

SNEDDS

Antioxidant

Solubility

Dissolution

Nanoemulsion