Abstract
The protein kinase C (PKC) is a family of serine/threonine kinases with a broad range of cellular targets. Members of the PKC family participate at the diverse biological events involved in cellular proliferation, differentiation and survival. The PKC isoform zeta (PKCζ) is an atypical member that has recently been found to play an essential role in promoting human uterine contractility and thus been raised as a new target for treating preterm labour and other tocolytic diseases. In this study, an integrative protocol was described to graft hundreds of inhibitor ligands from their complex crystal structures with cognate kinases into the active pocket of PKCζ and, based on the modeled structures, to evaluate the binding strength of these inhibitors to the non-cognate PKCζ receptor by using a consensus scoring strategy. A total of 32 inhibitors with top score were compiled, and eight out of them were tested for inhibitory potency against PKCζ. Consequently, five compounds, i.e. CDK6 inhibitor fisetin, PIM1 inhibitor myricetin, CDK9 inhibitor flavopiridol and PknB inhibitor mitoxantrone as well as the promiscuous kinase inhibitor staurosporine showed high or moderate inhibitory activity on PKCζ, with IC50 values of 58 ± 9, 1.7 ± 0.4, 108 ± 17, 280 ± 47 and 0.019 ± 0.004 μM, respectively, while other three compounds, including two marketed drugs dasatinib and sunitinib as well as the Rho inhibitor fasudil, have not been detected to possess observable activity. Next, based on the modeled structure data we modified three flavonoid kinase inhibitors, i.e. fisetin, myricetin and flavopiridol, to generate a number of more potential molecular entities, two of which were found to have a moderately improved activity as compared to their parent compounds.
Access options
Buy single article
Instant access to the full article PDF.
US$ 39.95
Tax calculation will be finalised during checkout.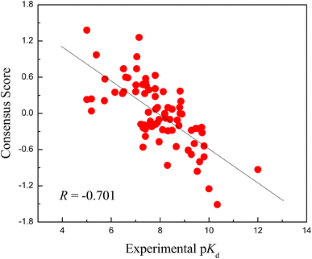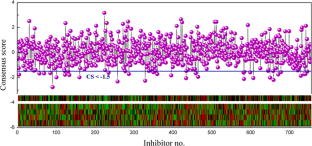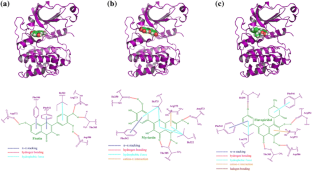 References
Azzi, A., D. Boscoboinik, and C. Hensey. 1992. The protein kinase C family. European Journal of Biochemistry 208: 547–557.

Benson, M.L., R.D. Smith, N.A. Khazanov, B. Dimcheff, J. Beaver, P. Dresslar, J. Nerothin, and H.A. Carlson. 2008. Binding MOAD, a high-quality protein-ligand database. Nucleic Acids Research 36: D674–D678.

Berman, H.M., J. Westbrook, Z. Feng, G. Gilliland, T.N. Bhat, H. Weissig, I.N. Shindyalov, and P.E. Bourne. 2000. The protein data bank. Nucleic Acids Research 28: 235–242.

Duggan, S.V., T. Lindstrom, T. Iglesias, P.R. Bennett, G.E. Mann, and S.R. Bartlett. 2007. Role of atypical protein kinase C isozymes and NF-kappaB in IL-1beta-induced expression of cyclooxygenase-2 in human myometrial smooth muscle cells. Journal of Cellular Physiology 210: 637–643.

Eldridge, M.D., C.W. Murray, T.R. Auton, G.V. Paolini, and R.P. Mee. 1997. Empirical scoring functions: I. The development of a fast empirical scoring function to estimate the binding affinity of ligands in receptor complexes. Journal of Computer-Aided Molecular Design 11: 425–445.

Eude-Le Parco, I., E. Dallot, and M. Breuiller-Fouché. 2007. Protein kinase C and human uterine contractility. BMC Pregnancy Childbirth 7: S11.

Eude, I., B. Paris, D. Cabrol, F. Ferré, and M. Breuiller-Fouché. 2000. Selective protein kinase C isoforms are involved in endothelin-1-induced human uterine contraction at the end of pregnancy. Biology of Reproduction 63: 1567–1573.

Firestone, S., L.L. Firestone, C. Ferguson, and D. Blanck. 1993. Staurosporine, a protein kinase C inhibitor, decreases the general anesthetic requirement in Rana pipiens tadpoles. Anesthesia Analgesia 77: 1026–1030.

Goldenberg, R.L., J.F. Culhane, J.D. Iams, and R. Romero. 2008. Epidemiology and causes of preterm birth. Lancet 371: 75–84.

Goodsell, D.S., and A.J. Olson. 1990. Automated docking of substrates to proteins by simulated annealing. Proteins 8: 195–202.

Huang, S.Y., S.Z. Grinter, and X. Zou. 2010. Scoring functions and their evaluation methods for protein-ligand docking: Recent advances and future directions. Physical Chemistry Chemical Physics 12: 12899–12908.

Heus, R., B.W. Mol, J.J. Erwich, H.P. Geijn, W.J. Gyselaers, M. Hanssens, L. Härmark, C.D. Holsbeke, J.J. Duvekot, F.F. Schobben, H. Wolf, and G.H. Visser. 2009. Adverse drug reactions to tocolytic treatment for preterm labour: Prospective cohort study. British Medical Journal 338: b744.

Kim, B., Y.S. Kim, J. Ahn, J. Kim, S. Cho, K.J. Won, H. Ozaki, H. Karaki, and S.M. Lee. 2003. Conventional-type protein kinase C contributes to phorbol ester-induced inhibition of rat myometrial tension. British Journal of Pharmacology 139: 408–414.

King, J.V., S.Cole Flenady, and S. Thornton. 2005. Cyclo-oxygenase (COX) inhibitors for treating preterm labour. Cochrane Database of Systematic Reviews 2: CD001992.

Krieger, E., G. Koraimann, and G. Vriend. 2002. Increasing the precision of comparative models with YASARA NOVA—a self-parameterizing force field. Proteins 47: 393–402.

Liu, T., Y. Lin, X. Wen, R.N. Jorrisen, and M.K. Gilson. 2007. BindingDB: A web-accessible database of experimentally determined protein-ligand binding affinities. Nucleic Acids Research 35: D198–D201.

Meng, E.C., B.K. Shoichet, and I.D. Kuntz. 1992. Automated docking with grid-based energy evaluation. Journal of Computational Chemistry 13: 505–524.

Morrison, J.J., S.R. Dearn, S.K. Smith, and A. Ahmed. 1996. Activation of protein kinase C is required for oxytocin-induced contractility in human pregnant myometrium. Human Reproduction 11: 2285–2290.

Papatsonis, D.V., ColeS. Flenady, and H. Liley. 2005. Oxytocin receptor antagonists for inhibiting preterm labour. Cochrane Database of Systematic Reviews 3: CD004452.

Patel, R.Y., and R.J. Doerksen. 2010. Protein kinase-inhibitor database: structural variability of and inhibitor interactions with the protein kinase P-loop. Journal of Proteome Research 9: 4433–4442.

Steer, P. 2005. The epidemiology of preterm labour. British Journal of Obstetrics and Gynaecology 112: 1–3.

Stierand, K., P. Maaß, and M. Rarey. 2006. Molecular complexes at a glance: Automated generation of two-dimensional complex diagrams. Bioinformatics 22: 1710–1716.

Tan, T.C., K. Devendra, L.K. Tan, and H.K. Tan. 2006. Tocolytic treatment for the management of preterm labour: A systematic review. Singapore Medical Journal 47: 361–366.

Velec, H.F., H. Gohlke, and G. Klebe. 2005. DrugScore (CSD)—knowledge-based scoring function derived from small molecule crystal data with superior recognition rate of near-native ligand poses and better affinity prediction. Journal of Medicinal Chemistry 48: 6296–6303.

Vriend, G. 1990. WHAT IF: A molecular modeling and drug design program. Journal of Molecular Graphics 8: 52–56.

Wang, B., W. Shen, H. Yang, J. Shen, and T. Sun. 2014. Targeting EGFR mutants with non-cognate kinase inhibitors in non-small cell lung cancer. Medicinal Chemistry Research 23: 4510–4530.

Wang, R., L. Lai, and S. Wang. 2002. Further development and validation of empirical scoring functions for structure-based binding affinity prediction. Journal of Computer-Aided Molecular Design 16: 11–26.

Wang, R., Y. Lu, and S. Wang. 2003. Comparative evaluation of 11 scoring functions for molecular docking. Journal of Medicinal Chemistry 46: 2287–2303.

Wang, R., X. Fang, Y. Lu, C.Y. Yang, and S. Wang. 2005. The PDBbind database: Methodologies and updates. Journal of Medicinal Chemistry 48: 4111–4119.

Word, J.M., S.C. Lovell, and J.S. Richardson. 1999. Asparagine and glutamine: Using hydrogen atom contacts in the choice of side chain amide orientation. Journal of Molecular Biology 285: 1735–1747.

Yuan, L., J.S. Seo, N.S. Kang, S. Keinan, S.E. Steele, G.A. Michelotti, W.C. Wetsel, D.N. Beratan, Y.D. Gong, T.H. Lee, and J. Hong. 2009. Identification of 3-hydroxy-2-(3-hydroxyphenyl)-4H-1-benzopyran-4-ones as isoform-selective PKC-zeta inhibitors and potential therapeutics for psychostimulant abuse. Molecular BioSystems 5: 927–930.

Zhao, J., and C. Zhou. 2014. Virtual screening of protein kinase C inhibitors from natural product library to modulate general anaesthetic effects. Natural Product Research 28: 1–3.

Zhang, C., S. Liu, Q. Zhu, and Y. Zhou. 2005. A knowledge-based energy function for protein-ligand, protein-protein, and protein-DNA complexes. Journal of Medicinal Chemistry 48: 2325–2335.

Zhou, P., J. Zou, F. Tian, and Z. Shang. 2009. Fluorine bonding—how does it work in protein-ligand interactions? Journal of Chemical Information and Modeling 49: 2344–2355.

Zhou, P., J. Huang, and F. Tian. 2012. Specific noncovalent interactions at protein-ligand interface: Implications for rational drug design. Current Medicinal Chemistry 19: 226–238.

Zhou, P., C. Wang, Y. Ren, C. Yang, and F. Tian. 2013. Computational peptidology: A new and promising approach to therapeutic peptide design. Current Medicinal Chemistry 20: 1985–1996.
Conflict of interest
The authors declare no conflict of interest.
About this article
Cite this article
Shao, QC., Zhang, CJ. & Li, J. Structure-based lead discovery for protein kinase C zeta inhibitor design by exploiting kinase–inhibitor complex crystal structure data and potential therapeutics for preterm labour. Arch. Pharm. Res. (2014). https://doi.org/10.1007/s12272-014-0495-1
Received:

Accepted:

Published:
Keywords
Protein kinase C

Kinase inhibitor

Preterm labour

Tocolytic agent