Abstract
We have recently developed betalain-rich beetroot (Beta vulgaris) dye (betalain) to be used in food products. Betalain (30–300 mg/kg) intraperitoneal (i.p.) treatment diminished carrageenan (100 µg/paw)-induced paw edema and neutrophil migration to the paw skin tissue. Betalain (100 mg/kg) treatment by subcutaneous or per oral routes also inhibited the carrageenan-induced paw edema. Importantly, the post-treatment with betalain (100 mg/kg, i.p.) significantly inhibited carrageenan- and complete Freund's adjuvant (10 µl/paw)-induced paw edema. Betalain (100 mg/kg) also reduced carrageenan (500 µg/cavity)-induced recruitment of total leukocytes, including mononuclear cells and neutrophils, as well as increasing vascular permeability in the peritoneal cavity. Furthermore, betalain significantly reduced carrageenan-induced superoxide anion, tumor necrosis factor-alpha (TNF-α) and interleukin (IL)-1β levels in the peritoneal fluid, as well as augmenting IL-10 levels. Therefore, this compound presents prominent anti-inflammatory effect on carrageenan-induced paw edema and peritonitis by reducing the production of superoxide anion and the cytokines TNF-α and IL-1β, in addition to increasing IL-10 levels. These results suggest that betalain shows therapeutic potential that could be utilized in the treatment of inflammation-associated diseases.
Access options
Buy single article
Instant access to the full article PDF.
USD 39.95
Price includes VAT (USA)
Tax calculation will be finalised during checkout.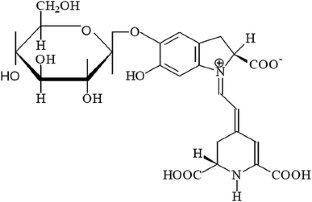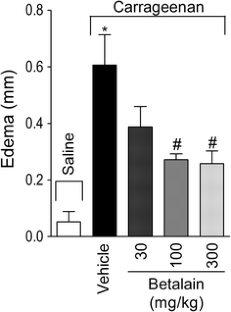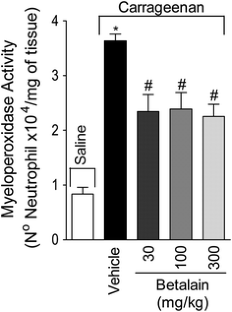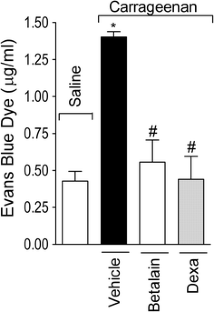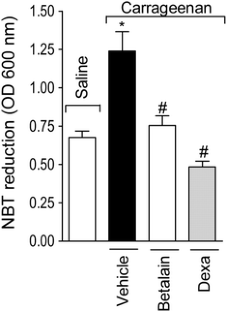 References
Allegra, M., P.G. Furtmuller, W. Jantschko, M. Zederbauer, L. Tesoriere, M.A. Livrea, and C. Obinger. 2005. Mechanism of interaction of betanin and indicaxanthin with human myeloperoxidase and hypochlorous acid. Biochemical Biophysical Research Communications 332: 837–844.

Allegra, M., A. Ianaro, M. Tersigni, E. Panza, L. Tesoriere, and M.A. Livrea. 2014. Indicaxanthin from cactus pear fruit exerts anti-inflammatory effects in carrageenin-induced rat pleurisy. Journal of Nutrition 144: 185–192.

Bhattacharyya, S., L. Xue, S. Devkota, E. Chang, S. Morris, and J.K. Tobacman. 2013. Carrageenan-induced colonic inflammation is reduced in Bcl10 null mice and increased in IL-10-deficient mice. Mediators of Inflammation 2013: 397642.

Borghi, S.M., T.T. Carvalho, L. Staurengo-Ferrari, M.S. Hohmann, P. Pinge-Filho, R. Casagrande, and W.A. Verri Jr. 2013. Vitexin inhibits inflammatory pain in mice by targeting TRPV1, oxidative stress, and cytokines. Journal of Natural Products 76: 1141–1149.

Bradley, J.R. 2008. TNF-mediated inflammatory disease. Journal of Pathology 214: 149–160.

Bratton, D.L., and P.M. Henson. 2011. Neutrophil clearance: when the party is over, clean-up begins. Trends in Immunology 32(8): 350–357.

Campanini, M.Z., D.L. Custodio, A.L. Ivan, S.M. Martins, M.J. Paranzini, R.M. Martinez, W.A. Verri Jr, F.T. Vicentini, N.S. Arakawa, J.F.T. De, M.M. Baracat, R. Casagrande, and S.R. Georgetti. 2014. Topical formulations containing Pimenta pseudocaryophyllus extract: In vitro antioxidant activity and in vivo efficacy against UV-B-induced oxidative stress. AAPS PharmSciTech 15: 86–95.

Downey, G.P., L. Fialkow, and T. Fukushima. 1995. Initial interaction of leukocytes within the microvasculature: deformability, adhesion, and transmigration. New Horizons 3(2): 219–228.

Escribano, J.P.M., F. Garcia-Carmona, and R. Munoz. 1998. Characterization of the antiradical activity of betalains from Beta vulgaris L. roots. Phytochemical Analysis (PCA) 9: 124–127.

Gentile, C., L. Tesoriere, M. Allegra, M.A. Livrea, and P. D'alessio. 2004. Antioxidant betalains from cactus pear (Opuntia ficus-indica) inhibit endothelial ICAM-1 expression. Annals of the New York Academy of Sciences 1028: 481–486.

Guazelli, C.F., V. Fattori, B.B. Colombo, S.R. Georgetti, F.T. Vicentini, R. Casagrande, M.M. Baracat, and W.A. Verri Jr. 2013. Quercetin-loaded microcapsules ameliorate experimental colitis in mice by anti-inflammatory and antioxidant mechanisms. Journal of Natural Products 76: 200–208.

Haddad, J.J. 2003. Science review: redox and oxygen-sensitive transcription factors in the regulation of oxidant-mediated lung injury: role for hypoxia-inducible factor-1alpha. Critical Care 7: 47–54.

Hattori, H., K.K. Subramanian, J. Sakai, Y. Jia, Y. Li, T.F. Porter, F. Loison, B. Sarraj, A. Kasorn, H. Jo, C. Blanchard, D. Zirkle, D. Mcdonald, S.Y. Pai, C.N. Serhan, and H.R. Luo. 2010. Small-molecule screen identifies reactive oxygen species as key regulators of neutrophil chemotaxis. Proceedings of the National Academy of Sciences of the United States of America 107: 3546–3551.

Hohmann, M.S., R.D. Cardoso, F.A. Pinho-Ribeiro, J. Crespigio, T.M. Cunha, J.C. Alves-Filho, R.V. Da Silva, P. Pinge-Filho, S.H. Ferreira, F.Q. Cunha, R. Casagrande, and W.A. Verri Jr. 2013. 5-lipoxygenase deficiency reduces acetaminophen-induced hepatotoxicity and lethality. BioMed Research International 2013: 627046.

Hsu, C.C., J.C. Lien, C.W. Chang, C.H. Chang, S.C. Kuo, and T.F. Huang. 2013. Yuwen02f1 suppresses LPS-induced endotoxemia and adjuvant-induced arthritis primarily through blockade of ROS formation NFkB and MAPK activation. Biochemical Pharmacology 85: 385–395.

Hughes-Austin, J.M., K.D. Deane, L.A. Derber, J.R. Kolfenbach, G.O. Zerbe, J. Sokolove, L.J. Lahey, M.H. Weisman, J.H. Buckner, T.R. Mikuls, J.R. O'dell, R.M. Keating, P.K. Gregersen, W.H. Robinson, V.M. Holers, and J.M. Norris. 2013. Multiple cytokines and chemokines are associated with rheumatoid arthritis-related autoimmunity in first-degree relatives without rheumatoid arthritis: Studies of the Aetiology of Rheumatoid Arthritis (SERA). Annals of the Rheumatic Diseases 72: 901–907.

Joosten, L.A., M.G. Netea, S.H. Kim, D.Y. Yoon, B. Oppers-Walgreen, T.R. Radstake, P. Barrera, F.A. Van De Loo, C.A. Dinarello, and W.B. Van Den Berg. 2006. IL-32, a proinflammatory cytokine in rheumatoid arthritis. Proceedings of the National Academy of Sciences of the United States of America 103: 3298–3303.

Kanner, J., S. Harel, and R. Granit. 2001. Betalains–a new class of dietary cationized antioxidants. Journal of Agriculture and Food Chemistry 49: 5178–5185.

Khattab, M.M. 2006. TEMPOL, a membrane-permeable radical scavenger, attenuates peroxynitrite- and superoxide anion-enhanced carrageenan-induced paw edema and hyperalgesia: A key role for superoxide anion. European Journal of Pharmacology 548: 167–173.

Klebanoff, S.J. 2005. Myeloperoxidase: Friend and foe. Journal of Leukocyte Biology 77: 598–625.

Kobayashi, S.D., and F.R. DeLeo. 2009. Role of neutrophils in innate immunity: A systems biology-level approach. Wiley Interdisciplinary Reviews: System Biology and Medicine 1(3): 309–333.

Krajka-Kuzniak, V., J. Paluszczak, H. Szaefer, and W. Baer-Dubowska. 2013. Betanin, a beetroot component, induces nuclear factor erythroid-2-related factor 2-mediated expression of detoxifying/antioxidant enzymes in human liver cell lines. British Journal of Nutrition 110: 2138–2149.

Lee, S.H., J.H. Lee, T. Asahara, Y.S. Kim, H.C. Jeong, Y. Ahn, J.S. Jung, and S.M. Kwon. 2014. Genistein promotes endothelial colony-forming cell (ECFC) bioactivities and cardiac regeneration in myocardial infarction. PLoS ONE 9: e96155.

Lin, W., R.T. Wu, T. Wu, T.O. Khor, H. Wang, and A.N. Kong. 2008. Sulforaphane suppressed LPS-induced inflammation in mouse peritoneal macrophages through Nrf2 dependent pathway. Biochemical Pharmacology 76: 967–973.

Liu, H., A.T. Dinkova-Kostova, and P. Talalay. 2008. Coordinate regulation of enzyme markers for inflammation and for protection against oxidants and electrophiles. Proceedings of the National Academy of Sciences of the United States of America 105: 15926–15931.

Longhi-Balbinot, D.T., D. Lanznaster, C.H. Baggio, M.D. Silva, C.H. Cabrera, V.A. Facundo, and A.R. Santos. 2012. Anti-inflammatory effect of triterpene 3beta, 6beta, 16beta-trihydroxylup-20(29)-ene obtained from Combretum leprosum Mart & Eich in mice. Journal of Ethnopharmacology 142: 59–64.

Malech, H.L., and J.I. Gallin. 1987. Current concepts: immunology. Neutrophils in human diseases. New England Journal of Medicine 317: 687–694.

Martinez, R.M., A.C. Zarpelon, R.D. Cardoso, F.T. Vicentini, S.R. Georgetti, M.M. Baracat, C.C. Andrei, I.C. Moreira, W.A. Verri Jr, and R. Casagrande. 2013. Tephrosia sinapou ethyl acetate extract inhibits inflammatory pain in mice: Opioid receptor dependent inhibition of TNFalpha and IL-1beta production. Pharmaceutical Biology 51: 1262–1271.

Mizokami, S.S., N.S. Arakawa, S.R. Ambrosio, A.C. Zarpelon, R. Casagrande, T.M. Cunha, S.H. Ferreira, F.Q. Cunha, and W.A. Verri Jr. 2012. Kaurenoic acid from Sphagneticola trilobata Inhibits Inflammatory Pain: Effect on cytokine production and activation of the NO-cyclic GMP-protein kinase G-ATP-sensitive potassium channel signaling pathway. Journal of Natural Products 75: 896–904.

Okoye, F.B., C.S. Nworu, P.A. Akah, C.O. Esimone, A. Debbab, and P. Proksch. 2013. Inhibition of inflammatory mediators and reactive oxygen and nitrogen species by some depsidones and diaryl ether derivatives isolated from Corynespora cassiicola, an endophytic fungus of Gongronema latifolium leaves. Immunopharmacology and Immunotoxicology 35: 662–668.

Oyanagui, Y. 1980. Inflammation and superoxide production by macrophages. Agents and Actions Supplements 7: 174–179.

Phillipson, M., and P. Kubes. 2011. The neutrophil in vascular inflammation. Nature Medicine 17: 1381–1390.

Reddy, M.K., R.L. Alexander-Lindo, and M.G. Nair. 2005. Relative inhibition of lipid peroxidation, cyclooxygenase enzymes, and human tumor cell proliferation by natural food colors. Journal of Agriculture and Food Chemistry 53: 9268–9273.

Shen, G., W.S. Jeong, R. Hu, and A.N. Kong. 2005. Regulation of Nrf2, NF-kappaB, and AP-1 signaling pathways by chemopreventive agents. Antioxidants and Redox Signaling 7: 1648–1663.

Sitonio, M.M., C.H. Carvalho Junior, A. Campos Ide, J.B. Silva, C. Lima Mdo, A.J. Goes, M.B. Maia, P.J. Rolim Neto, and T.G. Silva. 2013. Anti-inflammatory and anti-arthritic activities of 3,4-dihydro-2,2-dimethyl-2H-naphthol[1,2-b]pyran-5,6-dione (beta-lapachone). Inflammation Research 62: 107–113.

Smiderle, F.R., L.M. Olsen, E.R. Carbonero, C.H. Baggio, C.S. Freitas, R. Marcon, et al. 2008. Anti-inflammatory and analgesic properties in a rodent model of a (1–> 3), (1–> 6)-linked beta-glucan isolated from Pleurotus pulmonarius. European Journal of Pharmacology 597(1–3): 86–91.

Tesoriere, L., M. Allegra, D. Butera, C. Gentile, and M.A. Livrea. 2006. Cytoprotective effects of the antioxidant phytochemical indicaxanthin in beta-thalassemia red blood cells. Free Radical Research 40: 753–761.

Tesoriere, L., D. Butera, M. Allegra, M. Fazzari, and M.A. Livrea. 2005. Distribution of betalain pigments in red blood cells after consumption of cactus pear fruits and increased resistance of the cells to ex vivo induced oxidative hemolysis in humans. Journal of Agriculture and Food Chemistry 53: 1266–1270.

Valerio, D.A., T.M. Cunha, N.S. Arakawa, H.P. Lemos, F.B. Da Costa, C.A. Parada, S.H. Ferreira, F.Q. Cunha, and W.A. Verri Jr. 2007. Anti-inflammatory and analgesic effects of the sesquiterpene lactone budlein A in mice: Inhibition of cytokine production-dependent mechanism. European Journal of Pharmacology 562: 155–163.

Verri Jr, W.A., T.M. Cunha, S.H. Ferreira, X. Wei, B.P. Leung, A. Fraser, I.B. Mcinnes, F.Y. Liew, and F.Q. Cunha. 2007. IL-15 mediates antigen-induced neutrophil migration by triggering IL-18 production. European Journal of Immunology 37: 3373–3380.

Verri, W.A. Jr, Vicentini, F.T.M.C., Baracat, M.M., Georgetti, S.R., Cardoso, R.D.R., Cunha, T.M., et al.(2012) Studies in natural products chemistry. In: Atta-ur-Rahman,ed. pp. 297–322 Elsevier, Amsterdam.

Wang, Z.Q., F. Porreca, S. Cuzzocrea, K. Galen, R. Lightfoot, E. Masini, C. Muscoli, V. Mollace, M. Ndengele, H. Ischiropoulos, and D. Salvemini. 2004. A newly identified role for superoxide in inflammatory pain. Journal of Pharmacology and Experimental Therapeutics 309: 869–878.

Zhao, L., J.Y. Tao, S.L. Zhang, F. Jin, R. Pang, and J.H. Dong. 2010. N-butanol extract from melilotus suaveolens ledeb affects pro- and anti-inflammatory cytokines and mediators. Evidence-based Complementary and Alternative Medicine 7: 97–106.
Acknowledgments
This work was supported by Grants from Conselho Nacional de Desenvolvimento Científico e Tecnológico (CNPq), Coordenação de Aperfeiçoamento de Pessoal de Nível superior (CAPES), Fundo de Apoio ao Ensino, à Pesquisa e à Extensão (FAEPE) para o Apoio à Disseminação da Produção Científica em Periódicos (EDITAL FAEPE/UEL Nº 02/2011), MCTI/SETI/Fundação Araucária and Paraná State Government. The authors gratefully acknowledge the assistance of Talita Perdigão Domiciano that received a technician fellowship from MCTI/SETI/Fundação Araucária and Parana State Government, and Miriam S.N. Hohmann that received a technician fellowship from CNPq. Additionally, we would like to thank George Anderson at CRC Scotland & London for English editing services. RMM and LSF received CAPES PhD fellowships, DTLB and ACZ received CAPES/Fundação Araucária Post-Doc fellowships, MMB received a research senior fellowship from Fundação Araucária, and WAVJ and RC received senior research fellowships from CNPq. The authors declare no conflict of interest.
Additional information
R. M. Martinez, D. T. Longhi-Balbinot and A. C. Zarpelon have contributed equally.
About this article
Cite this article
Martinez, R.M., Longhi-Balbinot, D.T., Zarpelon, A.C. et al. Anti-inflammatory activity of betalain-rich dye of Beta vulgaris: effect on edema, leukocyte recruitment, superoxide anion and cytokine production. Arch. Pharm. Res. 38, 494–504 (2015). https://doi.org/10.1007/s12272-014-0473-7
Received:

Accepted:

Published:

Issue Date:
Keywords
Beta vulgaris

Betalain

Acute inflammation

Paw edema

Cytokines

Superoxide anion