Abstract
We previously reported the in vitro and in vivo hepatoprotective and anti-fibrotic effects of PF2401-SF, a standardized fraction of Salvia miltiorrhiza, against acute and subacute liver injury. The aim of this study was to investigate the effect of PF2401-SF on liver fibrosis induced by thioacetamide (TAA), a chronic liver injury model (12 weeks) that closely resembles fibrosis and cirrhosis in humans. Hepatoprotective activity was indicated by low serum levels of the markers aspartate amino transferase and alanine amino transferase .In addition, compared to the TAA-group livers, the PF2401-SF-treated liver tissues showed no fibrous tissue deposition in the portal areas, hepatocyte morphology more closely resembling normal tissue morphology, and significantly reduced collagen deposition. Furthermore, downregulation of collagen 1(α) and tissue inhibitor of metalloproteinase (TIMP)1 protein and mRNA expression also supports PF2401-SF's anti-fibrotic effect. We also observed reduced expression of α-smooth muscle actin (α-SMA), an important marker of hepatic stellate cells (HSCs) activation. From these results, we conclude that PF2401-SF's anti-fibrotic mechanism in the TAA model involves reduced HSC activation, and may be mediated by downregulation of central markers of fibrosis, including collagen 1(α), TIMP1, and α-SMA.
This is a preview of subscription content, log in to check access.
Access options
Buy single article
Instant access to the full article PDF.
US$ 39.95
Price includes VAT for USA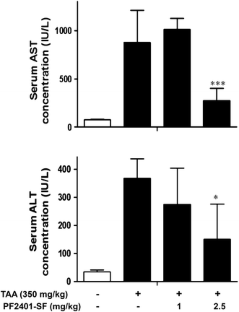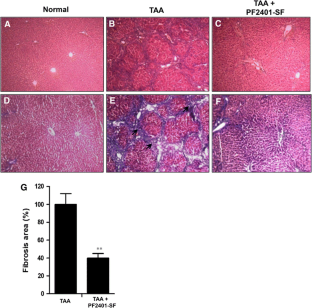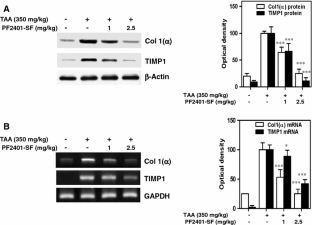 References
Bataller, R., and D.A. Brenner. 2005. Liver fibrosis. The Journal of clinical investigation 115: 209–218.

Benyon, R.C., J.P. Iredale, S. Goddard, P.J. Winwood, and M.J. Athur. 1996. Expression of tissue inhibitor of metalloproteinases 1 and 2 is increased in fibrotic human liver. Gastroenterology 110: 821–831.

Bruck, R., R. Schey, H. Aeed, A. Hochman, O. Genina, and M. Pines. 2004. Protective effect of pyrrolidine dithiocarbamate in a rat model of liver cirrhosis. Liver International 24: 169–176.

Elsharkawy, A.M., F. Oakley, and D.A. Mann. 2005. The role and regulation of hepatic stellate cell apoptosis in reversal of liver fibrosis. Apoptosis 10: 927–939.

Fallowfield, J.A., M. Mizuno, T.J. Kendall, C.M. Constandinou, R.C. Benyon, J.S. Duffield, and J.P. Iredale. 2007. Scar-associated macrophages are a major source of hepatic matrix metalloproteinase-13 and facilitate the resolution of murine hepatic fibrosis. The Journal of Immunology 178: 5288–5295.

Friedman, S.L. 1993. Seminars in medicine of the Beth Israel Hospital, Boston. The cellular basis of hepatic fibrosis. Mechanisms and treatment strategies. New England Journal of Medicine 328: 1828–1835.

Friedman, S.L. 2004. Mechanisms of hepatic fibrosis and therapeutic implications. Nature Clinical Practice Gastroenterology & Hepatology 1: 98–105.

Friedman, S.L. 2008. Mechanisms of hepatic fibrosis. Gastroenterology 134: 1665–1669.

Galli, A., G. Svegliati-Baroni, E. Ceni, S. Milani, F. Ridolfi, R. Salzano, M. Tarocchi, C. Grappone, G. Pellegrini, A. Benedetti, C. Surrenti, and A. Casini. 2005. Oxidative stress stimulates proliferation and invasiveness of hepatic stellate cells via a MMP2-mediated mechanism. Hepatology 41: 1074–1084.

Honda, H., K. Ikejima, M. Hirose, M. Yoshikawa, T. Lang, N. Enomoto, T. Kitmura, Y. Takei, and N. Sato. 2002. Leptin is required for fibrogenic responses induced by thioacetamide in the murine liver. Hepatology 36: 12–21.

Hsu, Y.C., Y.L. Lin, Y.T. Chiu, M.S. Shiao, C.Y. Lee, and Y.T. Huang. 2005. Antifibrotic effects of Salvia miltiorrhiza on dimethylnitorsamine-intoxicated rats. Journal of Biomedical Science 12: 185–195.

Iredale, J.P. 2003. Cirrhosis: new research provides a basis for rational and targeted treatments. BMJ 327: 143–147.

Iredale, J.P. 2007. Models of liver fibrosis: exploring the dynamic nature of inflammation and repair in a solid organ. Journal of Clinical Investigation 3: 539–548.

Iredale, J.P., R.C. Benyon, J. Pickering, M. McCullen, M. Northrop, S. Pawley, C. Hovell, and M.J. Arthur. 1998. Mechanisms of spontaneous resolution of rat liver fibrosis. Hepatic stellate cell apoptosis and reduced hepatic expression of metalloproteinase inhibitors. Journal of Clinical Investigation 102: 538–549.

Lee, T.Y., H.H. Chang, G.J. Wang, J.H. Chiu, Y.Y. Yang, and H.C. Lin. 2006. Water-soluble extract of Salvia miltiorrhiza ameliorates carbon tetrachloride-mediated hepatic apoptosis in rats. Journal of Pharmacy and Pharmacology 58: 659–665.

Li, G.S., W.L. Jiang, J.W. Tian, G.W. Qu, H.B. Zhu, and F.H. Fu. 2010. In vitro and In vivo antifibrotic effects of rosmarinic acid on experimental liver fibrosis. Phytomedicine 17: 282–288.

Lin, H.J., J.Y. Chen, C.F. Lin, S.T. Kako, J.C. Cheng, H.L. Chen, and C.M. Chen. 2011. Hepatoprotective effects of Yi Guan Jian, an herbal medicine, in rats with dimethylnitrosamine-induced liver fibrosis. Journal of Ethnopharmacology 134: 953–960.

Low, T.Y., C.K. Leow, M. Salto-Tellez, and M.C. Chung. 2004. A proteomic analysis of thioacetamide induced hepatotoxicity and cirrhosis in rat livers. Proteomics 12: 3960–3974.

Luedde, T., and R.F. Schwabe. 2011. NF-kB in the liver-linking injury, fibrosis and hepatocellular carcinoma. Nature reviews Gastroenterology & hepatology 8: 108–118.

Pallottini, V., C. Martini, A.M. Bassi, P. Romano, G. Nanni, and A. Trentalance. 2006. Rat HMG-CoA reductase activation in thioacetamide-induced liver injury is related to an increased reactive oxygen species content. Journal of Hepatology 44: 368–374.

Parajuli, D.R., E.J. Park, X.H. Che, W.Y. Jiang, Y.C. Kim, D.H. Sohn, and S.H. Lee. 2013. PF2401-SF, standardized fraction of Salvia miltiorrhiza, induces apoptosis of activated hepatic stelate cells in vitro and in vivo. Molecules 18: 2122–2134.

Park, E.J., Y.Z. Zhao, Y.C. Kim, and D.H. Sohn. 2007. PF2401-SF, standardized fraction of Salvia miltiorrhiza and its constituents, tanshinon I, tanshinone IIA, and cryptotansinone, protect primary cultured rat hepatocytes from bile acid-induced apoptosis by inhibiting JNK phosphorylation. Food and Chemical Toxicology 45: 1891–1898.

Park, E.J., Y.Z. Zhao, Y.C. Kim, and D.H. Sohn. 2009. Preventive effects of apurified extract isolated from Salvia miltiorrhiza enriched with tanshinone I, tanshinone IIA and cryptotanshinone on hepatocyte injury in vitro and vivo. Food and Chemical Toxicology 47: 2742–2748.

Parola, M., F. Marra, and M. Pinzani. 2008. Myofibroblast-like cells and liver fibrogenesis: emerging concepts in a rapidly moving scenario. Molecular Aspects of Medicine 29: 58–66.

Pinzani, M., M. Rosselli, and M. Zuckermann. 2011. Liver cirrhosis. Best Practice & Research Clinical Gastroenterology 25: 281–290.

Recknagel, R.O., E.A. Glende, J. Dolak, and R.L. Waller. 1989. Mechanism of carbon tetracholride toxicity. Pharmacology & Therapeutics 43: 139–154.

Rosenbloom, J., S.V. Castro, and S.A. Jimenez. 2010. Narrative review: Fibrotic diseases: Cellular and molecular mechanisms and novel therapies. Annals of Internal Medicine 3: 159–166.

Takahara, T., K. Furui, Y. Yata, B. Jin, L.P. Zhang, S. Nambu, H. Sato, M. Seiki, and A. Watanabe. 1997. Dual expression of matrix metalloproteinnase-2 and membrane-type 1-matrix metalloproteinase in fibrotic human livers. Hepatology 26: 1521–1529.

Thyagarajan, S.P., S. Jayaram, V. Gopalakrishnan, R. Hari, P. Jayakumar, and M.S. Sripathi. 2002. Herbal medicines for liver diseases in India. Journal of Gastroenterology and Hepatology 17: 370–376.

Trebicka, J., M. Hennenberg, M. Odenthal, K. Shir, S. Klein, M. Granzow, A. Vogt, H.P. Dienes, F. Lammert, J. Reichen, J. Heller, and T. Sauerbruch. 2010. Atorvastatin attenuates hepatic fibrosis in rats after bile duct ligation via decreased turnover of hepatic stellate cells. Journal of Hepatology 4: 702–712.

Wang, C.H., T.H. Lee, C.N. Lu, W.Y. Chou, K.S. Hung, A.M. Concejero, and B. Jawan. 2006. Electroporative α-MSH gene transfer attenuates thioacetamide-induced murine hepatic fibrosis by MMP and TIMP modulation. Gene Therapy 13: 1000–1009.

Wasser, S., J.M. Ho, H.K. Ang, and C.E. Tan. 1998. Salvia miltiorrhiza reduces experimental—induced hepatic fibrosis in rats. Journal of Hepatology 29: 760–771.

Zhao, Z., Z. Liang, K. Chan, G. Lu, E.L. Lee, H. Chen, and L. Li. 2010. A unique issue in the standardization of Chinese materia medica: processing. Planta Medica 76: 1975–1986.

Zhou, L., Z. Zhu, and M.S. Chow. 2005. Danshen: an overview of its chemistry, pharmacology, pharmacokineics and clinical use. Journal of Clinical Pharmacology 45: 1345–1359.
Acknowledgments
This study was supported by a Grant from Wonkwang University for Prof. Sung Hee Lee (2012).
Additional information
Daya Ram Parajuli, Yu-Zhe Zhao contributed equally to this work.
About this article
Cite this article
Parajuli, D.R., Zhao, Y., Jin, H. et al. Anti-fibrotic effect of PF2401-SF, a standardized fraction of Salvia miltiorrhiza, in thioacetamide-induced experimental rats liver fibrosis. Arch. Pharm. Res. 38, 549–555 (2015). https://doi.org/10.1007/s12272-014-0425-2
Received:

Accepted:

Published:

Issue Date:
Keywords
Salvia miltiorrhiza

Fibrosis

Thioacetamide

Hepatic stellate cells

Collagen 1(α)

Tissue inhibitor of metalloproteinase 1