Abstract
Ursolic acid (UA), a pentacyclic triterpene acid found in apple peels (Malus domestica, Borkh, Rosaceae), has a large spectrum of pharmacological effects. However, the vegetal matrix usually produces highly viscous and poorly soluble extracts that hamper the isolation of this compound. To overcome this problem, the crude EtOH–AcOEt extract of commercial apple peels was exhaustively treated with diazomethane, after which methyl ursolate (MU) was purified by column chromatography and characterized spectrometrically. The anti-inflammatory effects of UA and MU (50 mg/kg) were analyzed by zymosan-induced paw edema, pleurisy and in an experimental arthritis model. After 4 h of treatment with UA and MU, paw edema was reduced by 46 and 44 %, respectively. Both UA and MU inhibited protein extravasation into the thoracic cavity; tibio-femoral edema by 40 and 48 %, respectively; and leukocyte influx into the synovial cavity after 6 h by 52 and 73 %, respectively. Additionally, both UA and MU decreased the levels of mediators related to synovial inflammation, such as KC/CXCL-1 levels by 95 and 90 %, TNF-α levels by 76 and 71 %, and IL-1β levels by 57 and 53 %, respectively. Both the compounds were equally effective when assayed in different inflammatory models, including experimental arthritis. Hence, MU may be considered to be a useful anti-inflammatory derivative to overcome the inherent poor solubility of UA for formulating pharmaceutical products.
Access options
Buy single article
Instant access to the full article PDF.
US$ 39.95
Tax calculation will be finalised during checkout.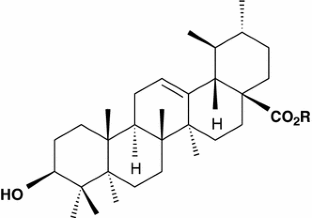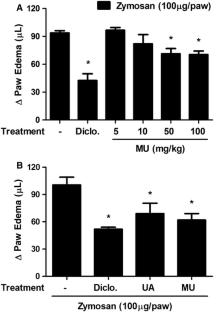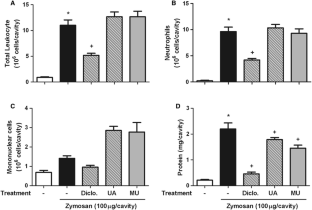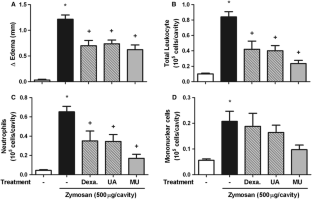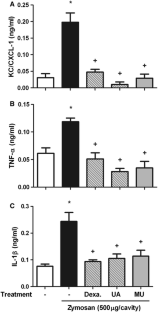 References
Ahmad, S.F., B. Khan, S. Bani, K.A. Suri, N.K. Satti, and G.N. Qazi. 2006. Amelioration of adjuvant-induced arthritis by ursolic acid through altered Th1/Th2 cytokine production. Pharmacological Research 53: 233–240.

Asquith, D.L., A.M. Miller, I.B. Mcinnes, and F.Y. Liew. 2009. Animal models of rheumatoid arthritis. European Journal of Immunology 39: 2040–2044.

Baglin, I., A.C. Mitaine-Offer, M. Nour, K. Tan, C. Cavé, and M.A. Lacaille-Dubois. 2003. A review of natural and modified betulinic, ursolic and echinocystic acid derivatives as potential antitumor and anti-HIV agents. Mini Reviews in Medicinal Chemistry 3: 525–539.

Baricevic, D., S. Sosa, R. Della Loggia, A. Tubaro, B. Simonovska, A. Krasna, and A. Zupancic. 2001. Topical anti-inflammatory activity of Salvia officinalis L. leaves: the relevance of ursolic acid. Journal of Ethnopharmacology 75: 125–132.

Bringe, K., C.F. Schumacher, M. Schmitz-Eiberger, U. Steiner, and E.C. Oerke. 2006. Ontogenetic variation in chemical and physical characteristics of adaxial apple leaf surfaces. Phytochemistry 67: 161–170.

Chattopadhyay, D., G. Arunachalam, A.B. Mandal, T.K. Sur, S.C. Mandal, and S.K. Bhattacharya. 2002. Antimicrobial and anti-inflammatory activity of folklore: Mallotus peltatus leaf extract. Journal of Ethnopharmacology 82: 229–237.

Chaves, H.V., R.E.A. Ribeiro, A.M. De Souza, A.A. Rodrigues E Silva, A.S. Gomes, M.L. Vale, M.M. Bezerra, and G.A. Brito. 2011. Experimental model of zymosan-induced arthritis in the rat temporomandibular joint: Role of nitric oxide and neutrophils. Journal of Biomedicine and Biotechnology 2011: 707985.

Checker, R., S.K. Sandur, D. Sharma, R.S. Patwardhan, S. Jayakumar, V. Kohli, G. Sethi, B.B. Aggarwal, and K.B. Sainis. 2012. Potent anti-inflammatory activity of ursolic acid, a triterpenoid antioxidant, is mediated through suppression of NF-κB, AP-1 and NF-AT. PLoS One 7: e31318.

Ferraccioli, G., L. Bracci-Laudiero, S. Alivernini, E. Gremese, B. Tolusso, and F. De Benedetti. 2010. Interleukin-1β and interleukin-6 in arthritis animal models: roles in the early phase of transition from acute to chronic inflammation and relevance for human rheumatoid arthritis. Molecular Medicine 16: 552–557.

Frasnelli, M.E., D. Tarussio, V. Chobaz-Péclat, N. Busso, and A. So. 2005. TLR2 modulates inflammation in zymosan-induced arthritis in mice. Arthritis Research & Therapy 7: R370–R379.

Gnoatto, S.C., L.D. Vechia, C.L. Lencina, A. Dassonville-Klimpt, S.D. Nascimento, D. Mossalayi, J. Guillon, G. Gosmann, and P. Sonnet. 2008. Synthesis and preliminary evaluation of new ursolic and oleanolic acids derivatives as antileishmanial agents. Journal of Enzyme Inhibition and Medicinal Chemistry 23: 604–610.

Guerrero, A.T., T.M. Cunha, W.A. Verri, R.T. Gazzinelli, M.M. Teixeira, F.Q. Cunha, and S.H. Ferreira. 2012. Toll-like receptor 2/MyD88 signaling mediates zymosan-induced joint hypernociception in mice: participation of TNF-α, IL-1β and CXCL1/KC. European Journal of Pharmacology 674: 51–57.

He, X., and R.H. Liu. 2007. Triterpenoids isolated from apple peels have potent antiproliferative activity and may be partially responsible for apple's anticancer activity. Journal of Agriculture and Food Chemistry 55: 4366–4370.

Henriques, M.G., P.M. Silva, M.A. Martins, C.A. Flores, F.Q. Cunha, J. Assreuy-Filho, and R.S. Cordeiro. 1987. Mouse paw edema. A new model for inflammation? Brazilian Journal of Medical and Biological Research 20: 243–249.

Henriques, M.G.M.O., V.B. Weg, M.A. Martins, P.M.R. Silva, P.D. Fernandes, R.S.B. Cordeiro, and B.B. Vargaftig. 1990. Differential inhibition by 2 hetrazepine Paf antagonists of acute-inflammation in the mouse. British Journal of Pharmacology 99: 164–168.

Huelin, F.E. 1959. Studies in the natural coating of apples. Australian Journal of Biological Sciences 12: 175–180.

Ikeda, Y., A. Murakami, and H. Ohigashi. 2008. Ursolic acid: An anti- and pro-inflammatory triterpenoid. Molecular Nutrition & Food Research 52: 26–42.

Ismaili, H., S. Sosa, D. Brkic, S. Fkih-Tetouani, A. Ilidrissi, D. Touati, R.P. Aquino, and A. Tubaro. 2002. Topical anti-inflammatory activity of extracts and compounds from Thymus broussonettii. Journal of Pharmacy and Pharmacology 54: 1137–1140.

Jin, I.J., Y.I. Ko, Y.M. Kim, and S.K. Han. 1997. Solubilization of oleanolic acid and ursolic acid by cosolvency. Archives of Pharmacal Research 20: 269–274.

Jäger, S., M.N. Laszczyk, and A. Scheffler. 2008a. A preliminary pharmacokinetic study of betulin, the main pentacyclic triterpene from extract of outer bark of birch (Betulae alba cortex). Molecules 13: 3224–3235.

Jäger, S., M.N. Laszczyk, C.M. Strüh, S.F. Martin, C.M. Schempp, and A. Scheffler. 2008b. Triterpenes from natural sources for parenteral and topical application. Planta Medica 74: 1119.

Jäger, S., K. Winkler, U. Pfüller, and A. Scheffler. 2007. Solubility studies of oleanolic acid and betulinic acid in aqueous solutions and plant extracts of Viscum album L. Planta Medica 73: 157–162.

Kang, S.Y., S.Y. Yoon, D.H. Roh, M.J. Jeon, H.S. Seo, D.K. Uh, Y.B. Kwon, H.W. Kim, H.J. Han, H.J. Lee, and J.H. Lee. 2008. The anti-arthritic effect of ursolic acid on zymosan-induced acute inflammation and adjuvant-induced chronic arthritis models. Journal of Pharmacy and Pharmacology 60: 1347–1354.

Keystone, E.C., H.U. Schorlemmer, C. Pope, and A.C. Allison. 1977. Zymosan-induced arthritis: A model of chronic proliferative arthritis following activation of the alternative pathway of complement. Arthritis and Rheumatism 20: 1396–1401.

Kolattukudy, P.E. 1980. Biopolyester membranes of plants: Cutin and suberin. Science 208: 990–1000.

Laszczyk, M., S. Jäger, B. Simon-Haarhaus, A. Scheffler, and C.M. Schempp. 2006. Physical, chemical and pharmacological characterization of a new oleogel-forming triterpene extract from the outer bark of birch (betulae cortex). Planta Medica 72: 1389–1395.

Lee, J., S.T. Yee, J.J. Kim, M.S. Choi, E.Y. Kwon, K.I. Seo, and M.K. Lee. 2010. Ursolic acid ameliorates thymic atrophy and hyperglycemia in streptozotocin–nicotinamide-induced diabetic mice. Chemico-Biological Interactions 188: 635–642.

Liu, J. 2005. Oleanolic acid and ursolic acid: Research perspectives. Journal of Ethnopharmacology 100: 92–94.

Ma, C.M., S.Q. Cai, J.R. Cui, R.Q. Wang, P.F. Tu, M. Hattori, and M. Daneshtalab. 2005. The cytotoxic activity of ursolic acid derivatives. European Journal of Medicinal Chemistry 40: 582–589.

Miceli, N., M.F. Taviano, D. Giuffrida, A. Trovato, O. Tzakou, and E.M. Galati. 2005. Anti-inflammatory activity of extract and fractions from Nepeta sibthorpii Bentham. Journal of Ethnopharmacology 97: 261–266.

Mitaine-Offer, A.C., W. Hornebeck, M. Sauvain, and M. Zèches-Hanrot. 2002. Triterpenes and phytosterols as human leucocyte elastase inhibitors. Planta Medica 68: 930–932.

Moncada, S., R.M. Palmer, and E.A. Higgs. 1991. Nitric oxide: Physiology, pathophysiology, and pharmacology. Pharmacological Reviews 43: 109–142.

Park, J.H., K.H. Son, S.W. Kim, H.W. Chang, K. Bae, S.S. Kang, and H.P. Kim. 2004. Antiinflammatory activity of Synurus deltoides. Phytotherapy Research 18: 930–933.

Penido, C., F.P. Conte, M.S. Chagas, C.A. Rodrigues, J.F. Pereira, and M.G. Henriques. 2006. Antiinflammatory effects of natural tetranortriterpenoids isolated from Carapa guianensis Aublet on zymosan-induced arthritis in mice. Inflammation Research 55: 457–464.

Pinto, L.G., T.M. Cunha, S.M. Vieira, H.P. Lemos, W.A. Verri, F.Q. Cunha, and S.H. Ferreira. 2010. IL-17 mediates articular hypernociception in antigen-induced arthritis in mice. Pain 148: 247–256.

Seebacher, W., N. Simic, R. Wels, R. Saf, and O. Kunert. 2003. Complete assignments of 1H and 13C NMR resonances of oleanolic acid, 18-α-oleanolic acid, ursolic acid and their 11-oxo derivatives. Magnetic Resonance in Chemistry 41: 636–638.

Song, W.C. 2012. Crosstalk between complement and toll-like receptors. Toxicologic Pathology 40: 174–182.

Sultana, N., and Z.S. Saify. 2012. Naturally occurring and synthetic agents as potential anti-inflammatory and immunomodulants. Antiinflammatory & Antiallergy Agents in Medicinal Chemistry 11: 3–19.

Szakiel, A., C. Pączkowski, F. Pensec, and C. Bertsch. 2012. Fruit cuticular waxes as a source of biologically active triterpenoids. Phytochemistry Reviews 11: 263–284. doi:10.1007/s11101-012-9241-9.

Takeoka, G., L. Dao, R. Teranishi, R. Wong, S. Flessa, L. Harden, and R. Edwards. 2000. Identification of three triterpenoids in almond hulls. Journal of Agricultural and Food Chemistry 48: 3437–3439.

Underhill, D.M., A. Ozinsky, A.M. Hajjar, A. Stevens, C.B. Wilson, M. Bassetti, and A. Aderem. 1999. The Toll-like receptor 2 is recruited to macrophage phagosomes and discriminates between pathogens. Nature 401: 811–815.

Utsunomiya, I., M. Ito, and S. Oh-Ishi. 1998. Generation of inflammatory cytokines in zymosan-induced pleurisy in rats: TNF induces IL-6 and cytokine-induced neutrophil chemoattractant (CINC) in vivo. Cytokine 10: 956–963.

Verri, W.A., T.M. Cunha, C.A. Parada, S. Poole, F.Q. Cunha, and S.H. Ferreira. 2006. Hypernociceptive role of cytokines and chemokines: Targets for analgesic drug development? Pharmacology & Therapeutics 112: 116–138.

Yamaguchi, H., T. Noshita, Y. Kidachi, H. Umetsu, M. Hayashi, K. Komiyama, S. Funayama, and K. Ryoyama. 2008. Isolation of ursolic acid from apple peels and its specific efficacy as a potent antitumor agent. Journal of Health Science 54: 654–660.

Ying, Q.L., A.R. Rinehart, S.R. Simon, and J.C. Cheronis. 1991. Inhibition of human leucocyte elastase by ursolic acid. Evidence for a binding site for pentacyclic triterpenes. Biochemical Journal 277(Pt 2): 521–526.

Zimmermann, M. 1983. Ethical guidelines for investigations of experimental pain in conscious animals. Pain 16: 109–110.
Acknowledgments
We are grateful for the financial support from Conselho Nacional de Desenvolvimento Científico e Tecnológico, MCTI (CNPq/Proc. 475751/2009-0;CNPq/Proc. 304588/2010-5).
About this article
Cite this article
Pádua, T.A., de Abreu, B.S.S.C., Costa, T.E.M.M. et al. Anti-inflammatory effects of methyl ursolate obtained from a chemically derived crude extract of apple peels: potential use in rheumatoid arthritis. Arch. Pharm. Res. 37, 1487–1495 (2014). https://doi.org/10.1007/s12272-014-0345-1
Received:

Accepted:

Published:

Issue Date:
Keywords
Ursolic acid

Apple peels

Zimosan-induced arthritis