Abstract
The herb of Hedyotis diffusa Willd (H. diffusa Willd), an annual herb distributed in northeastern Asia, has been known as a traditional oriental medicine for the treatment of cancer. Recently, Chinese researchers have discovered that two anthraquinones isolated from a water extract of H. diffusa Willd showed apoptosis-inducing effects against cancer cells. However, the cellular and molecular mechanisms responsible for this phenomenon are poorly understood. The current study determines the role of mitogen-activated protein kinases (MAPK) in human leukemic U937 cells apoptosis induced by 2-hydroxy-3-methylanthraquinone from H. diffusa. Our results showed that 2-hydroxy-3-methylanthraquinone decreased phosphorylation-ERK1/2 (p-ERK1/2), and increased p-p38MAPK, but did not affect expressions of p-JNK1/2 in U937 cells. Moreover, treatment of U937 cells with 2-hydroxy-3-methylanthraquinone resulted in activation of caspase-3. Furthermore, PD98059 (ERK1/2 inhibitor) significantly enhanced 2-hydroxy-3-methylanthraquinone-induced apoptosis in U937 cells, whereas caspase-3 inhibitor or SB203580 (p-p38MAPK inhibitor), decreased apoptosis in U937 cells. Taken together, our study for the first time suggests that 2-hydroxy-3-methylanthraquinone is able to enhance apoptosis of U937 cells, at least in part, through activation of p-p38MAPK and downregulation of p-ERK1/2. Moreover, the triggering of caspase-3 activation mediated apoptotic induction.
This is a preview of subscription content,
to check access.
Access this article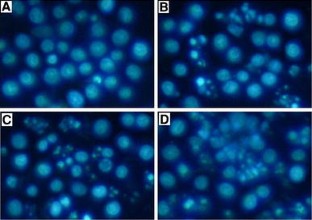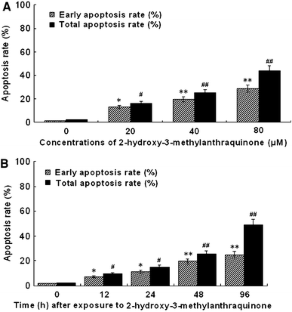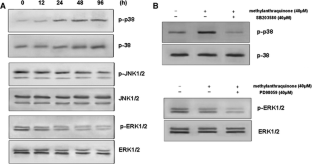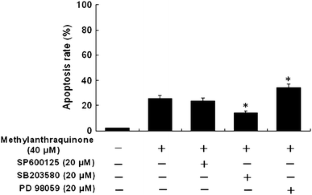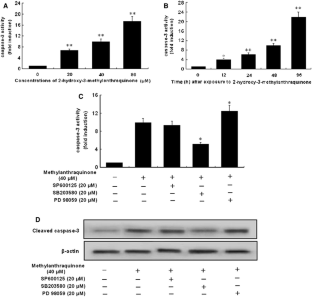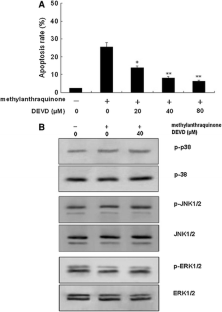 Similar content being viewed by others
References
Arash, K. 2010. Protective effect of quercetin against necrosis and apoptosis induced by experimental ischemia and reperfusion in rat liver. African Journal of Pharmacy and Pharmacology 4: 22–26.

Brunet, A., and J. Pouysségur. 1997. Mammalian MAP kinase modules: how to transduce specific signals. Essays in Biochemistry 32: 1–16.

Burmistrova, O., J. Quintana, J.G. Díaz, and F. Estévez. 2011. Astragalin heptaacetate-induced cell death in human leukemia cells is dependent on caspases and activates the MAPK pathway. Cancer Letters 309: 71–77.

Chang, L., and M. Karin. 2001. Mammalian MAP kinase signalling cascades. Nature 410: 37–40.

Gerl, R., and D.L. Vaux. 2005. Apoptosis in the development and treatment of cancer. Carcinogenesis 26: 263–270.

Hanahan, D., and R.A. Weinberg. 2000. The hallmarks of cancer. Cell 100: 57–70.

Johnson, C.R., and W.D. Jarvis. 2004. Caspase-9 regulation: an update. Apoptosis 9: 423–427.

Kim, E.J., S.Y. Park, J.Y. Lee, and J.H. Park. 2010. Fucoidan present in brown algae induces apoptosis of human colon cancer cells. BMC Gastroenterology 10: 96.

Li, C., X. Xue, D. Zhou, F. Zhang, Q. Xu, L. Ren, and X. Liang. 2008. Analysis of iridoid glucosides in Hedyotis diffusa by high-performance liquid chromatography electrospray ionization tandem mass spectrometry. Journal of Pharmaceutical and Biomedical Analysis 48: 205–211.

Lin, C.F., Y.H. Lo, M.C. Hsieh, Y.H. Chen, J.J. Wang, and M.J. Wu. 2005. Cytotoxicities, cell cycle and caspase evaluations of 1,6-diaryl-3(Z)-hexen-1,5-diynes,2-(6-aryl-3(Z)-hexen-1,5-diynyl) anilines and their derivatives. Bioorganic & Medicinal Chemistry 13: 3565–3575.

Liu, Z., M. Liu, M. Liu, and J. Li. 2010. Methylanthraquinone from Hedyotis diffusa Willd induces Ca2+-mediated apoptosis in human breast cancer cells. Toxicology in Vitro 24: 142–147.

Miyata, Y., and E. Nishida. 1999. Distantly related cousins of MAP kinase: biochemical properties and possible physiological functions. Biochemical and Biophysical Research Communications 266: 291–295.

Naim, R., F.H. Pasaribu, T. Iida, and T. Honda. 2011. Vibrio parahaemolyticus' thermostable direct hemolysin disrupts actin and activates caspase-3 in Rat-1 cells. African Journal of Microbiology Research 5: 4118–4123.

Schneider-Jakob, S., N. Corazza, A. Badmann, D. Sidler, R. Stuber-Roos, A. Keogh, S. Frese, M. Tschan, and T. Brunner. 2010. Synergistic induction of cell death in liver tumor cells by TRAIL and chemotherapeutic drugs via the BH3-only proteins Bim and Bid. Cell Death and Disease 1: e86.

Kim, Y., E.J. Park, J. Kim, Y. Kim, S.R. Kim, and Y.Y. Kim. 2001. Neuroprotective constituents from Hedyotis diffusa. Journal of Natural Products 64: 75–78.

Schulze-Bergkamen, H., and P.H. Krammer. 2004. Apoptosis in cancer–implications for therapy. Seminars in Oncology 31: 90–119.

Shi, Y., C.H. Wang, and X.G. Gong. 2008. Apoptosis-inducing effects of two anthraquinones from Hedyotis diffusa Willd. Biological & Pharmaceutical Bulletin 31: 1075–1078.

Wang, J.H., L.H. Shu, L.L. Yang, M. Zhang, and P. He. 2011. 2-Hydroxy-3-methylanthraquinone from Hedyotis diffusa Willd induces apoptosis via alteration of Fas/FasL and activation of caspase-8 in human leukemic THP-1 cells. Archives of Medical Research 42: 577–583.

Widmann, C., S. Gibson, M.B. Jarpe, and G.L. Johnson. 1999. Mitogen activated protein kinase: conservation of a three-kinase module from yeast to human. Physiological Reviews 79: 143–180.

Xia, Z., M. Dickens, J. Raingeaud, R.J. Davis, and M.E. Greenberg. 1995. Opposing effects of ERK and JNK-p38 MAP kinases on apoptosis. Science 270: 1326–1331.

Xu, G.H., Y.H. Kim, S.W. Chi, S.J. Choo, I.J. Ryoo, J.S. Ahn, and I.D. Yoo. 2010. Evaluation of human neutrophil elastase inhibitory effect of iridoid glycosides from Hedyotis diffusa. Bioorganic & Medicinal Chemistry Letters 20: 513–515.

Yu, C., X. Mao, W.X. Li, C. Yu, X. Mao, and W.X. Li. 2005. Inhibition of the PI3 K pathway sensitizes fludarabine-induced apoptosis in human leukemic cells through an inactivation of MAPK-dependent pathway. Biochemical and Biophysical Research Communications 331: 391–397.

Yu, L., Y. Li, and X.J. Guo. 2009. Simultaneous determination of anthraquinones in Hedyotis diffusa by LC coupled with UV detection. Chromatographia 70: 211–215.
Acknowledgments
This work was supported by Grants from the National Natural Science Foundation of China (81101224), the National Natural Science Foundation of Liaoning province (201202270), Outstanding Scientific Fund of Shengjing Hospital (201206), tackle key problems in science and technology of Liaoning province (2011225020), and tackle key problems in science and technology of Shenyang city (F12-193-9-20).
About this article
Cite this article
Wang, N., Li, DY., Niu, HY. et al. 2-Hydroxy-3-methylanthraquinone from Hedyotis diffusa Willd induces apoptosis in human leukemic U937 cells through modulation of MAPK pathways. Arch. Pharm. Res. 36, 752–758 (2013). https://doi.org/10.1007/s12272-013-0096-4
Published:

Issue Date:

DOI: https://doi.org/10.1007/s12272-013-0096-4
Keywords