Abstract
Macelignan found in the nutmeg mace of Myristica fragrans obtains increasing attention as a new avenue in treating various diseases. Macelignan has been shown to possess a spectrum of pharmacological activities, including anti-bacterial, anti-inflammatory, anti-cancer, anti-diabetes, and hepatoprotective activities; recently, it has also been shown to have neuroprotective activities. This review summarizes the current research on the biological effects of macelignan derived from M. fragrans, with emphasis on the importance in understanding and treating complex diseases such as cancer and Alzheimer's disease.
This is a preview of subscription content, log in to check access.
Access options
Buy single article
Instant access to the full article PDF.
US$ 39.95
Price includes VAT for USA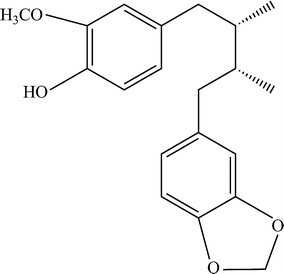 References
Abernethy, M.K., and L.B. Becker. 1992. Acute nutmeg intoxication. American Journal of Emergency Medicine 10: 429–430.

Anggakusuma, Y., and J.-K. Hwang 2010. Effects of macelignan isolated from Myristica fragrans Houtt on UVB-induced matrix metalloproteinase-9 and cyclooxygenase-2 in HaCaT cells. Journal of Dermatological Science 57: 114–122.

Barceloux, D.G. 2008. Nutmeg (Myristicafragrans Houtt.). Medical toxicology of natural sciences: Foods, fungi, medicinal herbs, toxic plants, and venomous animals. Hoboken: Wiley.

Barrowman, J.A., A. Bennett, P. Hillenbrand, K. Rolles, D.J. Pollock, and J.T. Wright. 1975. Diarrhoeae in thyroid medullary carcinoma: role of prostaglandins and therapeutic effect of nutmeg. British Medical Journal 3: 11–12.

Birks, J. 2006. Cholinesterase inhibitors for Alzheimer's disease. Cochrane Database of Systematic Reviews, CD005593.

Chatterjee, S., Z. Niaz, S. Gautam, S. Adhikari, P.S. Variyar, and A. Sharma. 2007. Antioxidant activity of some phenolic constituents from green pepper (Piper nigrum L.) and fresh nutmeg mace (Myristica ftagrans). Food Chemistry 101: 515–523.

Checker, R., S. Chatterjee, D. Sharma, S. Gupta, P. Variyar, A. Sharma, and T.B. Poduval. 2008. Immunomodulatory and radioprotective effects of lignans derived from fresh nutmeg mace (Myristica fragrans) in mammalian splenocytes. International Immunopharmacology 8: 661–669.

Cho, J.Y., G.J. Choi, S.W. Son, K.S. Jang, H.K. Lim, S.O. Lee, N.D. Sung, K.Y. Cho, and J.C. Kim. 2007. Isolation and antifungal activity of lignans from Myristica fragrans against various plant pathogenic fungi. Pest Management Science 63: 935–940.

Cho, Y., K.H. Kim, J.S. Shim, and J.K. Hwang. 2008. Inhibitory effects of macelignan isolated from Myristica fragrans HOUTT on melanin biosynthesis. Biological &/and Pharmaceutical Bulletin 31: 986–989.

Choi, E.J., Y.G. Kang, J. Kim, and J.K. Hwang. 2011. Macelignan inhibits melanosome transfer mediated by protease-activated receptor-2 in keratinocytes. Biological &/and Pharmaceutical Bulletin 34: 748–754.

Chung, J.Y., J.H. Choo, M.H. Lee, and J.K. Hwang. 2006. Anticariogenic activity of macelignan isolated from Myristica fragrans (nutmeg) against Streptococcus mutans. Phytomedicine 13: 261–266.

Cui, C.A., D.Q. Jin, Y.K. Hwang, I.S. Lee, J.K. Hwang, I. Ha, and J.S. Han. 2008. Macelignan attenuates LPS-induced inflammation and reduces LPS-induced spatial learning impairments in rats. Neuroscience Letters 448: 110–114.

De La Monte, S.M. 2012. Metabolic derangements mediate cognitive impairment and Alzheimer's disease: role of peripheral insulin-resistance diseases. Panminerva Medica 54: 171–178.

Dorman, H.J., and S.G. Deans. 2000. Antimicrobial agents from plants: antibacterial activity of plant volatile oils. Journal of Applied Microbiology 88: 308–316.

Ehling-Schulz, M., M. Fricker, and S. Scherer. 2004. Bacillus cereus, the causative agent of an emetic type of food-borne illness. Molecular Nutrition & Food Research 48: 479–487.

El Malti, J., N. Bourhim, and H. Amarouch. 2008. Toxicity and antibacterial effect of mace of Myristica fragrans used in Moroccan gastronomy: biochemical and histological impact. Journal of Food Safety 28: 422–441.

El-Alfy, A.T., L. Wilson, M.A. Elsohly, and E.A. Abourashed. 2009. Towards a better understanding of the psychopharmacology of nutmeg: activities in the mouse tetrad assay. Journal of Ethnopharmacology 126: 280–286.

Endoh, D., T. Okui, S. Ozawa, O. Yamato, Y. Kon, J. Arikawa, and M. Hayashi. 2002. Protective effect of a lignan-containing flaxseed extract against CCl(4)-induced hepatic injury. Journal of Veterinary Medical Science 64: 761–765.

Firouzi, R., S.S. Shekarforoush, A.H. Nazer, Z. Borumand, and A.R. Jooyandeh. 2007. Effects of essential oils of oregano and nutmeg on growth and survival of Yersinia enterocolitica and Listeria monocytogenes in barbecued chicken. Journal of Food Protection 70: 2626–2630.

Gazzani, G., M. Daglia, and A. Papetti. 2012. Food components with anticaries activity. Current Opinion in Biotechnology 23: 153–159.

Gibson, G.E., and H.M. Huang. 2002. Oxidative processes in the brain and non-neuronal tissues as biomarkers of Alzheimer's disease. Frontiers in Bioscience 7: d1007–d1015.

Goncalves, J.L., R.C. Lopes, D.B. Oliveira, S.S. Costa, M.M. Miranda, M.T. Romanos, N.S. Santos, and M.D. Wigg. 2005. In vitro anti-rotavirus activity of some medicinal plants used in Brazil against diarrhea. Journal of Ethnopharmacology 99: 403–407.

Han, Y.S., M.S. Kim, and J.K. Hwang. 2012. Macelignan inhibits histamine release and inflammatory mediator production in activated rat basophilic leukemia mast cells. Inflammation 35. doi:10.1007/s10753-012-9490-1.

Han, K.L., J.S. Choi, J.Y. Lee, J. Song, M.K. Joe, M.H. Jung, and J.K. Hwang. 2008. Therapeutic potential of peroxisome proliferators-activated receptor-alpha/gamma dual agonist with alleviation of endoplasmic reticulum stress for the treatment of diabetes. Diabetes 57: 737–745.

Hussain, S.P., and A.R. Rao. 1991. Chemopreventive action of mace (Myristica fragrans, Houtt) on methylcholanthrene-induced carcinogenesis in the uterine cervix in mice. Cancer Letters 56: 231–234.

Im, Y.B., I. Ha, K.W. Kang, M.Y. Lee, and H.K. Han. 2009. Macelignan: a new modulator of P-glycoprotein in multidrug-resistant cancer cells. Nutrition and Cancer 61: 538–543.

Jannu, L.N., S.P. Hussain, and A.R. Rao. 1991. Chemopreventive action of mace (Myristica fragrans, Houtt) on DMBA-induced papillomagenesis in the skin of mice. Cancer Letters 56: 59–63.

Jin, D.Q., C.S. Lim, J.K. Hwang, I. Ha, and J.S. Han. 2005. Anti-oxidant and anti-inflammatory activities of macelignan in murine hippocampal cell line and primary culture of rat microglial cells. Biochemical and Biophysical Research Communications 331: 1264–1269.

Kim, S.H., Y.P. Jang, S.H. Sung, C.J. Kim, J.W. Kim, and Y.C. Kim. 2003. Hepatoprotective dibenzylbutyrolactone lignans of Torreya nucifera against CCl4-induced toxicity in primary cultured rat hepatocytes. Biological &/and Pharmaceutical Bulletin 26: 1202–1205.

Kim, H.Y., J.K. Kim, J.H. Choi, J.Y. Jung, W.Y. Oh, D.C. Kim, H.S. Lee, Y.S. Kim, S.S. Kang, S.H. Lee, and S.M. Lee. 2010. Hepatoprotective effect of pinoresinol on carbon tetrachloride-induced hepatic damage in mice. Journal of Pharmacological Science 112: 105–112.

Klegeris, A., D.G. Walker, and P.L. Mcgeer. 1997. Regulation of glutamate in cultures of human monocytic THP-1 and astrocytoma U-373 MG cells. Journal of Neuroimmunology 78: 152–161.

Lee, J.Y., and W. Park. 2011. Anti-inflammatory effect of myristicin on RAW 264.7 macrophages stimulated with polyinosinic-polycytidylic acid. Molecules 16: 7132–7142.

Lee, S., D. Son, J. Ryu, Y.S. Lee, S.H. Jung, J. Kang, S.Y. Lee, H.S. Kim, and K.H. Shin. 2004. Anti-oxidant activities of Acanthopanax senticosus stems and their lignan components. Archives of Pharmacal Research 27: 106–110.

Lee, B.K., J.H. Kim, J.W. Jung, J.W. Choi, E.S. Han, S.H. Lee, K.H. Ko, and J.H. Ryu. 2005. Myristicin-induced neurotoxicity in human neuroblastoma SK-N-SH cells. Toxicology Letters 157: 49–56.

Lee, J.Y., B.R. Kim, H.Y. Oh, L. Shen, N.B. Kim, and J.K. Hwang. 2008. PPARγ ligand-binding activity of fragrin A isolated from mace (the Aril of Myristica fragrans Houtt.). Food Science and Biotechnology 17: 1146–1150.

Lin, Y., A. Yngve, J. Lagergren, and Y. Lu. 2012. Dietary intake of lignans and risk of adenocarcinoma of the esophagus and gastroesophageal junction. Cancer Causes and Control 23: 837–844.

Ma, J., Y.K. Hwang, W.H. Cho, S.H. Han, J.K. Hwang, and J.S. Han. 2009. Macelignan attenuates activations of mitogen-activated protein kinases and nuclear factor kappa B induced by lipopolysaccharide in microglial cells. Biological &/and Pharmaceutical Bulletin 32: 1085–1090.

Macrae, W.D., and G.H. Towers. 1984. Bioloical activities of lignans. Phytochemistry 23: 1207–1220.

Morita, T., K. Jinno, H. Kawagishi, Y. Arimoto, H. Suganuma, T. Inakuma, and K. Sugiyama. 2003. Hepatoprotective effect of myristicin from nutmeg (Myristica fragrans) on lipopolysaccharide/d-galactosamine-induced liver injury. Journal of Agriculture and Food Chemistry 51: 1560–1565.

Mukherjee, P.K., V. Kumar, and P.J. Houghton. 2007. Screening of Indian medicinal plants for acetylcholinesterase inhibitory activity. Phytotherapy Research 21: 1142–1145.

Nagai, H., I. Yakuo, M. Aoki, K. Teshima, Y. Ono, T. Sengoku, T. Shimazawa, M. Aburada, and A. Koda. 1989. The effect of gomisin A on immunologic liver injury in mice. Planta Medica 55: 13–17.

Nakamura, S., Y. Zhang, H. Matsuda, K. Ninomiya, O. Muraoka, and M. Yoshikawa. 2011. Chemical structures and hepatoprotective effects of constituents from the leaves of Salacia chinensis. Chemical & Pharmaceutical Bulletin (Tokyo) 59: 1020–1028.

Narasimhan, B., and A.S. Dhake. 2006. Antibacterial principles from Myristica fragrans seeds. Journal of Medicinal Food 9: 395–399.

Nguyen, N.T., A.H. Banskota, Y. Tezuka, Q. Le Tran, T. Nobukawa, Y. Kurashige, M. Sasahara, and S. Kadota. 2004. Hepatoprotective effect of taxiresinol and (7′R)-7′-hydroxylariciresinol on d-galactosamine and lipopolysaccharide-induced liver injury in mice. Planta Medica 70: 29–33.

Nguyen, P.H., T.V. Le, H.W. Kang, J. Chae, S.K. Kim, K.I. Kwon, D.B. Seo, S.J. Lee, and W.K. Oh. 2010. AMP-activated protein kinase (AMPK) activators from Myristica fragrans (nutmeg) and their anti-obesity effect. Bioorganic & Medicinal Chemistry Letters 20: 4128–4131.

Nordberg, A., and A.L. Svensson. 1998. Cholinesterase inhibitors in the treatment of Alzheimer's disease: a comparison of tolerability and pharmacology. Drug Safety 19: 465–480.

Olajide, O.A., F.F. Ajayi, A.I. Ekhelar, S.O. Awe, J.M. Makinde, and A.R. Alada. 1999. Biological effects of Myristica fragrans (nutmeg) extract. Phytotherapy Research 13: 344–345.

Olaleye, M.T., C.A. Akinmoladun, and A.A. Akindahunsi. 2006. Antioxidant properties of Myristica fragrans (Hout) and its effect on selected organs of albino rats. African Journal of Biotechnology 5: 1274–1278.

O'mahony, R., H. Al-Khtheeri, D. Weerasekera, N. Fernando, D. Vaira, J. Holton, and C. Basset. 2005. Bactericidal and anti-adhesive properties of culinary and medicinal plants against Helicobacter pylori. World Journal of Gastroenterology 11: 7499–7507.

Orabi, K.Y., J.S. Mossa, and F.S. El-Feraly. 1991. Isolation and characterization of two antimicrobial agents from mace (Myristica fragrans). Journal of Natural Products 54: 856–859.

Ozaki, Y., S. Soedigdo, Y.R. Wattimena, and A.G. Suganda. 1989. Antiinflammatory effect of mace, aril of Myristica fragrans Houtt., and its active principles. Japanese Journal of Pharmacology 49: 155–163.

Park, B.Y., B.S. Min, O.K. Kwon, S.R. Oh, K.S. Ahn, T.J. Kim, D.Y. Kim, K. Bae, and H.K. Lee. 2004. Increase of caspase-3 activity by lignans from Machilus thunbergii in HL-60 cells. Biological &/and Pharmaceutical Bulletin 27: 1305–1307.

Parle, M., D. Dhingra, and S.K. Kulkarni. 2004. Improvement of mouse memory by Myristica fragrans seeds. Journal of Medicinal Food 7: 157–161.

Patil, S.B., V.A. Ghadyale, S.S. Taklikar, C.R. Kulkarni, and A.U. Arvindekar. 2011. Insulin secretagogue, alpha-glucosidase and antioxidant activity of some selected spices in streptozotocin-induced diabetic rats. Plant Foods for Human Nutrition 66: 85–90.

Penalvo, J.L., B. Moreno-Franco, L. Ribas-Barba, and L. Serra-Majem. 2012. Determinants of dietary lignan intake in a representative sample of young Spaniards: association with lower obesity prevalence among boys but not girls. European Journal of Clinical Nutrition 66: 795–798.

Piaru, S.P., R. Mahmud, A.M. Abdul Majid, and Z.D. Mahmoud Nassar. 2012. Antioxidant and antiangiogenic activities of the essential oils of Myristica fragrans and Morinda citrifolia. Asian Pacific Journal of Tropical Medicine 5: 294–298.

Qiang, F., B.J. Lee, I. Ha, K.W. Kang, E.R. Woo, and H.K. Han. 2010. Effect of maceligan on the systemic exposure of paclitaxel: in vitro and in vivo evaluation. European Journal of Pharmaceutical Sciences 41: 226–231.

Rahnama, M., M. Najimi, and S. Ali. 2012. Antibacterial effects of Myristica fragrans, Zataria multiflora Boiss, Syzygium aromaticum, and Zingiber officinale Rosci essential oils, alone and in combination with nisin on Listeria monocytogenes. Comparative Clinical Pathology 21: 1313–1316.

Rittie, L., and G.J. Fisher. 2002. UV-light-induced signal cascades and skin aging. Ageing Research Reviews 1: 705–720.

Rukayadi, Y., K. Lee, S. Han, S. Kim, and J.K. Hwang. 2009. Antibacterial and sporicidal activity of Macelignan isolated from nutmeg (Myristica fragrans Houtt.) against Bacillus cereus. Food Science and Biotechnology 18: 1301–1304.

Rundhaug, J.E., and S.M. Fischer. 2008. Cyclo-oxygenase-2 plays a critical role in UV-induced skin carcinogenesis. Photochemistry and Photobiology 84: 322–329.

Rush, G.F., J.R. Gorski, M.G. Ripple, J. Sowinski, P. Bugelski, and W.R. Hewitt. 1985. Organic hydroperoxide-induced lipid peroxidation and cell death in isolated hepatocytes. Toxicology and Applied Pharmacology 78: 473–483.

Sharma, M., and M. Kumar. 2007. Radioprotection of Swiss albino mice by Myristica fragrans houtt. Journal of Radiation Research 48: 135–141.

Sharma, A., R. Mathur, and V.P. Dixit. 1995. Prevention of hypercholesterolemia and atherosclerosis in rabbits after supplementation of Myristica fragrans seed extract. Indian Journal of Physiology and Pharmacology 39: 407–410.

Shin, K.H., and W.S. Woo. 1986. Biological evaluation of macs for drug metabolism modifying activity. Korean Journal of Pharmacognosy 17: 189–194.

Shin, H.S., W.S. Woo, J.Y. Lee, and Y.B. Han. 1990. Effects of lignans on hepatic drug-metabolizing enzymes. Archives of Pharmacal Research 13: 265–268.

Smeds, A.I., P.C. Eklund, R.E. Sjoholm, S.M. Willfor, S. Nishibe, T. Deyama, and B.R. Holmbom. 2007. Quantification of a broad spectrum of lignans in cereals, oilseeds, and nuts. Journal of Agriculture and Food Chemistry 55: 1337–1346.

Smith-Palmer, A., J. Stewart, and L. Fyfe. 1998. Antimicrobial properties of plant essential oils and essences against five important food-borne pathogens. Letters in Applied Microbiology 26: 118–122.

Sohn, J.H., K.L. Han, J.H. Choo, and J.K. Hwang. 2007. Macelignan protects HepG2 cells against tert-butylhydroperoxide-induced oxidative damage. BioFactors 29: 1–10.

Sohn, J.H., K.L. Han, J.H. Kim, Y. Rukayadi, and J.K. Hwang. 2008. Protective effects of macelignan on cisplatin-induced hepatotoxicity is associated with JNK activation. Biological &/and Pharmaceutical Bulletin 31: 273–277.

Somani, R.S., and A.K. Singhai. 2008. Hypoglycaemic and antidiabetic activities of seeds of Myristica fragrans in normoglycaemic and alloxan-induced diabetic rats. Asian Journal of Experimental Sciences 22: 95–102.

Sonavane, G.S., V.P. Sarveiya, V.S. Kasture, and S.B. Kasture. 2002. Anxiogenic activity of Myristica fragrans seeds. Pharmacology, Biochemistry and Behavior 71: 239–244.

Staels, B., and J.C. Fruchart. 2005. Therapeutic roles of peroxisome proliferator-activated receptor agonists. Diabetes 54: 2460–2470.

Stein, U., H. Greyer, and H. Hentschel. 2001. Nutmeg (myristicin) poisoning—report on a fatal case and a series of cases recorded by a poison information centre. Forensic Science International 118: 87–90.

Taher, Y.A., and A.H. Hussin. 2011. In vivo effects of Faizol Ubat Batuk, a herbal product on aminopyrine metabolism in rat hepatocytes. Libyan Journal of Medicine 6: 5439. doi:10.3402/ljm.v6i0.5439.

Tajuddin, S., S. Ahmad, A. Latif, and I.A. Qasmi. 2003. Aphrodisiac activity of 50% ethanolic extracts of Myristica fragrans Houtt. (nutmeg) and Syzygium aromaticum (L) Merr. & Perry. (clove) in male mice: a comparative study. BMC Complementary and alternative Medicine 3: 6.

Tajuddin, S., S. Ahmad, A. Latif, I.A. Qasmi, and K.M. Amin. 2005. An experimental study of sexual function improving effect of Myristica fragrans Houtt. (nutmeg). BMC Complementary and Alternative Medicine 5: 16.

Takikawa, A., K. Abe, M. Yamamoto, S. Ishimaru, M. Yasui, Y. Okubo, and K. Yokoigawa. 2002. Antimicrobial activity of nutmeg against Escherichia coli O157. Journal of Bioscience and Bioengineering 94: 315–320.

Wahab, A., R. Ul Haq, A. Ahmed, R. A. Khan, and M. Raza. 2000 Anticonvulsant activities of nutmeg oil of Myristica fragrans. Phytotherapy Research 23: 153–158.

Woo, W.S., K.H. Shin, H. Wagner, and H. Lotter. 1987. The structure of macelignan from Myristica fragrans. Phytochemistry 26: 1542–1543.

Yadav, A.S., and D. Bhatnagar. 2007. Modulatory effect of spice extracts on iron-induced lipid peroxidation in rat liver. BioFactors 29: 147–157.

Yan, T., Y. Rukayadi, K.H. Kim, and J.K. Hwang. 2008. In vitro anti-biofilm activity of macelignan isolated from Myristica fragrans Houtt. against oral primary colonizer bacteria. Phytotherapy Research 22: 308–312.

Yan, F., Q.Y. Zhang, L. Jiao, T. Han, H. Zhang, L.P. Qin, and R. Khalid. 2009. Synergistic hepatoprotective effect of Schisandrae lignans with Astragalus polysaccharides on chronic liver injury in rats. Phytomedicine 16: 805–813.

Zaineddin, A.K., K. Buck, A. Vrieling, J. Heinz, D. Flesch-Janys, J. Linseisen, and J. Chang-Claude. 2012. The association between dietary lignans, phytoestrogen-rich foods, and fiber intake and postmenopausal breast cancer risk: a german case-control study. Nutrition and Cancer 64: 652–665.

Zamora-Ros, R., C. Not, E. Guino, L. Lujan-Barroso, R.M. Garcia, S. Biondo, R. Salazar, and V. Moreno. 2013. Association between habitual dietary flavonoid and lignan intake and colorectal cancer in a Spanish case-control study (the Bellvitge Colorectal Cancer Study). Cancer Causes Control 24: 549–557.

Zhang, C., X. Qi, Y. Shi, Y. Sun, S. Li, X. Gao, and H. Yu. 2012. Estimation of trace elements in mace (Myristica fragrans Houtt) and their effect on uterine cervix cancer induced by methylcholanthrene. Biological Trace Element Research 149: 431–434.

Zhu, M., K.F. Lin, R.Y. Yeung, and R.C. Li. 1999. Evaluation of the protective effects of Schisandra chinensis on Phase I drug metabolism using a CCl4 intoxication model. Journal of Ethnopharmacology 67: 61–68.
Acknowledgments
This paper was supported by Konkuk University research support program (2011)
About this article
Cite this article
Paul, S., Hwang, J.K., Kim, H.Y. et al. Multiple biological properties of macelignan and its pharmacological implications. Arch. Pharm. Res. 36, 264–272 (2013). https://doi.org/10.1007/s12272-013-0048-z
Received:

Accepted:

Published:

Issue Date:
Keywords
Nutmeg

Macelignan

Myristica fragrans

Pharmacological properties

Neurodegenerative disease